After being humbled by Spezia, torn apart in the derby, and progressing against Red Star Belgrade by the skin of their teeth, Pioli's men were in dire need of a statement performance to get back on track and they had a perfect opportunity to do so on Sunday Night at the Olimpico against Paulo Fonseca's Roma. Perhaps surprisingly, they emphatically delivered a convincing win that wasn't done justice by the 2-1 scoreline. Stefano Pioli fielded almost the exact same line-up that lost 3-0 to Inter the previous week, and his only alteration was to replace Alessio Romagnoli with Fikayo Tomori.
In a must-win game, benching the club captain was an extremely bold move by Stefano Pioli, but his risk ultimately paid off handsomely – the Englishman noticeably stood out as one of the Rossoneri's top performers and looked very comfortable alongside Simon Kjaer in the heart of the defence.
Sunday's win in Rome was the first time we had seen this partnership, as Fikayo Tomori had exclusively partnered Alessio Romagnoli until now. Whilst it wasn't the second-coming of Baresi-Costacurta, (there were certainly some moments of exposure where Roma failed to capitalize) it was an extremely impressive and exciting debut that should have every Milan fan excited.
It takes time to develop perfect chemistry, Romagnoli and Kjaer for instance had been playing next to each other for over a calendar year, and for all the criticisms of the captain in recent weeks, none of them questioned his undeniable chemistry alongside the Dane. Romagnoli reads the game very well for the most part and has exceptional positional awareness, whereas Kjaer is more aggressive and a superior 1v1 defender – they both makeup for each other's weaknesses. On paper, it's the perfect partnership – but ever since the start of the 2020/21 campaign (and arguably since the return of football post-lockdown), Alessio Romagnoli has been the subject of intense criticism from fans who have wanted to see a little more pro-activeness from the captain, and since the turn of the year this has almost become a unanimous consensus from the fan-base, especially after the derby defeat where he was seemingly outmatched by Romelu Lukaku on two fatal occasions.
Unlike Romagnoli, Both Fikayo Tomori and Simon Kjaer are aggressive centre-backs who aren't afraid to come out of position to win the ball back. Every so often this will leave the team vulnerable, but this intensive style of defending is one that Pioli has been trying to implement ever since his arrival in October 2019. Pioli's Milan will inevitably concede goals, which is part and parcel of having an attacking style of play, creating lots of chances and hopefully, scoring lots of goals – the win against Roma was a fine example of this, a game where the Rossoneri could easily have been 5-0 up at half-time with better finishing. In the 1993/94 season, Fabio Capello's Milan won the league whilst only managing to score 36 goals all season – a remarkable statistic, especially when compared to modern football: in the 2019/20 season, every team in Serie A with the exception of bottom-placed SPAL (25 goals) outscored this total. Unfortunately, this type of thing is simply no longer exists – Serie A is now a highly attacking league, boasting sides like Gian Piero Gasperini's Atalanta who netted a ludicrous tally of 98 goals in 2019/20, as well as Antonio Conte's Inter who scored a grand total of 81 goals in the same campaign. It's evident that Stefano Pioli wants to have a side in a similar mould – whilst Pioli's Milan don't ruthlessly seek endless goals as Arrigo Sacchi's did, there is a certainly a clear emphasis on creating lots of chances – the antithesis of what we saw under previous coaches like Gennaro Gattuso, where the emphasis was on taking the ones that do come your way.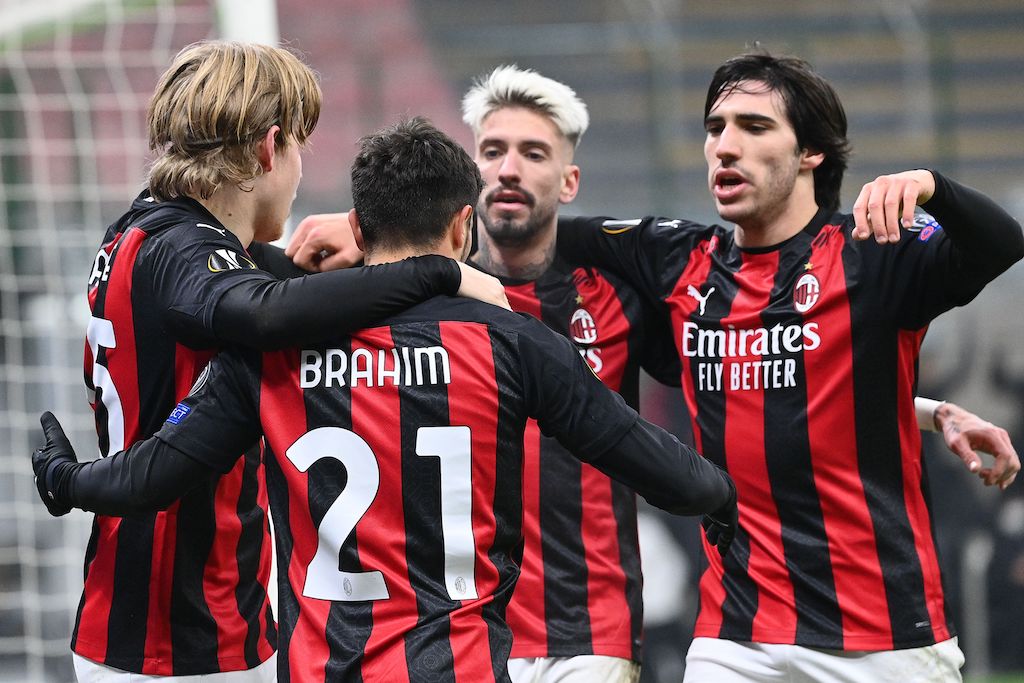 On his very first day in office, Stefano Pioli said "My philosophy? Head up or down, you have to win". Despite being partially intended as a not-so-subtle dig at Marco Giampaolo and Antonio Conte, this quote does explain a lot about the way his side approach the game: in order to win, you must score goals – in order to score goals, you must create chances – in order to create chances, you must take risks. Pioli's Milan will rarely keep possession for the sake of it or try to control a game when they don't need to, even if it means the Rossoneri will rely on last-ditch tackles or goalkeeping miracles to get the job done – so be it: this is the identity of Pioli's Milan, a side that plays effective football.
In an interview with "The Athletic" last year, Pioli stated that he believes Bayern Munich (since the arrival of Hansi Flick) play the best football in Europe and that he's been trying to emulate that at Milan. This makes a lot of sense, as there are clear similarities beyond the fact both teams use the same formation and have a highly attacking left-back in their roster. For instance: Bayern don't tend to control the possession, but they create lots of chances – keeping a clean sheet isn't a priority, but they are a strong defensive side when they need to be, utilising quick, aggressive defenders. Sound familiar?
With this information in mind, the case is very strong for Fikayo Tomori and Simon Kjaer to continue as the starting centre-back partnership. It perhaps makes sense as to why the team has struggled in recent weeks, attempting to play this aggressive football with Alessio Romagnoli who for all his qualities, isn't this type of player. Fikayo Tomori is the antithesis of Alessio Romagnoli, his speed in recovery makes him incredibly useful in games against sides like Roma, top opposition who will create chances against you. It was there for all to see, Tomori's athleticism is simply unbelievable at times. As for our beloved Dane, Simon Kjaer is that defender you can't help but love – seemingly willing to put his life on the line if it meant preventing a goal. At 31 years of age, he is always one of the hardest-working players on the pitch and this makes him ideal to be fielded alongside Fikayo Tomori. It's undeniable that this partnership is perfectly suited to Milan's style of play, whilst there will be moments where they will be exposed and the chemistry isn't perfect yet, they should be the partnership Pioli invests in going forward. Romagnoli isn't completely out of the picture yet, he's still the captain and he will get his chances to prove himself again. However, he now has to prove he deserves his spot in the team ahead of Fikayo Tomori and Simon Kjaer, and on the basis of Sunday's win in Rome – neither player looks like they're anywhere.