In the entire calendar year of 2020, Milan suffered only 3 defeats in all competitions: against Inter in the derby ( a game in which the Rossoneri lead 2-0 at half-time), against Genoa (at San Siro) and against Lille (in the Europa League group stages). It was, by and large, a fantastic year – fans will recall several stunning victories, including a thrilling comeback victory against Juventus, the first derby triumph in 5 years and playing some of the best football the club has played in almost a decade. However, Milan hadn't won anything yet, there was no trophy to take back to Casa Milan. "Winter Champions" was a title which showed the progress the club has made, once again a force in Italian football and competing for the highest prize, but it did not bring any reward. In 2021, it has been a stark contrast in form.
If you asked any Milan fan at the start of the season, "what are your realistic expectations?" – they would have responded, "top four". Milan fans have suffered many disappointments over the years, and although all the signs pointed to more of the same in 2021 – there was always an expected drop off, but the magnitude of which couldn't have been predicted by even the fiercest sceptic.
So the question is, what went wrong?
1: Injury Crisis
Milan never showed any signs of a looming drop-off, in fact, the team had performed spectacularly well without many key players who were routinely absent, but eventually, injuries have caught up with the Rossoneri and is undoubtedly one of the main reasons for the club's recent struggles. Rebic was the first absentee, picking up a shoulder injury against Crotone. Leao played in his absence and stepped up to the plate admirably, coming up with big performances in big games (against Inter and Roma). Next, Zlatan Ibrahimovic picked up an injury against Napoli, and during this time Rafael Leao again performed well (although admittedly not coming close to filling the void left by the Swede). Key midfielder Ismael Bennacer has also missed a lot of action, with marquee summer signing Sandro Tonali mostly filling his shoes. The 20-year-old from Brescia struggled to settle into the team initially, but has gone from strength to strength and proved himself a valuable asset. There have been many other absentees throughout the course of the season (Hakan Calhanoglu for instance also missed a month's worth of action), and it goes without saying that it's not just Milan who suffer injuries (even if it often feels like it). However, the extent to which the Rossoneri have suffered absentees is absolutely a cause for concern.
One need only look to Antonio Conte's Inter, who have kept the majority of their squad and key players available throughout the campaign. The fitness and availability of their players is arguably what gave them the edge in what is now an almost certain Scudetto. Pioli's Milan with a healthy squad could beat any team in the league (although Gasperini's Atalanta is admittedly their kryptonite), but this is rendered completely meaningless if the squad is almost never healthy.
Romelu Lukaku is not only available to Antonio Conte every week, but he is also in fantastic physical condition – and it's not just him. However, with all due respect to the rest of Inter's squad, Lukaku is clearly the star and they're rarely without him. Milan's equivalent is indisputably Zlatan Ibrahimovic, and the Rossoneri have had to cope without him a lot. In stretches of the season, they were able to do so – but this hasn't been the case recently. Inter have never been asked to cope without Lukaku, it could potentially be argued that without him leading the line, they would be far worse off than Milan without Ibrahimovic – but this is irrelevant because they've managed to keep their star man fit and Milan have not. Of course, the Swede is 39 years old and it's natural that even for an unnatural player of that age, he will suffer absences here and there. No matter how you slice it, Romelu Lukaku is in his prime, Zlatan Ibrahimovic isn't – he doesn't need to be, what he provides to this Milan side is still unfathomable. However, he does need to be available and he does need to be in good enough condition to play. The unfortunate reality is, that to compete for silverware, you need your star players available throughout the entire season, and certainly more often than Zlatan Ibrahimovic has been for Milan.
There's no way of getting around the fact that Milan have suffered an unnatural amount of injuries this season. Whilst there's undoubtedly a fair amount of bad luck involved and it would be fair to give the medical staff the benefit of the doubt, there are certainly questions that need to be asked. Most notably: how come Inter are able to have almost their entire squad available for the entire season, and Milan can barely go a week without adding another injury to the list? Milan have one of the youngest squads in Europe, even with 39-year-old Ibrahimovic spearheading the attack. It's not a case of an ageing squad being stretched beyond its limits. Milan's injury crisis is completely unacceptable, and something needs to change going forward.
2. Questionable coaching choices:
Some of Stefano Pioli's selections have also been questioned in recent games. For instance:
I) Why did Soualiho Meité start as a central attacking midfielder against Atalanta? The Frenchman has put in some solid shifts since arriving on loan from Torino (particularly against Manchester United), but there's nothing about his playing style that suggests he could fill this role – especially with Brahim Diaz, Rade Krunic and Jens Petter Hauge (who played in this role with Bodo Glimt) available, all of whom are more natural choices for that position. The experiment was so disastrous that Pioli pulled the plug on it at half-time.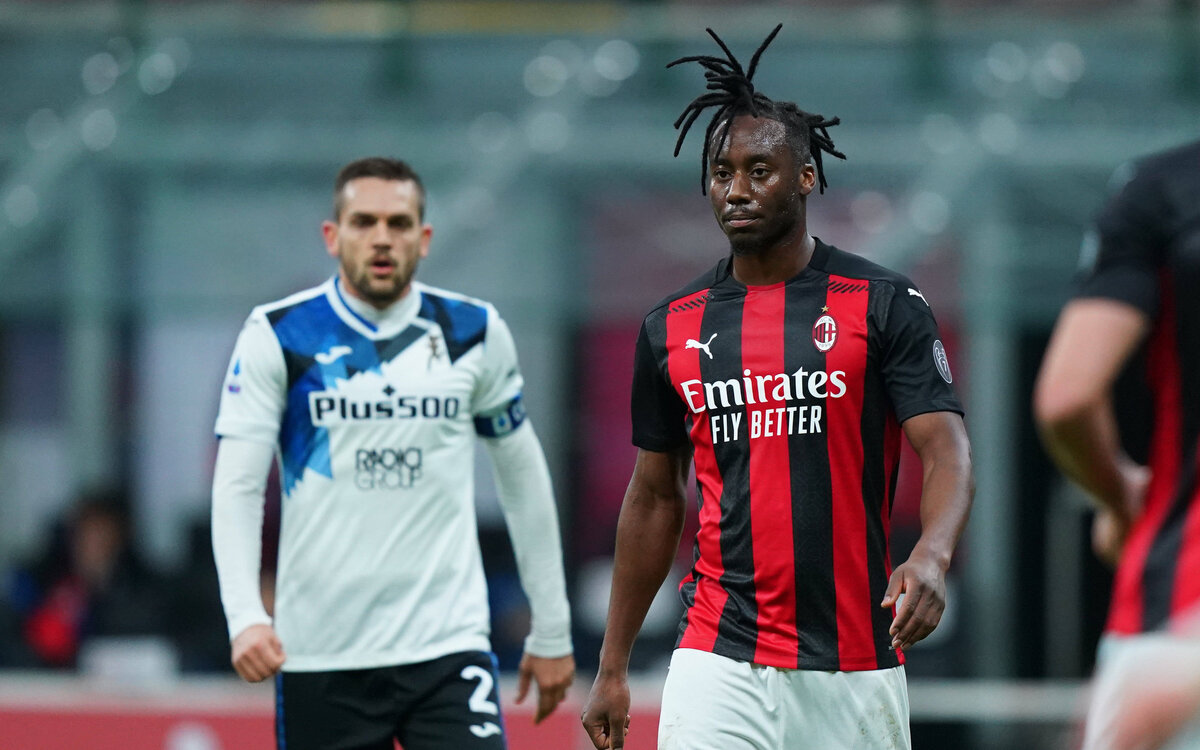 II) Why has Sandro Tonali seemingly been almost completely frozen out of the team despite being one of the Rossoneri's most consistent performers in 2021? Even Soualiho Meité has been trusted from the start more often recently, a player who isn't likely to be redeemed at the end of the season.
III) Why does Pioli turn to Samu Castillejo when the team is in need of goals, when Jens Petter Hauge is available and has proven himself capable of making an impact from the bench? Since his equaliser against Sampdoria, he has seen absolutely no minutes whatsoever, and Milan have been in dire need of goals recently.
IV) Why did Ismael Bennacer start against Red Star Belgrade after only recently coming back from injury? Sandro Tonali, Franck Kessié, Soualiho Meité were all available, and it seemed almost predictable that he would sustain further injury – and for what? The Europa League has always been second priority for Milan, even when coming up against Manchester United, Pioli rotated his squad. Whilst it would have been an ideal opportunity for Bennacer to get some minutes in his legs ahead of the league match at the weekend, it seemed an unnecessary risk, especially with the same thing happening to Bennacer when he was first put back in the line-up against Parma.
Whilst these may seem like harsh nit-picks, and they are on an individual level – but these things add up.
It should also be important to note that Stefano Pioli's teams have a tendency to decline. Perhaps the most prominent example of this is his brief spell at Inter, where he went on an incredible winning streak, yet still found himself out of a job by the end of the season. At Lazio it happened as well, finishing 3rd in his first season but failed to stop the ship from sinking in his second. At Fiorentina, he came close to achieving Europa League qualification in his first season but resigned before the end of his second as the club were headed for relegation.
A case could certainly be made that this is what we're seeing right now at Milan, but of course, there's still time to save the day. However, the current form of the team and failure to get out of a slump is becoming apparent, Pioli will need to do what he has a track record of being unable to – he'll need to turn the tide when things aren't going well.
3. Mentality
When Zlatan Ibrahimovic was first signed, arguably the most important thing he brought was his winning mentality. All of the sudden, the team was able to believe that they could hold onto results and score lots of goals – and they did just that in 2020. However, by that time, there little to no expectations left for the season – the team were in 12th place, Champions League qualification seemed nothing but a pipe dream. In the new season, Milan's expectations were the same as they always are: get top four. However, the Rossoneri shattered everyone's reasonable expectations and became Winter Champions. This meant the expectations had changed, the team had set a whole new bar for itself, and with the club having been out of Scudetto competition since 2012, it's natural that many of the players wouldn't know how to cope with this new-found pressure, as they've never been there before.
Hopefully, this will serve as a learning curve for many of these players, as it did for Inter. Last season, Inter were first for a long period of the season but eventually dropped off, much as Pioli's team have done this year. However, the extent to which was very different, Inter picked themselves up and finished the season in 2nd place, only a point behind Juventus.
Milan have gone from Winter Champions to 5th place in a blink of an eye, but of course – it's in their hands. Milan play Atalanta and Juventus before the season is over, meaning that 5 wins from 5 will do the trick. The last time Milan lost top 4 having been there for much of the season was in 2018/19, Gattuso's final year in charge. After losing to Torino, it wasn't in their hands – but the Rossoneri won out anyway, despite being matched by their rivals.
This is going to be a huge test of the team's character and mentality – it won't be easy, but it's not over yet. Crucially, there are absolutely no excuses for dropped points in any of the other 3 games: Benevento, Cagliari and Torino. There has been too much good work done in the past 2 years, it can't be undone like this. Quite simply, Milan need to get a grip, and they need to get it fast.