Gennaro Gattuso, legendary former player of AC Milan and also their ex coach, spoke to the microphones of Italian newspaper Corriere della Sera and commented on the allegations that he is racist:
"I'm not as they describe me on social media, these accusations make me suffer. Declarations from different years are taken, they are isolated from the context and trials are set up with the aim of delegitimizing a person, a life. The courts are serious matters: someone accuses, someone defends, someone judges. When I hear that I'm a racist, I feel like I'm going crazy. No person, ever, can be judged by the colour of their skin. Racism must always be fought. I coached dozens of players who had different skin from mine, there are three who work in my restaurant, I had teammates whom I loved. For me, it doesn't matter the colour of the skin, the person counts. their honesty and loyalty."
On an old quote saying that a Catholic marriage should be only between a man and a woman:
"But then I added that for me everyone is free to do as they please. Any freedom, including that of sexual behavior, is welcome, it is a sign of progress.
The sentence about women and their abilities to manage football clubs in relation to Barbara Berlusconi:
"No, absolutely not. In every field, women do as and better than men. They are proving it in governments, in companies, in every sector. The more women have responsibilities, the better off it will be. I'll add one thing, which can explain my state of mind that day: I consider Galliani as the best person I've met in football. He always knew the right thing at the right time."
On the fight with Joe Jordan, former assistant coach at Tottenham:
"I made a mistake and I'm ashamed of it. That's something I did. It was an unjustifiable mistake. Sure, I could say they are field things. They happen, unfortunately..."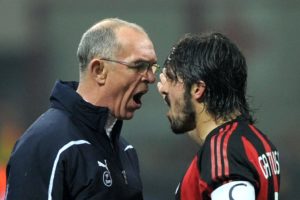 Gattuso on leaving AC Milan:
"I am very grateful to Milan. If I am what I am, I owe it to that club and to those colours which I always loved. I didn't want to be a burden and I wanted to go away. I gave up 5 and a half million euros net. A part went to pay the staff who otherwise, with my exit, would have remained on foot and it was not fair. But it didn't bother me that much. AC Milan, as a player and as a coach, transformed my life.I cannot forget when, after the victory in the 1990 Championships, my father took me to parade in the town with the Rossoneri shirt on. I was proud to wear it, although obviously it was a replica, not an original."
Gattuso on his health condition:
"I have never hidden anything.  I have, like so many people, an autoimmune disease called ocular myasthenia. I have been suffering from it for some time but it is absolutely under control and does not imply any limitations to my work. I have no obstacles, so much so that I have always coached, even in Napoli where I worked with great players in a great club."