AC Milan head coach Stefano Pioli has granted an interview to the microphones of La Gazzetta dello Sport which was released in full in this morning's print edition. Here are the statements:
"To win, you need talent, to repeat yourself you need character. We will fight to defend the Scudetto and to improve ourselves in the Champions League."
On a different season with a World Cup to be played in November...
"I don't mind doing three months at full throttle and then switching off, it will be more difficult with the players who will go all the way in the World Cup. With them we will need a particular sensitivity."
The Rossoneri will have a lot of competition:
"We are the first to be stronger than a year ago: the difference is made by the organization, the desire, the spirit. Every day I arrive worried about the spirit with which the players will work, but when I see them on the pitch all the doubts go away. If we continue like this, we will be competitive, it does not mean that we will win the championship again but that we will have a chance to win every game. As long as I see this attitude I will be calm."
Pioli on the arrival of Charles De Ketelaere:
"We met at Milanello on Wednesday morning, together with the staff I showed him videos with our game concepts. He was very careful. From what he said he shows that he is very intelligent, that he understands football. Then he has great talent , it can be seen from how he touches the ball. He is elegant, beautiful to look at. I asked Origi about him , and he said: 'He is half Havertz and half Kaka'. He is unbalanced... He will play for a few minutes in Vicenza and once on Sunday with Pergolettese. There are important expectations but it is right to give him time, I was the first to tell him not to be in a hurry."
On Zlatan Ibrahimovic:
"Zlatan is not there but he is there, because he is always in contact with everyone. He is a champion who can still make a difference: first he must be fine, in the final of last season he made some crazy sacrifices. People don't know, but he could only train for a quarter of an hour. He has superior technique and intelligence but above all he is still very hungry. From mid-August he will be at Milanello to continue his path."
On Yacine Adli and Divock Origi:
"Adli? I read that he has rightly defined himself as an atypical midfielder: he is very intelligent, he plays vertically. He is fitting in very well , sometimes he moves too much but he is learning fast. But, let's not forget Diaz, from whom I expect a lot and from whom I am very satisfied: I want more precision from him in the last pass and more goals. Divock? He knows how to do everything: he is very attentive, I like him and he will give us satisfaction."
Pioli on the transfer market:
"On paper, two roles are missing, the defender and the midfielder. We don't want to replace those who left with their 'doubles', also because another Kessie is not there. We need two characteristics: explosiveness and intelligence."
On Fikayo Tomori and Pierre Kalulu:
"They had an exceptional performance, Pierre has grown in an incredible way, he seems bigger on the field than he really is. He is mature and humble."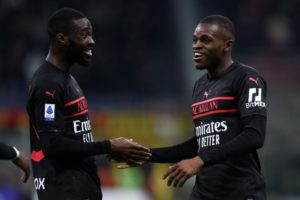 On Simon Kjaer:
"He has the ability to read the game and a very important communicative presence, he is a point of reference. I am very happy to have him back."
Pioli on Rafael Leao:
"I'm not at all worried by the contractual events, you can see that he is happy to be with us. Potentially he is a champion, for strength and ability to dribble the defender. He has many goals in his legs, even more than last year. He has grown a lot without the ball, now he must be able to occupy the area better."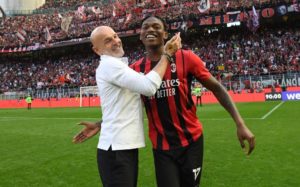 On Paolo Maldini and Frederic Massara:
"If I feared their farewell? Never. I heard from them everyday. The change of ownership and other dynamics that I am not aware of have led to longer times, but I never thought it could end differently."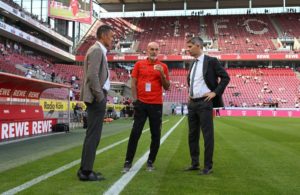 On Gerry Cardinale:
"I only met him the day before the closing, then I didn't anymore. But even with Elliott's top management, it was the same thing. My references are Paolo (Maldini), Ricky (Massara) and (Ivan) Gazidis."