Speaking to the media in the pre-match press conference of the Rossoneri against Salernitana away from home, head coach of AC Milan, Stefano Pioli, said the following statements:
"The return of club football after the World Cup? We're all in a peculiar situation because the break was long. We only played part of the first leg, there are many games to go. We have to start tomorrow in the best possible way, we have to start again with the same desire and determination. Many points will be needed to be competitive."
How is the team doing?
"There's a great desire to play tomorrow, I saw it in my players. We've recovered important players, unfortunately we've had some injuries. Next week, we'll recover some. Finally, we're back to playing. In these friendlies, we focused on tactical things."
Pioli on Olivier Giroud and Theo Hernandez:
"I found them well mentally and physically. There is disappointment after losing the final, but they came back well. They are available."
How is the team, from a physical point of view?
"The team is doing well physically and mentally. We will play many games, but that goes for everyone. We are doing well physically and mentally. I know the physical key is pressing a lot, but it's the quality and the mental attitude that makes the difference and that's where we we want to make a difference."
On the team's hunger for more success and the return to the pitch:
"To try and win the championship, we need many points, probably more than 85. We must win many games. We must not go too far with our thoughts, let's just think about tomorrow's match. We will face a tough opponent, but we want to restart our journey well."
What did you tell your players Olivier Giroud and Theo Hernandez after their loss in the World Cup final?
"We spoke after the final and also in the days after. I congratulated them. They are happy to be back here, this is important."
Pioli on Mike Maignan's return:
"At the moment, we don't know (when he'll be back). The evaluations tell us that it is not yet possible to push. So I don't know the timing, certainly not in the short term."
How hungry are you for the return to the pitch?
"We have 4 goals, we want to win something. I repeat it to the team, even though I know there's no need… We want to stay in Milan's history and to do that we have to keep winning. If we want to be a winning team, we have to try to win even this year. We are very hungry. We have to win more trophies."
So many injuries so far for AC Milan…
"I'm responsible because I'm in charge of everything that happens here at Milanello. We're working to reduce the number of injured players."
What is Yacine Adli lacking?
"He raised his level, this was also the goal of the friendlies. He did good things, others were less good, he has to grow, but I rely heavily on him. There is great competition in his role, in every match I will make my choices."
Have the hierarchies in goal changed?
"In friendlies, I gave more minutes to those who had played less. Tatarusanu will play tomorrow and he has all my confidence."
Who are the alternatives to Olivier Giroud?
"Oli is fine. Then we have alternatives like Lazetic and De Ketelaere."
Any reinforcements for the attacking department?
"It shouldn't be long injuries. If there are opportunities to strengthen the squad, the club won't be caught unprepared."
Will Inter-Napoli be decisive?
"I don't think it will be decisive, there are still too many games left. We mustn't think about the other games, let's focus only on ourselves."
What kind of game will it be tomorrow against Salernitana?
"We will face the match decisively. They (Salernitana) are a team that has put all the others in difficulty, they have 9 points more than last year. But I trust my players and I think we will play a good game."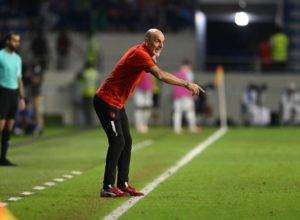 On Charles De Ketelaere:
"In the summer, due to the transfer, he wasn't able to prepare well. He got off to a good start, then he struggled physically. Now I see him growing and I expect improvements too."
On tomorrow's match against Salernitana:
"We have great incentives for tomorrow. There are difficulties in all matches, but we prepared well."
What do you hope for in 2023?
"We have to raise our level more and more. I'm sure we still have ample room for growth. We're working well, we must have the will to win every day. If we give our best every day we can raise our level."
Pioli on what will the post-World Cup recovery look like:
"All the teams haven't played for 50 days. There have been friendlies, but the official matches are something else. I'm looking at the championships that have already resumed."
He continued:
"There are difficulties for everyone. We're finally back to playing too."