After securing three important signings in the last few days, namely Soualiho Meïté, Mario Mandžukić, and Fikayo Tomori, Milan travelled to Cagliari with the hope of keeping their Serie A lead before hosting Atalanta at the San Siro stadium. The game ended with a 0-2 win for Milan who remained first with three points ahead of Inter, their closest opponents in the standings who have recently won over Juventus in the "Derby d'Italia".
With a lot of upcoming matches that will be played without a lot of rest, it was fundamental to support the squad with some key elements given that many players are currently injured or are being hit by covid-19 and with so many absences especially in midfield in this last period, Pioli will now have at his disposal players like Meité to play alongside Kessié or Tonali, and he will no longer be obliged to play Calabria in midfield unless bad luck keeps on going Milan's way. In defence, Tomori is also expected to join the team very soon to give more alternatives and more stability to that back-line.
Moreover, Paolo Maldini made a surprising free transfer by capturing the Croatian Mario Mandžukić who can still be able to bring a big addition to the team in the attacking phase if he is in a good physical condition.
Moving to lineups now. Pioli continued using the same 4-2-3-1 formation relying on Gianluigi Donnarumma as a goalkeeper, Davide Calabria, Simon Kjær, Alessio Romagnoli, Diogo Dalot in defence, Franck Kessié and Sandro Tonali as central midfielders and Samu Castillejo, Brahim Díaz, Jens Petter Hauge behind Zlatan Ibrahimović.
While Eusebio Di Francesco played with a 4-4-2 formation that consisted of Alessio Cragno as a goalkeeper, Gabriele Zappa, Luca Ceppitelli, Diego Godín and Charalampos Lykogiannis in defence, Răzvan Marin, Radja Nainggolan, Alfred Duncan, Gastón Pereiro in midfield while Giovanni Simeone and João Pedro were the two strikers.
The match witnessed an early goal from the penalty spot following an accurate through pass into space from Díaz and a determined run from Ibrahimović who knew how to oblige Lykogiannis into falling into the trap and committing a foul inside the box. As you can see in this picture, Díaz made an excellent work by winning some space in midfield and passing the ball to Ibrahimović at the right time, and the latter did the rest thanks to his experience and physical strength.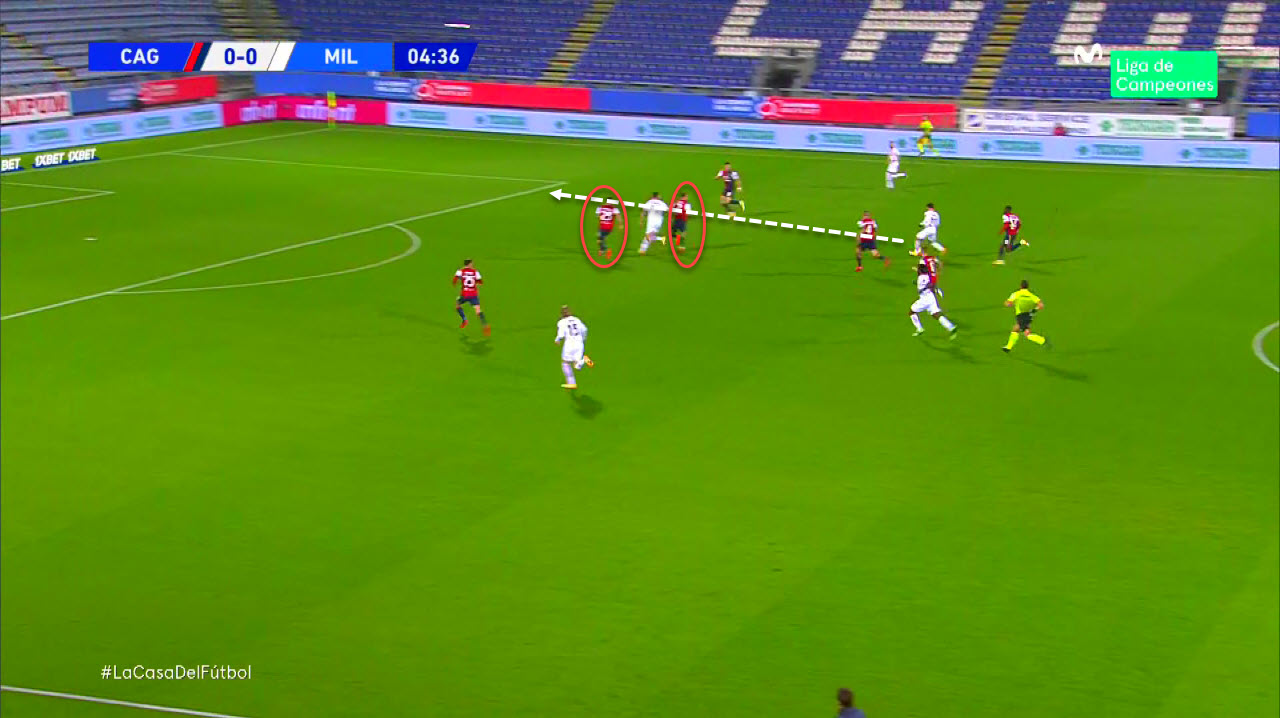 Moreover, Calabria's vision and through passes have been improving a lot since the end of last season and these traits are now becoming a reliable attacking weapon for Milan. Also, his shooting accuracy has been developing in a considerable manner in the last few matches and we started to see him aiming at shooting whenever he gets the opportunity to do so and scoring many times this season. And in this game, he made two shots on target and one of them hit the post.
And to confirm this Calabria's development fact even further, we should only wait till the 51st minute to see a precise long pass from him to Ibrahimović who once again knew how to deal with the situation by first, avoiding the offside, then letting the ball bounce on the field while protecting it and keeping his opponents away from it before shooting into the net.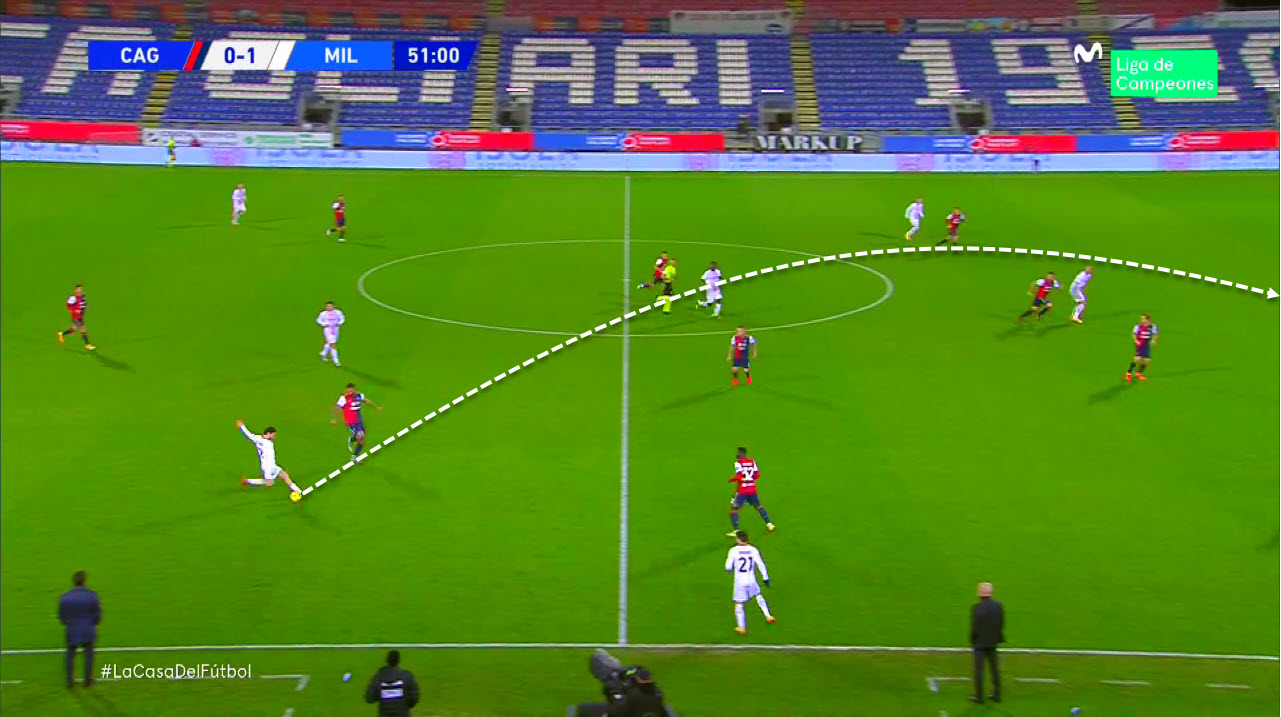 It is also worth highlighting the fact that Ibrahimović scored 12 goals in his first 8 Serie A starts this season which is a huge number, even though the Swedish could have even scored more against Cagliari since he missed some other chances as well (like the one shown below, after a through pass from Hauge).
The presence of this player with his current form makes Milan almost unbeatable in Italy because he not only contributes by being a goal machine and a player who can disturb any defence either with passes, shots or physical presence, but he also uplifts the performances of his teammates whenever he starts a match and gives them a confidence boost that makes us see a very solid Milan.
Moreover, having a player capable of winning almost all aerial duels and on whom you can resort when you are being pressed high, makes of him even more precious in Milan's line-up.  And here, once again Milan relied on the Swedish in an action that could have lead to a goal after Hauge's intelligent and right-timed pass to Ibra who moved at the right time to escape from his marker but failed to put his shot inside the net.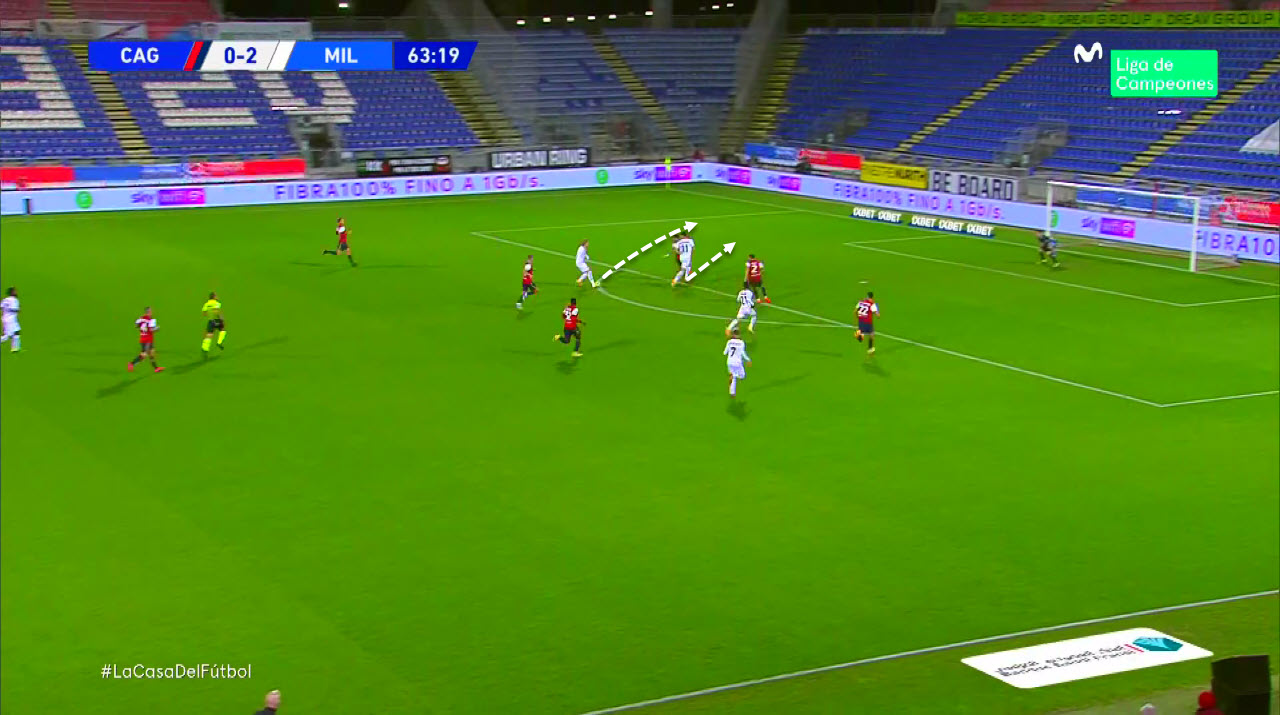 Despite Milan's goals and chances however, there were also a few negatives in this match, mainly the suspension of Romagnoli that will prevent him from playing against Atalanta, the injury of Kjær at the end of the first-half, and the bad performance of Alexis Saelemaekers who took a red card at the 73rd minute following two mistakes that could have been avoided.
At the same time, Milan have already won a confirmed alternative in midfield following the good performance of Meïté even though he did not play a full half. But it was clear that the player has the necessary technical and physical abilities to play at a good level especially when one of Bennacer or Kessié is absent, and with more playing time, he will most probably improve as well and why not compete for a regular spot.
In addition to Meïté's good first performance, it was clear in this match that Tonali got more confident in his abilities and started to become more stable in his performances by making less mistakes and moving in a correct manner especially when Milan built up from the back. At many instances he was the one who gave support to Calabria, Kjær and Dalot when they were pressed and had no clear passing options. And by this, both him and Kessié alternated roles and when one of them went to get the ball the other went a bit forward to provide another passing option in midfield and confuse Cagliari's players, just like Bennacer and Kessié used to do. And in this match Tonali was able to escape from marking in midfield and providing passing option at the same time and at many instances, which will make his movements even more valuable in the upcoming matches if he continues doing them with this attentiveness.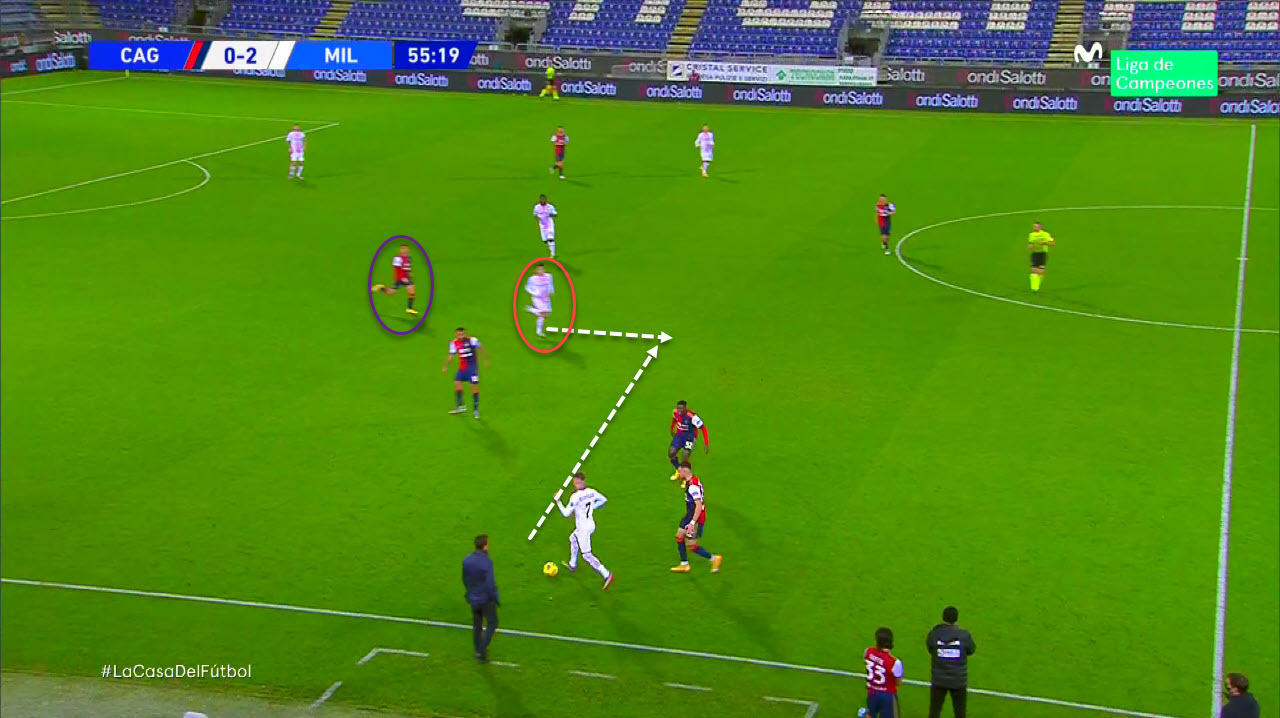 And let's not forget Castillejo's excellent match as well both in the attacking and the defensive phase since he went back to support Calabria so often and we saw him intercepting many passes in defence and pressing high in attack. The only "big" mistake he did was in giving a too slow through pass to Ibrahimović when the latter was in a clear scoring position. Other than that, Castillejo deserves a lot of credit for his efforts in this match and the same applies to Pierre Kalulu who replaced the injured Kjær at half-time in the best of ways and proved once again that he has the potential of becoming an excellent centre-back in the near future.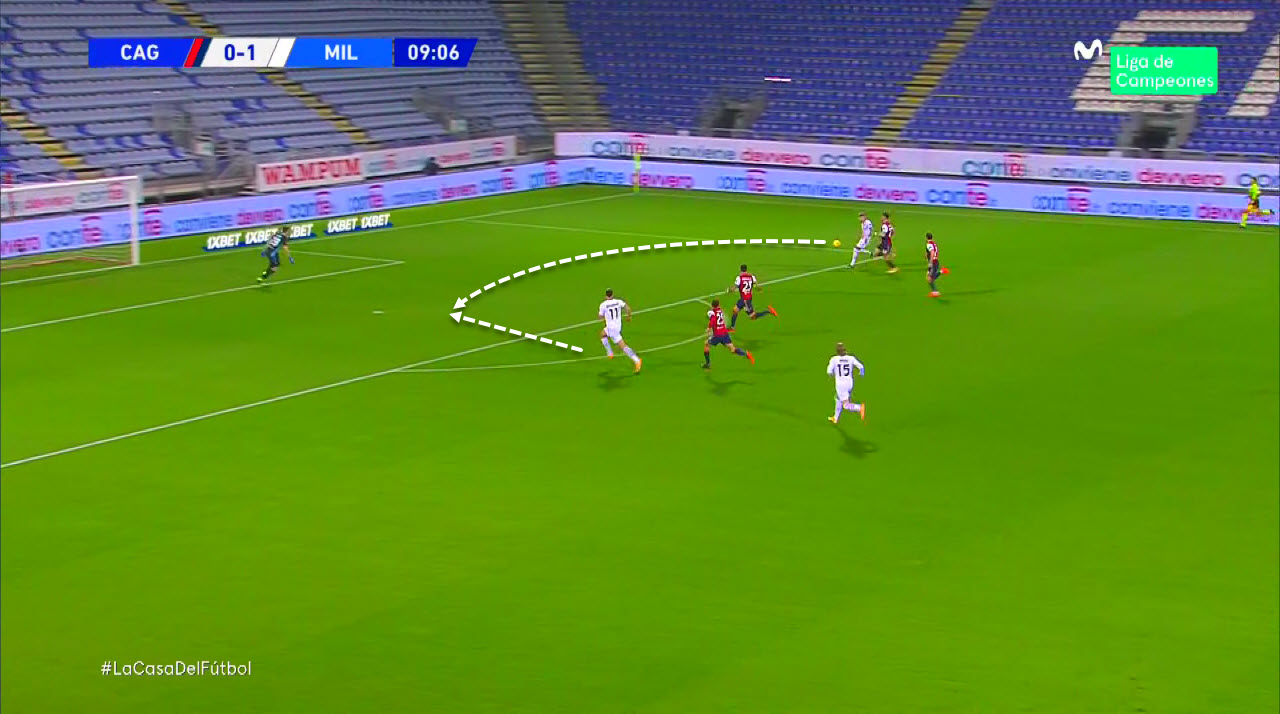 As a unit, Milan made another solid performance at Sardegna Arena while conserving the energy and knowing how to manage the win, even though at times they gave away possession for longer than expected to Cagliari players who wanted to create danger many times especially in the second part of the first-half and after conceding the second Milan goal. However, Milan's defence was attentive and even when they made some marking mistakes, Simeone and João Pedro missed the chances that they had. And the most notable one they had was at the 62th minute when Pedro made a key pass to Simeone at the back of Romagnoli and Kalulu who did not follow him and left him in a one-on-one situation with Donnarumma but luckily for Milan Simeone shot the ball in the middle the latter was able to save a chance that could have made the match a bit more complicated.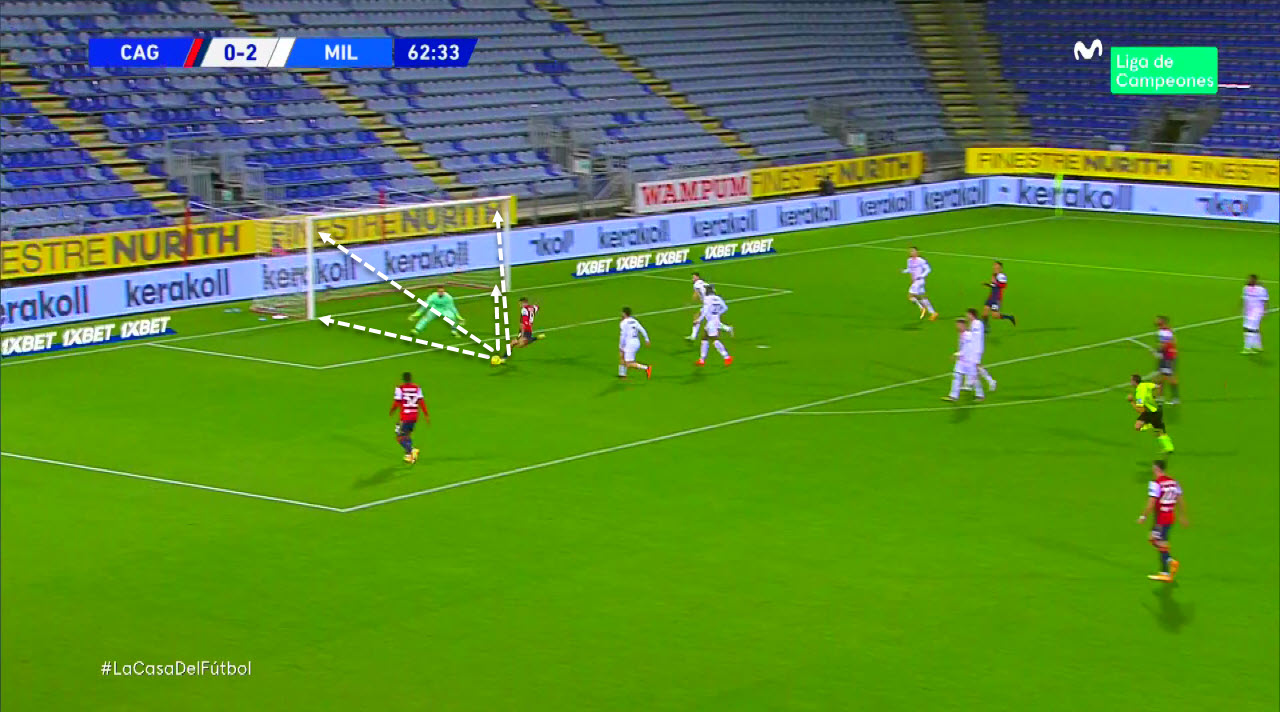 And despite some chances from Cagliari, Milan's ability to protect and conserve the ball at the last ten minutes of the game was impressive and showed the confidence and maturity that this team has developed even amongst some fundamental absences of the likes of Theo Hernandez, Ismaël Bennacer, Hakan Çalhanoğlu, Rafael Leão, Ante Rebić and Matteo Gabbia.
And now all the attention will go to Saturday's clash with Atalanta at San Siro in which Milan will be playing without the captain Romagnoli and without the suspended Saelemaekers in addition to the other absences. It is going to be a match in which Milan will try to beat Atalanta at any cost since the club, the fans, and the players themselves did not forget about the "Bergamo incident", added to that, a win for Milan and a loss or a draw for Inter could see Milan extending the lead with 6 or 5 points ahead of the Inter before facing the latter in the Italian Cup.