Milan faced Atalanta at San Siro on a Saturday evening in the last fixture of the first half of the season and the game ended with a heavy 0-3 loss for Milan and a precious win for Gian Piero Gasperini's team. It was a loss that hurt Milan team and fans especially when knowing that this opponent did the same to Milan last year when they beat them 5-0 at Atalanta just before the start of the second part of the season.
Stefano Pioli chose to start with the 4-2-3-1 formation relying on Gianluigi Donnarumma as a goalkeeper, Davide Calabria, Simon Kjær, Pierre Kalulu, Theo Hernandez in defence, Franck Kessié and Sandro Tonali as central midfielders and Samu Castillejo, Soualiho Meïté, and Rafael Leão behind Zlatan Ibrahimović. It was a surprising line-up since it witnessed the start of Meïté from the beginning at the expense of Brahim Díaz in the role of the advanced playmaker.
The choice of Pioli rested on Meïté mainly because his physical strength was better than that of Díaz and also because Meïté would be more effective when the team is out of possession since he is naturally a midfielder who usually applies marking and defending duties.
But at the end of the day, Pioli's decision was not fruitful since Meïté was not able to make a solid performance; he was often marked and it was clear that he wasn't really accustomed to playing that role which requires speed and fast decisions, two traits that the latter didn't show during this match. And that was understandable given that the player has just arrived to Milan and is still in the adaptation process, as he was also played out of position.
Gian Piero Gasperini started with the 3-4-1-2 and chose Pierluigi Gollini as a goalkeeper, Rafael Tolói, Cristian Romero, Berat Djimsiti in defence, Hans Hateboer, Marten de Roon, Remo Freuler and Robin Gosens in midfield while Matteo Pessina played behind Josip Iličić and Duván Zapata, the two strikers.
Milan entered the match in a good way by threatening Atalanta with two well-played attacks which were missed by Ibrahimović not by much. One of these chances was offside and the other could have been a goal if the Swedish was able to shoot the ball more accurately, even though his movement inside the box was excellent, as you can see in this picture.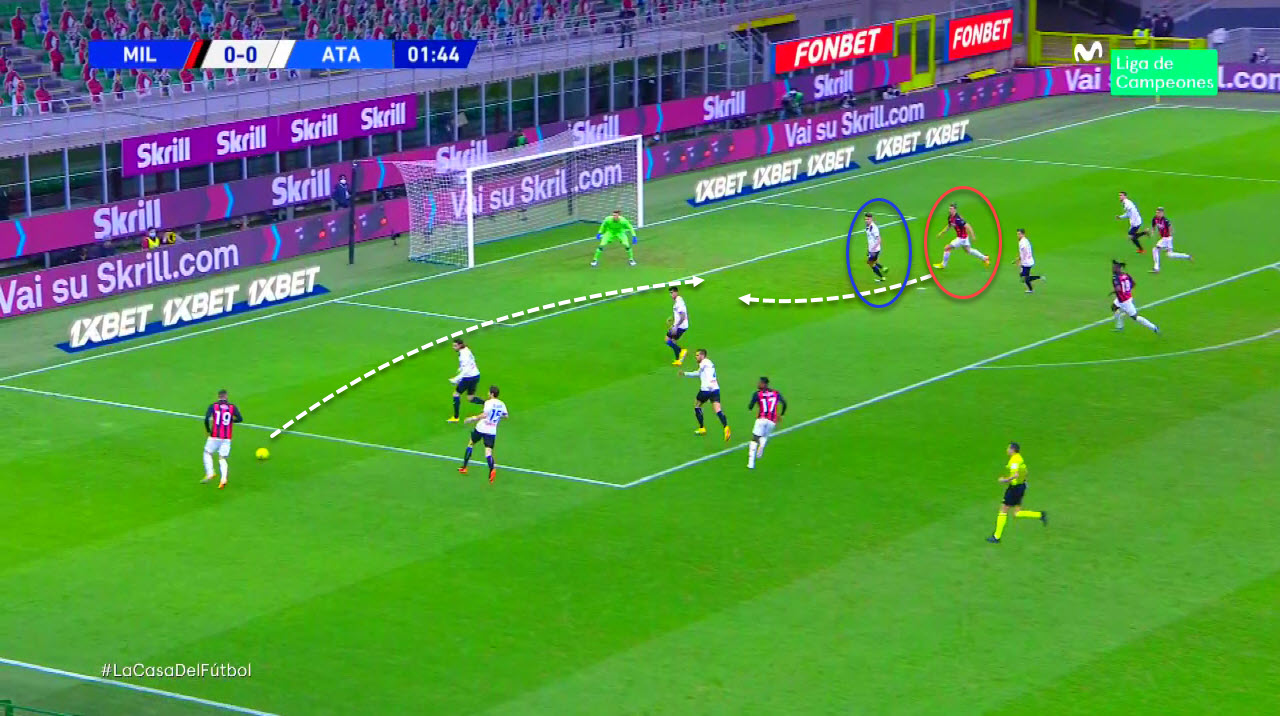 However, following those two chances, Atalanta "woke up" and started winning more duels and relying on Iličić as a reference in almost all of their attacks. And even though Kalulu did an excellent job when marking him in many instances, Iličić was able to create a lot of danger with his passes, shots and movement in the final third since he was given the freedom to play out of position. We saw him moving to the left at times and playing centrally at other times in addition to leaning on the right-wing which is his natural position.
Moreover, Atalanta were able to create danger consistently since they were focused upfront and won most of the duels in attack before scoring two important goals. The first one could have been avoided since it was the result of Kalulu's bad marking of Romero who was able to avoid him and score with a header, while the second goal came from the penalty spot following Kessié's foul on Iličić.
And despite these Atalanta goals, Milan were able to create some good scoring chances but the last accurate key pass was what lacked Milan players to score. Also, it should be said that Atalanta players were compact in defence and attentive to all passing attempts in the final third. In the following two chances for example, Milan could have had two clear scoring chances if the two through passes were more accurate both from Leão and Theo to Ibrahimović.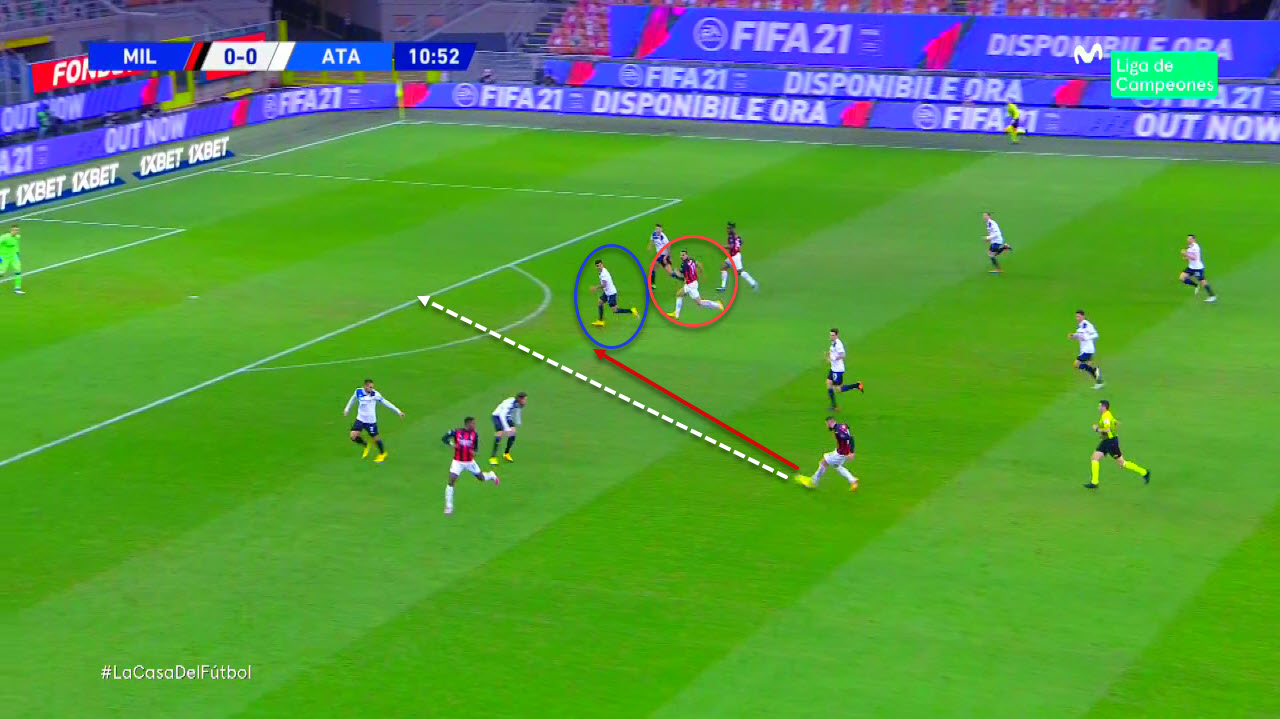 In the above picture you can see how Theo gave the ball closer to Ibra's marker instead of passing it into space for him to be able to either get advantage over his marker or get a free-kick/penalty out of it.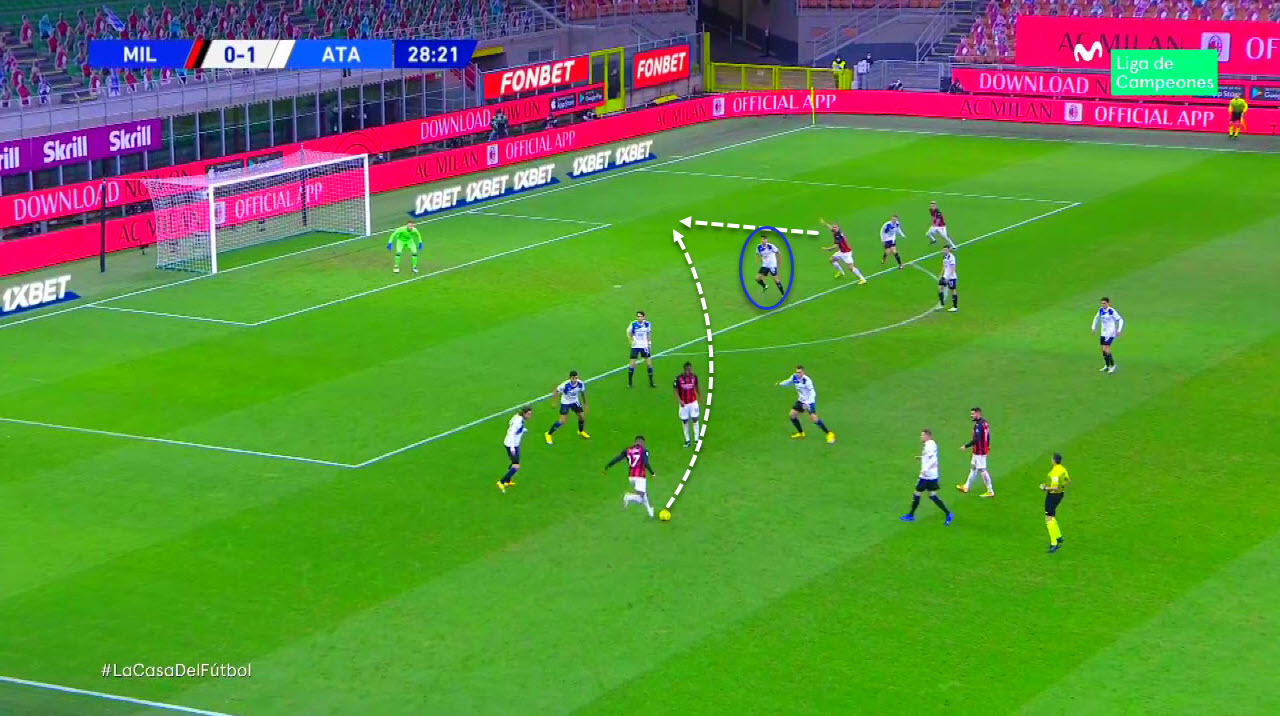 While in this picture Leão's cross was accurate but Djimsiti was very attentive and cleared the ball out before it reaches Ibra.
All in all, Milan lacked solutions in attack and they faced a very organised team defensively. And we saw Milan players crossing the ball to Ibra in many instances but then the latter did not find concrete passing options beside him even though he won almost all of his aerial duels in the final third.
Also, Díaz's entrance in the second-half gave more dynamism to Milan's attack since the Spanish was faster than Meïté and dribbled past Atalanta midfielders several times to reach the box, but then neither Ibra, nor Leão and not even Castillejo or Ante Rebić/Mario Mandžukić were able to create something out of Milan's attempts.
The only dangerous chance that Milan had in the second-half was Mandžukić's shot as soon as he was subbed on. But then, all we saw was desperate attempts from Milan and some dangerous counter-attacks from Atalanta, from which came the third Atalanta goal that made the Rossoneri's mission even more complicated.
What lacked Milan in this match was more determination in the final phase, more movement inside the box to help Ibra who was always marked, and more passing combinations that involve wingers since wingers in this match did not really help a lot neither with crosses nor with penetrations. All we saw was a few desperate crosses from Leão and Castillejo in the hope to find the marked Ibra, but neither of them actually penetrated inside the box to create danger and numerical superiority over Atalanta defenders.
Also, Rebić did not add a lot and he was not able to create something tangible upfront, while Mandžukić tried to help but it was too difficult for him especially when knowing that he was far from the field for so long, even though he shot several times and was there to receive Ibra's header passes in the box.
The match was one to forget for Milan both in terms of performance and result. And it should be said that Atalanta were better prepared and more determined to win even though they were playing without their star Alejandro Gómez. And at the same time, the match could have been compelety different in terms of result if players like Bennacer and Hakan Çalhanoğlu were present to give more options in attack and link between midfield, wingers and Ibra. A role which neither Meïté nor Díaz were successful at in this match.
But luckily for Milan, despite all these negatives and even though this loss is definitely frustrating, it won't impact the position of Milan in the standings that much since Inter drew at Udinese and therefore Milan kept the lead of Serie A with two points ahead of the second team in the standings before playing the Milan Derby on Tuesday in the Coppa Italia quarter-final.