AC Milan went to Bologna on Saturday while trying to put the last few bad results behind their backs and mainly the ones against Inter and Atalanta, in order to keep their Serie A lead and hope for a loss of Inter, who are second in the standings.
Even though an Inter loss could have relieved Milan from extra pressure in the upcoming games, the Nerazzurri were able to win against Benevento 4-0 but Milan also won 1-2 at Bologna. This kept the difference between the two teams as it was before this 20th matchday.
The game was not as easy as it may have sounded since Siniša Mihajlović's Bologna is not a weak team to face. They are a very structured team with plenty of talented players who play attacking football while relying on movement and possession of the ball. It was clear that the mission will not be easy for the Rossoneri.
Stefano Pioli finally had Ismaël Bennacer back after being absent for months, as he also called up Mario Mandžukić and Sandro Tonali who were fit following their absence in the last match. Nevertheless, the list of injured/unavailable players is still filled with important players like Hakan Çalhanoğlu, Brahim Díaz, Matteo Gabbia and Simon Kjær.
In this regard, Pioli tried different things in training to find a replacement for the team's both adavanced playmakers, and in the end he chose Rafael Leão for this role and we can say that he adapted very well to his new position and made a fairly good performance in this match.
Milan lined-up according to the 4-2-3-1 formation with Gianluigi Donnarumma as a goalkeeper, Davide Calabria, Fikayo Tomori, Alessio Romagnoli and Theo Hernandez in defence, Franck Kessié and Sandro Tonali in midfield behind Alexis Saelemaekers, Rafael Leão and Ante Rebić who supported the team's striker, Zlatan Ibrahimović.
While for Bologna, Siniša Mihajlović played with the 4-2-3-1 formation as well which consisted of Łukasz Skorupski as a goalkeeper, Takehiro Tomiyasu, Danilo, Adama Soumaoro and Mitchell Dijks in defence, Jerdy Schouten and Nicolás Domínguez in midfield behind Riccardo Orsolini, Roberto Soriano and Nicola Sansone while Musa Barrow played as a striker.
Milan started the match with determination to attack but with patience as well since they tried building up from the back and waiting for Kessié, Tonali, or Leão's movements at times, or going forward through the wings thanks to the pace of Hernandez or Calabria's passes to Saelemaekers.
Yet, when all these options were impossible to execute due to marking, Milan have usually resorted to crossing in the direction of Ibrahimović who is known for his excellent aerial duels' abilities.
Nevertheless, when Milan failed to find passing options, Ibrahimović dropped back at some instances to receive and act like a playmaker. In this first Milan chance for example, he was the one who crossed the ball to Calabria who on his turn passed it to Rebić and then the latter gave it to the unmarked Leão, all with one touch.
But unfortunately for Milan, the Portuguese player was not able to finish this beautiful action in a good way since he failed to coordinate his body and shoot at the right time to surprise the goalkeeper and have an advantage on him.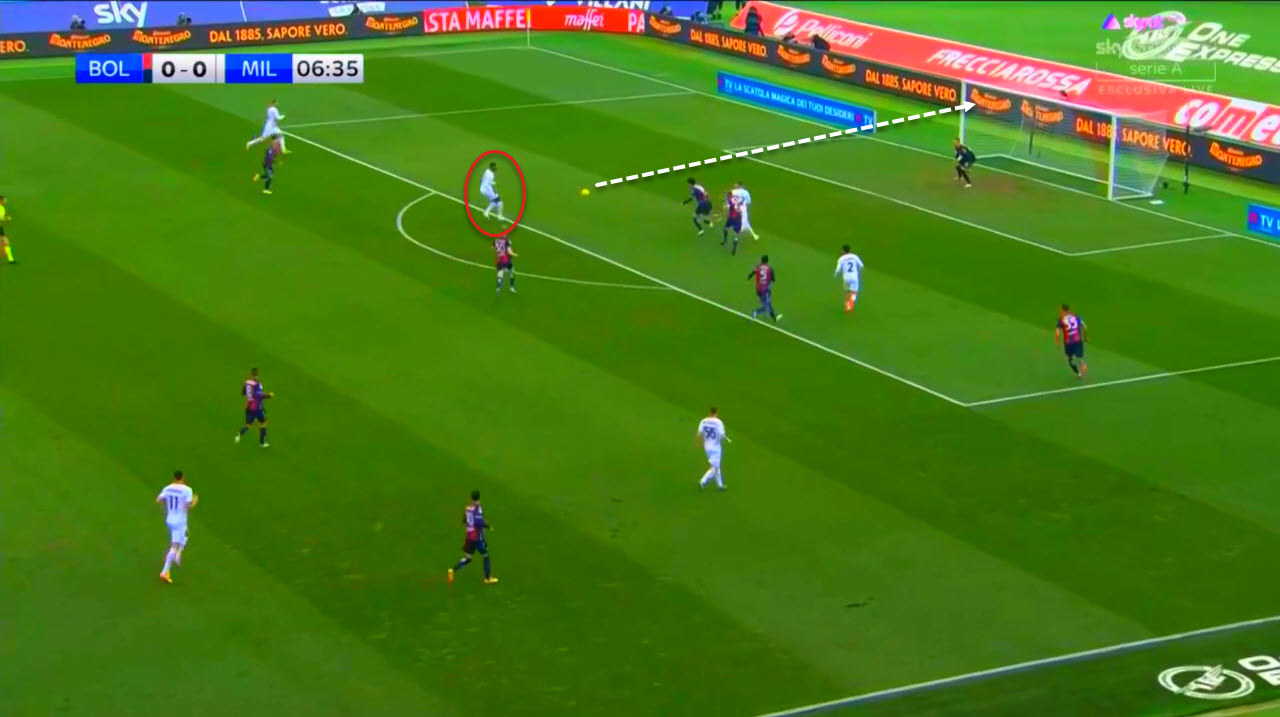 But despite this missed chance, Leão was excellent in his new position and provided passes to Rebić and Ibrahimović after succeeding in penetrating between the lines thanks to his pace and fast dribbles which helped him avoid Bologna's players most of the time. Also, this first-half witnessed a lot of high pressing and many created chances from Milan who threatened Skorupski several times before and after scoring the penalty. The most notable one was Hernandez's beautiful free-kick which hit the bar and was saved by Skorupski miraculously, as you can see below.
Moreover, it was clear that there was a good chemistry between Leão and Ibrahimović in this match since both fed each other with accurate through passes especially in the first-half. In a chance at the 19th minute, Leão was able to read Ibrahimović's movement accurately since the later fooled his marker by pretending to run on the right and then he switched his direction to the left. At that moment, Leão gave him a through pass on his left to meet his run, but in the end Skorupski was able to anticipate and save Ibrahimović's shot thanks to Soumaoro's disturbance as well.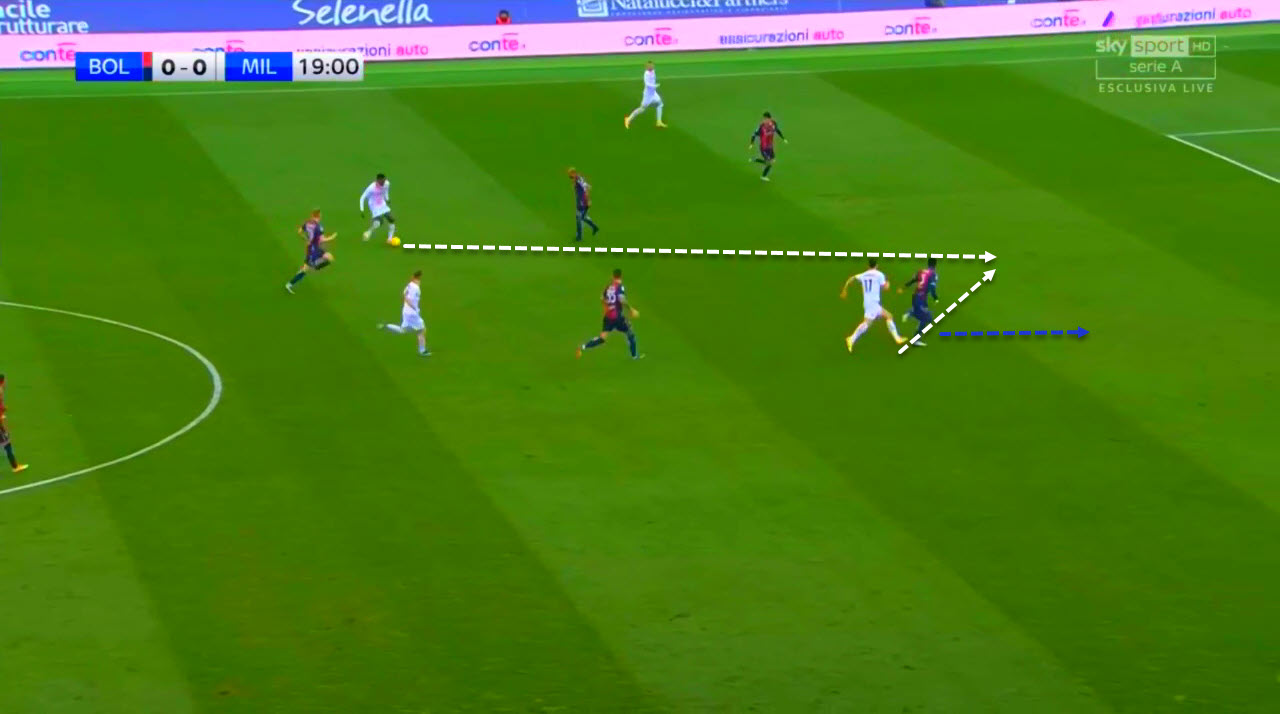 Following these chances, Milan were able to score the penalty thanks to Rebić who followed Ibrahimović's missed shot and then Milan tried to keep possession and threaten Bologna when possible, and they did that thanks to Leão's shot. However, starting from the 30th minute Bologna started to attack consistently and with a lot of danger on Milan's defence. First, with Orsolini's shot after cutting inside and avoiding Hernandez, and then at the 38th minute, Soriano was able to give a key pass at the back of Milan defenders to Sansone who escaped from Calabria's marking and went to receive the ball centrally. And if it wasn't for Donnarumma's impressive save, Bologna could have equalised from this Sansone chance.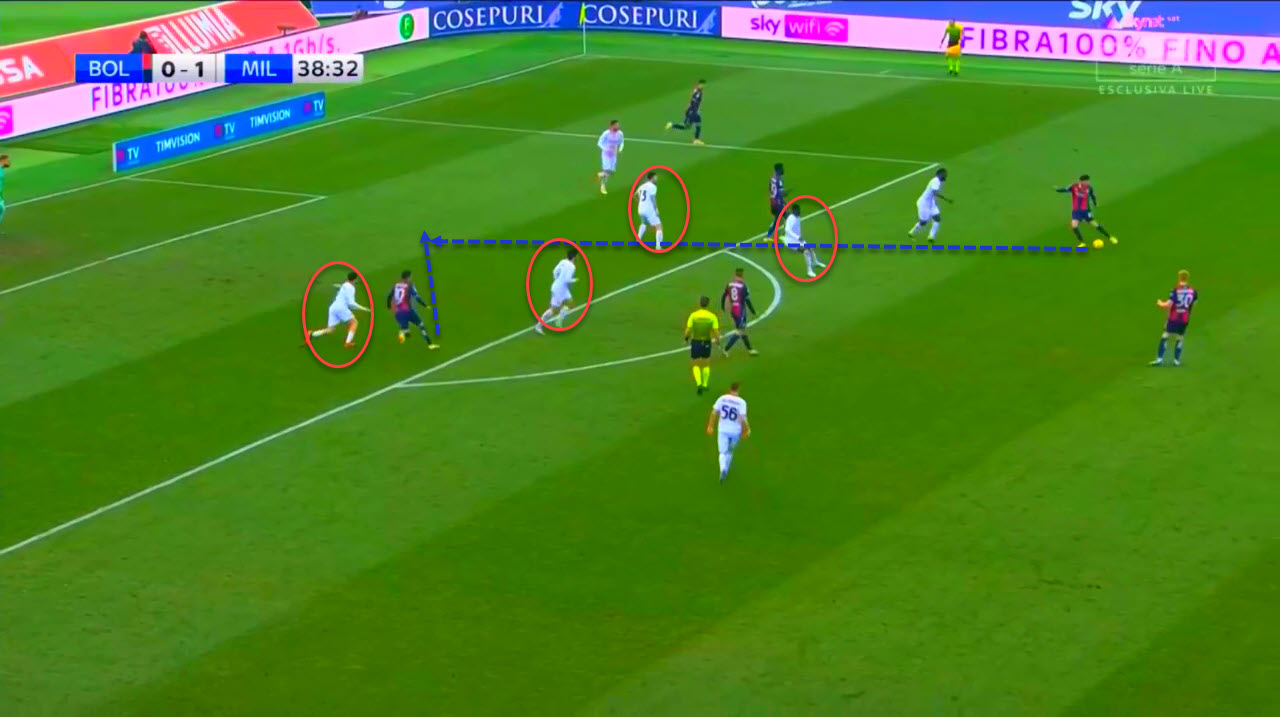 It is true however that Calabria missed a big chance as well after receiving an accurate pass from Ibrahimović inside the box, but after a few seconds, Bologna had another big opportunity to score but missed it thanks mainly to Tomori who made a sliding tackle to disturb Domínguez and try to intercept the ball and then to Donnarumma who actually saved the shot. It was a chance that could have been scored easily if Bologna players dealt with the situation in a smarter way since they had a numerical superiority in this counter-attack. It was a 2 against 3 situation but in the end Domínguez wasn't able to make the best out of it. For instance, he could have dribbled after pretending to shoot then passed to Barrow who was completely free on the left.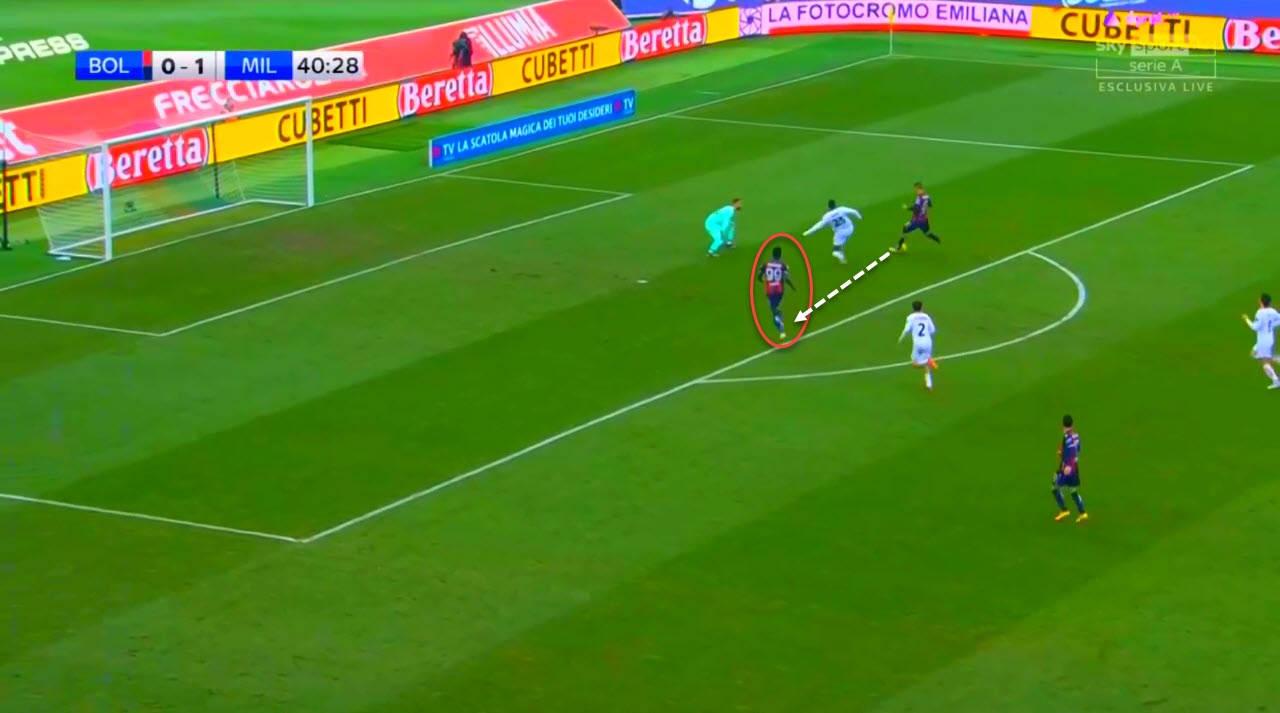 Things changed a little bit in the second-half since Milan tried to conserve the lead without losing too much effort and they were able to win a second penalty after Soumaoro's clear handball in a duel with Ibrahimović, which Kessié converted into a goal.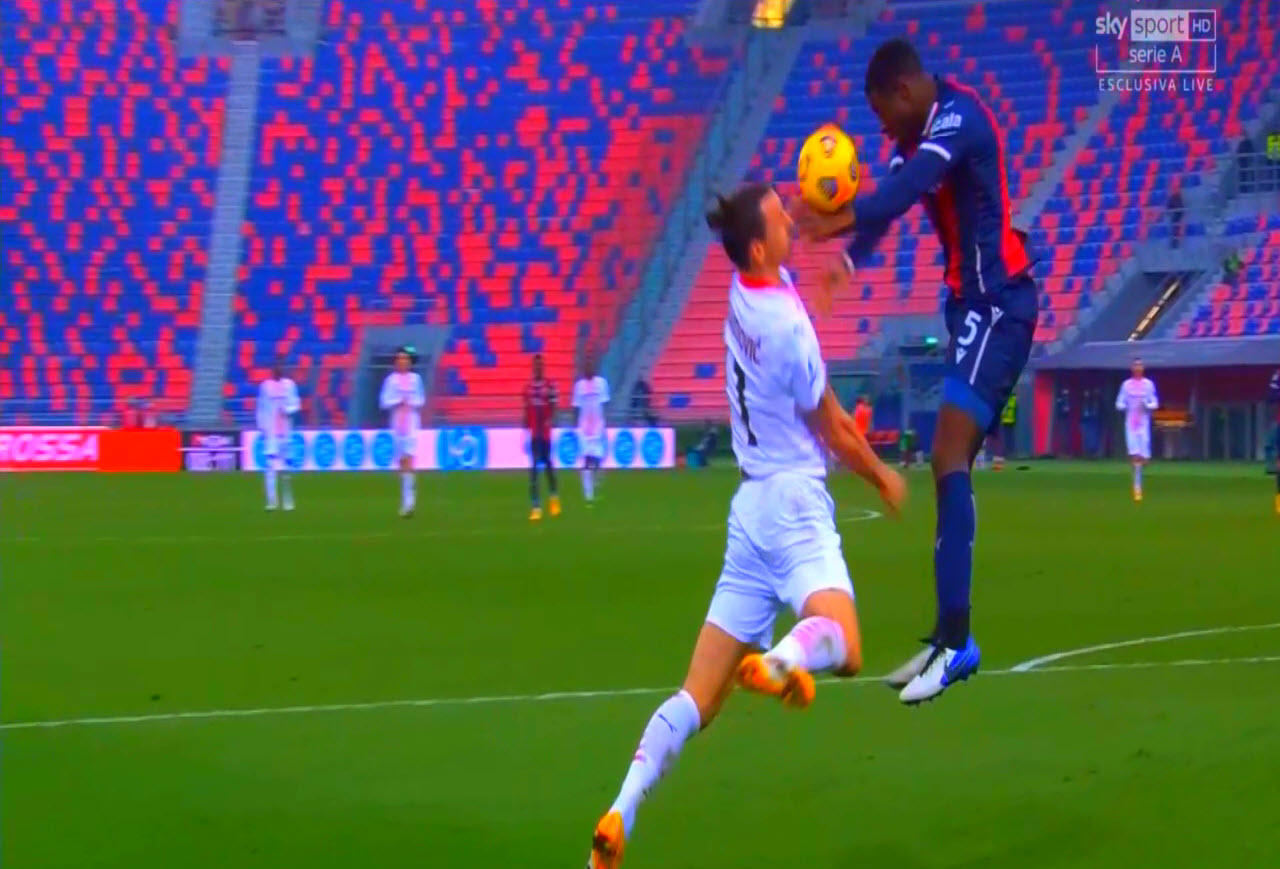 Following giving playing-time to Mandžukić in the place of Rebić, Bennacer in the place of Tonali, and Rade Krunić instead of Leão, Milan tried to keep their performance level as it is but Bologna had another say. After a dribbling mistake from Hernandez who tried to do his usual penetration, Palacio intercepted the ball and launched a counter-attack by passing a through ball to Andreas Skov Olsen who passed it on his turn to former Milan player, Andrea Poli, who was able to score a beautiful goal, as you can see in these pictures.
It was a goal that gave Bologna much confidence and more determination to equalise, but they found in front of them a compact Milan who believed in their ability to conserve the lead even though at some instances Bologna looked so close to scoring the second goal. But luckily for Milan, they got home with a valuable win that keeps them in the lead of Serie A for another week before hosting the next Crotone match at San Siro, while hoping to have players like Hakan Çalhanoğlu, Brahim Díaz, Matteo Gabbia and Simon Kjær back as soon as possible.