Milan travelled to Serbia in order to face Red Star Belgrade, also called Crvena Zvezda, in the first leg of the UEFA Europa League's round of 32. To pass this first knockout round, Milan needed to make a positive result at Belgrade in order to facilitate the mission in the second leg which will be played at San Siro next Thursday, 25 February.
Moreover, a positive result was needed because there will be a Derby between the two matches, and a tough fixture against Roma right after the second leg of Europa League. Therefore, an away win would have enabled Milan to make a slight turn-over in the second leg to keep the team fresh for Roma's encounter.
Nevertheless, Milan's coaching staff decided to rest some fundamental players to make them physically ready for the Derby on Sunday, a match that will be fundamental for the Serie A lead. This decision was legitimate since Milan now have some very good players on the bench who can perform very well and replace the starting eleven without dropping the performance level.
This was also an opportunity for many players to start from the beginning of the match, show their skills and gain more confidence and playing minutes. And here we are talking about Mario Mandžukić, Pierre Kalulu, Soualiho Meïté, and Rade Krunić. Also, this was another opportunity for Samu Castillejo to show that he has his place in this team and specifically on the right-wing.
Milan went back to Italy with a 2-2 draw that will give them the advantage in the second-leg, even though the team could have done more in terms of scoring since they could have created more chances instead of focusing just on keeping possession. Also, a second Red Star Belgrade goal at the last minute of the match was certainly painful for Milan team and fans, since it could have been avoided. Yet, Milan still have the advantage and should not get confused before a very important match like the Derby against Inter.
Stefano Pioli played according to the 4-3-2-1 formation with Gianluigi Donnarumma as a goalkeeper, Kalulu, Fikayo Tomori, Alessio Romagnoli, and Theo Hernandez in defence, Meïté and Ismaël Bennacer as central midfielders, Castillejo and Ante Rebić as wingers, while Krunić played as an advanced playmaker behind the striker, Mandžukić.
On the other hand, Dejan Stanković chose to start with the 3-4-3 formation relying on Milan Borjan as a goalkeeper, Nemanja Milunović, Radovan Pankov, Miloš Degenek as the three centre-backs, Marko Gobeljić, Guélor Kanga, Njegoš Petrović and Milan Rodić as midfielders while both El Fardou Ben Nabouhane and Mirko Ivanić exchanged positions on the wings throughout the match to confuse Milan's defence, and Diego Falcinelli played as a striker.
Milan started the match with some good build-up but they usually relied on the right flank at which there was Tomori and Kalulu, since Red Star Belgrade were aware of Hernandez' threat and did their best to mark him with and without the ball. That's why we did not see him receive the ball so often especially in the first-half. Like you can see below, both Romagnoli and Hernandez were often marked in order to oblige Donnarumma into crossing to Mandžukić or passing to Tomori or Kalulu.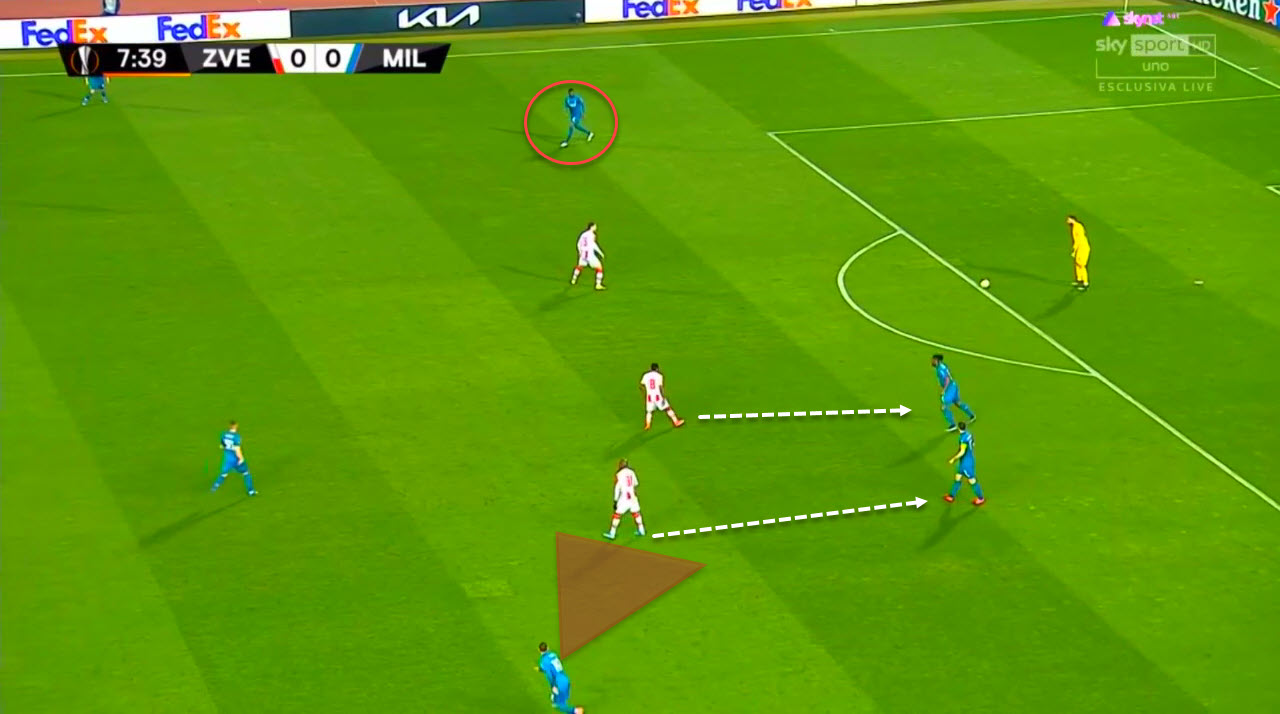 Red Star Belgrade players however were not quick and were not able to keep up with Milan's fast transitions and quick passes/accelerations. That was obvious especially when Rebić, Krunić and Castillejo had the ball and made penetrations or one-two passes.
These passing combinations in the final third allowed Milan to create space for one of the players and break Red Star Belgrade's defence. Also, whenever Milan made a counter-attack with accurate passes, they were able to surpass their opponent's defenders who struggled to stop Milan.
For instance, in this counter-attack, Krunić was able to make a one-two with Rebić but he failed to pass the ball to Castillejo on time. In fact, Krunić played a very good game as an advanced playmaker and was consistent in his performance throughout the match. Yet, lack of match sharpness played a role in such situations because if that pass was given one second earlier, the goal would have been counted since Castillejo was not in an offside position at that moment.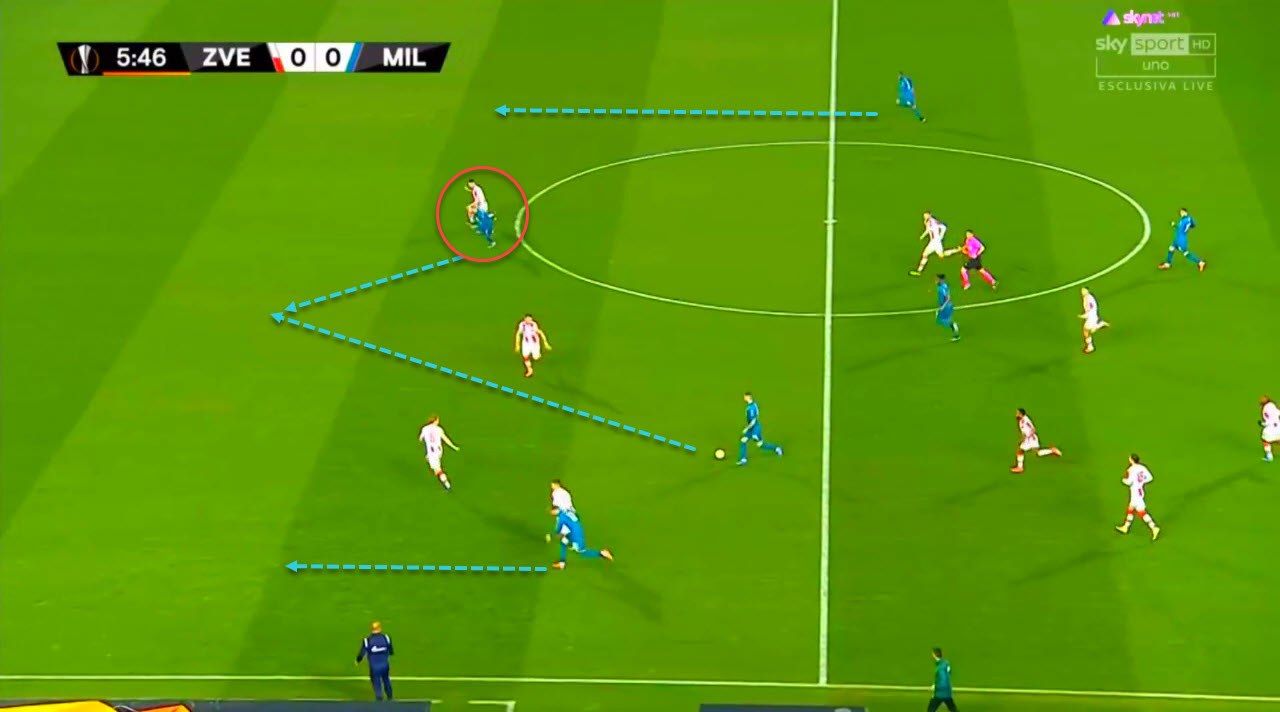 Another goal was disallowed for Milan due to a handball at the 12th minute, and this gave Milan even more confidence in their ability to score. They relied on Mandžukić in the aerial duels in attack and the Croatian was able to win some of those duels but his passing lacked accuracy especially in the first-half. This can be understandable coming from Mandžukić since it is his first start.
He certainly needs more time to find his best form and be more decisive, even though in this match, his willingness and energy in trying to intercept the ball was noticeable and worth the credit. He was able to win in many duels and to steal the ball from Red Star Belgrade players in their own third.
And on the 18th minute, Krunić had a big chance to score a beautiful goal from outside the box but his shot was saved by Borjan with uneasiness. But even though Milan's defence looked secure in the larger part of the game, Red Star Belgrade did threaten Donnarumma several times like in the chance shown below.
Here, both Romagnoli and Tomori were very high near Ben, while leaving Ivanić who came from behind alone without marking. And if it wasn't for Kalulu's disturbance and Donnarumma's impressive save, this would have been Red Star Belgrade's first goal and the mission would have been tougher for Milan.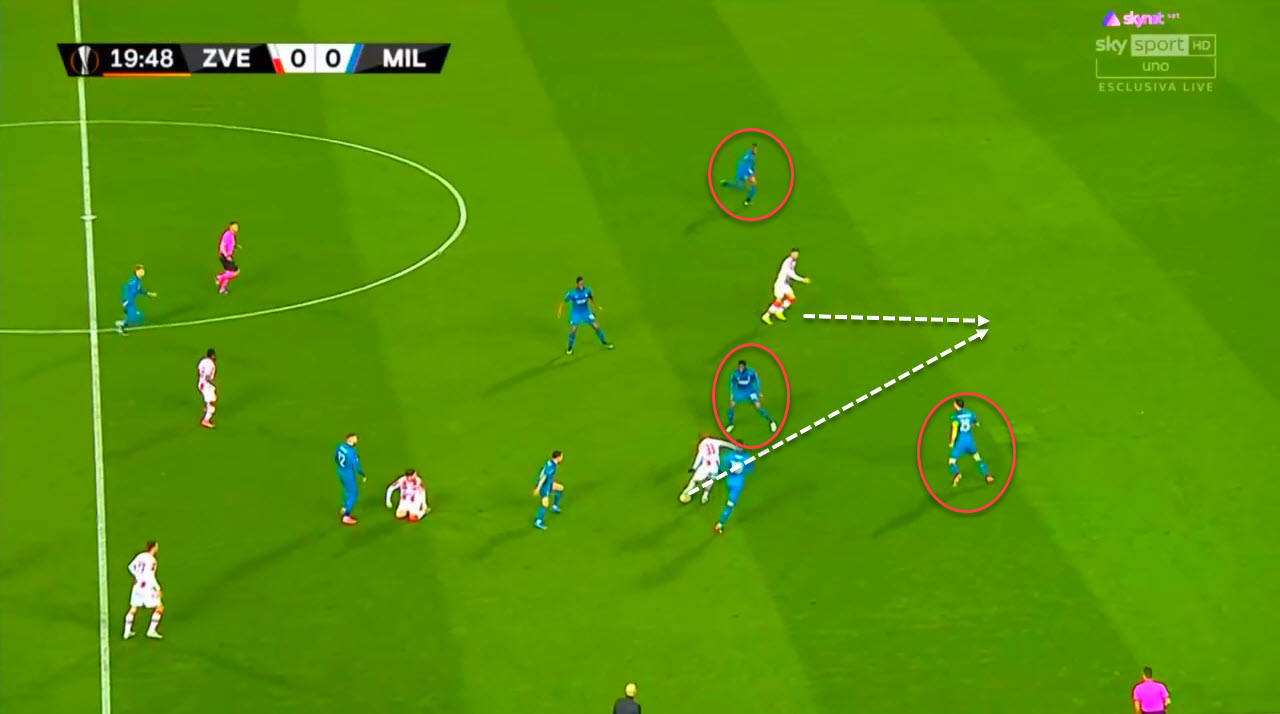 And it also should be said that Bennacer's injury made the opponents able to find more spaces. It is true that Sandro Tonali is also a promising player, but he is still learning how to position himself perfectly when defending in this Milan's 4-2-3-1 system and this will take more time.
Milan missed many chances in this match and they were not able to finish the game even though they were able to create many dangerous opportunities either from counter-attacks or from played actions and individual efforts. This may be the most notable one, Rebić received a pass from Krunić who controlled Tomori's cross perfectly and gave through pass into space like you can see below, but Rebić's shot went off target with just few inches away.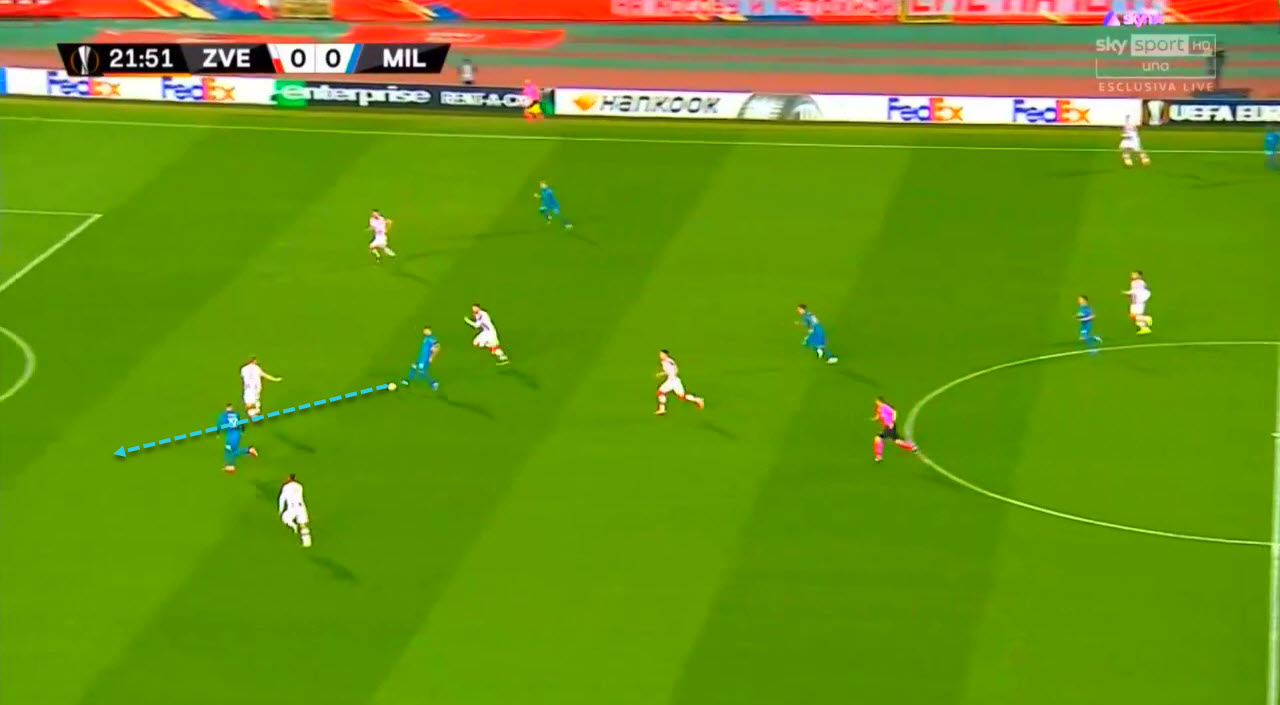 Milan's first goal then finally arrived thanks to Castillejo's shot which was deviated by mistake from Red Star Belgrade's defender but Milan could have conceded a goal at the extra-time of the first-half following Milunović's shot. And then, at the 50th minute, Red Star Belgrade were able to get a penalty and score it after Romagnoli's handball.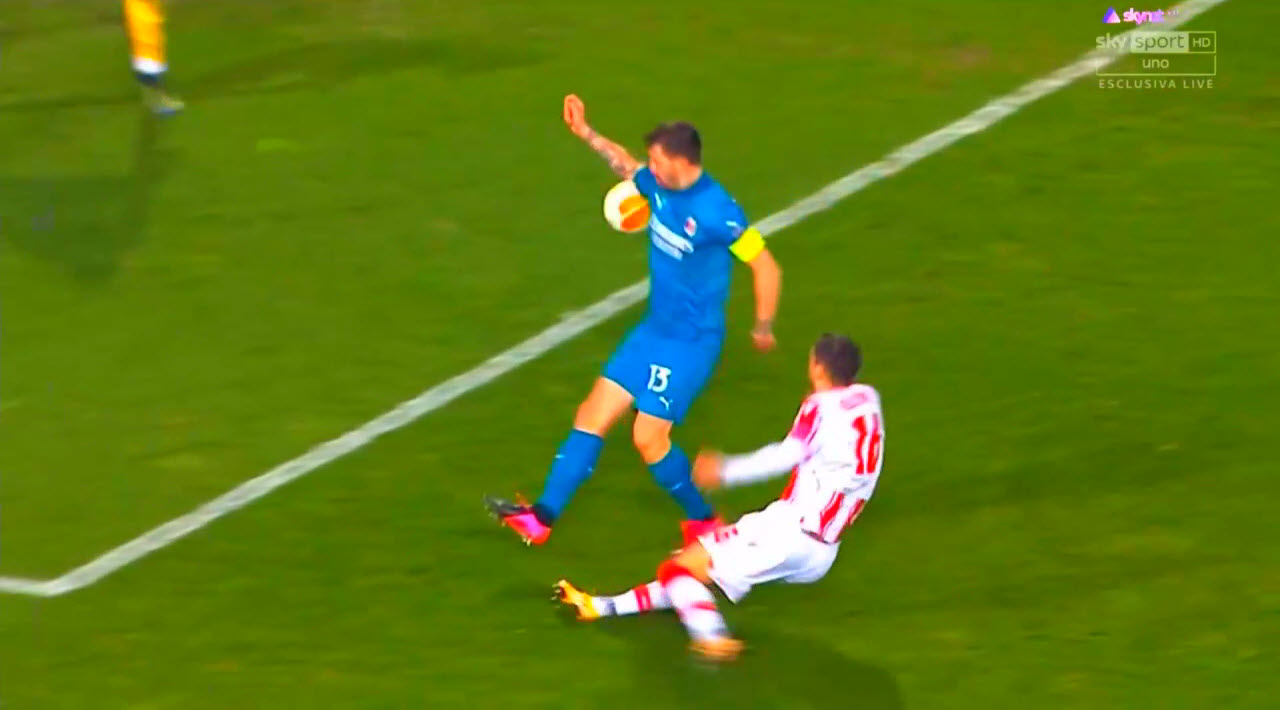 But Milan made a quick reaction to have the advantage once again and start economising their energies. It all started with Tonali's excellent acceleration on the left-wing which enabled Hernandez to be free from marking and run towards the goal in order to receive the ball. And he got it at the right time from Tonali and won a penalty following Pankov's illegal intervention on him.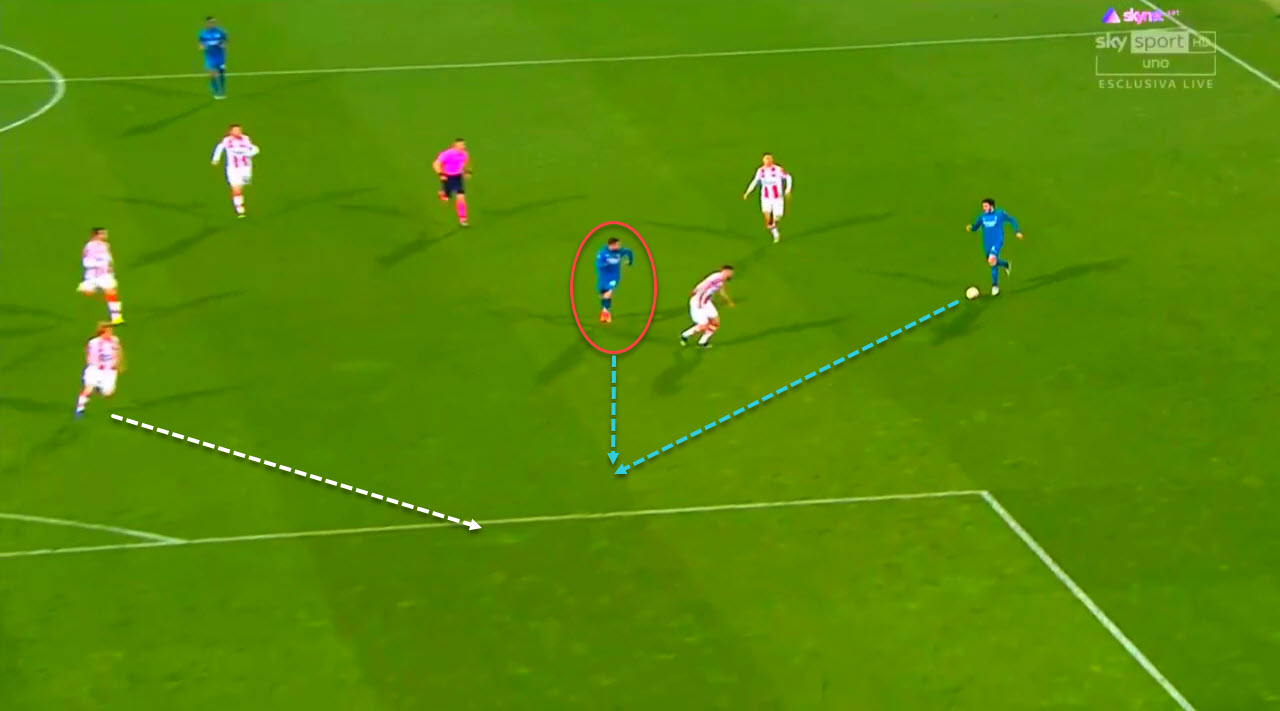 The Rossoneri however gave far too much space for Red Star Belgrade in the second-half which allowed the Serbians to gain more confidence in their ability to score a goal and believe in doing it. And it should be said that the team became too relaxed even though they had the game in hand in the second-half.
Yet, the players were not able to reach the final third so often and they focused mainly on having possession for the rest of the game without aiming at adding another goal. This led to a Red Star goal at the 93rd minute.
It is true that the goal came from an individual effort from Milan Pavkov, however AC Milan could have done more than that since Meïté gave too much space to his opponent and did not mark him effectively. Also, Milan could have done more to score a third goal and avoid being in this situation. But we should also say that the situation is not a bad one and Milan do still have the advantage.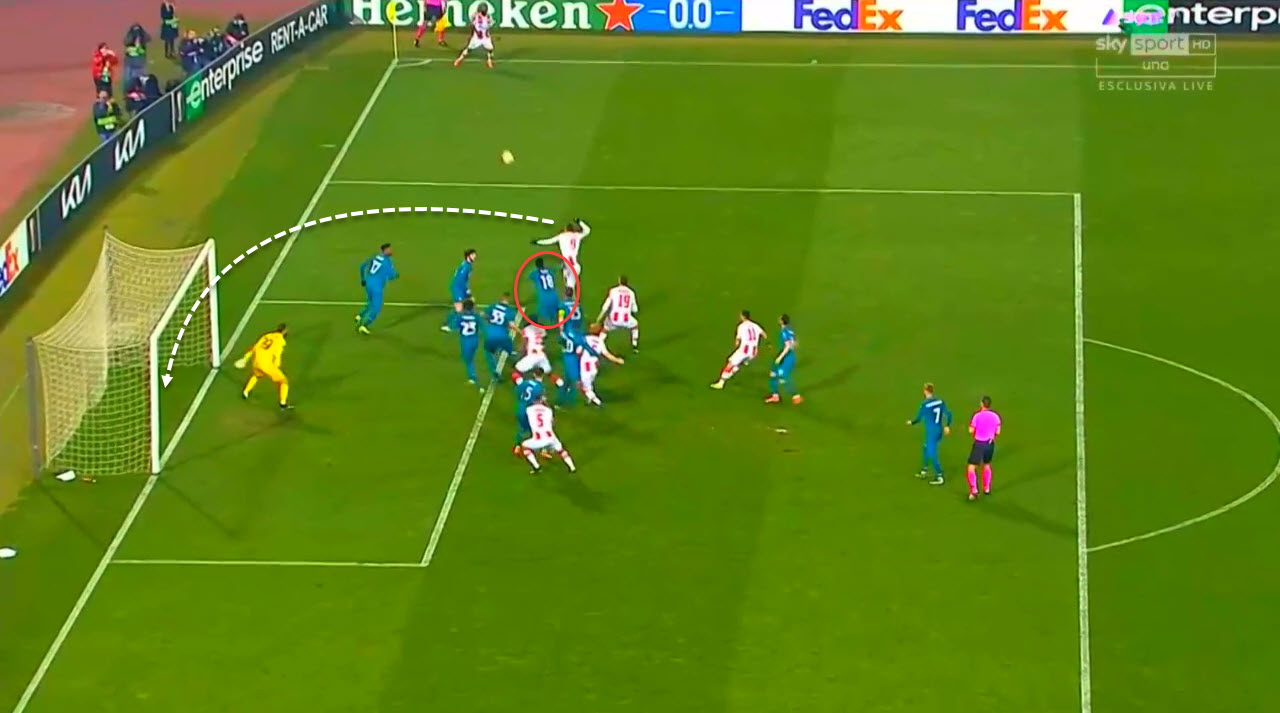 Milan will now focus solely on the Derby which will be vital in the Serie A title race, and the players will need to rest in order to give their best on Sunday while hoping to get the best possible result. And concerning the Europa League, this advantage on aggregate will serve Milan a lot in the second-leg since a 0-0 or a 1-1 draw will be sufficient for Milan's qualification to the next round.
Tactically speaking, Milan will need to play that match with determination to score from the beginning and exploit Red Star Belgrade's slowness in defence, especially when knowing that one of their best defenders, Milunović, will be suspended in the next game, as well as their winger, Rodić.