Milan and Inter faced each other at San Siro for the third time this season but this time Milan were the hosts in a match that was crucial for the Serie A lead. The Derby della Madonnina ended with a big 0-3 win for Inter and a painful loss for the Rossoneri which enabled Inter to gain 3 additional and precious points ahead of Milan who are now 4 points away from the top spot.
Milan will now need to work on getting the team prepared mentally to bounce back as soon as possible in Europa League and more importantly in Serie A in their next fixture against Roma in order to have the confidence back and return to their winning ways.
This will be fundamental especially because if the team won't bounce back immediately, there will be a big risk of losing their position to one of the very close teams such as Roma, Juventus, Lazio, Napoli and Atalanta. These teams are all becoming close to each other in terms of ranking and Milan will need to win points regularly in order to secure their main season target which is a top four finish.
Milan played according to the 4-2-3-1 formation with Gianluigi Donnarumma as a goalkeeper, Davide Calabria, Simon Kjær, Alessio Romagnoli and Theo Hernandez in defence, Sandro Tonali and Franck Kessié as central midfielders, Alexis Saelemaekers and Ante Rebić as wingers while Hakan Çalhanoğlu played as a trequartista behind Zlatan Ibrahimović who was the striker.
On the other side, Antonio Conte kept his usual 3-5-2 formation with Samir Handanović as a goalkeeper, Milan Škriniar, Stefan de Vrij and Alessandro Bastoni in defence, Achraf Hakimi, Nicolò Barella, Marcelo Brozović, Christian Eriksen and Ivan Perišić in midfield while the attacking duo was composed of Romelu Lukaku and Lautaro Martínez.
The game started with Milan making high pressing on Inter's defence in order to prevent them from starting their build-up phase successfully given that they have the quality of players that allows them to penetrate with ease once they reach midfield. In this regard, Stefano Pioli adopted this plan in order to stop Inter's attacks.
However, Inter players were very focused throughout the match and they did not give away balls to Milan especially in their own third. And even though Inter's defenders made a couple of mistakes especially at the start of the second-half, Milan were not able to exploit them as they should have done.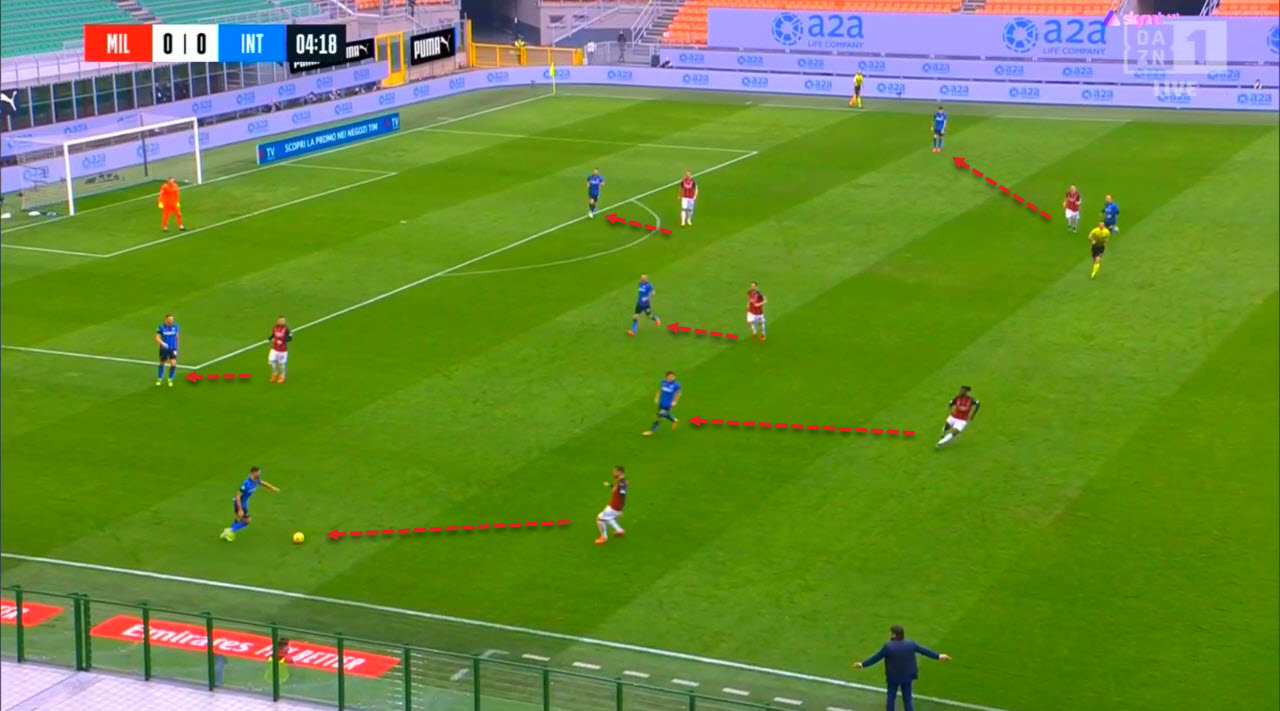 Just like you can see in that picture, Milan pressed high with 6 players, and some of them, like Hernandez and Kessié, left a lot of space behind them in the hope of intercepting the ball before it reaches midfield. Yet, this tactic resulted in Milan's "downfall" in this match, because when playing with this tactic against teams who have technical players who are used to overcoming teams' pressing, and who most importantly have dangerous attacking players waiting to receive the ball and love to find space, then approaching them with such a plan would be very risky.
Moreover, it was clear that Antonio Conte prepared the game according to Milan's tactics and the team knew exactly what to do in order to exploit the flaws of their tactical plan. This was very clear in their first goal and in many of Inter's attempts.
For instance, during Inter's first goal, and after Hakimi was able to pass the ball to Lukaku, like you saw above, the latter was instructed to lean on his right when Hernandez presses high in order to create a one-on-one situation with Romagnoli and have better chances of overcoming him and let Martínez be free inside the box with just Kjær marking him and not two centre-backs. This was recurrent especially in the first-half and it created many issues for Milan's defence which looked confused in many instances of this match.
Not only that, Lukaku has much more pace than Romagnoli and was able to overcome Milan's captain in many times while we saw Alessio give up early in many instances instead of making a sliding tackle at least in the times Lukaku started to become distant. As you can see below in the action that led to the goal, Lukaku was ahead of Romagnoli who looked out of solutions and Martínez found himself almost free inside the box and waited for Lukaku's cross that ended into the net following Martínez's header.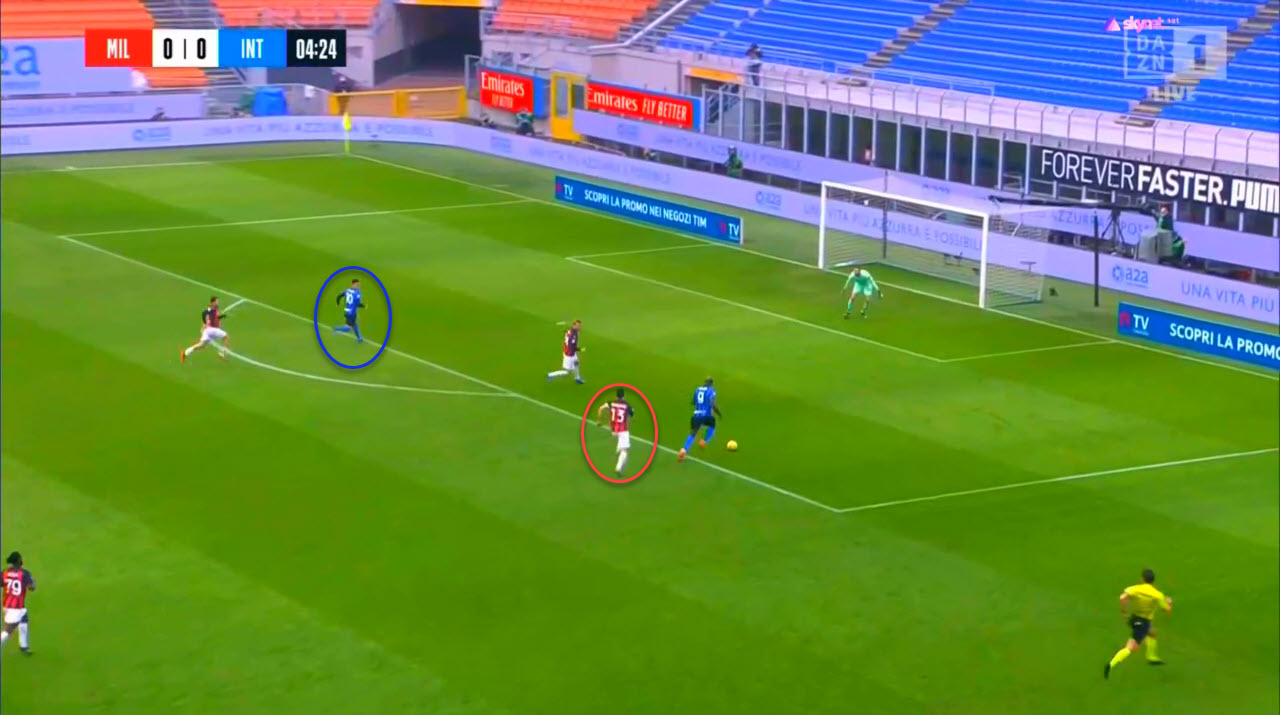 This goal was not only the product of Inter's well-played attack, Lukaku's excellent cross and Martínez's precise header, but it was mainly due to Milan's poor marking and lack of communication during the action. Like you can see below, Calabria did not know who to mark, Martínez or Perišić, and Kjær was not even aware that there was a free Inter striker just behind him. This indecision and lack of communication from Donnarumma created confusion inside the box and led to Inter's early goal.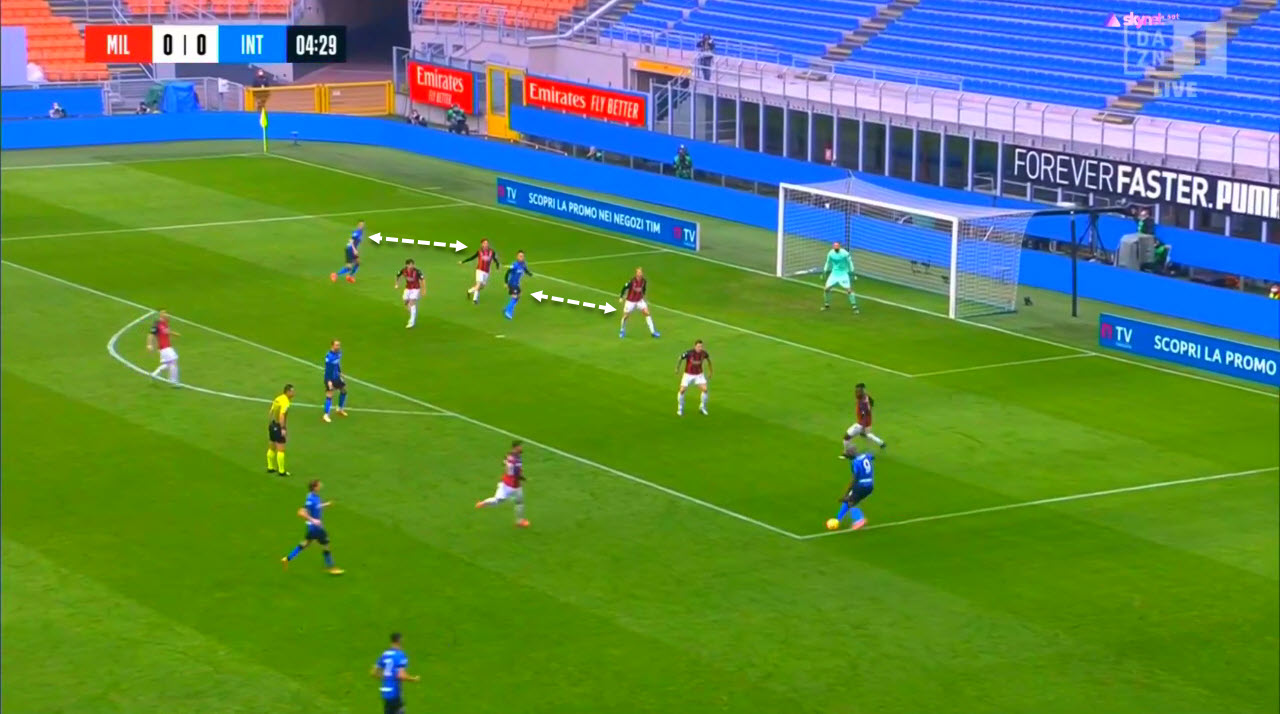 Despite these defensive issues, and despite the fact that Milan were not able to create chances in the first 30 minutes of the match, the Rossoneri started to become dangerous in the final minutes of the first-half and in the start of the second one. They made a tangible reaction and did their best to equalise, but unfortunately, luck was not on their side and Handanović saved Inter miraculously on more than three occasions.
When Milan started to play with more determination and more confidence, they were able to keep possession and threaten Inter's defence more often mainly with crosses to Ibrahimović or quick passes in the final third even though Inter were ready for that and outnumbered Milan's players in many instances to prevent them from shooting.
It was difficult for Milan to shoot from afar and they did that only on a few occasions, however, it should be said that Çalhanoğlu could have done more in terms of decision-making in some of the actions since those were the chances of the match.
For example, in this chance that came at the end of the first-half, Çalhanoğlu received the ball in a dangerous area and intended to shoot but saw Brozović's tackle so he decided to pass it to Rebić. However, he confused his teammate by taking additional seconds of thinking, which made the Croatian stop and wait for what Çalhanoğlu will do.
This created confusion between the two and the pass was already distant from Rebić. In this situation, Çalhanoğlu should have either passed directly to Rebić since he was in a great position, or he could have also put the ball on his right (like the white arrow shows) and shoot since he was very close to the goal and he has got the shooting qualities needed to score.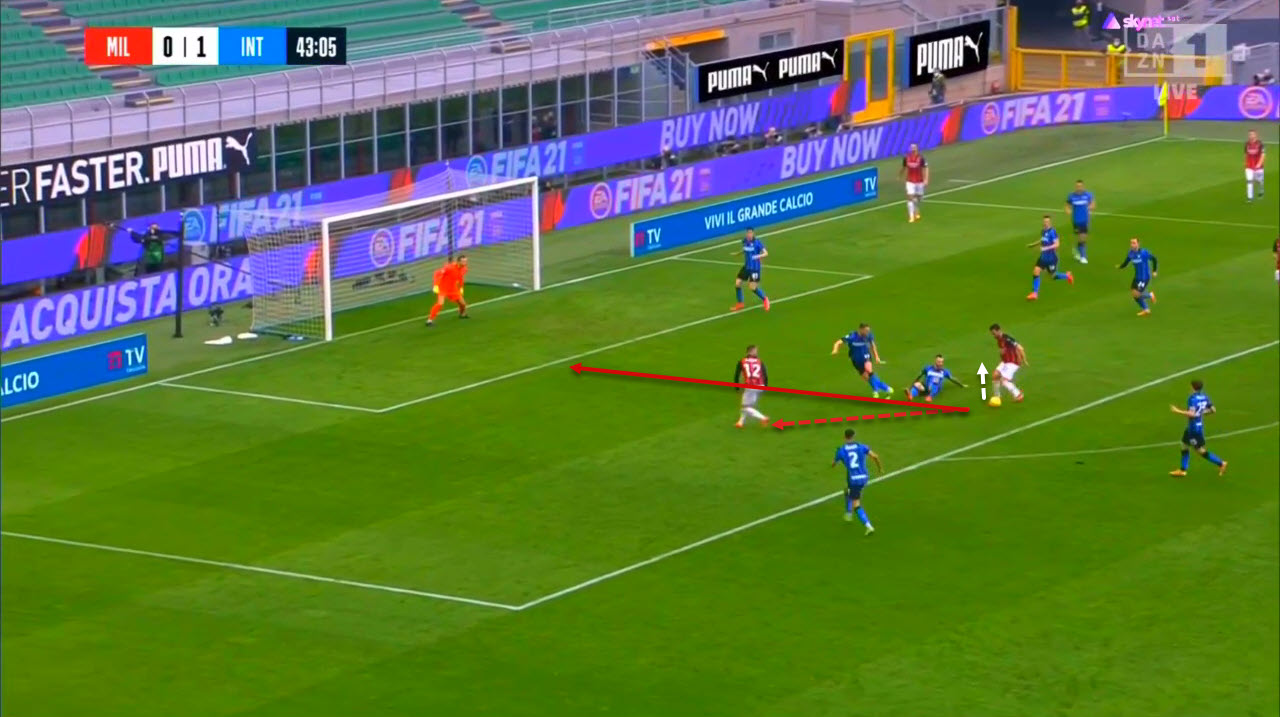 In the attacking phase, both wingers Rebić and Saelemaekers were not in their best form in this match and were not able to make a tangible addition in terms of chances creation. Rebić's attempts were often predicted and he is yet to regain his prior injury physical condition since he is losing many of the attacking duels in the last few matches, while Saelemaekers was not able to make the impact that he used to have on the team even though he disturbed Inter's defenders with his continuous pressing.
All in all, Milan were neither in their best run of form nor fortunate in this match, and this was partly due to the psychological implications of their recent negative results as well. On the other hand, Inter were totally prepared for this match on all levels and they have shown that on the pitch by scoring two goals and dominating the larger part of the game.
The Rossoneri however should not put their hands down and give up. The season is still long and there is still a lot to play in two competitions. A win in the next Europa League match will be fundamental to gain the confidence back and prepare in the best of ways for Roma's clash on next Sunday.