Milan Reports continues to be on Twitch since January 18th.
With Martino Puccio and Matt Santangelo, we are live every Tuesday at 7.30 pm, and in all post matches. Martino and Matt were honored by the Football Content Awards, with their podcast "State of Play".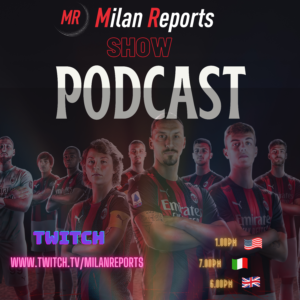 OUR PROGRAMMING – On Tuesday Martino and Matt conduct "Milan Reports show", a show lasting about 1 hour with many guests from all over the world. With Martino and Matt sometimes there is also the director Vito Angelé and the editorial staff of Milan Reports. During the show the protagonists could be you too! You can interact with us with on twitch chat (SUBSCRIBE TO OUR CHANNEL TO NOT MISS OUR SHOW, IT'S FREE). 
There is also talk of transfer market with Vito Angelé in our shows, news and rumours from Italy!
THE EPISODE PREVIEW:
During the new episode of the podcast, we will discuss the derby match and talk about many instances in the game. We will be waiting for you to talk to us as we will chat together about the game, we want to hear your opinions. We will also be talking about the next game in the Rossoneri's schedule which is the Europa League second leg fixture against Red Star Belgrade, a special guest will join us: David Fante founder of Milan Club Philly. It will be a very exciting episode, make sure not to miss it!