Part 1: 2015-2020, Rising Star
When Alessio Romagnoli first signed for Milan in the summer of 2015, he arrived with plenty of optimism and expectation. Along with Daniele Rugani, the then 20-year-old was considered to be the future of Italy's defence with the familiar old guard including the likes of Giorgio Chiellini and Leonardo Bounce starting to enter the twilight of their careers.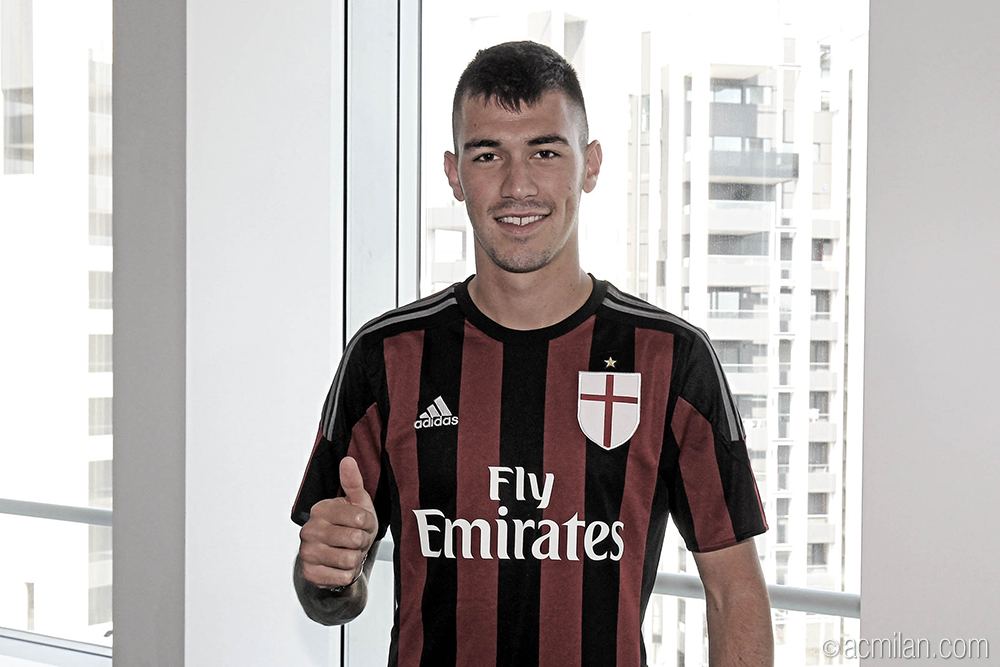 Romagnoli arrived in Milan following an atrocious 2014/15 campaign where the Rossoneri slumped to a 10th place finish, and it was clear to everyone who followed the club (if it wasn't already) that radical change was needed if Milan were ever again to reach the glorious heights of the past. Thus, then manager Filippo Inzaghi was promptly fired and replaced by Serbian tactician Sinisa Mihajlovic who was starting to gain traction as an up and coming manager in Serie A. Mihajlovic had recently guided Sampdoria to a stellar 7th place finish, and one of the key contributing factors to his success with the Blucerchiati was that his Sampdoria side had an extremely well set-up defence – which featured none other than Alessio Romagnoli at the heart of it.
One of Mihajlovic's first requests to Adriano Galliani as head coach of Milan was to sign his star centre-back, and thus Alessio Romagnoli arrived from A.S. Roma for a fee of €25M. In his first season at the club, Romagnoli usually partnered the veteran Brazilian, Alex – and he shined; his ability to read the game and comfort in possession was extremely impressive and a breath of fresh air for Milan fans, a stark contrast to what they had become all too used to seeing in recent years, and his potential was clear for all to witness.
In his second season, Romagnoli's upward trajectory continued under new coach Vincenzo Montella, as the Rossoneri won the Supercoppa Italiana and finished in 6th place, meaning a return to European football was on the cards. During this time, Romagnoli usually partnered Argentinian-Italian international Gabriel Paletta, but unsurprisingly, Alessio was considered to be the Rossoneri's best defender and the hype and expectation around him only increased.
The summer of 2017 saw a change of ownership for Milan, the Silvio Berlusconi era finally came to an end as the former Italian Prime Minister sold the club to Chinese Businessman Yonghong Li, who invested over €200M in the following transfer market. Their highest-profile acquisition was without a doubt, Leonardo Bonucci from Juventus. As aforementioned, Bonucci was part of Italy's old guard that Alessio Romagnoli was supposed to eventually replace, and it was an exciting in the prospect: seeing the up-and-coming matched alongside the established. In hindsight, Leonardo Bonucci's year in Milan won't be looked back upon particularly fondly by either the fans or the player himself, but arguably the most interesting thing to come out of it was the fact that Alessio Romagnoli was clearly the superior performer. There's a certain irony to the sentiment that Bonucci came to Milan so he could be the finally be the leader, only to end up being lead by his centre-back partner, 7 years his junior.
Following Leonardo Bonucci's return to Turin, Alessio Romagnoli was made club captain by Gennaro Gattuso for the 2018/19 campaign. During the season, he very nearly guided the Rossoneri to a Champions League spot and Romagnoli was once again credited as one the team's top performers, relishing in his new role. He was most commonly partnered by former Villareal man, Matteo Musacchio – the Argentinian was never really a fan favourite, but Nevertheless, they formed a functional centre-back partnership together. Fans will recall fond memories of Romagnoli's stunning last-minute winning goals against Genoa and Udinese – there was something poetic about the club captain carrying the team to unlikely back-to-back victories: when all seemed lost, the Rossoneri had a Captain who understood what it meant to represent this historic club and stepped up to the standards that came with doing so.
The 2018/19 campaign was Alessio Romagnoli's best yet, but unfortunately, it would be where his upward trajectory ceased to continue.
Part 2: 2019/20 Season
After Gennaro Gattuso left in the summer, the club looked to redefine itself with newly appointed C.E.O Ivan Gazidis keen to make his mark. Gattuso often drew criticism during his time at Milan for his old fashioned play style which never quite seemed to bring the results to back it up. Thus, he was replaced by another former Sampdoria boss, Marco Giampaolo. Ultimately, his time at the club was brief and frankly disastrous: losing 4 out of his 7 games in charge was only the tip of the iceberg, the Swiss-born coach infuriated many of the fans and quite possibly the club's management with his controversial press conferences where he would seemingly throw his players under the bus. Naturally, he had clearly lost the dressing room with only a select few players still managing to perform. It didn't come as a surprise to say that Alessio Romagnoli was one of these players, with Theo Hernandez and Gianluigi Donnarumma often cited as the others. It needn't be said that Marco Giampaolo was promptly relieved of duties, and was replaced by ex-Inter ex-Fiorentina boss, Stefano Pioli.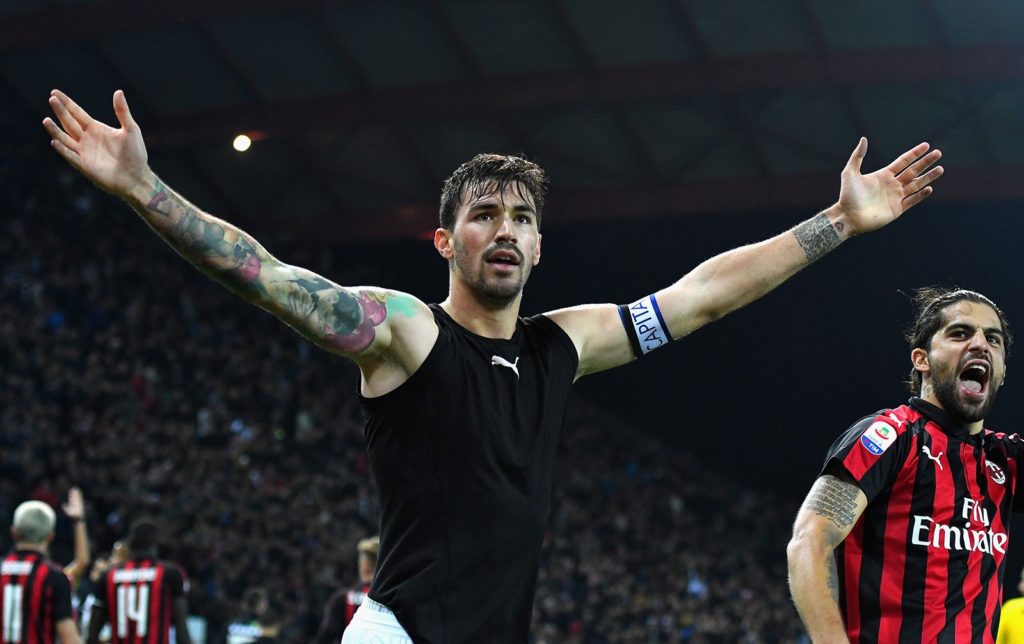 Brought in to steady the ship, Pioli's track record of being a stop-gap coach who never quite managed to settle down anywhere lead to a lot of scepticism upon arrival. Whilst results didn't improve overnight, he at least seemed to have the respect of the players and the club's management and was therefore given time and the benefit of the doubt where Marco Giampaolo was not. Romagnoli's performances in the early Pioli era were mostly of the same strain of quality that we had seen from him in his time at the club, although there were a few moments where he seemed to get exposed where you previously wouldn't expect him to. Nevertheless, given his track record, it was only fair to turn a blind eye considering he was seemingly the least of Milan's worries – the first half of the 2019/20 season was so disastrous that many fans had written the season off by Christmas.
When the January transfer market of 2020 came around, Milan finally reinforced in defence – bringing in travelled Danish international, Simon Kjaer who was an instant success. Whilst his arrival wasn't met with nearly the same excitement and optimism of that of Leonardo Bonucci for instance, the experienced Dane proved to be the quality, reliable partner that Romagnoli deserved but never seemed to have. However, it became apparent quite quickly that the captain who was unanimously adored by fans not 6 months earlier, was no longer the club's best performing centre-back – a title he had perhaps taken a little for granted; Matteo Musacchio was certainly never going to mount a serious challenge and recent signing Leo Duarte couldn't stay fit for long enough to even be part of the discussion. Kjaer was doing exactly what Romagnoli did to Bonucci two seasons prior – he was consistently outperforming him and even "covering his tracks" if you will, and this has been a recurring theme right up until the present.
Fast forward to February 21st 2021, Milan has lost the most important derby in over a decade by three goals to nil, and Romagnoli faces intense criticism in 2/3 of the goals. On both occasions, the Italian defender was completely beaten by Romelu Lukaku. Unfortunately, a recurring theme in recent Milan Derbies.
Part 3: 2020 – Present: What Went Wrong?
Ever since the arrival of Zlatan Ibrahimovic, Stefano Pioli switched formations from 4-3-3 to 4-2-3-1 and has utilised a high defensive line ever since. To be frank, this system simply doesn't suit Alessio Romagnoli who was never blessed with great pace. Pioli wants Milan to play direct, attacking, and vertical football – quite the contrary to what we saw under Gennaro Gattuso, who opted for a deep defensive line which allowed the skipper to read the game whilst the team would sit back and absorb pressure. Playing this more attacking style of football requires defenders to be quick and able to trackback at a moment's notice. It also requires defenders to be more exposed than they would be in a defensive set-up – a priority being able to excel in 1v1 situations. Unfortunately, this has never been Alessio Romagnoli's forte – he always seemed to struggle against pacey, physical, strikers – particularly in the mould of Romelu Lukaku. Nowadays, there are far more players of that mould in Serie A than there were 5 years ago, and throw in this change in tactical approach – Romagnoli now finds himself being put in exposed 1v1 situations much more often and unfortunately isn't coming out on top more often than not.
After almost a full year of never quite seeming to get going, never quite able to step up to the level set by the rest of the squad, is it finally time for Milan to give up on a captain that was once held in such high regard?
It's a difficult question to answer, and one that has been fiercely debated throughout the fan-base. There were calls for him to be benched as early as the summer, but none have been particularly valid until recently. This is because absolutely no-one who shared this opinion could answer this question: who exactly is going to take his place? Matteo Gabbia? A recent academy graduate who has pulled together a few decent performances but hasn't shown nearly enough to make the starting XI – probably not. Pierre Kalulu? A 20-year-old Right Back who hadn't played a single minute of first-team football before the summer of 2020? – also unlikely, the Frenchman has impressed out of position on a couple of occasions but would ultimately still be an extremely inexperienced player being played out of position. The fact is, there was no suitable replacement for Romagnoli in the squad – which was undoubtedly the case until the arrival of Fikayo Tomori on the 22nd of January.
The Canadian-born Englishman arrived on loan with the option to buy for a reported fee of around €28 million and immediately impressed in his first appearance for the club – a 2-1 derby defeat in the Coppa Italia where he came on for Simon Kjaer early in the first half. Much like Alessio Romagnoli, Tomori clearly has an excellent ability to read the game but has attributes that the Italian never had: most notably, pace and excellent ability in 1v1 situations. Tomori has featured in several games now and it is starting to become blatantly obvious that the Rossoneri captain should not be starting ahead of him or Simon Kjaer.
Since the 2018/19 season, we've also seemed to notice a decrease in Romagnoli's leadership qualities – and it doesn't feel like he's really the captain any more. This is something that is highlighted by the fact that Gianluigi Donnarumma has added this to his game – no longer the shy, lanky teenager who politely went about making outlandish saves on a regular basis, we're now looking at a commanding presence; organising the defence and doing everything a Captain should be doing. This wasn't an overnight transition, but it had been in development ever since the start of the 2019/20 season. As aforementioned, the Rossoneri endured a bitterly disappointing start to the campaign and a lack of leadership was commonly cited as a fundamental cause.
Thus, in the return of Zlatan Ibrahimovic, Paolo Maldini and Zvonimir Boban addressed this issue. Naturally, the Swede excels as a role model for his team-mates and you'd be hard-pressed to watch a Milan game since his arrival and point to Romagnoli as the leader. In an interview for Milan TV, top scorer from the 2019/20 season Ante Rebic had this to say following his loan move from Frankfurt being made permanent: "We have one leader on the bench, the coach (Pioli) and another on the field, Zlatan". Whilst he wasn't directly asked about Alessio Romagnoli's leadership qualities, (the question was "do you see yourself as a leader") it's nonetheless quite surprising to hear a player talk about leaders in the team, and not even mention the current club captain. The captain should be the first person that comes to mind when you hear the word "leader" and Romagnoli was not included in the discussion.
So why is Romagnoli still captain? The answer to that question may well be the slightly uncomfortable sentiment that Stefano Pioli doesn't want to strip him of his title. There's not a doubt that when he was first given the armband in 2018, no-one deserved it more. Gianluigi Donnarumma wasn't ready for such a responsibility yet and other candidates such as Giacomo Bonaventura were too prone to injury. However, being captain of AC Milan isn't a right but a privilege that must be earned every single time you put on the shirt.
Based on what was seen in the last 2 seasons, is Alessio Romagnoli the deserving captain of the side? This is a question that must be treated with seriousness and maturity, and there isn't a simple answer. On paper, the most natural captain right now would either be Zlatan Ibrahimovic or Gianluigi Donnarumma, and one could go as far as to say that the most natural Centre-Back pairing would be Fikayo Tomori and Simon Kjaer. It isn't 2017 any more, Romagnoli is no longer an above-average player in a below-average Milan side. He has to step up: fans have been saying this ever since the start of the season. In the recent disappointing derby defeat, it was clear as day that Romagnoli was not performing as well as supporters want. Would Fikayo Tomori have done any better on the first and last goals? His pace and natural ability in 1v1 situations arguably make him the perfect profile to deal with a player such as Romelu Lukaku. It's difficult to jump to conclusions, as anyone who has followed Milan over the past five years has seen for themselves just how good Alessio Romagnoli has been in the past – but he hasn't pushed on since then and his development has not only stalled but arguably declined.
Without a doubt, Alessio Romagnoli has been a loyal and dependable servant of the club, but after nearly 5 wonderful years in Lombardia – it seems his place in the starting XI is now anything but secure. After 27 games unbeaten, Milan is now in a difficult period following back-to-back defeats for the first time this season – and few players have faced as much criticism for their recent performances as Romagnoli. If he steps up and returns to his 2018/19 form in the remainder of the season, Milan fans will be right behind him. However, with the impressive Fikayo Tomori now in the picture, it's becoming a difficult situation for Alessio. Never before has the captain's presence in the team been up for debate, but perhaps the time has come for Stefano Pioli to look elsewhere.