Milan faced Red Star Belgrade for the second time in a week for the second leg of UEFA Europa League's round of 32. The game ended with Milan's qualification to the round of 16 with 3-3 draw on aggregates which favoured Milan since they scored 2 away goals at Belgrade.
The match in itself finished therefore with a 1-1 draw following the goals of El Fardou Ben Nabouhane and Franck Kessié. And even though the Rossoneri's performance was not convincing at all, they were able to get the needed qualification which was the most important thing. However, Stefano Pioli will have much work to do before heading to Rome in order to face a strong Roma side in Serie A.
Stefano Pioli played with the 4-2-3-1 formation as usual with Gianluigi Donnarumma as a goalkeeper, Davide Calabria, Fikayo Tomori, Alessio Romagnoli and Diogo Dalot in defence, Soualiho Meïté and Franck Kessié as central midfielders, Samu Castillejo and Hakan Çalhanoğlu as wingers, while Rade Krunić played as an advanced playmaker behind the striker, Rafael Leão. And in the second-half, Pioli subbed Zlatan Ibrahimović and Ante Rebić on before adding Theo Hernandez and Alexis Saelemaekers to the line-up and resting Krunić, Castillejo, Calabria and Leão.
On the other hand, Dejan Stanković chose to start with the 3-4-3 formation relying on Milan Borjan as a goalkeeper, Sékou Sanogo, Radovan Pankov, Miloš Degenek as the three centre-backs, Milan Gajić, Marko Gobeljić, Guélor Kanga, and Slavoljub Srnić as midfielders while both El Fardou Ben Nabouhane and Mirko Ivanić on the wings, and Diego Falcinelli played as a striker.
Milan started the match with determination to score a goal and make the mission easier for everyone with the hope of making a turn-over in the second-half, and they were able to do so thanks to the penalty that came after Gobeljić's handball to deviate Krunić's shot. Kessié was able to score the penalty with ease and from that moment onwards, Milan retreated completely and left much space for Red Star Belgrade to attack and threaten Milan through penetrations from the wings or by set-pieces, which were one of Red Star's main strengths.
And in this regard, it should be said that this approach was not beneficial for the course of the match. By retreating and slowing the rhythm, Milan conceded a lot of chances and looked struggling in this first-half even though they were not facing a team with high calibre players. As you can see below, this approach led to several chances from Red Star including a free-kick that hit the crossbar, a disallowed goal and many free-kicks that could have brought a lot of danger.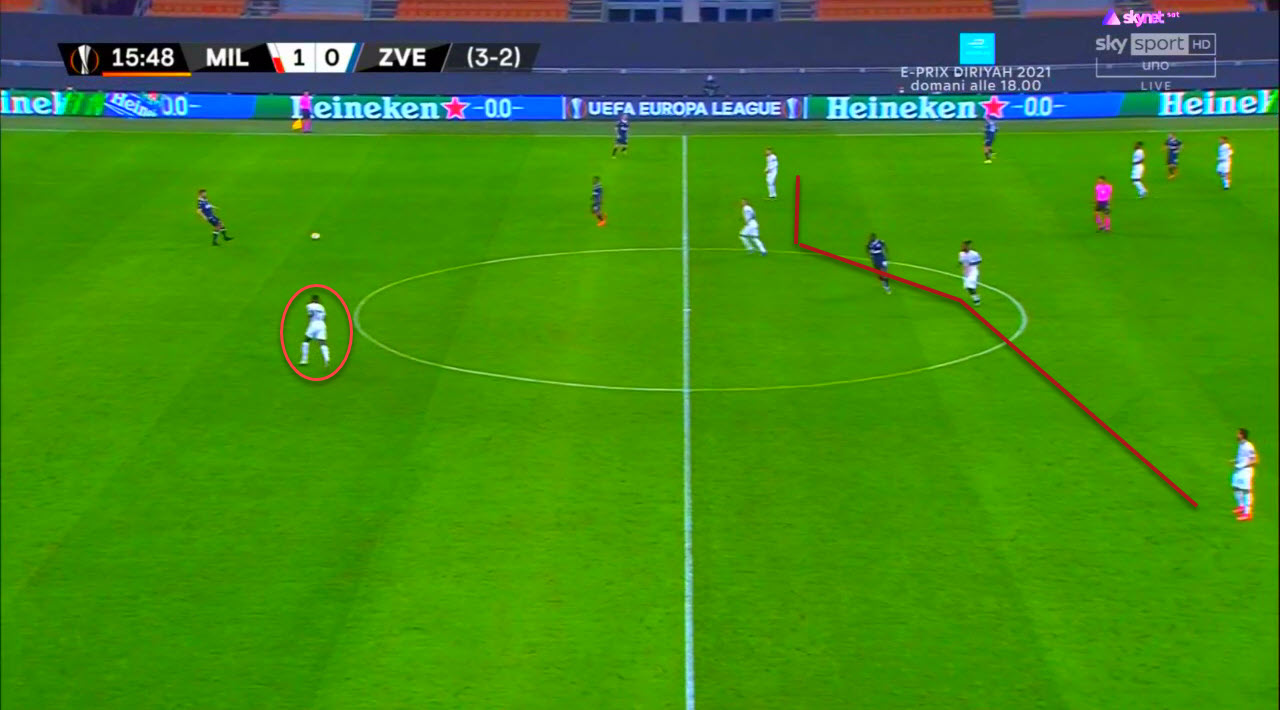 In the above picture, it was clear how Red Star's defensive bloc got higher and they started attacking with continuity in order to equalise, and that's normal given the result. However, this picture also shows how Milan reacted badly following their first goal, by retreating and not making any sort of high pressing like they did in the first few minutes.
You can see here how the last line of defence contained only Leão who was close to Red Star defenders. However, the rest were all in their own half. And as we said earlier, this attitude allowed Red Star to be more dangerous and obliged Milan to suffer for the rest of the match especially following Red Star's goal.
All these could have been avoided if Milan continued to play with the same intensity and rhythm of the first 6 minutes. And by playing that way, Milan could have most probably scored a second goal that would have allowed them to play comfortably without worrying too much about the result. Also, that would have enabled Pioli to avoid subbing some of the regular starters on to keep them fresh for Roma's match.
Red Star were able to win many free-kicks and corners in this first-half thanks to their good build-up, their wingers' pace and more importantly, Milan players' unnecessary fouls. In other words, some Milan players like Meïté committed many avoidable mistakes in dangerous positions, which led to clear goal scoring chances for the opponent.
And here we are talking mainly about this mistake at the edge of the penalty box from Meïté. This foul could have been avoided mainly because there was Romagnoli in front of the opponent and was about to intercept the ball from him. So, there was no need to commit a foul in that dangerous position.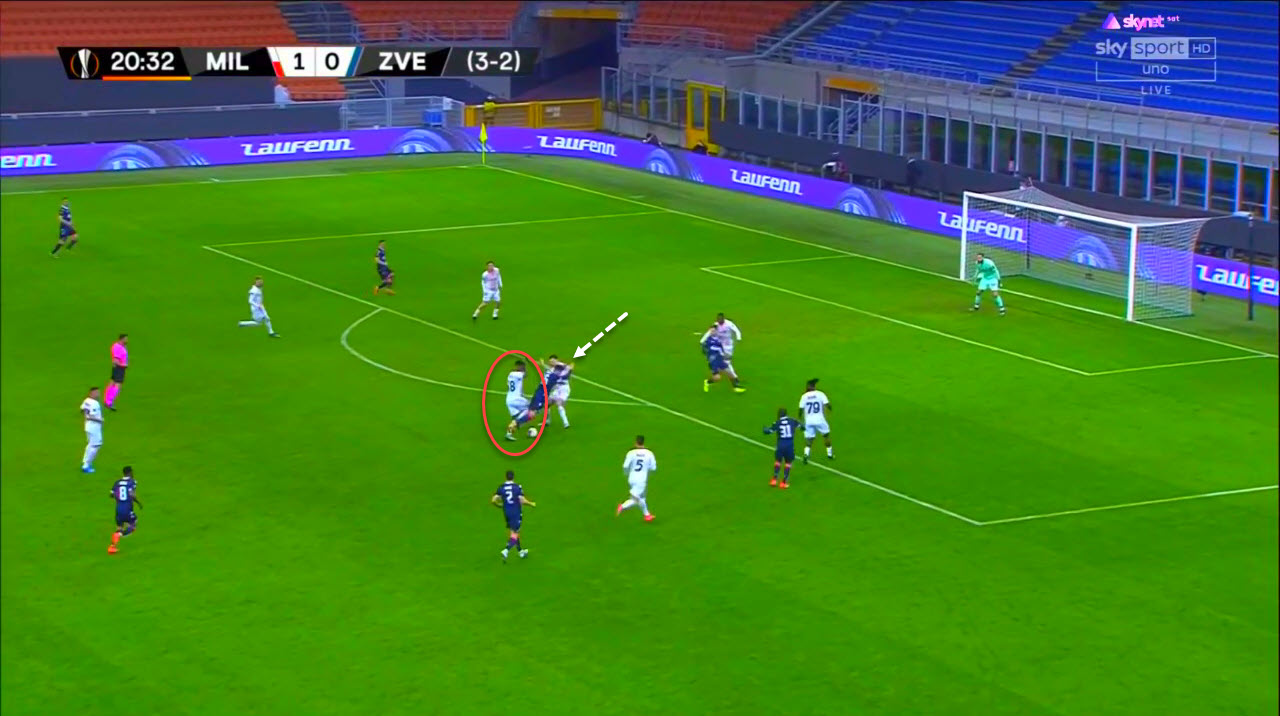 And after two warnings from Red Star; a crossbar and a disallowed goal, they were able to score their sole goal of the match thanks to Ben who made a precise shot to the right-hand corner after avoiding Romagnoli.
The duel between the two raised many questions about Romagnoli's attitude in that situation. And it is fair to say that Milan's defenders did not do enough to stop Ben and he also did not make tangible efforts to prevent that shot from reaching Donnarumma's goal. In fact, Romagnoli stood distant from Ben which allowed the latter to have enough time to focus, decide and execute without being disturbed.
And when he decided to shoot, Romagnoli should have at least made a sliding tackle in an attempt to deviate that shot, but that did not happen unfortunately. Therefore, Romagnoli should get some more training and advice when it comes to this aspect in order to enhance his one vs one marking and be ready for the upcoming tough challenges that awaits Milan's defence.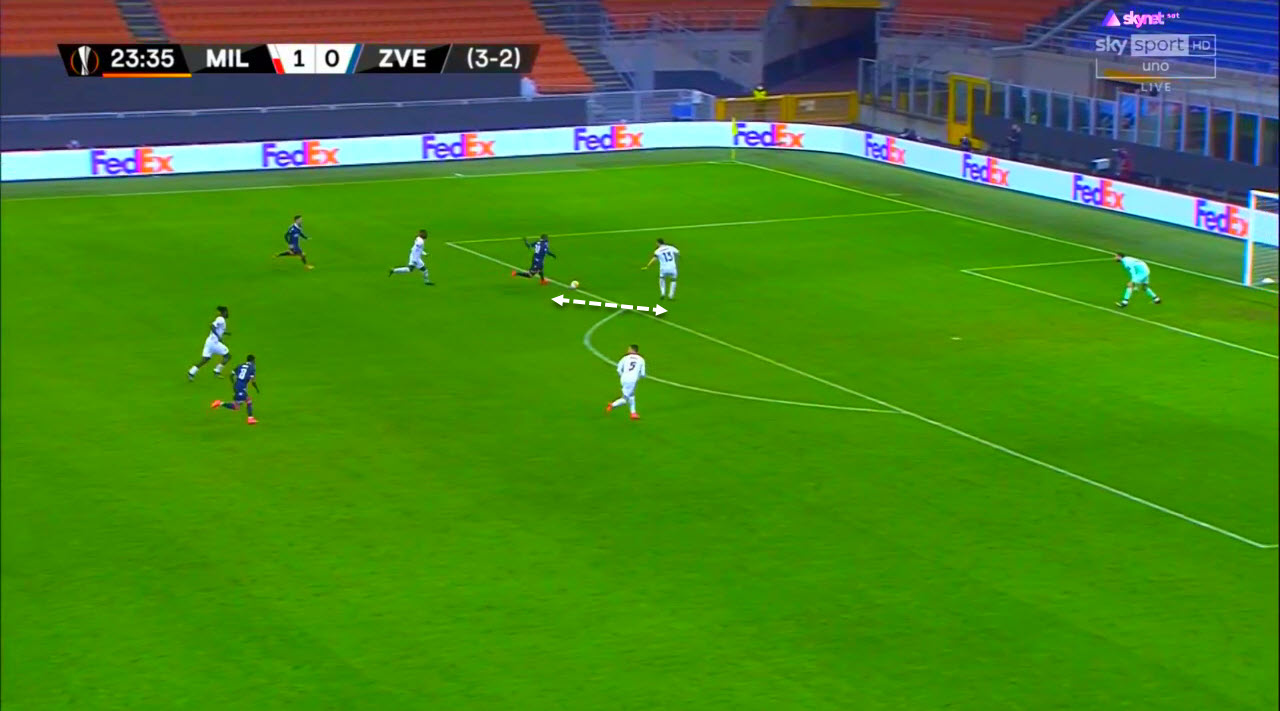 Following this goal, Milan realised that retreating for the whole match and waiting for the opponent could cost them the qualification and they had to fully concentrate on keeping possession and advancing to threaten Red Star in their own half. And we saw that happen gradually and Milan started to have some chances like this one which Dalot missed and could have scored.
It was a big chance that started from Calabria's cross and found Dalot alone at the far post, which allowed the latter to have the necessary time to think about how to shoot. However, Dalot did not make the right choice at the end of the day and he shot the ball centrally where the goalkeeper was standing, like the red arrow shows. It would have been much more dangerous if Dalot chose to shoot it on the right or on the left, even though the goalkeeper was also brave enough to save it with difficulty.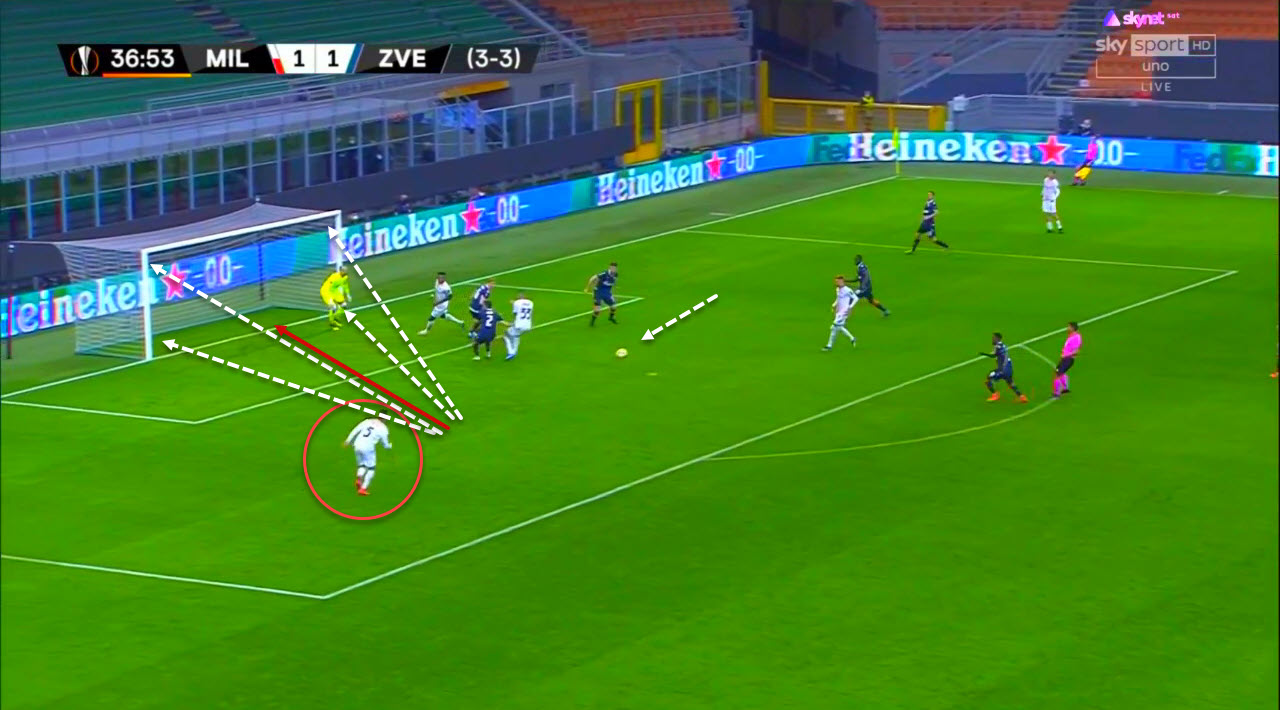 In the second-half Pioli realised that some changes were needed to not risk this qualification and to give more depth to the attacking aspect. And by subbing Ibrahimović on, Milan found their reference upfront and started to play better by relying on his aerial duels' strength, his movements in the final third and even in midfield at times, as well as his ability to create quick passing combinations with Milan's midfielders/attackers out of nothing.
Yet, Rebić who was also subbed on at half-time, was still away from his best form and wasted some good chances. Even though the blame should not only be directed at him, but also at Çalhanoğlu, Castillejo, Leão and Saelemaekers who were all underperforming in the last few matches as well.
You can see in this example how Ibrahimović gave a header pass in the direction of Rebić who was not able to exploit this opportunity in the best of ways and missed a goal scoring chance that could have allowed Milan to play the rest of the match with less stress and worry.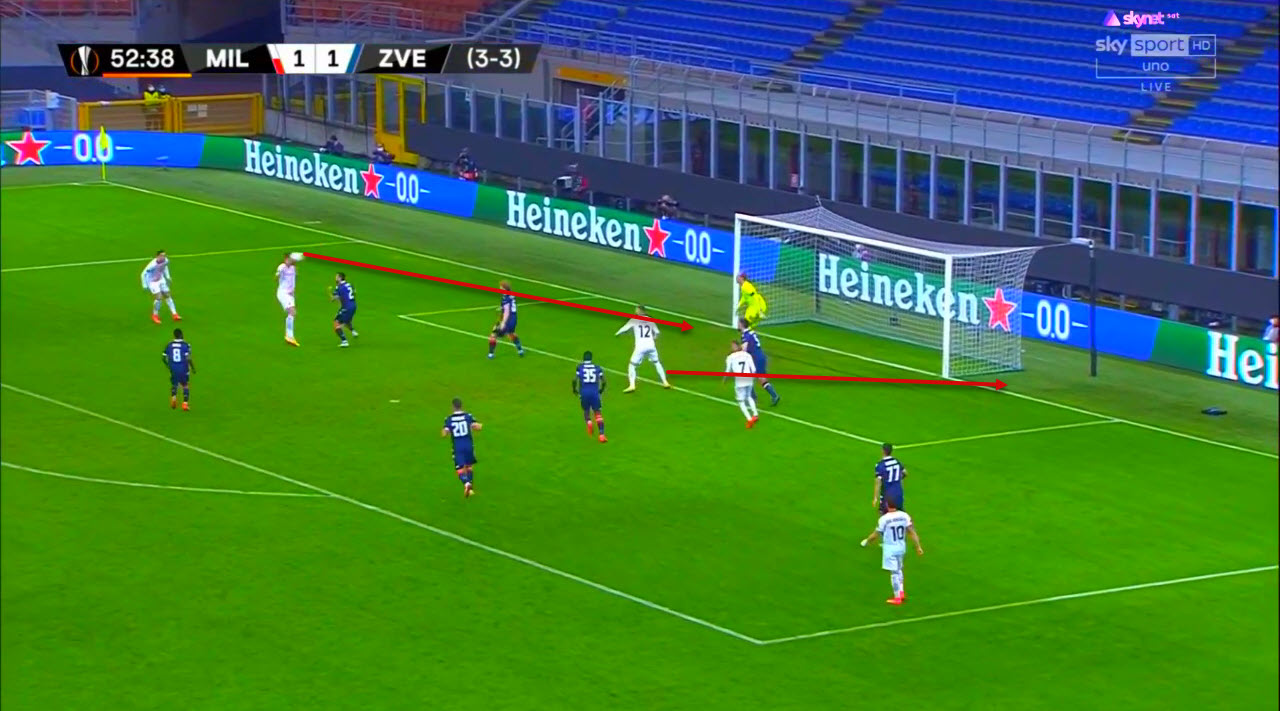 Milan at the end got the qualification that they needed to proceed to the round of 16 in which they will meet Manchester United. It was a tough draw for the Rossoneri but they will need to believe in their chances, focus on the upcoming fixtures match by match, and try to get to winning ways as soon as possible.
Milan will have to play against Roma on Sunday, Udinese on Wednesday, Verona on next Sunday, and then they will have a much tougher schedule composed of an away game against Manchester at the Old Trafford, Napoli at San Siro, Manchester United at home, and then Fiorentina at the Artemio Franchi Stadium.
Therefore, this period will be fundamental for the rest of the season concerning these two competitions, and Milan will need to manage these matches in the best possible ways in order to get some good results out of them in order to keep on securing a top 4 finish and why not qualifying to the quarter-finals of the Europa League.