Milan Women played against Pink Bari on Saturday and the game ended with a big 1-6 win for the Rossonere who will hope for a Juventus' women loss in the upcoming fixtures in order to catch them in the standings and why not lead Serie A Women in the near future.
Milan played according to the 3-5-2 formation with Mária Korenčiová as a goalkeeper, Laura Fusetti, Laura Agard and Georgia Spinelli as centre-backs, Valentina Bergamaschi and Federica Rizza on the wings, Caroline Rask, Christy Grimshaw and Yui Hasegawa as central midfielders. While in attack, Valentina Giacinti and Natasha Dowie played as strikers as usual.
Pink Bari also started with the 3-5-2 formation with Paula Myllyoja as a goalkeeper, Francesca Soro, Marthe Enlid and Danielle Lea as centre-backs, a midfield composed of Antonella Marrone and Lucia Ceci as wingers and Ludovica Silvioni, Lucia Strisciuglio and Jennifer Cramer as central midfielders. These midfielders played behind the attacking duo made up of Åsa Emelie Helmvall and Rofiat Sule.
Milan started the match with willingness to score right from the beginning. The players started building up from the back and then the danger became tangible near Bari's penalty area. And thanks to the accurate passes of midfielders between each other, and to the exchanges between them and the two strikers, Milan were able to score an early goal from Bergamaschi.
And as you can see below, the quick and accurate passes between the two strikers enabled Bergamaschi to notice the free space left behind Dowie and Giacinti and ran towards it while asking for a pass from Dowie. And the English player was able to produce an assist to a beautiful goal from Bergamaschi; a shot from distance that confused the goalkeeper and went inside the net.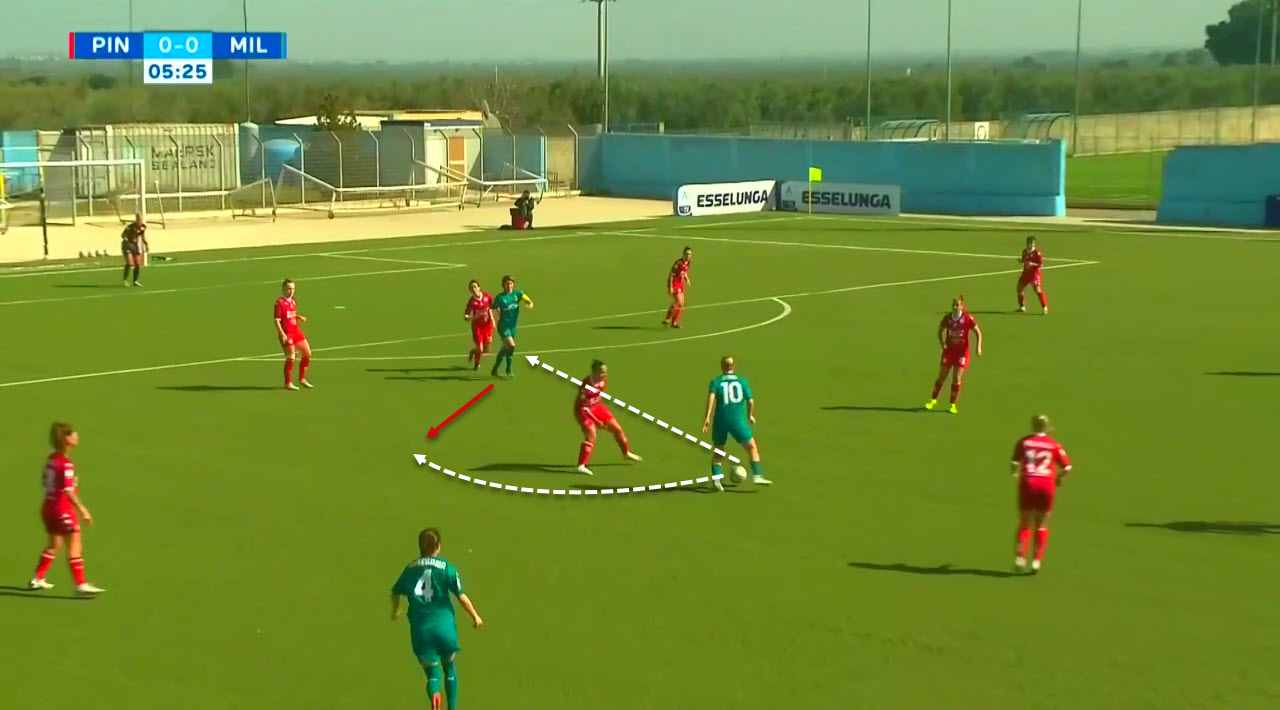 In the above picture you can see in detail how this combination was born. It all started from Hasegawa who passed to Dowie. Then the latter searched for Giacinti who was waiting and fixing her direct opponent and played a one-two pass with her and here Giacinti's accurate pass was fundamental in allowing Dowie to give that assist to Bergamaschi.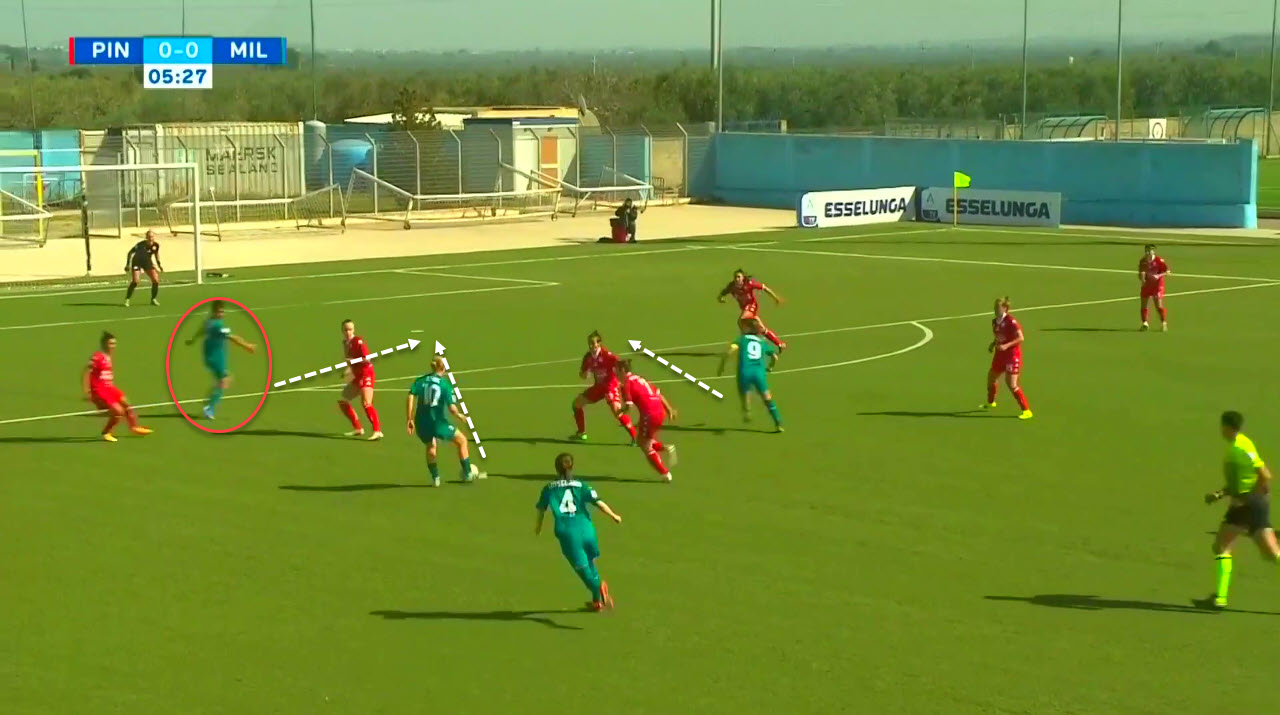 And at the 20th minute, Giacinti confirmed her good run of form which was seen with the Azzurre against Israel, by scoring a beautiful half-volley shot that went inside the net following a key pass with a first touch from Grimshaw which allowed Giacinti to gain time over her marker and be able to control the ball with her chest and make the acrobatic move successfully, as you can see below.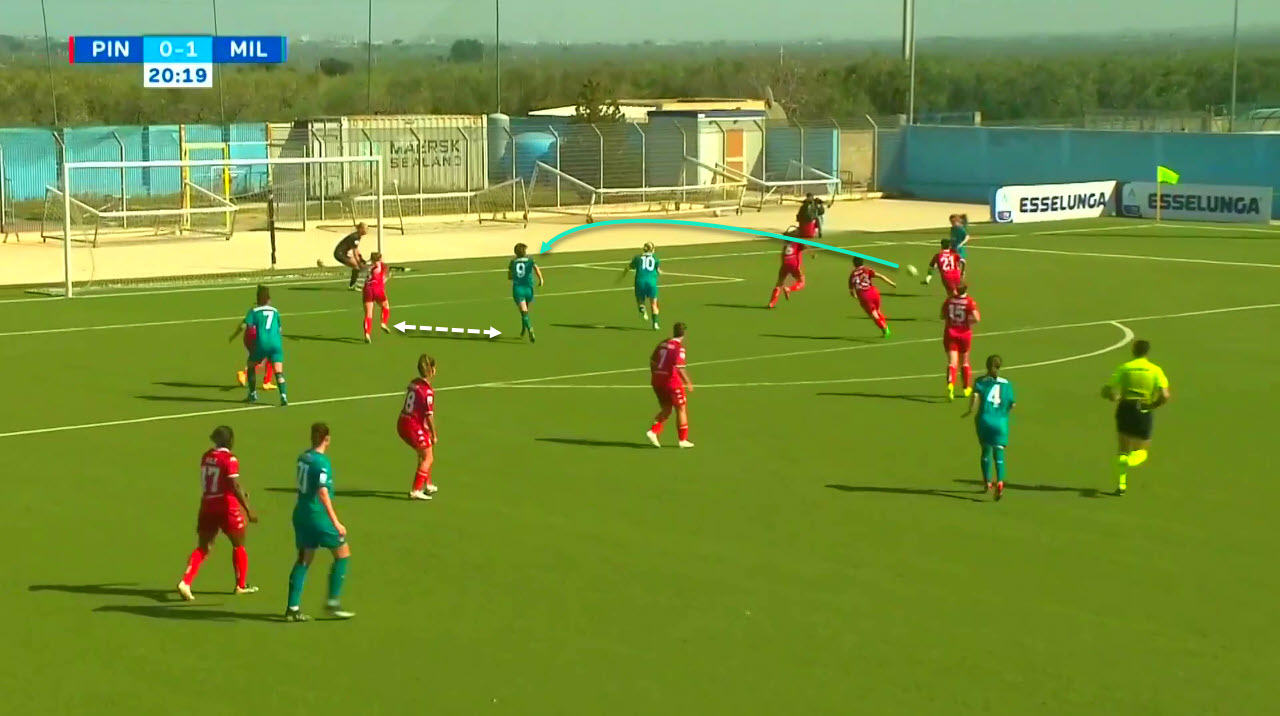 Morevoer, the distance left by Enlid to Giacinti was a lot and that served the latter in making what she intended with ease to secure a second goal that allowed Milan to play with more confidence and less pressure and this was important because there will be the match of the season against Juventus in a week time.
Two minutes later, Grimshaw was able to prove once again that she is fully concentrated on this match by making another assist this time for Dowie who was able to score the third goal of the match. It all started from Grimshaw who intercepted the ball from Bari's midfielder, made a one-two pass with Giacinti which enabled them to avoid their marker quickly.
Then Grimshaw once again made a first-touch assist that did not give time to Dowie's marker to intercept the pass or prevent Dowie from shooting. Therefore, the credit here obviously goes mainly to Grimshaw for being the core of this action from start to finish but also to Giacinti and Dowie who did the right thing at the adequate time as well.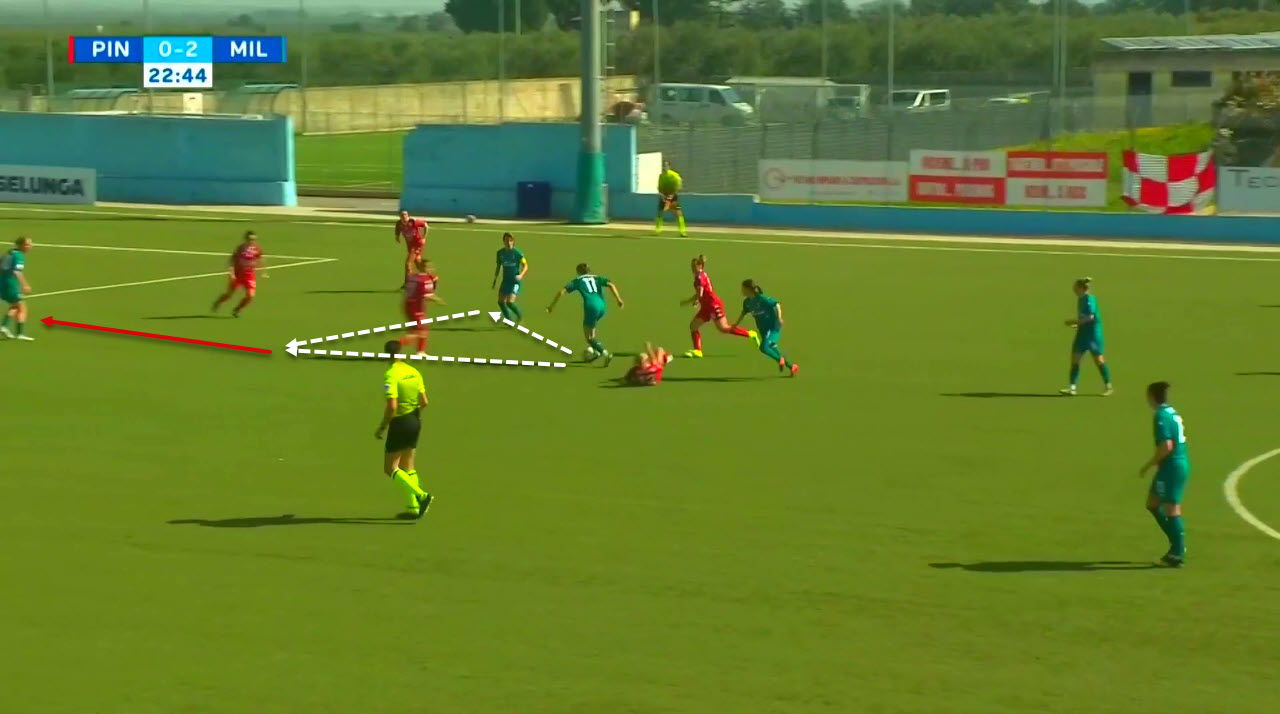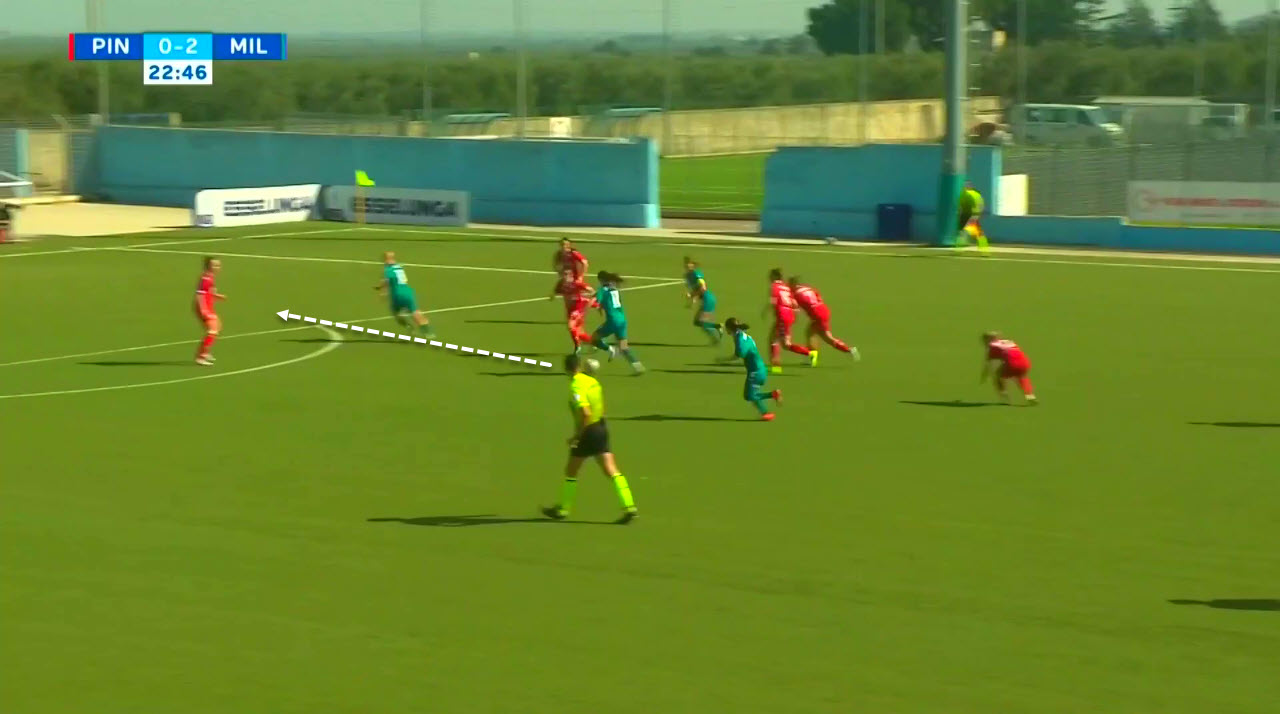 Following this goal, Milan continued their high pressing without retreating in order to keep scoring and not allowing Bari to have possession or advance. However, at some instance, Bari players were able to create some danger by surprising Milan's defence like in this example in which Agard made a mistake and allowed Sule to get advantage on her in a dangerous position like you can see below. But luckily for Milan, Sule's header was not good enough and was saved by Korenčiová.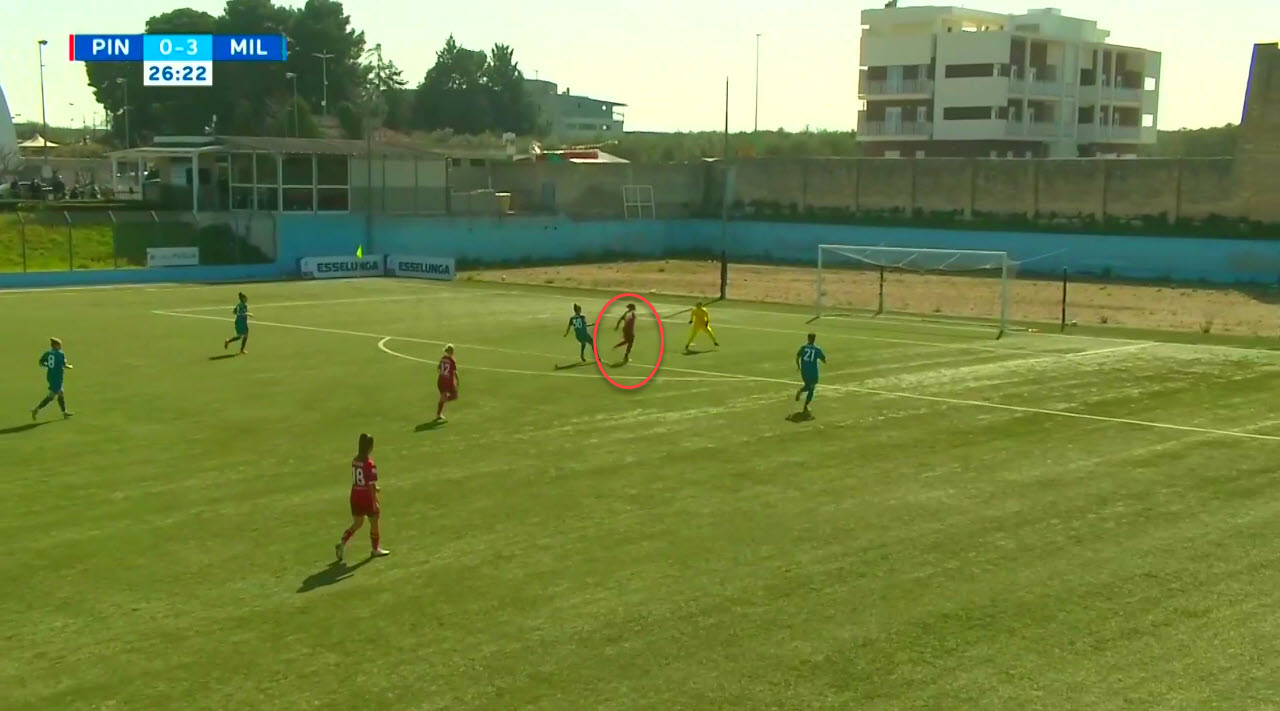 Then Hasegawa, scored a splendid free-kick with a great technique in her first ever Serie A Women match and proved that she is a very talented player who has got everything needed to succeed in her new team.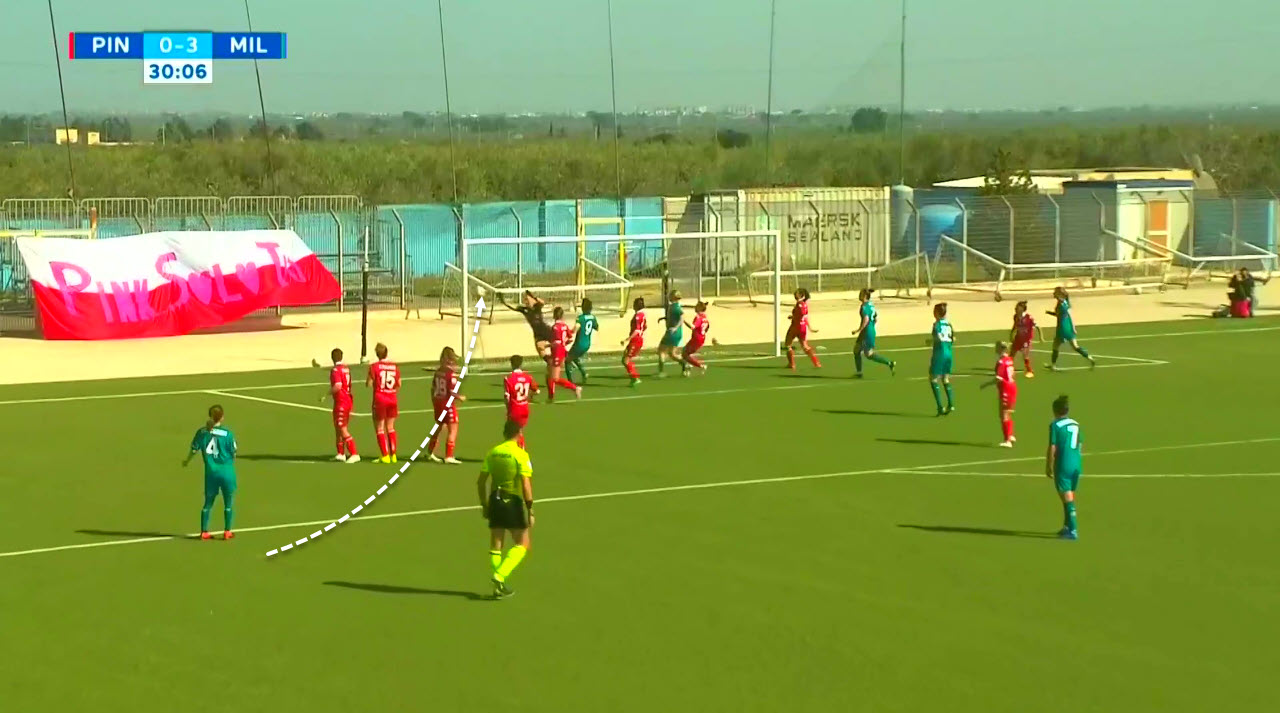 In fact, the left-wing of Milan looked very dynamic in this match with a new Ganz experiment since he put Bergamaschi on this wing and Hasegawa on the same side, since Hasegawa is used to lean towards the left and we saw in this match that she knows exactly how to move and when to pass when playing in this position.
Bergamaschi acted like a third striker in many instances of this match, including this chance during which she received a through pass from Giacinti, dribbled past her marker but made the wrong decision at the end by shooting with her weaker foot in a closed angle even though there was Dowie completely free from marking and waiting for a pass to score the goal easily, as you can see below.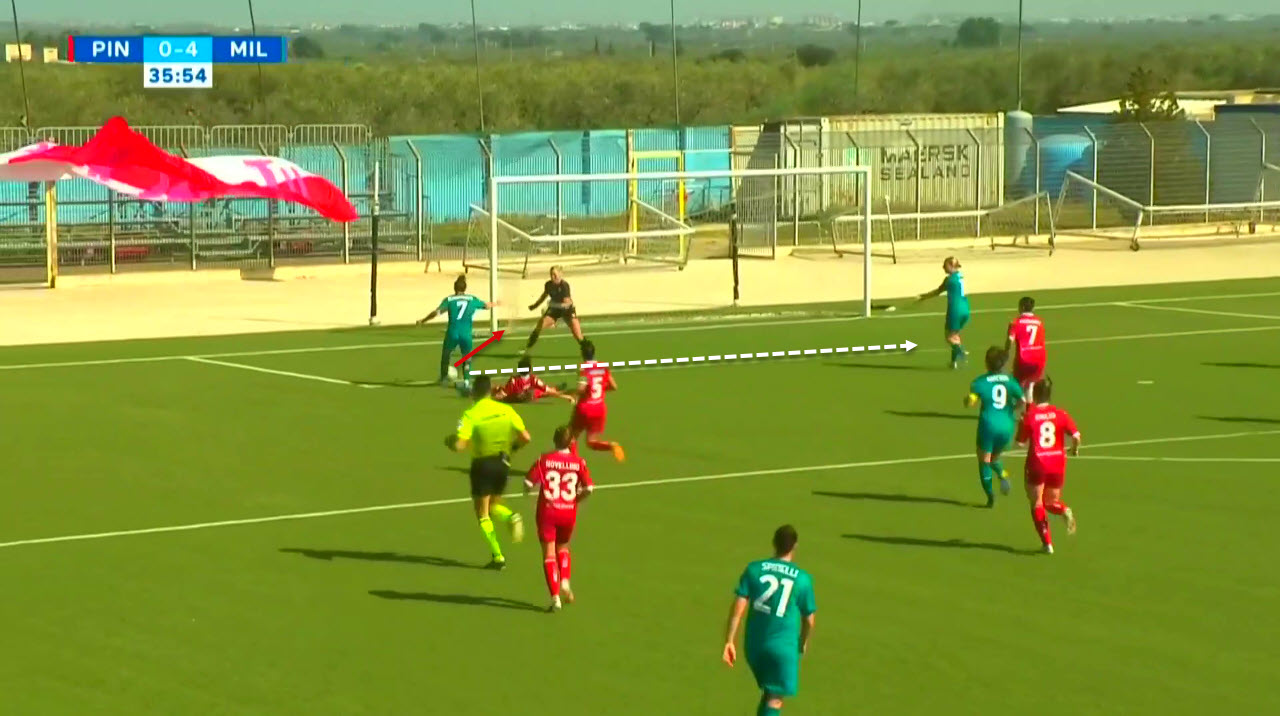 Hasegawa then not only confirmed her abilities as a set-piece taker in this match, but also as a scorer. The Japanese international was able to score the fifth goal of this match following her penetration inside the box, and thanks to Lidija Kuliš cross after a through pass from Giacinti. Kuliš made a very good start of her match since this assist was her first pass of the match; she replaced Bergamaschi on the left-wing while Dominika Čonč replaced Grimshaw in midfield.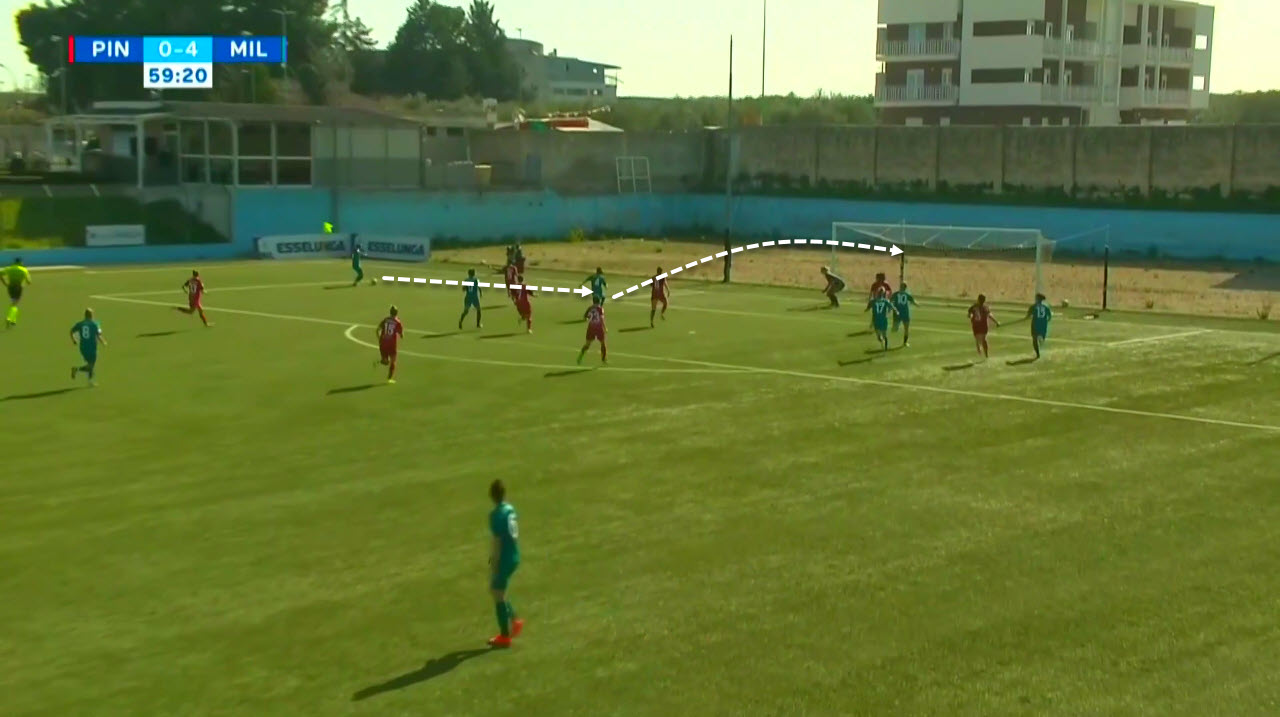 Milan then were obliged to sub Spinelli off due to injury and give Francesca Vitale some playing minutes as well as Sara Tamborini in the place of Hasegawa who played a big match. And the team continued to play with ease while trying to conserve their energies for the upcoming match. Yet, Bari were able to score a goal from a corner-kick thanks to Helmvall since she was not marked extensively at the near post.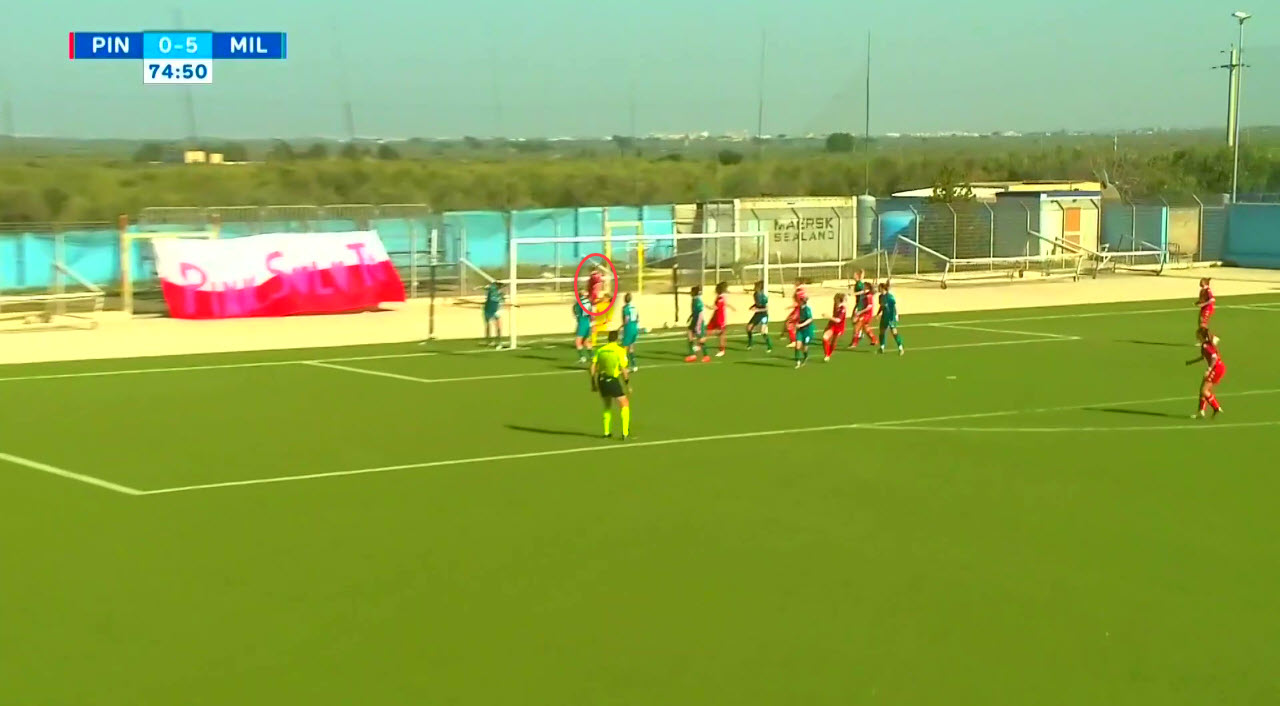 But then Milan did not look confused or demoralised. On the contrary, they were able to keep more possession in the last 15 minutes of the match and to add the sixth goal thanks to Giacinti's goal. The action initiated when Rask saw Giacinti's movement towards the box, and Rask instantly crossed the ball in her direction to allow Giacinti to be in a shooting position. And then the latter waited until the ball bounces two times and then she shot it with power and the rest was a sixth goal for Milan that ended the match with a huge result for the Rossonere.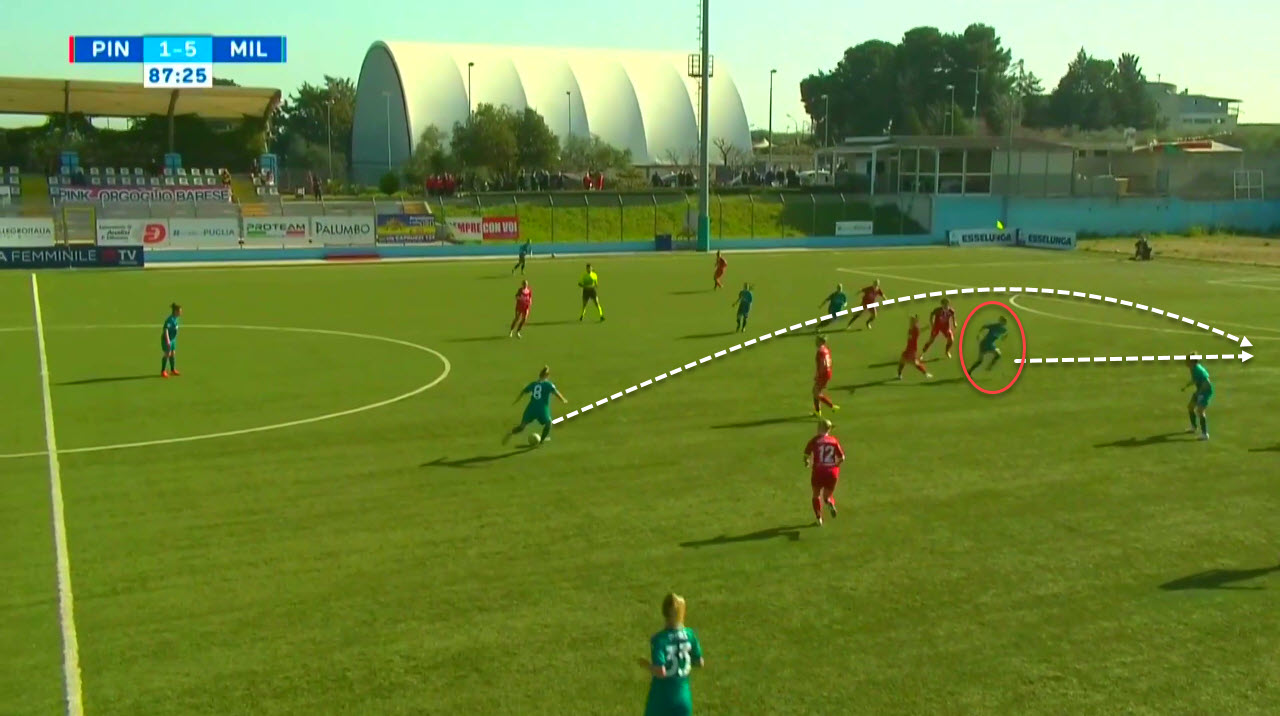 Milan will now look forward to the clash of the season against Juventus at Turin, in a match that will most probably decide the winner of the season if no other surprises happen in the next matches.
The Rossonere will therefore need to be prepared 100% for this match and play without complex to why not make a big result against the title holders. Milan have really improved this season in terms of results and there is no reason why they would not believe in their abilities in doing so.