Milan faced Udinese in the 25th fixture of Serie A and the game ended with a 1-1 draw that doesn't really serve Milan a lot. It was a match full of tactics and physicality but at the end, the Rossoneri were able to save the match by winning a single point at the last seconds of the game thanks to Kessié's penalty.
Stefano Pioli had to play this match without the services of Zlatan Ibrahimović, who scored Milan's winning goal during the away match, Mario Mandžukić, Hakan Çalhanoğlu and Ismaël Bennacer who are some of Milan's most important players.
Milan played according to the usual 4-2-3-1 formation with Gianluigi Donnarumma as a goalkeeper, Pierre Kalulu, Simon Kjær, Alessio Romagnoli and Theo Hernandez in defence, Sandro Tonali and Franck Kessié as central midfielders, Samu Castillejo and Ante Rebić as wingers while Brahim Díaz played as a trequartista behind Rafael Leão, the team's striker.
While the visitors, coached by Luca Gotti, played according to the 5-3-2 formation with Juan Musso as a goalkeeper, Rodrigo Becão, Kevin Bonifazi, Nuytinck, Nahuel Molina, Marvin Zeegelaar in defence, Rodrigo De Paul, Tolgay Arslan, Jean-Victor Makengo in midfield and Roberto Pereyra played as a second striker near Ilija Nestorovski.
Milan kept possession for the large part of the first-half with 62% since Udinese retreated most of the time to let Milan have possession and then make counter-attacks. This was Udinese's plan to stop Milan's attacks given that they played with 5 defenders at the back, and a second line of defence composed of midfielders who were also defending in their own half.
Milan therefore, did not find many solutions upfront and they missed the existence of a player like Ibrahimović in attack given his strength in aerial duels and in coming up with solutions inside the box. Also, resorting to crossing was not a useful option as well since Udinese's defenders were very tall and powerful in duels, while Milan had only Leão capable of challenging them in these duels, even though he is not efficient or experienced in aerial duels nor in moving like strikers inside the box.
As you can see below, Udinese played in this way for the whole match to not allow any space behind their defensive line, and they were smart enough to retreat when Milan advance, in order to prevent Leão and Rebić from being in one-on-one situations, and instead, they obliged them into playing while being marked.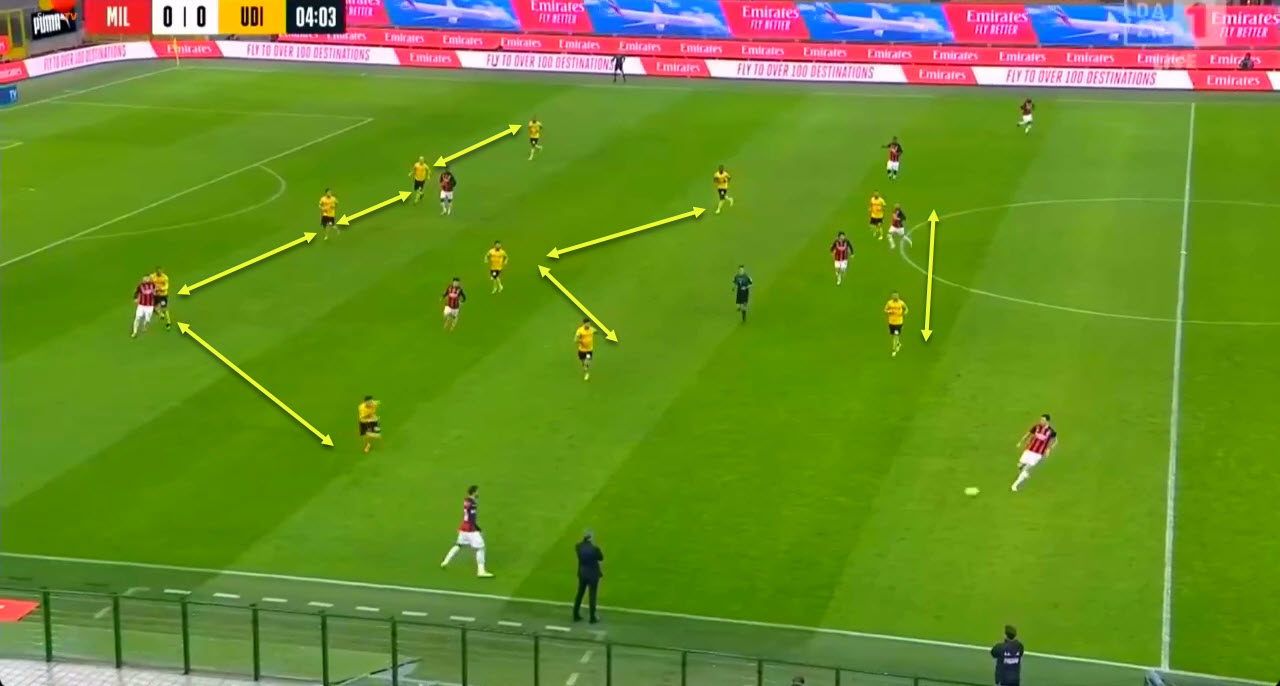 But despite this defensive plan from Udinese, Milan were able to get some spaces thanks to the efforts of players like Díaz who was able to dribble and get out from difficult situations since he is a good dribbler. Yet, Díaz lacked the last touch to finish the action in a dangerous way, and we saw him in this action for example dribbling past three Udinese players and then shooting the ball without power.
It was an easy shot for Musso who was already waiting for the ball. Díaz did also have another option to consider in that occasion, he could have pretended to shoot and then passed to Leão who was moving towards the free space behind his marker. And that could have brought some more danger.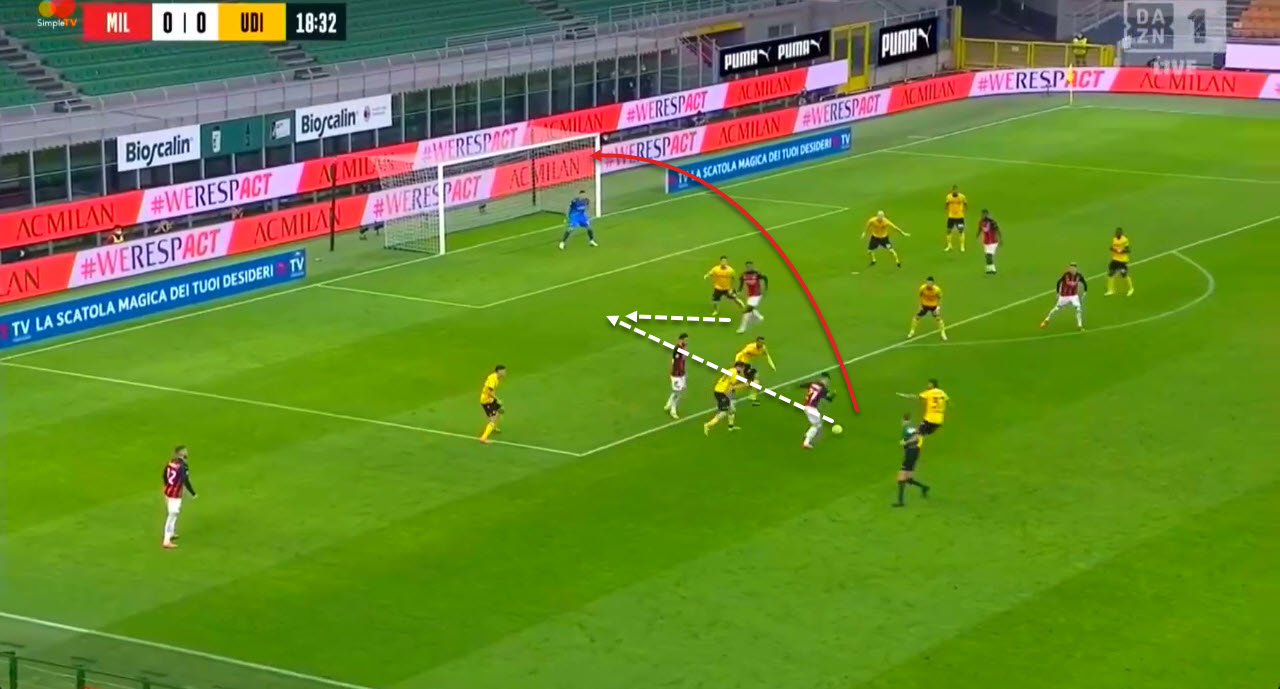 And at the 39th minute, Castillejo missed the chance of the match following an excellent run down the right-hand side with which he excluded his marker, a midfielder and then he dribbled past another defender and shot the ball with his weaker foot, but Musso was reactive enough and saved it.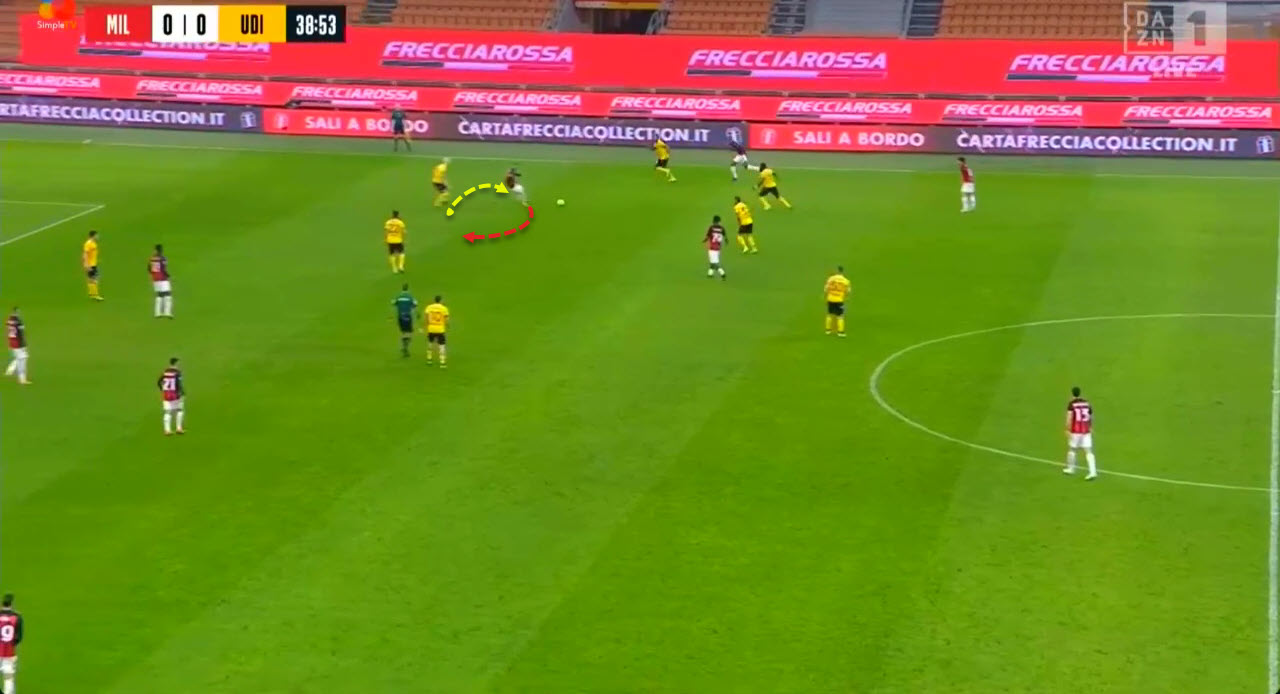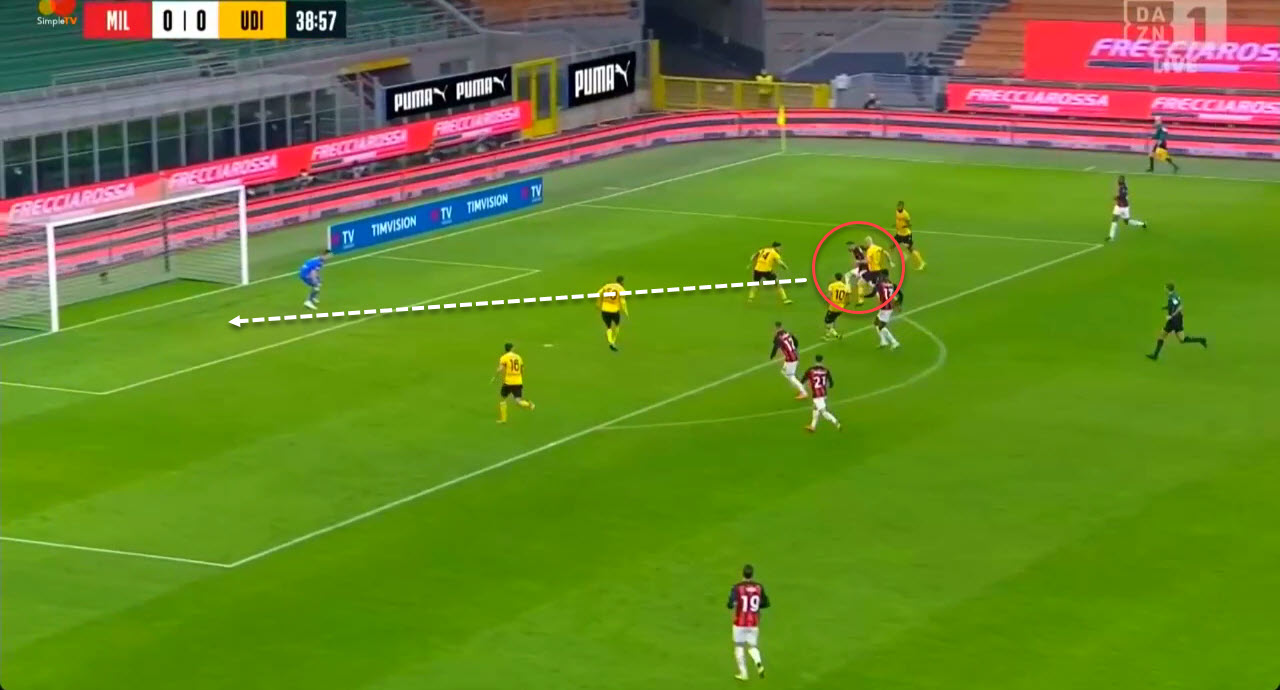 The start of the second-half could have costed Milan a goal due to Hernandez' mistake at the 47th minute when he made a backward pass to Donnarumma but did not see Pereyra coming. The latter was able to intercept Hernandez' slow pass as you can see below and instead of shooting, he preferred to cross the ball to Nestorovski who was waiting alone inside the box.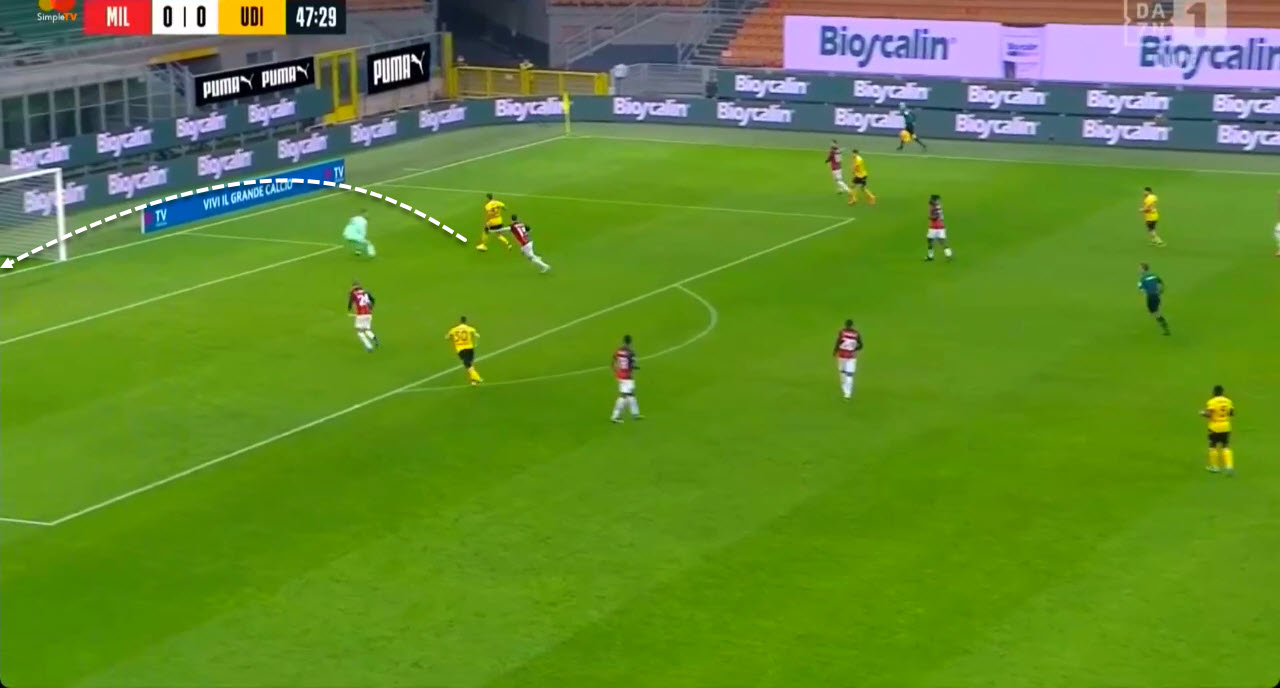 Pereyra would have regretted not shooting at the end of the day since his cross towards Nestorovski was perfect, yet, the latter did not direct it towards a difficult angle. Nevertheless, Romagnoli deserves a lot of credit for saving this goal-scoring chance since he reacted quickly to Nestorovski's header and cleared the ball with a great reaction.
Few minutes later, Soualiho Meïté, who replaced Tonali at half-time, was able to threaten Musso's goal with a great shot from outside the box but Musso once again saved his team from a Milan goal to make things more difficult for Milan in the last 30 minutes of the match.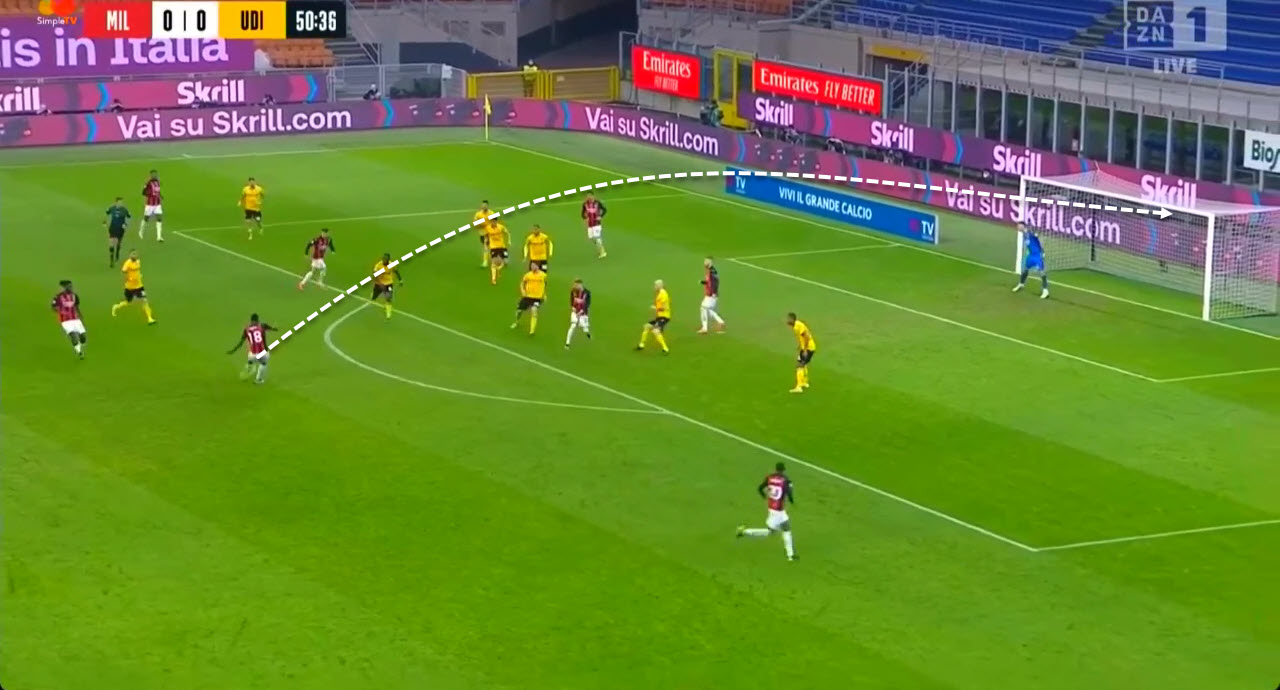 Things got even more complicated for the Rossoneri following Becão's goal from a corner. It was a goal in which Romagnoli and Hernandez could have done more in terms of marking, even though Becão is powerful in aerial duels. But also, Donnarumma's reaction was also problematic, even though he was disturbed by Nestorovski and Calabria's attempts to deviate the ball.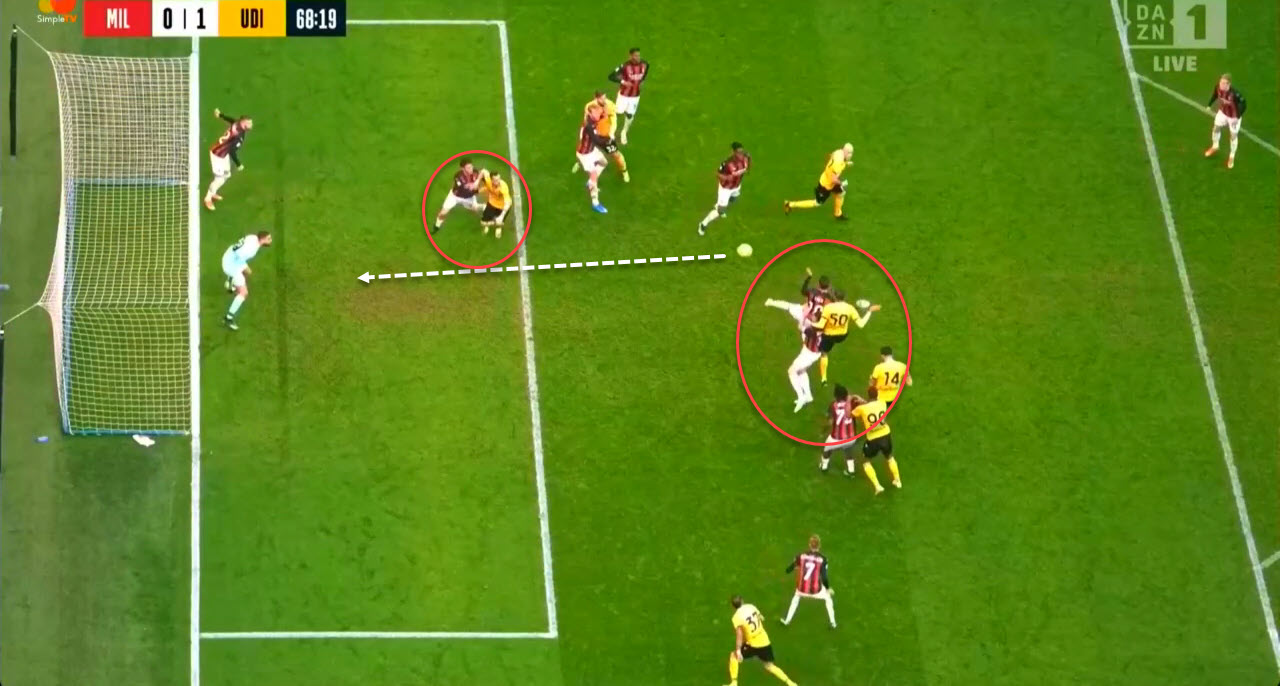 Following this goal, Milan were keen on making a reaction to back in the match, but it was not easy against a solid Udinese's defence. Milan got some dangerous occasions like Castillejo's shot at the 58th minute, Calabria's shot at the 89th minute but were not really able to score any of them. The team then got a penalty at the last seconds of the game thanks to Jens Stryger Larsen's handball which Kessié was able to score successfully to give Milan a point and prevent Udinese from winning this match.
Milan will need to find solutions in attack if they want to make a positive result against a tough Verona next week, and this will not be easy given the absences of Ibrahimović, Hakan Çalhanoğlu Mario Mandžukić and Ismaël Bennacer. Yet, Milan should rely on the ready players and focus on creating more chances and moving better without the ball in order to break down defences, especially when playing against teams who retreat completely and refuse to play.