Juventus Women hosted Milan Women for the 15th fixture of Serie A Women. The game ended with a huge 4-0 win for Juventus who were able to win the match of the season and gain more distance over their direct opponent, Milan, with 6 points.
Maurizio Ganz started this match according to the usual 3-5-2 formation with Mária Korenčiová as a goalkeeper, Laura Fusetti, Laura Agard and Georgia Spinelli as centre-backs, Valentina Bergamaschi and Linda Tucceri Cimini on the wings, Christy Grimshaw, Yui Hasegawa and Verónica Boquete as central midfielders who usually support in the attacking phase. While in attack, Valentina Giacinti and Natasha Dowie played as strikers.
On the other side, Rita Guarino started the match with the 4-3-3 formation, relying on Laura Giuliani as a goalkeeper, Tuija Hyyrynen, Sara Gama, Linda Sembrant and Lisa Boattin in defence, Martina Rosucci, Sofie Junge Pedersen and Valentina Cernoia in midfield behind Barbara Bonansea and Lina Hurtig who helped Cristiana Girelli, the team's striker.
Milan did not start this match in the best of ways, the build-up from the back was so slow and the team's rhythm/tempo overall was also low. And therefore, Milan's attempts were almost all predictable by Juventus' defence who were very focused and balanced in a way that allowed them to win in many of the defensive duels with Giacinti and Dowie who were not able to create a concrete difference in this match.
The chemistry was almost inexistent between the two strikers and we saw how their passes to each other were not accurate. This helped Juventus even further in separating Milan's lines and therefore Boquete and Hasegawa were not able to find easy passing options since Dowie and Giacinti were often marked, and there was no consistent off the ball movement from the other players.
Moreover, Juventus players were smart enough to notice how high Milan's defensive bloc was when the team was in possession, and therefore, they waited for Milan to get high up the pitch and then aimed for quick counter-attacks whenever they can. And this made Milan suffer in many actions.
The first Juventus goal came early when Milan defenders left Bonansea alone without tight marking inside the box and did not prevent Hurtig from making a header assist to her. And obviously, Hurtig's great physical abilities allowed her to do this move without problems, to let Bonansea score Juventus' first goal that made life harder for Milan.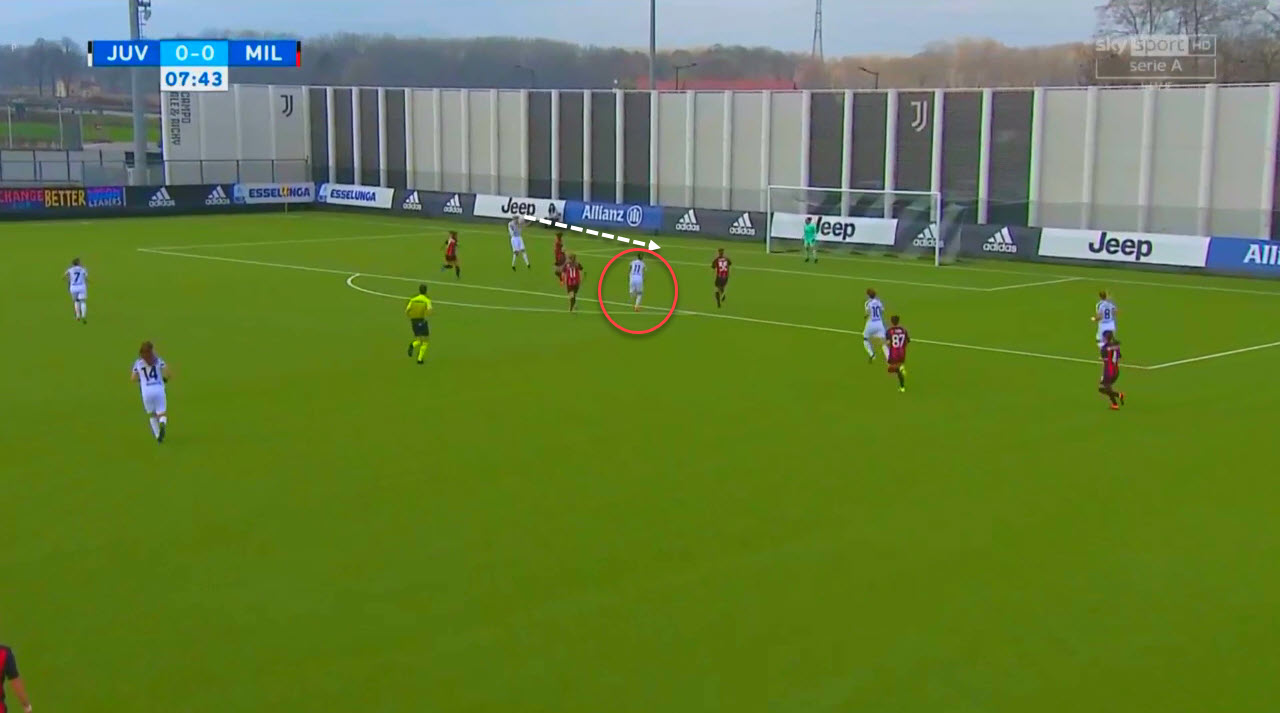 Later on, Milan tried to make a reaction but they were too slow in the build-up against a solid Juventus at the back. Yet, Bergamaschi was often able to create chances with her runs on the wing. In the picture below, you can see how in the 25th minute Bergamaschi had the possibility to pass to Dowie who was running freely towards the box, and that could have led to goal. Yet, Bergamaschi was not able to pass the ball accurately and the chance went in vain.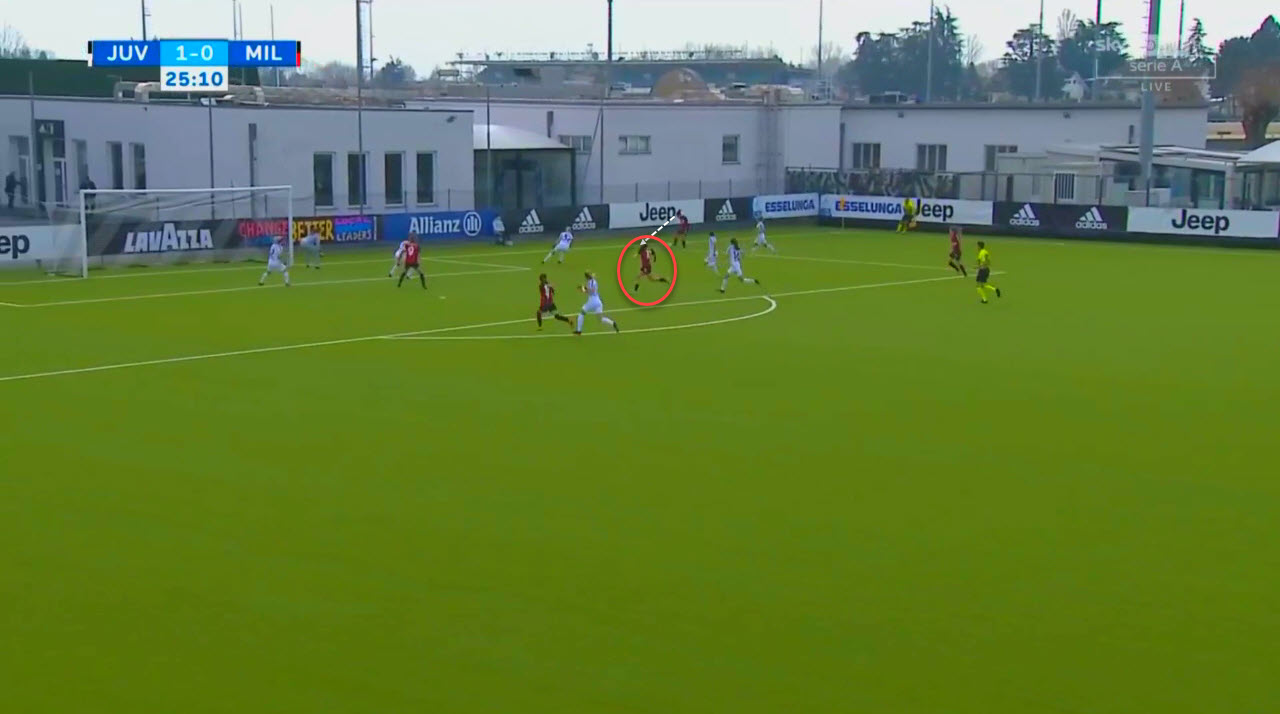 Then, Hurtig scored the second Juventus goal to make the match even more complicated for the Rossonere who struggled to stop Juventus' attackers. In fact, this goal was facilitated by Milan's defence since at the time of Bonansea's through pass to Hurtig, Milan's defensive line was very high and no one retreated to cover.
You can see in this picture how Spinelli was near Bonansea, while Fusetti and Agard were almost in Juventus' half. And given Hurtig's physical prowess, along with Fuesetti's stop in an attempt to win an offside foul, the Swedish player found herself alone near the box and scored the goal.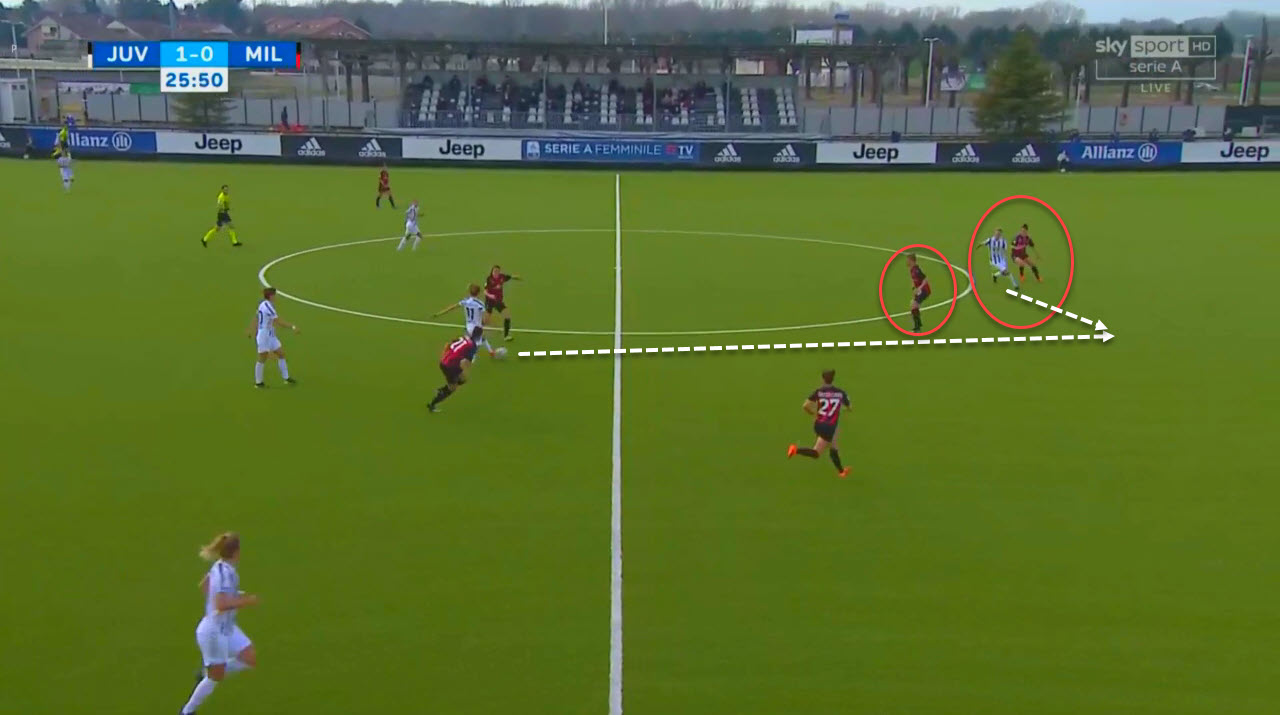 Milan made some notable attempts before half-time mainly from Giacinti but they were not able to score. And in the second-half, things did not change a lot since Juventus were compact, waited for Milan to create while exploiting the interception opportunities to aim at counter-attacks. Milan did not really create a lot of danger in this second-half except this chance from Giacinti which Giuliani was able to save with difficulty.
It was a well-played action from Milan since Boquete gave a through pass to Giacinti at the right time when she saw her movement towards the unoccupied space. And the latter tried to surprise Giuliani with a first-touch shot but the latter was attentive enough.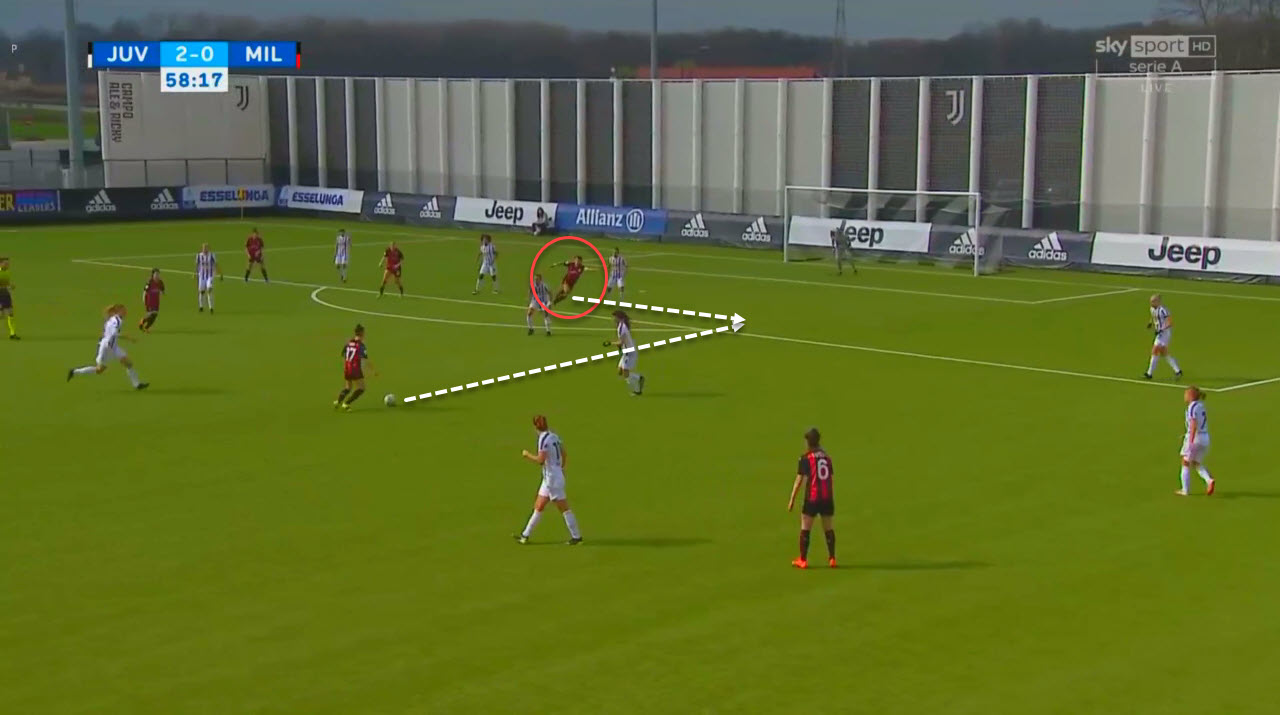 Milan were not able to create other concrete danger out of corners, free-kicks and horizontal possession while at the same time they kept using the same approach and left a lot of space at their back. And this led to Juventus' third goal since it was a goal created from a counter-attack with a numerical superiority for Juventus that allowed Andrea Stašková to shoot freely and score following Annahita Zamanian's pass.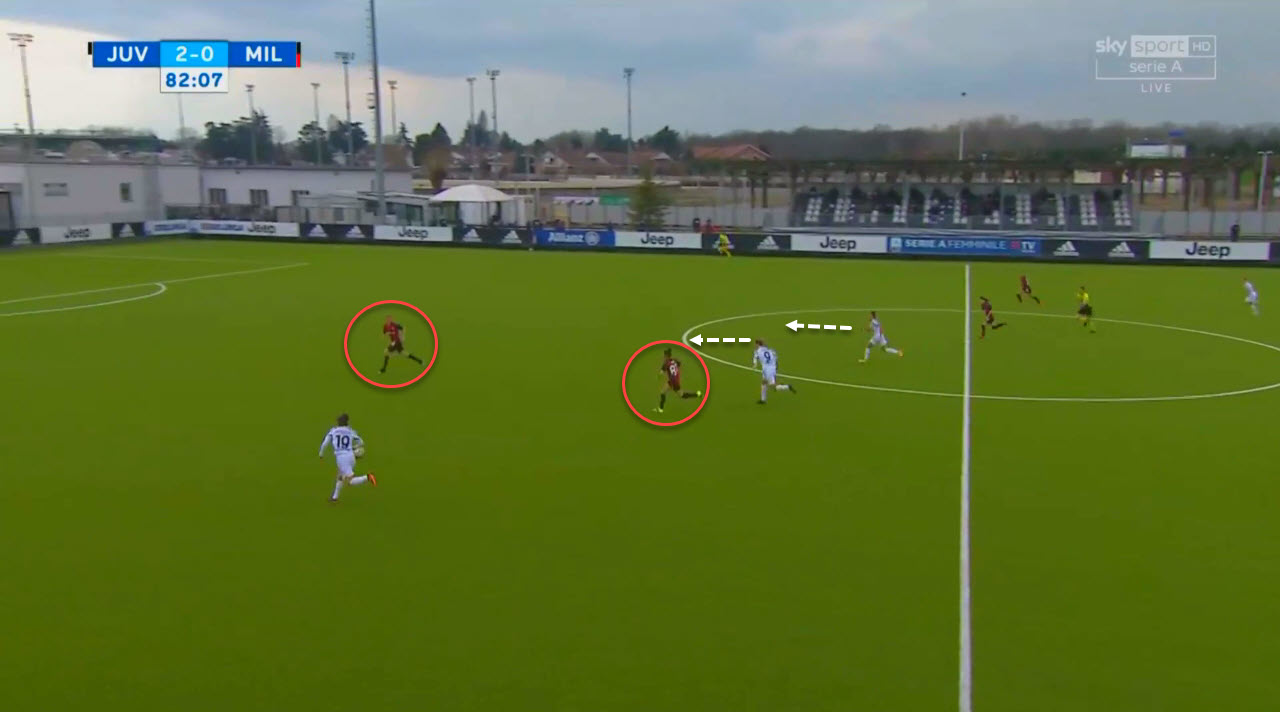 It was a match to forget for the Rossonere but at the same time this can be the match that will serve in realising the negative aspects of this team's approach to the games especially at the defensive level. And therefore, working on fixing what went wrong in this match can surely improve the team's performances in the future and will certainly serve as a lesson to learn from as it will give the players extra motivation to bounce back in the Coppa Italia derby against Inter.
Credits pictures: (SKY SPORT ITALIA)