Milan went to Verona to play their 26th Serie A fixture at Stadio Marcantonio Bentegodi against a touch Hellas Verona who were able to draw against Juventus lately and win over Atalanta and Napoli as well.
The Rossoneri were able to win valuable three points despite the numerous absences in the team, namely, Zlatan Ibrahimović, Hakan Çalhanoğlu, Mario Mandžukić, Ante Rebić, Ismaël Bennacer, Theo Hernandez and Sandro Tonali who was unable to start this match. These are all regular starters for Milan and to win without all these big names is something extraordinary especially against a tough team like Verona.
This win consolidated Milan's ambitions not only for the Champions League spot but also for the title race since Inter is now only 4 points away from Milan, prior to their match against Atalanta.
The team played according to a 4-2-3-1 formation relying on Gianluigi Donnarumma as a goalkeeper, Davide Calabria, Fikayo Tomori, Alessio Romagnoli and Diogo Dalot in defence, Soualiho Meïté and Franck Kessié as central midfielders, Alexis Saelemaekers and Samu Castillejo as wingers while Rade Krunić played as a trequartista behind Rafael Leão, the team's striker.
On the other side, Ivan Jurić started with the 3-4-2-1 formation with Marco Silvestri as a goalkeeper, Federico Ceccherini, Koray Günter and Giangiacomo Magnani in defence, Davide Faraoni, Adrien Tameze, Miguel Veloso and Darko Lazović in midfield while Antonín Barák and Mattia Zaccagni played just behind Kevin Lasagna, the striker.
Milan started this match with confidence and ability to win most duels. Even though Tomori made an error at the 8th minute when he tried to pass the ball back to Donnarumma, risking Lasagna's interception, the team were able to overcome that mistake and have more possession thanks mainly to Kessié, Meité and Krunic's movements in midfield.
Moreover, Dalot, Calabria, Castillejo and Saelemaekers were all focused enough and dynamic enough to give options to Kessié and Meïté when they had the ball in midfield. And that's why we saw Milan escape from Verona's high pressing easily with one pass from Donnarumma to one of the midfielders who passed on their turn to one of Calabria or Dalot who were also making themselves available to receive the ball on the flanks, just like you can see below.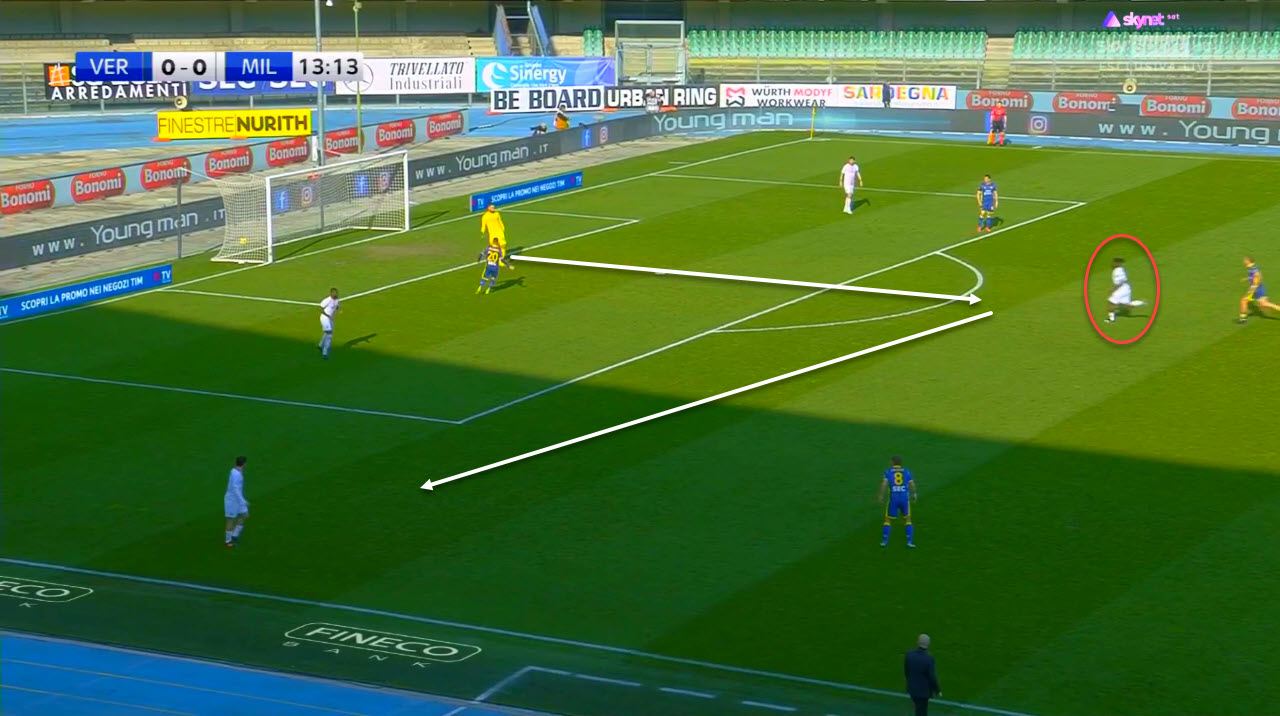 Leão was also good in this match and was available to help the team when needed especially by providing attacking depth and trying to conserve the ball in attack. He also got some dangerous opportunities and could have done better in some of them like during the chance that came at the 14th minute when Calabria crossed the ball in his direction but his header was not directed towards the goal even though he was not marked tightly.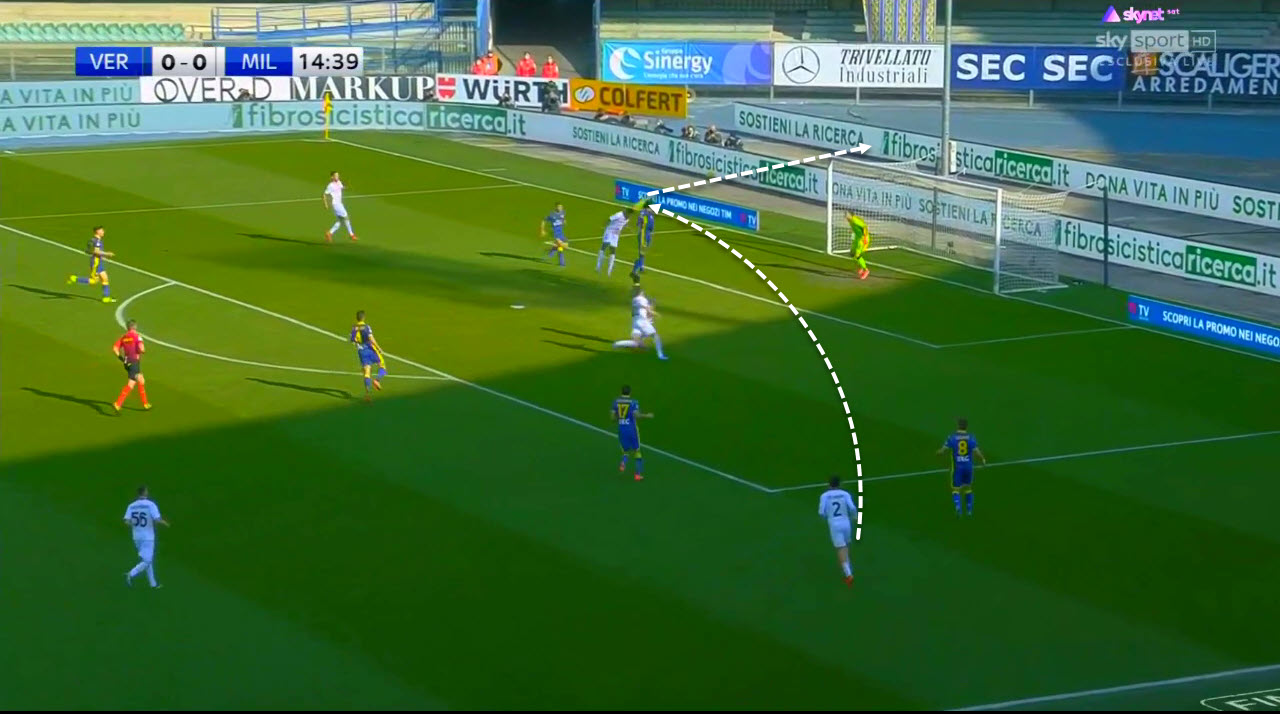 A few minutes later, Krunić was able to win a free-kick in a dangerous position after he was able to make a passing combination with Meïté and try to advance towards the box. And the same player was able to score an excellent free-kick put on the right angle with a great technique in a place that Verona's goalkeeper was not able to reach.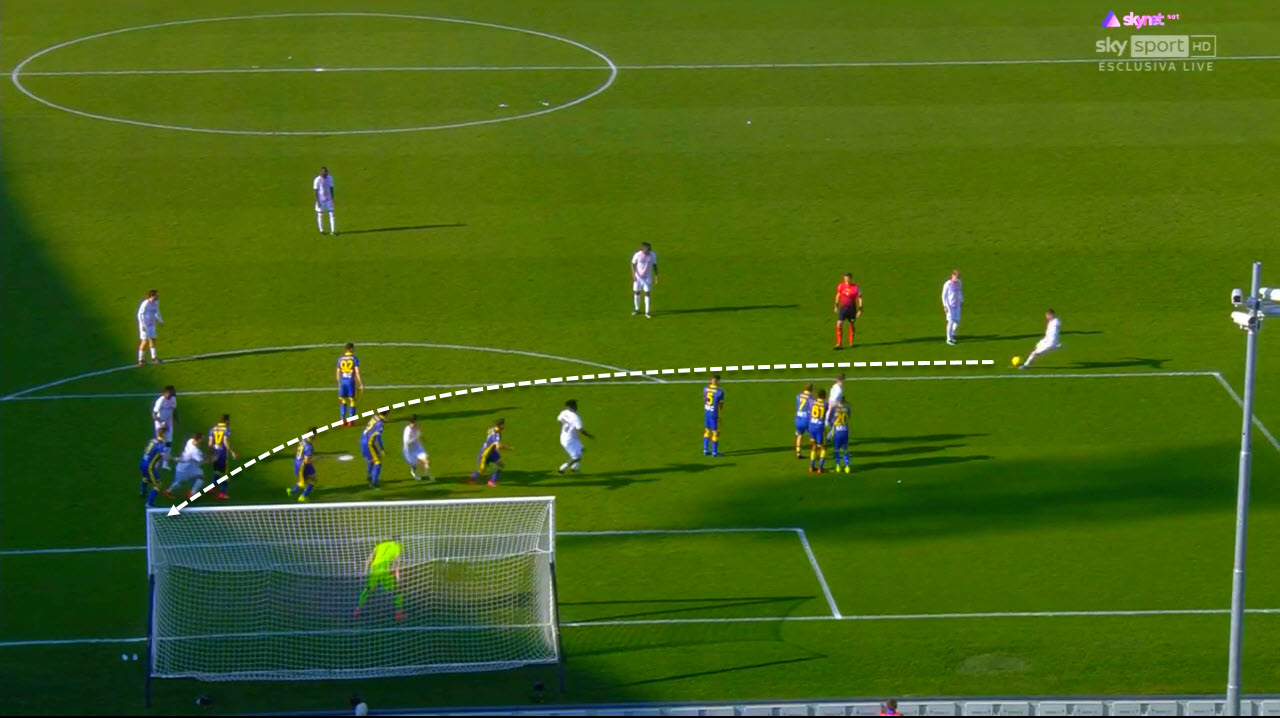 Later on in the first-half, both Leão and Meïté missed two other goalscoring chances at the 31st and the 33rd minutes, respectively. And then Milan were able to stop Verona's discrete attempts and finished the first-half with a 0-1 advantage.
In the second-half, Milan started with the same concentration and determination and were able to add the second goal at the 49th minute thanks to Diogo Dalot's penetration and Leão's body dribble that allowed Dalot to escape his markers, advance and score with a powerful shot. It was a beautiful goal that allowed Milan to secure the match even further and play without too much worry.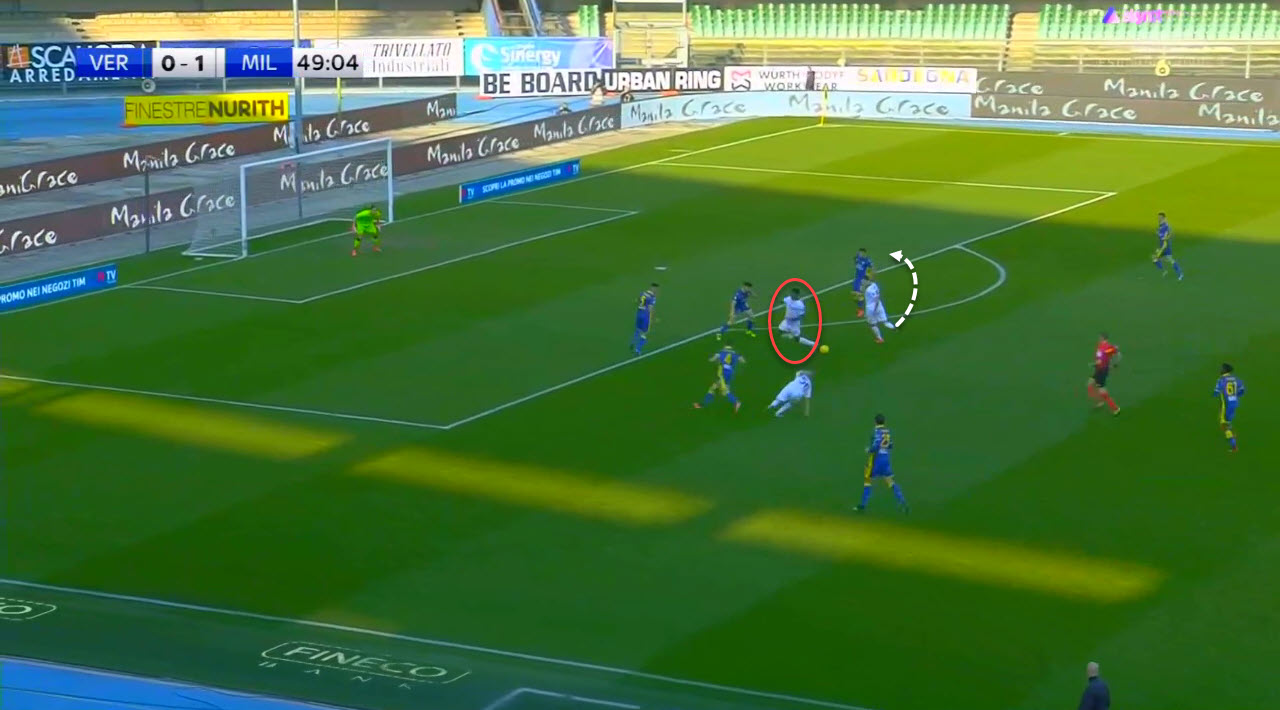 Despite the absences, Milan found the other players ready to replace the absent players in the best possible way, Dalot, Meïté and Krunić played very well in this match and proved that they can be very beneficial for the team even in difficult matches. And this gives Pioli even more options and more depth in the squad.
Moreover, the rest of the starting players have also played very well especially in defence since they were solid throughout the match and prevented Verona players from breaking them down. Also, Milan's strategy was to not let Verona exploit counter-attacks and spaces behind the defensive line, and that's why we saw Milan's defensive bloc low most of the time to not allow Verona to use their best attacking weapon; the quick passes and penetrations in the final third.
We saw Verona making some desperate attempts in the second-half even though some chances could have been more dangerous like Ceccherini's shot at the 77th minute and Salcedo's shot at the 82th minute.
But overall, Verona did not create a lot of danger to Milan's solid team defence. And this enabled the Rossoneri to win in a difficult match in the most crucial time of the season before heading to Manchester to face Manchester United in the Europa League, and then host Napoli at San Siro on Sunday.