When Rafael Leão signed for Milan on August 1st 2019 for a reported fee of around €28million, he naturally arrived with a lot of hype and expectation, although very few Milan fans would have seen him play prior to the move.
Leão started his career in Lisbon, with one of Portugal's most famous clubs, Sporting. It was clear to those who trained him, that from an early age, he showed the potential to go on to become a world-class player. Leão's first coach at Sporting CP, Luís Martins had this to say about him:
"The first time I saw Rafael was when I took the job as the technical director of the Sporting academy. Every time I saw Rafael in his first few sessions for the U17s, he was different and he was special. You know, at Sporting, we've created so many good players – like Ronaldo and Figo. Because of that, we are qualified to see when we have special talents in front of our eyes. Then it was easy to see, Rafael was different from the others".
Leão was one of a number of players who unilaterally terminated their contract with Sporting CP in the summer of 2018 following an infamous incident where 'fans' of the club broke into the training ground and attacked players and staff. After leaving the Portuguese capital, Leão moved to France's northernmost region, Hauts-de-France, signing for LOSC Lille on a free transfer, where he would enjoy an impressive debut season in Ligue 1. Not always a consistent starter, but nonetheless showing incredible promise, thus attracting the attention of the Rossoneri.
It was initially expected that the young Portuguese would partner Krzysztof Piątek in attack, then manager Marco Giampaolo utilised a 4-3-1-2 formation and it seemed Leão was the perfect profile to counteract the Pole: he is speedy, agile and full of flair and talent.
Needless to say, Giampaolo's time in Milan didn't last long at all, but it was here that Rafael Leão burst into the Italian scene and his exciting raw talent was one of the few positives that people took away from that time. To the surprise of many, Giampaolo gave Leão his debut from the start in the Derby Della Madonnina, a game the Rossoneri would go on to lose 2-0. A bitterly disappointing result, but Leão impressed massively - for years fans of the club had been crying out for an attacker with pace, and finally they seemed to have one - the Portuguese showed the tenacity and ability to take on players and make things happen. Under Giampaolo, Leão would also score one of the finest individual goals of the season against Fiorentina. Another horrendous performance, Milan lost 3-1 at the Siro but once again it was Rafael Leão who stood out in red and black, driblling past several Fiorentina players and effortlessly beating Dragowski, pulling a goal back for Milan.
Upon the arrival of Stefano Pioli, Leão started in both his new manager's first games as a pure centre-forward, and it was here that it became clear this wasn't where we'd see the best out of Leão. Under Giampaolo, he had either played as a supporting-striker or a left-winger, where he wasn't relied upon to hold up the play and bring others into the game. It didn't help the Rossoneri's cause that Piątek, once a devastatingly lethal and consistent provider of goals, was in terrible form and low in confidence, thus the striker position was a serious area of weakness.
Enter Zlatan Ibrahimović, the veteran Swede was singed in the 2020 January transfer market and instantly elevated the performance and functionality of the entire team. Pioli had switched the formation from 4-3-3 to 4-4-2, allowing the Swedish talisman to mentor and partner the young Portuguese, who finally had someone in which to play-off and link up with. At the age of 38, Ibrahimović was (and still is) in great shape, he's always been an outstanding Athlete but he had naturally lost a yard of pace since his last spell in Milan. This meant that the speedy Rafael Leão was on paper, the perfect profile to partner him. That is of course until the emergence of Ante Rebić.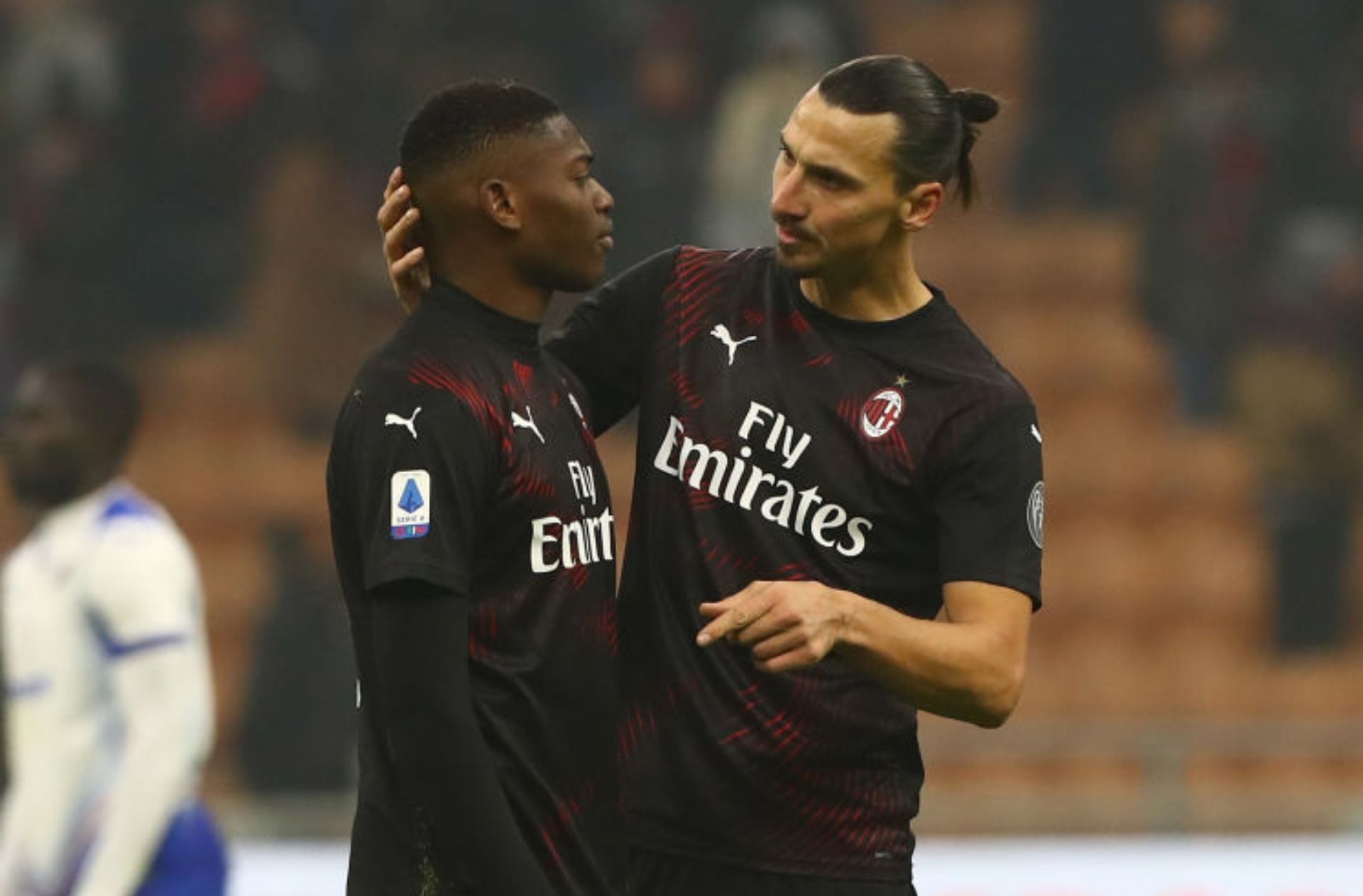 The Croatian forward had signed for the club in the same summer as Leão but had featured significantly less up until this point. Whenever called upon, Ante Rebić showed a sloppy first touch and an inability to make an impact, but still seemed to be performing reasonably well for his country. On January 19th 2020, Milan faced Udinese at the San Siro and the team was trailing by a goal at half time. Stefano Pioli finally gave Rebić his chance, coming on as an immediate second-half substitute and scoring the equalizer almost instantly. That game also saw a Theo Hernández screamer to make it 2-1, but Kevin Lasagna levelled the score without much time left. In the dying moments, Andrea Conti sent the ball long to Ante Rebic, who flicked it onto Zlatan Ibrahimović. Unfortunately, the Zebrete defence were able to deal with the Swede, only for the ball to come back to Rebić who dribbled past Rodrigo Becão and fired it into the bottom corner of the net with his weaker left foot. Ever since then, the Croatian has been Pioli's first choice and went on to become Milan's top scorer in the 2019/20 season, netting 12 goals, all of which came in the second half of the season. Pioli eventually tweaked the formation again to 4-2-3-1, allowing Hakan Çalhanoğlu to thrive in the no #10 role and Rebić to excel on the left wing. Leão was mostly used as a super-sub as the season went on, and he had some memorable moments, including a goal against Juventus to complete the turnaround from 2 goals down.
At the start of the 2020/21 season, Leão featured more prominently than Rebić (who suffered a shoulder injury against Crotone) and he was highly impressive, providing a wonderful assist for Ibrahimović in the derby win and some even speculated that Rebić might struggle to get his place back. However, this hasn't been entirely the case. Rebić has also suffered an inconsistent season, injuries, Covid-19 and suspensions to name a few causes. However, an observation could perhaps be made that even at his worst, Ante Rebić still gets involved in the game and makes things happen for Milan, whereas Leão is prone to going missing entirely but at his best is an incredible force.
At the end of the day, Rafael Leão is a highly talented young player, albeit a very inconsistent one. For this, he has naturally split the fan-base, with opinions varying on the youngster. The reasons for his inconsistency are unfortunately, not simple. For example, Hakan Çalhanoğlu is another player that has received the same criticism, but since being deployed as a central-attacking-midfielder he has become far less inconsistent. Much to the contrary, Rafael Leão has been tried everywhere in attack and still failed to find consistency. Whether it be on the left, right, middle or as a centre-forward - Leão has both delighted and frustrated fans with his performances - this leads to the conclusion that the Portuguese's problem, isn't a positional one: it comes down to mentality.
It's almost hard to believe that Leão is (at the time of writing) still only 21 years old. Whilst it's fair to point to Gianluigi Donnarumma who was also born in 1999 and say "well, he's not got a mentality issue - he turns up every game, why shouldn't Leão?" The simple answer to this question is that players develop at different rates and Donnarumma is an exceptional generational talent who was ready to play at the highest level of football at the tender age of 16. It's easy to forget that this Milan side is the youngest in Serie A (as Stefano Pioli is keen to remind us) and one of the youngest in Europe's top 5 leagues because many of the mainstays of the current side have seemingly been around forever - the likes of Calabria, Kessié, Donnarumma, Romagnoli and Çalhanoğlu have all been with the side for nearly 4 years but they are all under the age of 27, with only the latter two over the age of 25. All have gone on to become consistent and reliable players (for the most part), and you have to assume that with time, Leão will too. Not just Leão, but Hauge, Tonali, Saelemaekers, Tomori and many other players in the same camp that may have been criticised for inconsistency. These players are not codes in a machine, they are human beings and should be given patience and time to develop. This does not mean that they should be immune to criticism, but it's absolutely fundamental for fans to keep perspective. When thinking of Leão's worst moments, his best ones should also be remembered. It's true that Leão has failed to step up when the team really needed him to in recent weeks and even months, but Milan fans must remain patient with its players, especially with one as talented as Rafael Leão.