Inter Women hosted Milan Women in the Serie A Women just two weeks after an exciting Coppa Italia's first-leg that finished 1-2 for the Nerazzurre. And therefore, Milan played this game while aiming at getting a revenge after their recent Derby loss, and this was the perfect opportunity to do it.
Inter: 21 Marchitelli; 13 Merlo, 17 Debever, 19 Alborghetti, 8 Brustia; 18 Pandini, 20 Simonetti, 93 Rincón; 7 Marinelli, 16 Møller, 27 Tarenzi.
Milan: 12 Korenčiová, 7 Bergamaschi, 33 Vitale, 6 Fusetti, 36 Agard, 27 Tucceri Cimini, 15 Jane, 87 Boquete, 4 Hasegawa, 9 Giacinti, 10 Dowie.
Inter however started with attacking initially and exploited Milan's defensive confusion at the 7th minute and Rincón made a powerful shot but luckily for Milan Korenčiová was able to save it.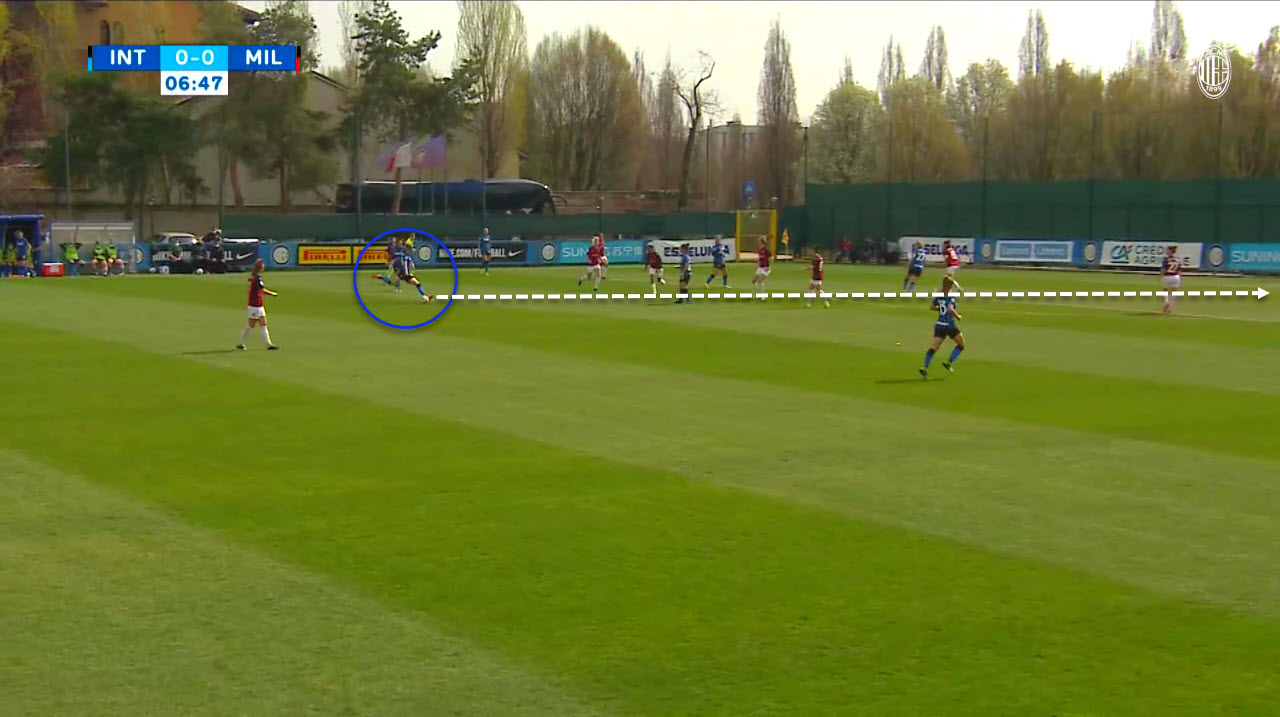 Milan players were not able to keep possession in the first ten minute, and at the 10th minute exactly, Møller once again had a lot of space in front of her and therefore she tried shooting from distance. And the problem here was Milan's poor defensive marking. Milan players allowed Inter too much space near the penalty box and this led to numerous Inter shots from outside the box since their players did not find close marking or disturbance that would prevent them from shooting. And in this action, Møller's left-foot shot went inside the net, scoring Inter's first goal of the match and making Milan's mission more complicated.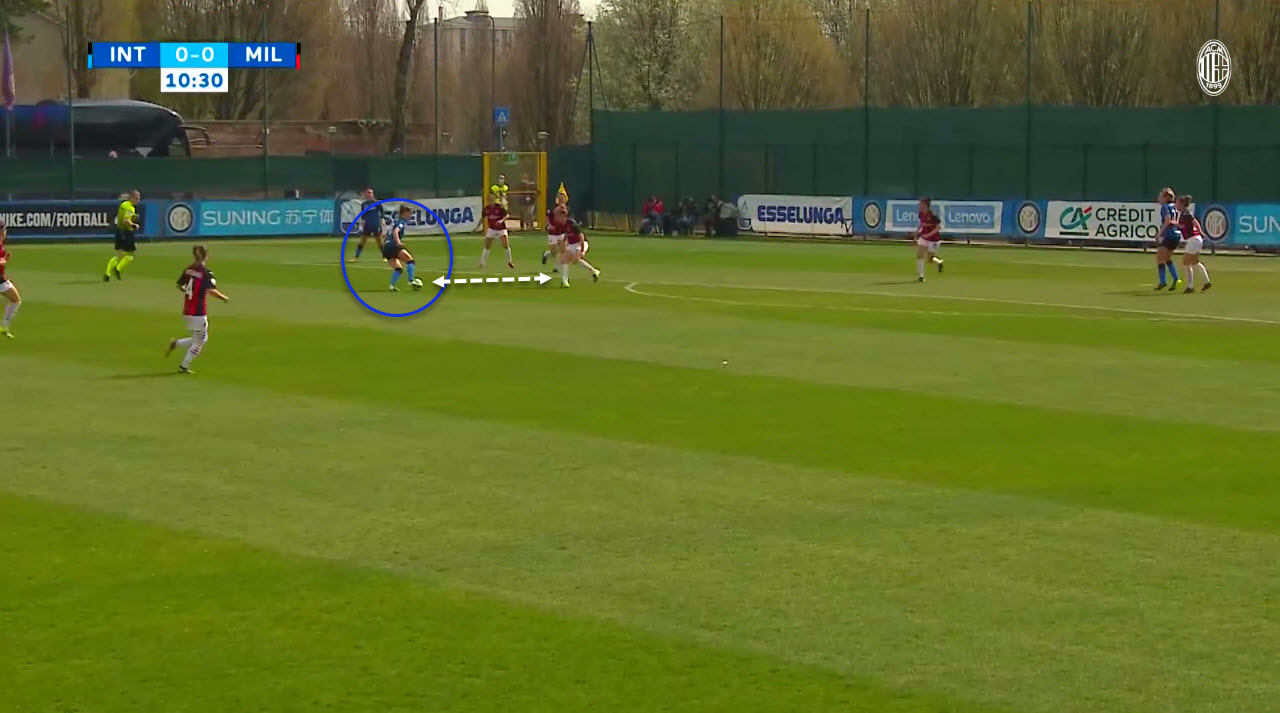 Five minutes later, Milan had their first chance of the match from which came their first goal. The action started from an exchange of passes in midfield and then Hasegawa passed intelligently to Jane who shot with power from outside the box, and when Marchitelli saved the shot, Giacinti was well-positioned to score a beautiful header goal which made the match even more competitive.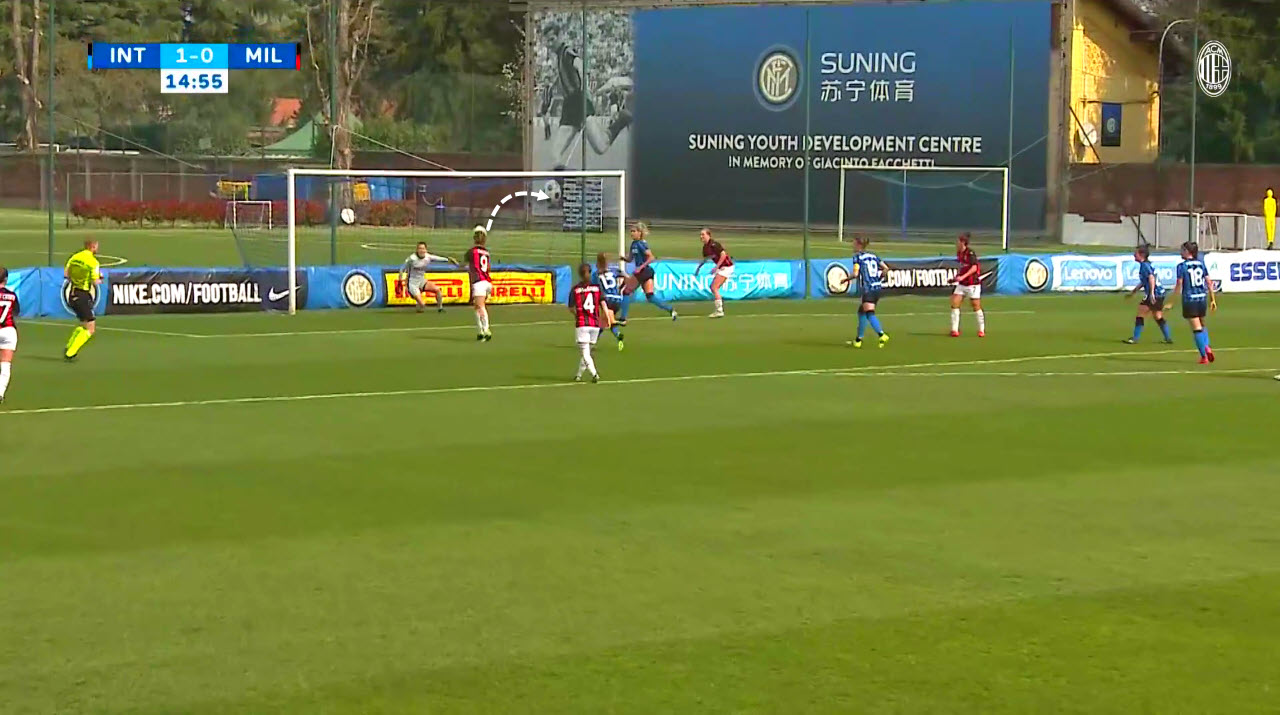 Two minutes later, Dowie was also able to add a second goal but it was cancelled due to an offside position of the English.
The first goal however allowed Milan to gain some confidence and start playing with more determination and with a better possession of the ball, even though Inter continued in attacking regularly and threatening Korenčiová.
Milan then won a penalty at the 30th minute thanks to Boquete's accurate cross and Dowie's acceleration that obliged Marchitelli into committing a mistake inside the box, and the result was a second Milan goal from Giacinti.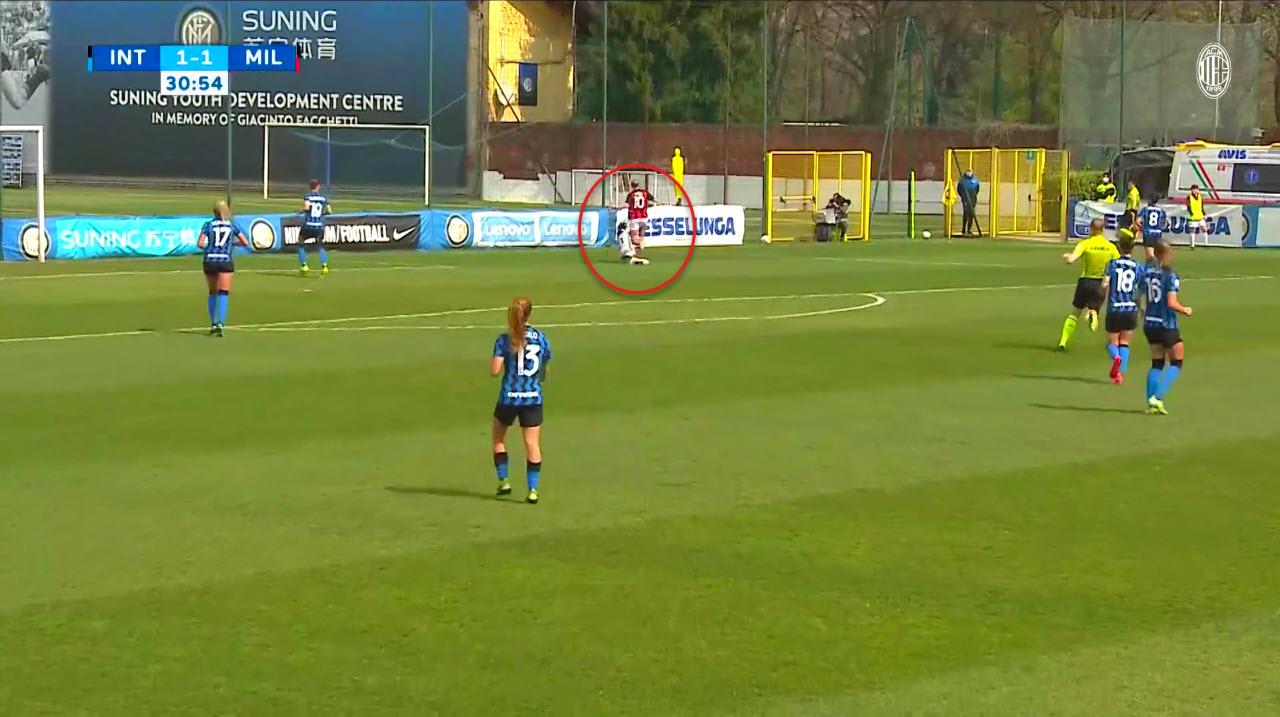 And at the 37th minute, Giacinti scored a very beautiful Milan goal following Dowie's run on the right-wing. The English saw Giacinti's position and gave her an accurate assist at her back, and Giacinti was excellent in moving immediately towards the ball and in coordinating her body to shoot the ball with great power but with precision as well, making it so difficult for Marchitelli to save a very angled shot that hit the crossbar and went inside the net. This goal gave Milan a very important psychological boost, confidence and belief in their abilities to win this derby while Giacinti's movement reminded us of the great Filippo Inzaghi's movements inside the box.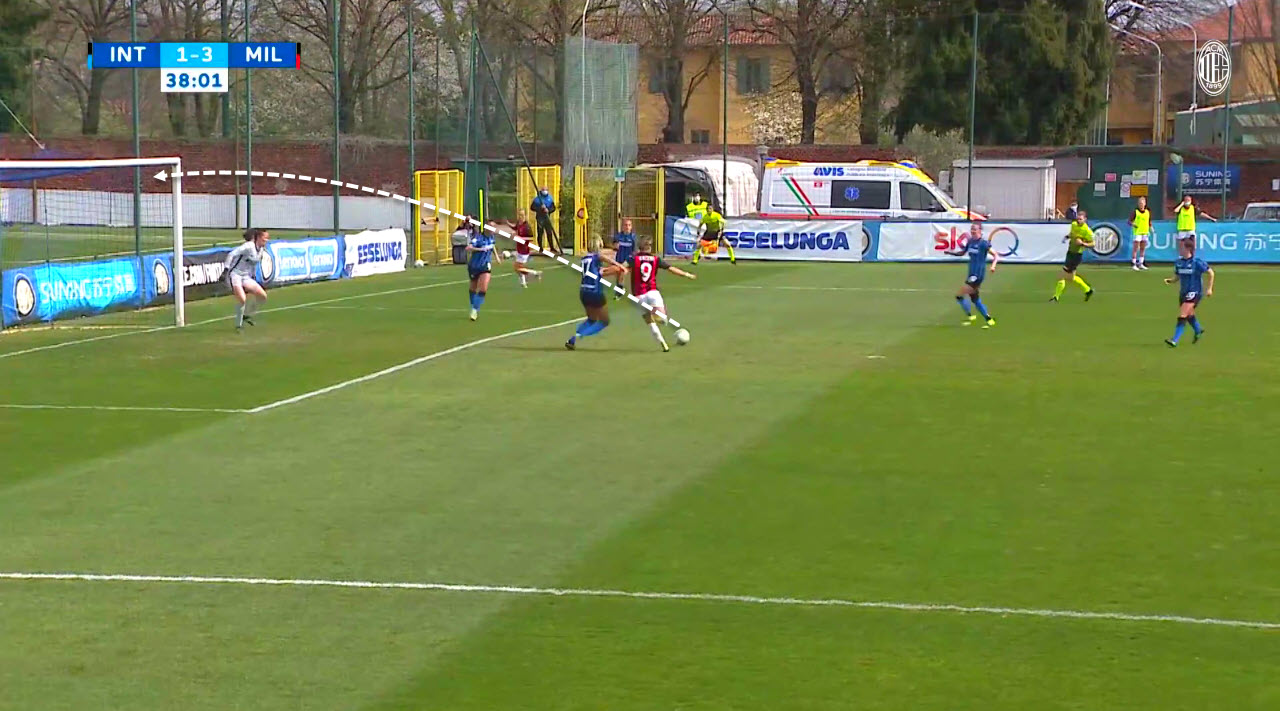 Milan therefore continued in keeping their advantage after the end of the first-half and they were about to add a fourth one at the 47th minute when Dowie received an accurate through pass from Jane yet Marchitelli was able to deviate Dowie's powerful shot into a corner.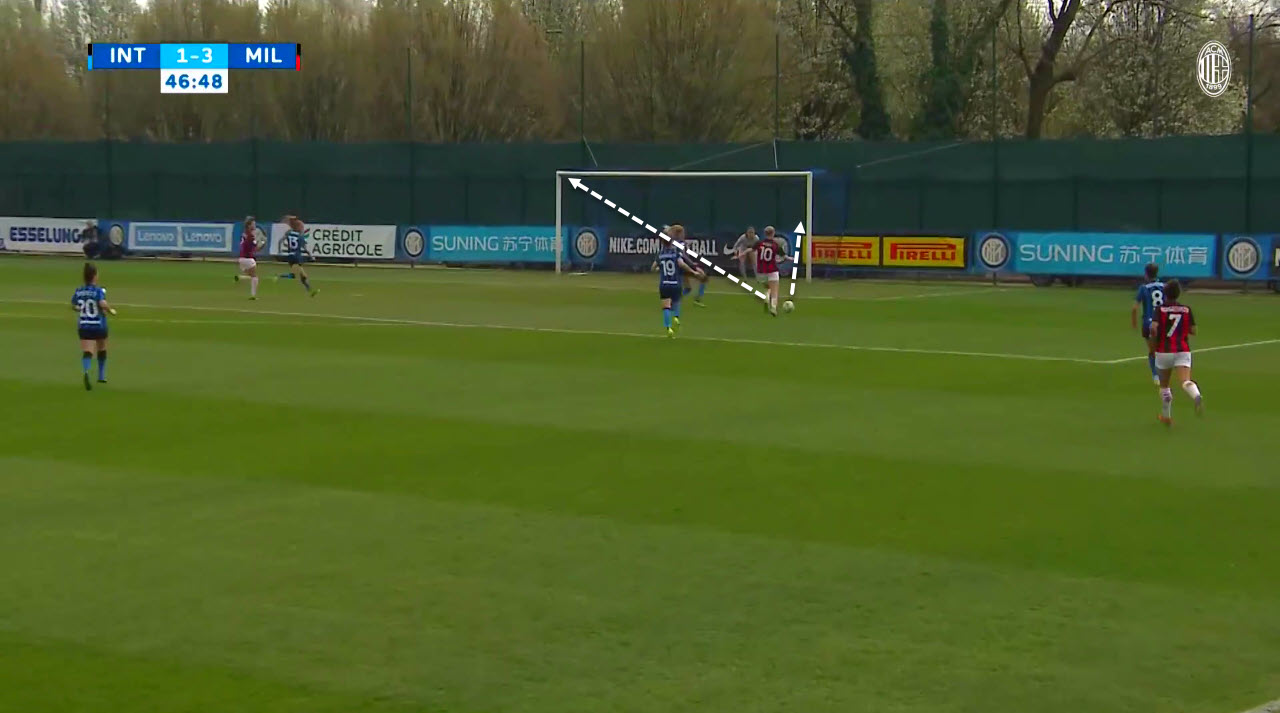 And after a period of slow rhythm at the start of the second-half, Milan made many wrong passes in the final third but then came a very well-played action from Hasegawa, Tucceri and Giacinti. Giacinti got the ball in the final third and saw Tucceri's acceleration on the left-wing so she passed to her and the latter gave it to Hasegawa who was inside the box, who in turn passed it intelligently to Giacinti who was unmarked inside the box and shot the ball with power, making it too difficult for Marchinelli to save. And this was Giacinti's fourth goal of the match.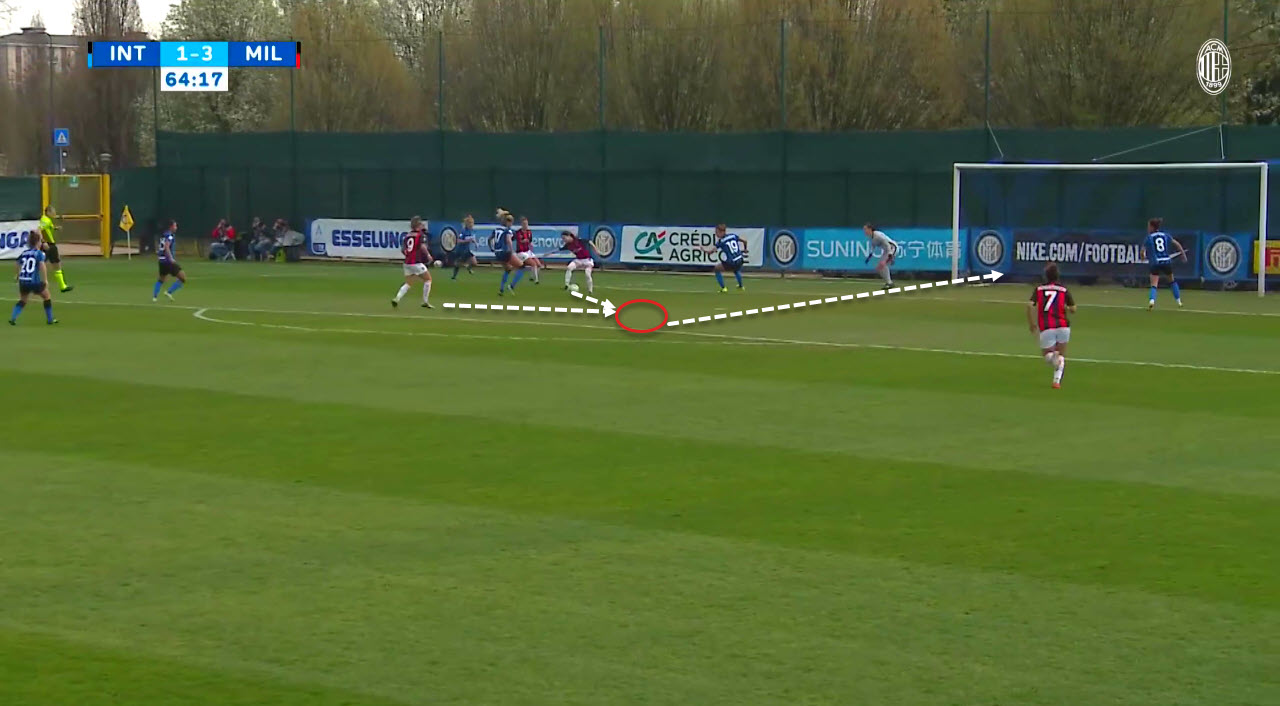 Milan then continued in having possession of the ball and preventing Inter from attacking the way they did at the beginning of the first-half, and they were successful in doing so because apart from this action and this great Korenčiová save at the 72th minute, Inter were not able to threaten Milan a lot and the result remained 1-4 for the Rossonere.
Milan got a fundamental victory against a tough Inter during a match that saw Giacinti score 4 beautiful goals and the team won three important points in an away match which consolidates their second spot in the league which will qualify them for next season's UEFA Women's Champions League, of course if they keep on winning.