Milan Women got a comfortable 4-0 win over Napoli Women in a Serie A Women match which was played on Sunday. The Rossonere did not really face a lot of troubles in this match since they facilitated their mission since the first-half by scoring three goals before adding the fourth in the second-half. While on the other hand, Napoli created some good chances but their attempts were not enough to beat a team like Milan.
These were both teams' line-ups for this match:
MILAN: (3-5-2) Korenčiová; Vitale, Agard, Fusetti; Bergamaschi, Jane (subbed by Rask at the 75th minute), Boquete, Hasegawa (subbed by Grimshaw at the 75th minute), Tucceri; Dowie, Giacinti, and the team's head coach is Maurizio Ganz.
NAPOLI (3-5-2) Tasselli; Huyhn (subbed by Oliverio at the 60th minute), Di Marino, Arnadottir; Cafferata (subbed by Capparelli at the 67th minute), Errico (subbed by Pedersen at half-time), Huchet (subbed by Rijsdijk at the 60th minute), Goldoni, Hjohlman; Nocchi, and Popadinova (subbed by Cameron at half-time) with the head coach being Alessandro Pistolesi.
Napoli opened the game with a dangerous attack since the start; the first minute of the match witnessed a beautiful volley from Huchet that hit the crossbar and went out of the goal following a corner-kick. But this could have been more dangerous for Milan.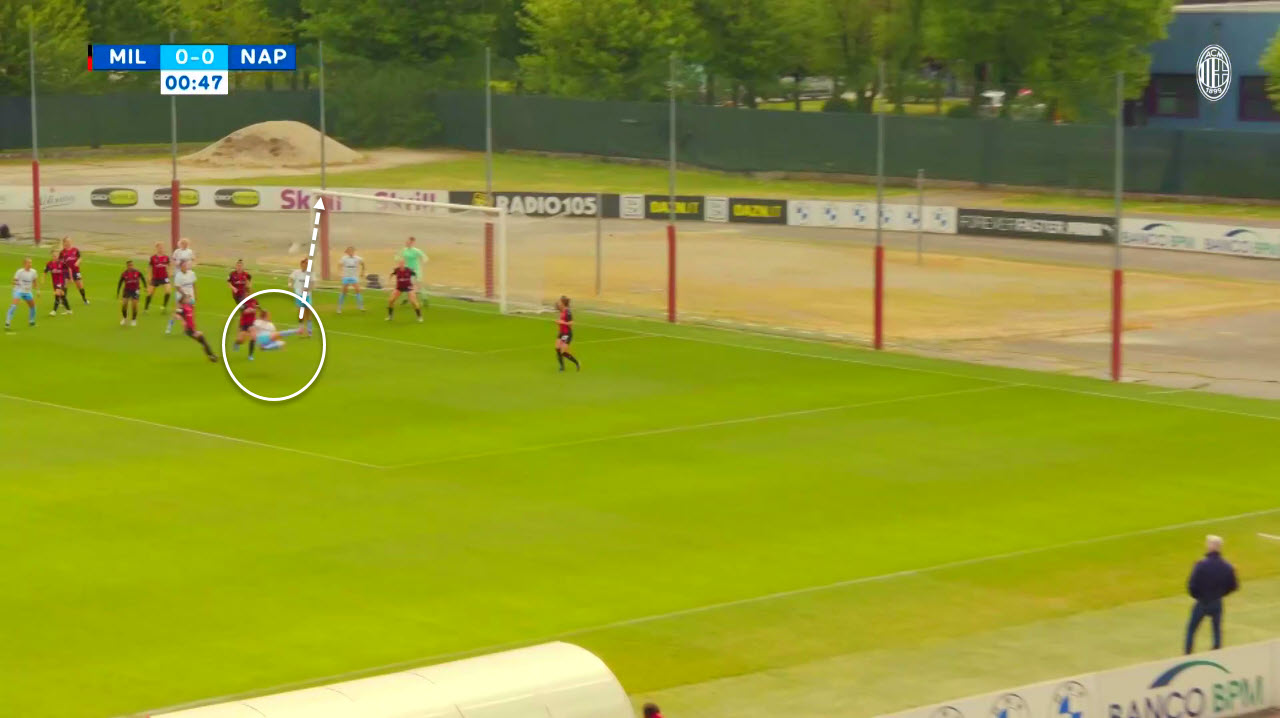 Following this dangerous initial chance, Milan started circulating the ball quickly and were determined to make an instant reaction, and this came at the third minute after a quick exchange of passes between Milan's midfielders and then Boquete gave a through pass to Dowie who was unfortunately offside even though she scored a disallowed goal.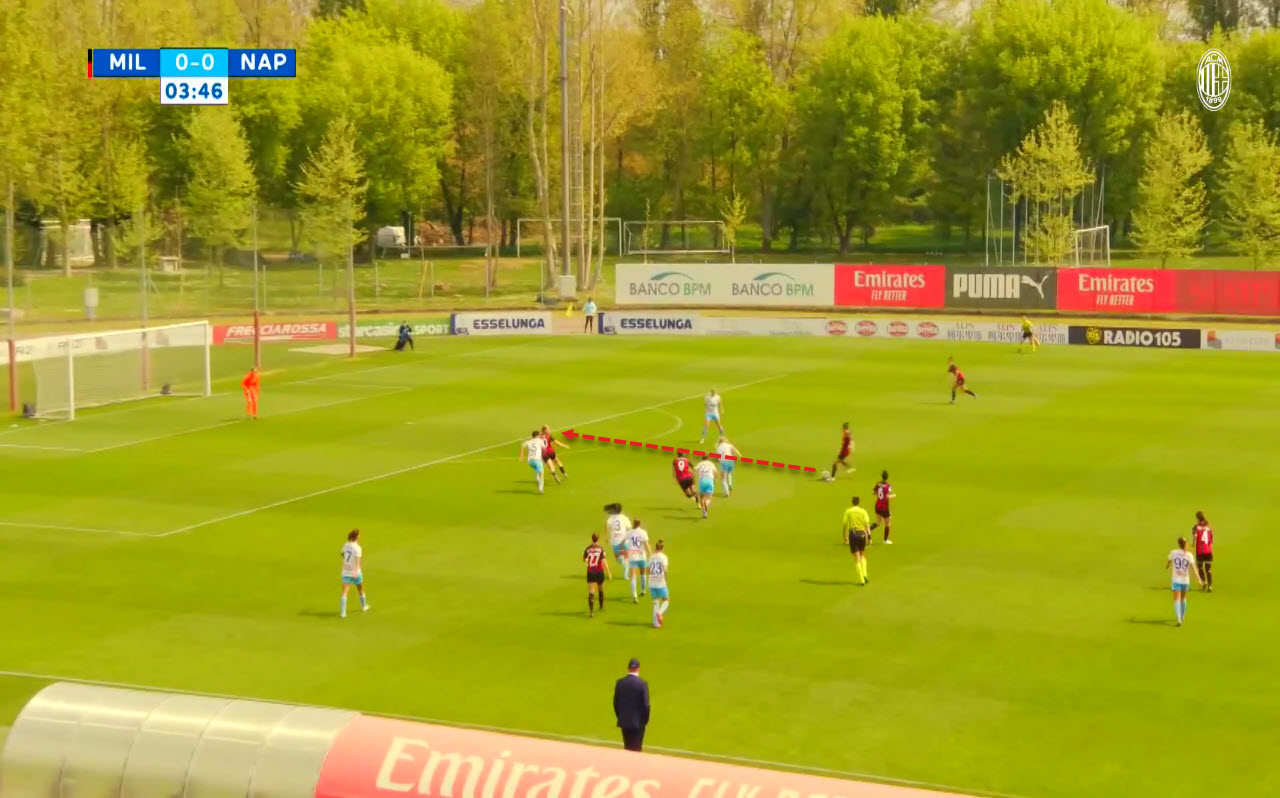 Milan then continued in attacking and got several corner-kicks following the crossing attempts of Bergamaschi and Giacinti's shooting attempts. But at the same time, Napoli looked solid at the back and were very dynamic in marking the Rossonere to not allow them to have free spaces.
And at the 20th minute came Milan's first goal thanks to the efforts of both wingers, Tucceri and Bergamaschi who both went forward to support the attack, and while Tucceri received a through pass on the left-wing, Bergamaschi joined Dowie inside the box in order to create numerical superiority and aim at touching the ball. Then, Tucceri's cross was saved by Tasselli but it slipped from her hands and went near Bergamaschi who was intelligent enough to wait for a Tasselli's mistake and end the action with a goal.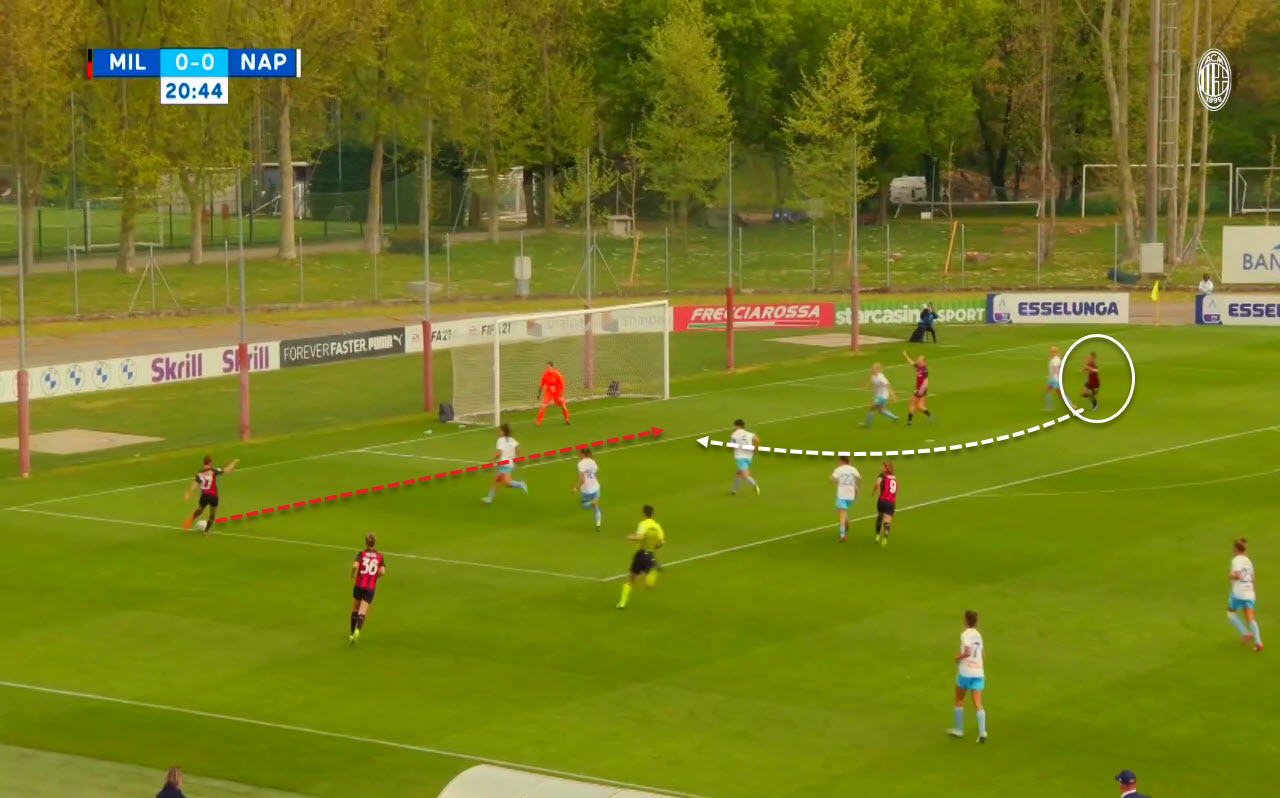 Three minutes later, Hasegawa added Milan's second goal following Boquete's exceptional effort from the left-wing since she dribbled past two defenders and crossed the ball towards Dowie and Giacinti. And luckily for Milan, Tasselli committed another mistake by clearing the ball centrally and to her bad luck, it found the head of Hasegawa who scored the goal with an accurate header.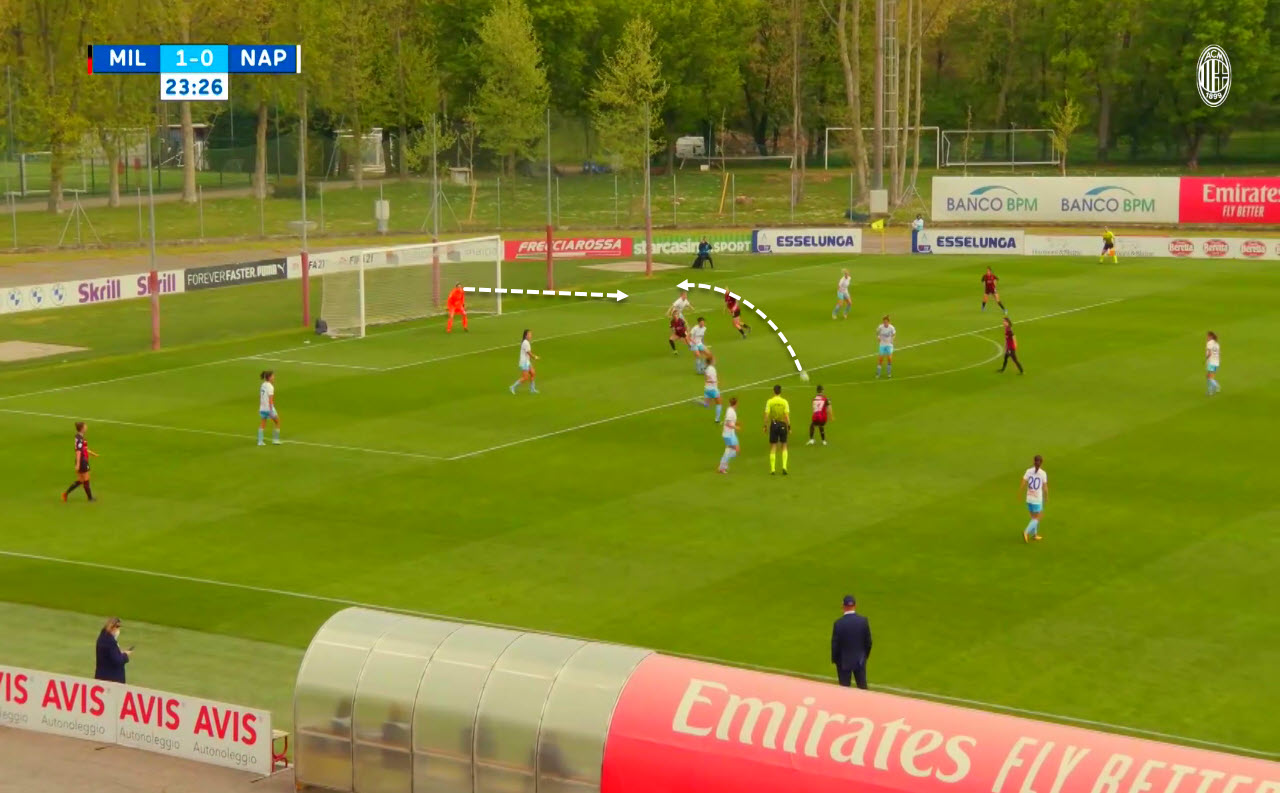 Later on, Milan continued in keeping possession for most of the rest of the first-half while making some attacks from time to time, but none of those actions threatened Tasselli's goal since Milan players lacked quality finishing in the final third. And at the same time, Napoli were not able to reach Milan's penalty box a lot and they only made a few desperate shots from outside the box.
However, Milan scored the third goal of the match at the 42th minute thanks to Tuccerri, Boquete and Giacinti's high pressing that allowed them to disturb Napoli's defender and intercept the ball from her, like you can see below.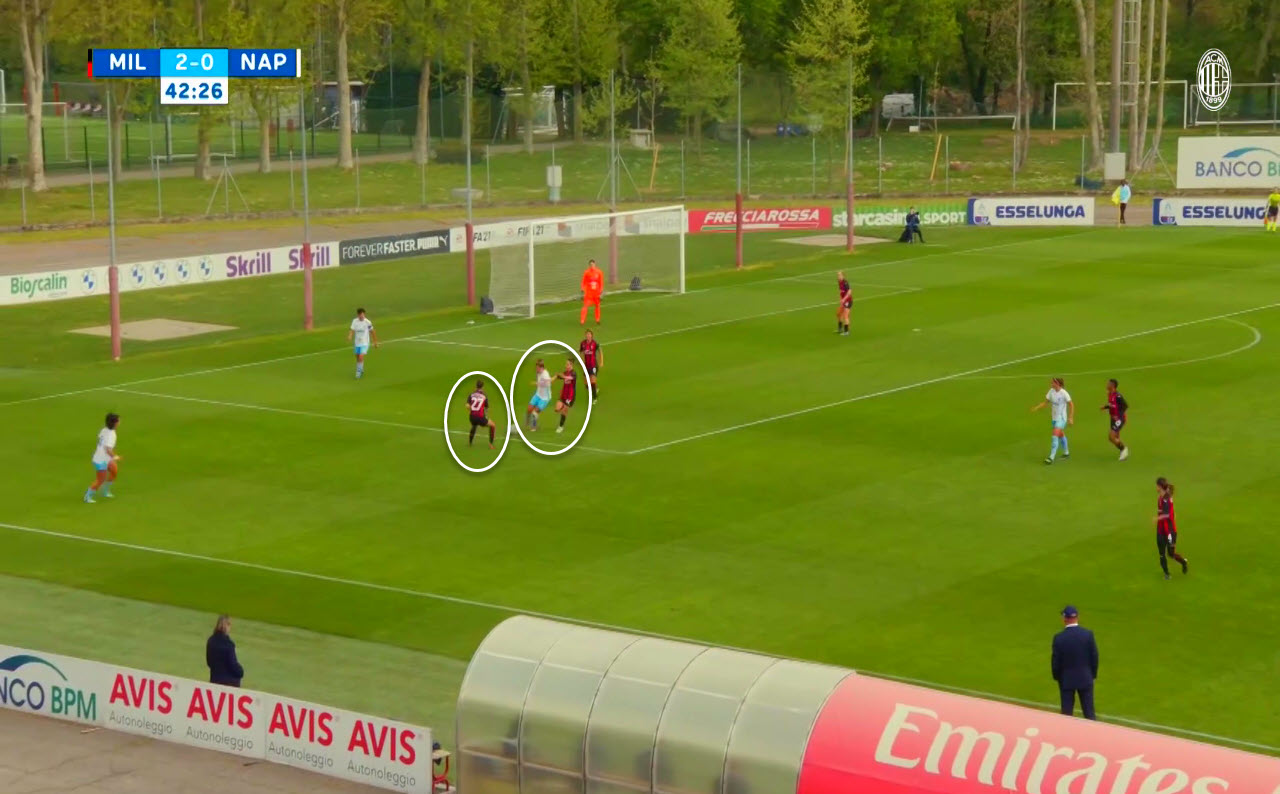 And that facilitated the job for Giacinti and Dowie since the first shot the ball but it was saved by Tasselli who wasn't able to collect it and that's what enabled Dowie to score her first goal of the match and Milan's third goal.
The second-half kicked-off with Milan's fourth and last goal in the match at the 51th minute and this goal was scored by Giacinti thanks to Vitale's pass. In fact, the whole action was created due to a wrong clearance from Napoli's defender and this allowed Vitale to quickly give the ball to Giacinti who knew how to control the ball in the right direction and shoot towards the goal.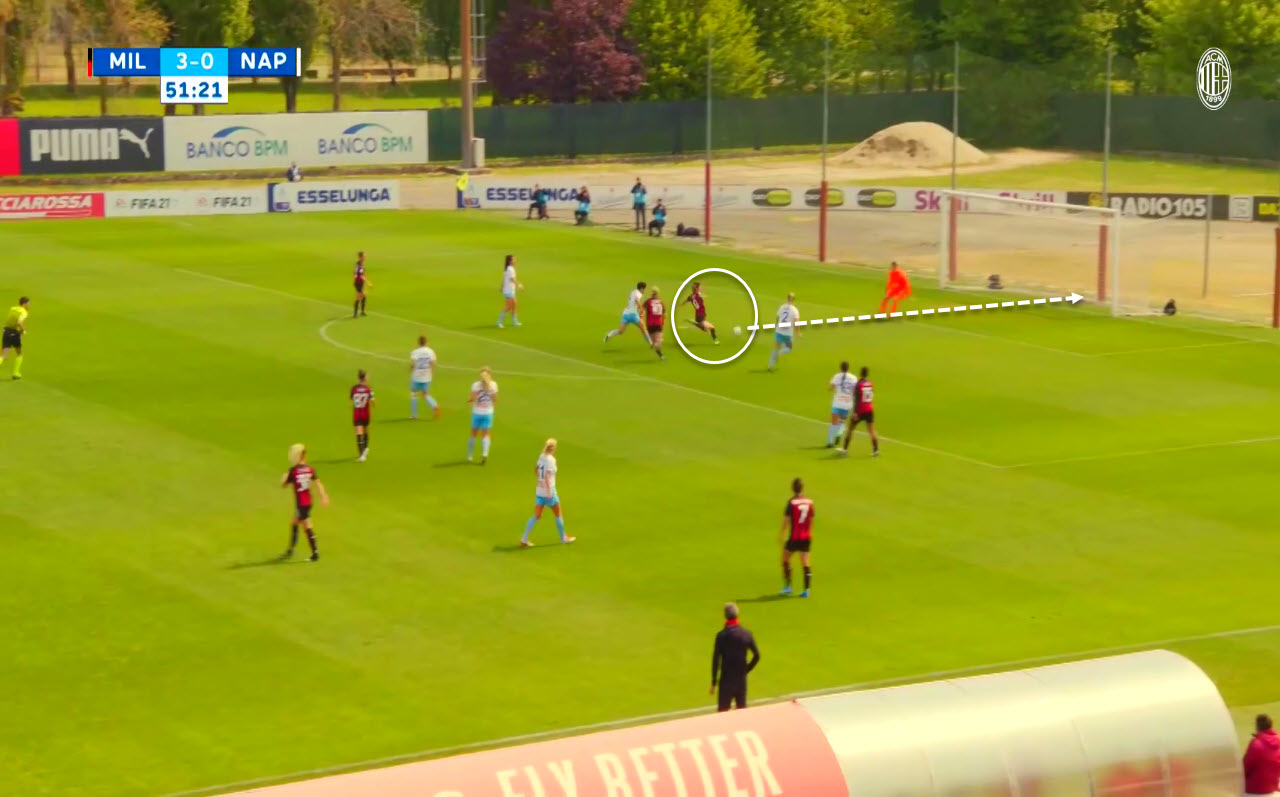 Milan then knew how to conserve their huge lead by continuing to attack and keep possession as long as they can to not let Napoli threaten their goal. And this attacking mindset highlighted this team's strong character and determination to win.
Nevertheless, Napoli had some dangerous opportunities especially when having counter-attacks but they did not know how to exploit those chances since they especially lacked key passes in the final third. For instance, you can see how in this counter-attack two Napoli players were unmarked inside the box yet the holder of the ball preferred to go for the individual option instead of giving one of them a through pass.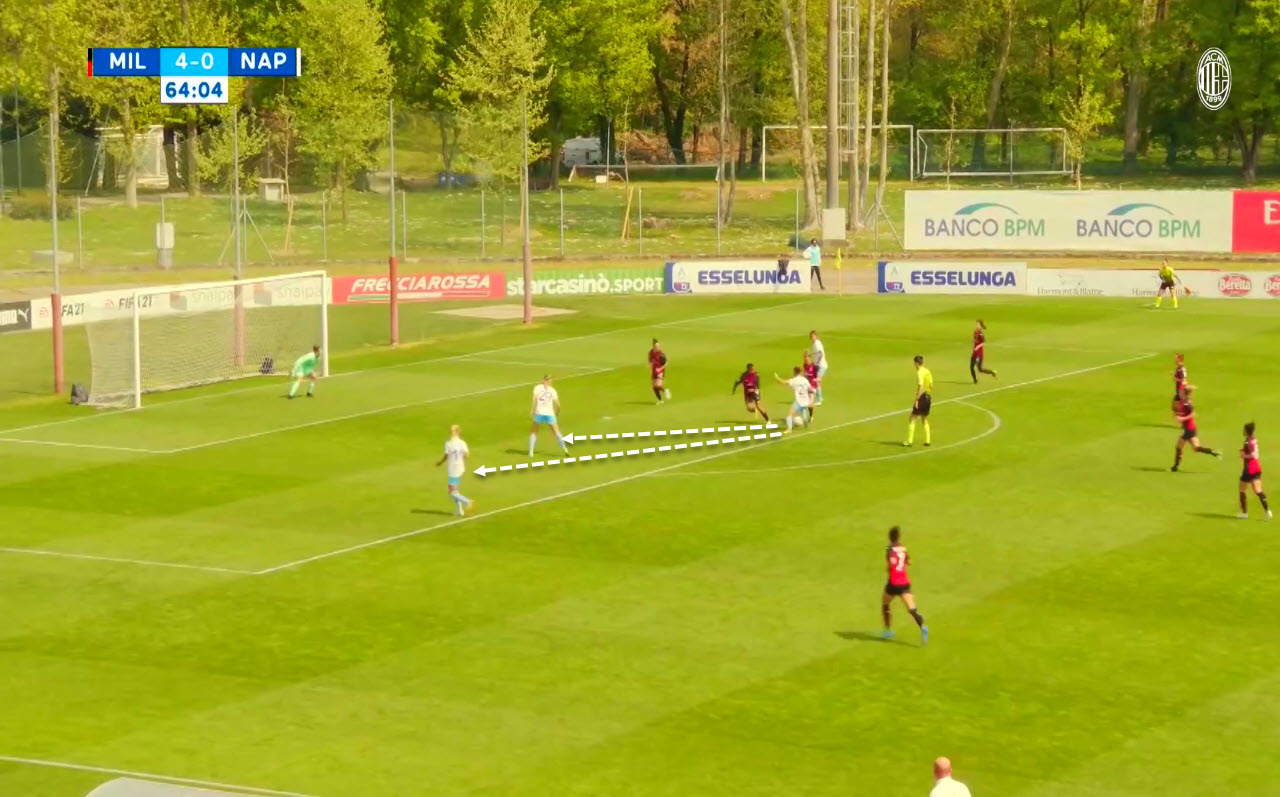 Milan triumphed over Napoli in this Serie A Women fixture thanks to the goals of Bergamaschi, Hasegama, Dowie and Giacinti. And therefore, they consolidated their second spot in the standings even further, making the UEFA Women's Champions League qualification closer than ever.