Milan Women faced Inter Women for the Coppa Italia semi-final's second leg and the Rossonere were able to get their qualification ticket to the final after beating Inter 4-2.
The two teams were lined-up according to these formations and there were no surprises in terms of player choices:
AC MILAN (3-5-2): Korenčiová; Vitale, Agard, Fusetti; Bergamaschi, Jane, Vero, Hasegawa, Tucceri Cimini; Giacinti, Dowie.
INTER (4-3-3): Gilardi; Brustia (46' Auvinen), Debever (81' Vergani), Alborghetti, Bartonova; Catelli, Simonetti, Rincón; Møller, Mauro (58' Tarenzi), Marinelli.
The game started with a high tempo and Inter had more possession in the first few minutes but without concrete danger. Then, Hasegawa found herself in a shooting position from outside the box and tried shooting from distance but her shot went away of the goal. This chance freed Milan a little bit from the stress of the game and we started to see Milan getting more possession with quick passes, to then score the first goal of the match thanks to Boquete's accurate shot after she received a pass from Hasegawa and dribbled past two defenders.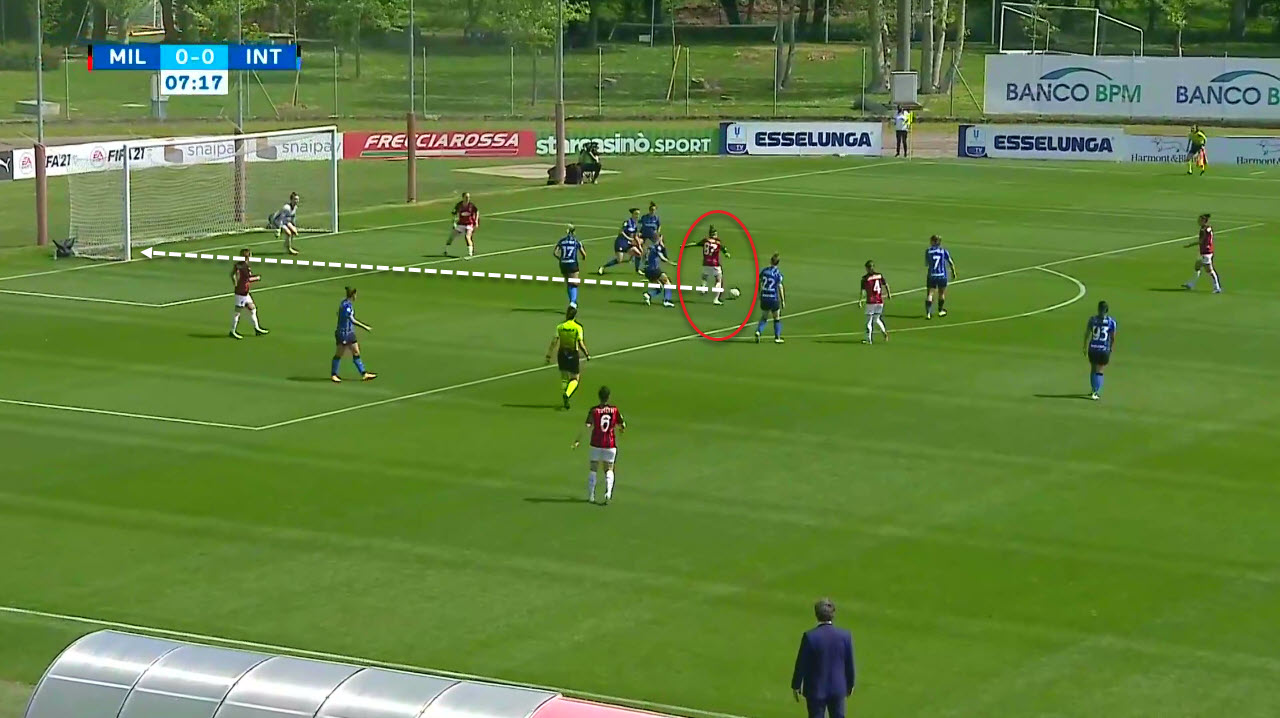 This goal confused Inter players and gave an additional boost to the Rossonere who continued in attacking and did not retreat following their goal. And this was important since by attacking continuously Milan were able to threaten Inter several times by Giacinti and Dowie's attempts before Boquete scored her second goal of the game. This goal was well-prepared by Dowie whose header became an accurate assist that allowed Boquete to find herself in a one on one situation with Gilardi, dribble past her and score a beautiful goal. And as you can see below, Dowie's header was the most important and the most difficult part of this goal.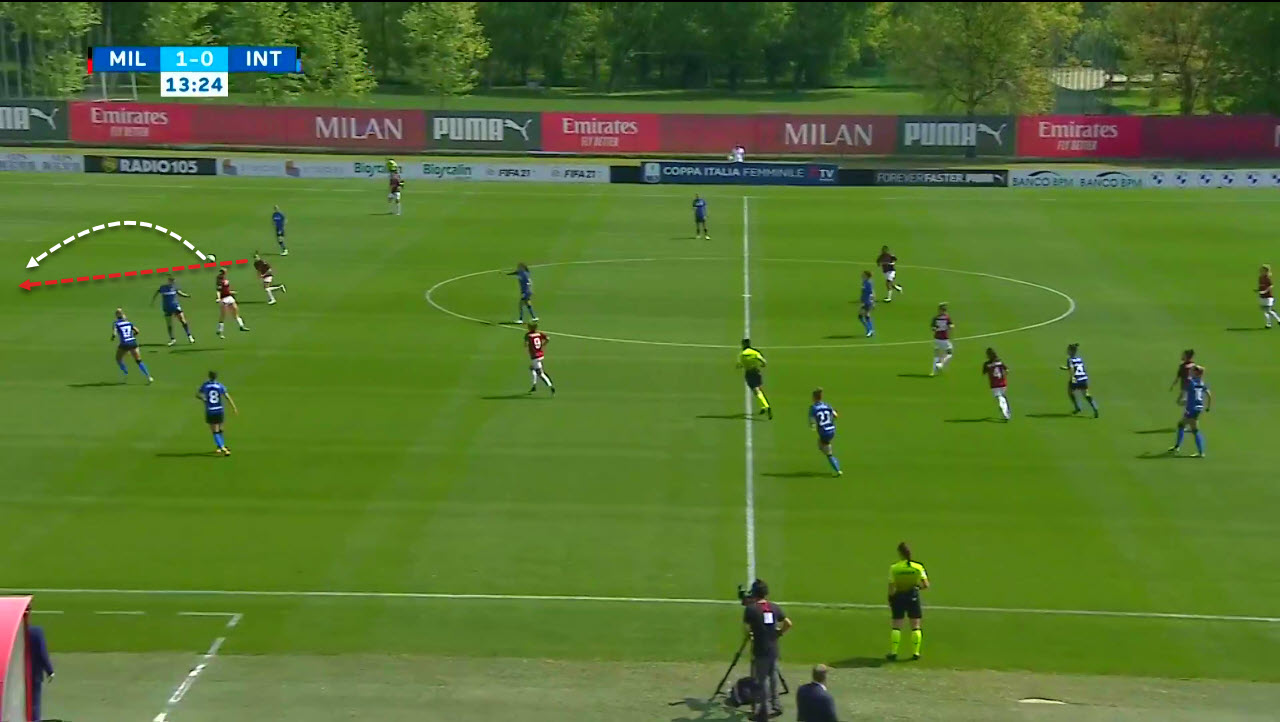 Moreover, Boquete's cold blood and dribbling skills were once again highlighted when she intelligently dribbled past Gilardi and put the ball inside the net.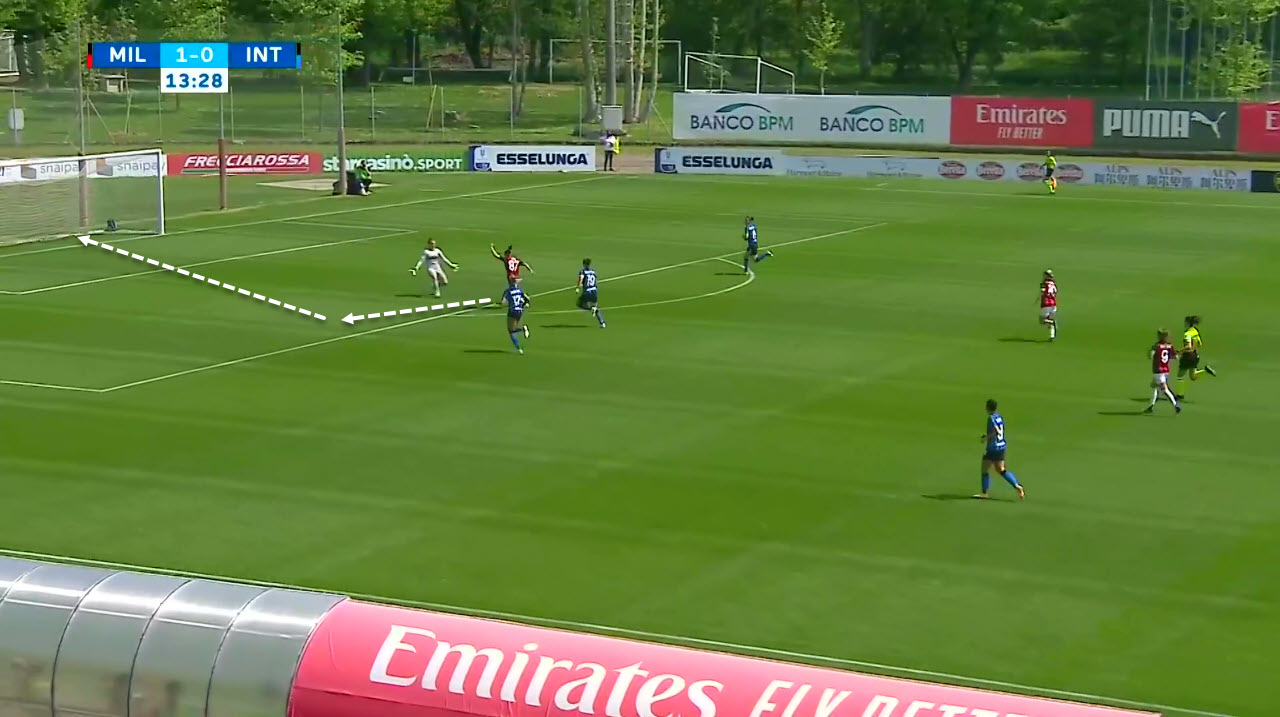 The rhythm then became a bit slower following this goal but Milan continued in attacking as opposed to Inter players who were not able to reach Milan's penalty box so often. Marinelli had Inter's sole dangerous chance in this first-half by receiving the ball inside the box and succeeding in turning and shooting, but to her bad luck, Korenčiová was attentive enough and deviated her shot towards a corner-kick.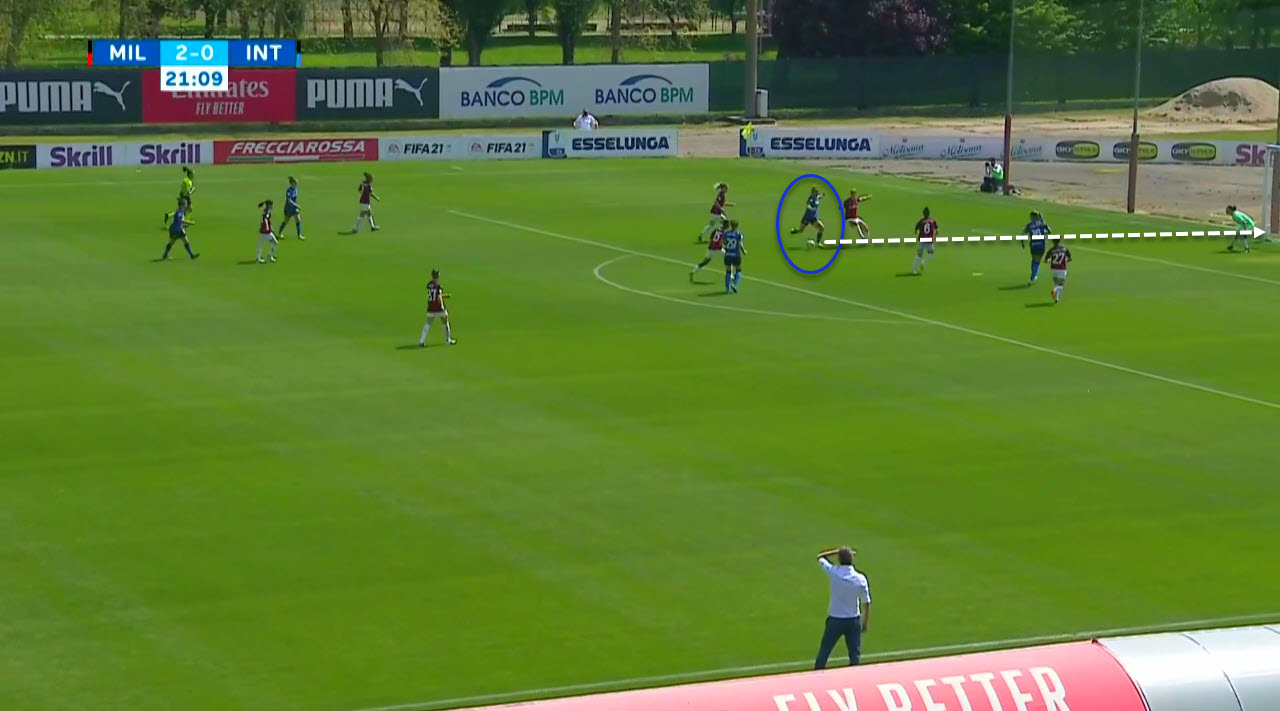 At the 23th minute, Hasegawa once again was the source of danger in Milan's midfield since she provided an accurate long-pass towards Giacinti who failed to shoot on target with her weaker foot, missing a very important opportunity.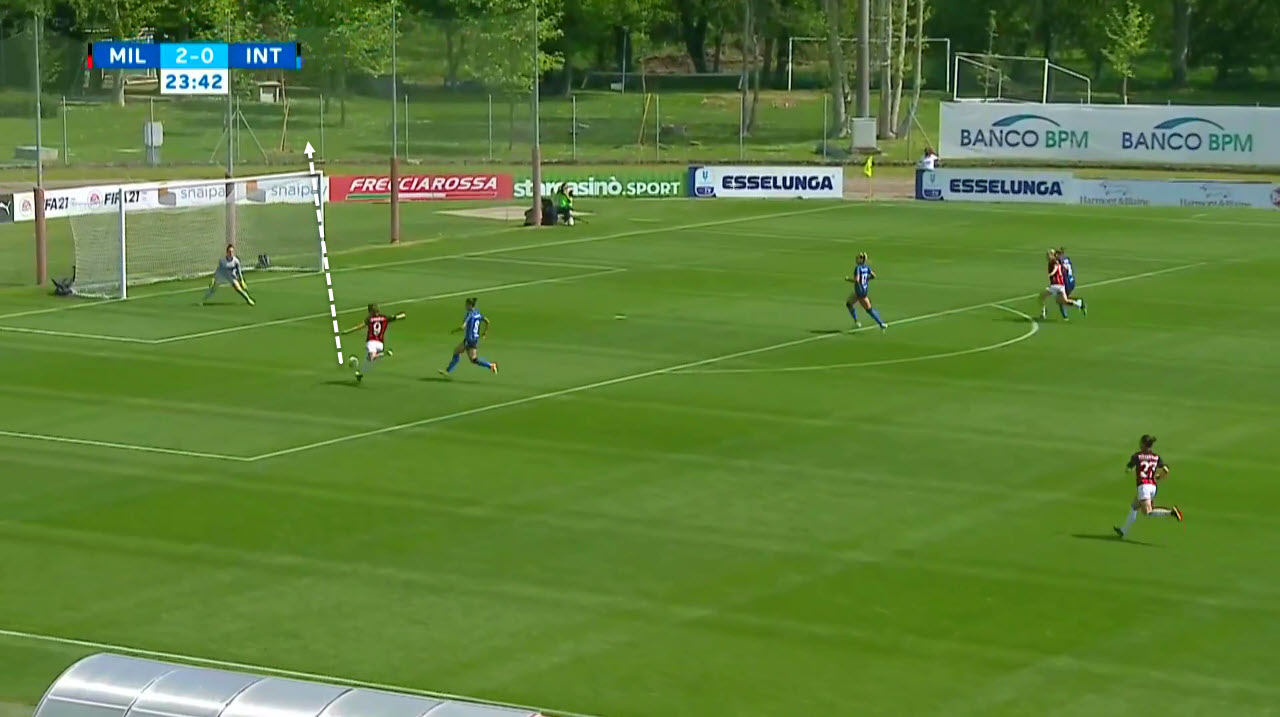 The same happened for Boquete at the 27th minute when she found herself in a key position and tried to shoot but her attempt was not as powerful as needed. The third goal then came and was scored by Giacinti at the 35th minute with a half-volley following Hasegawa's pinpointed cross, yet the goal was disallowed due to Giacinti's offside position.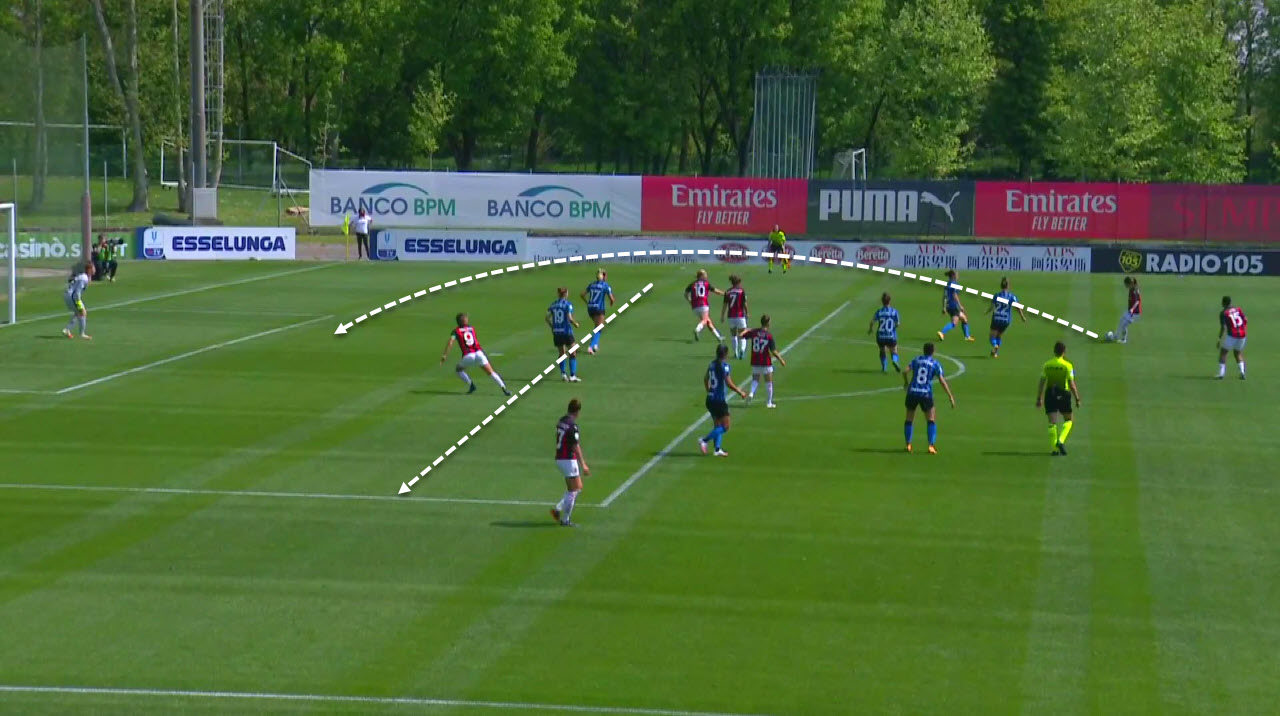 The second-half then started at a slow rhythm with Milan having more possession and being more dangerous yet Inter were able to score a fundamental and surprising goal when she exploited her teammate's pass and was able to shoot the ball despite Agard's marking. And this transformed the match after it looked like it was already finished.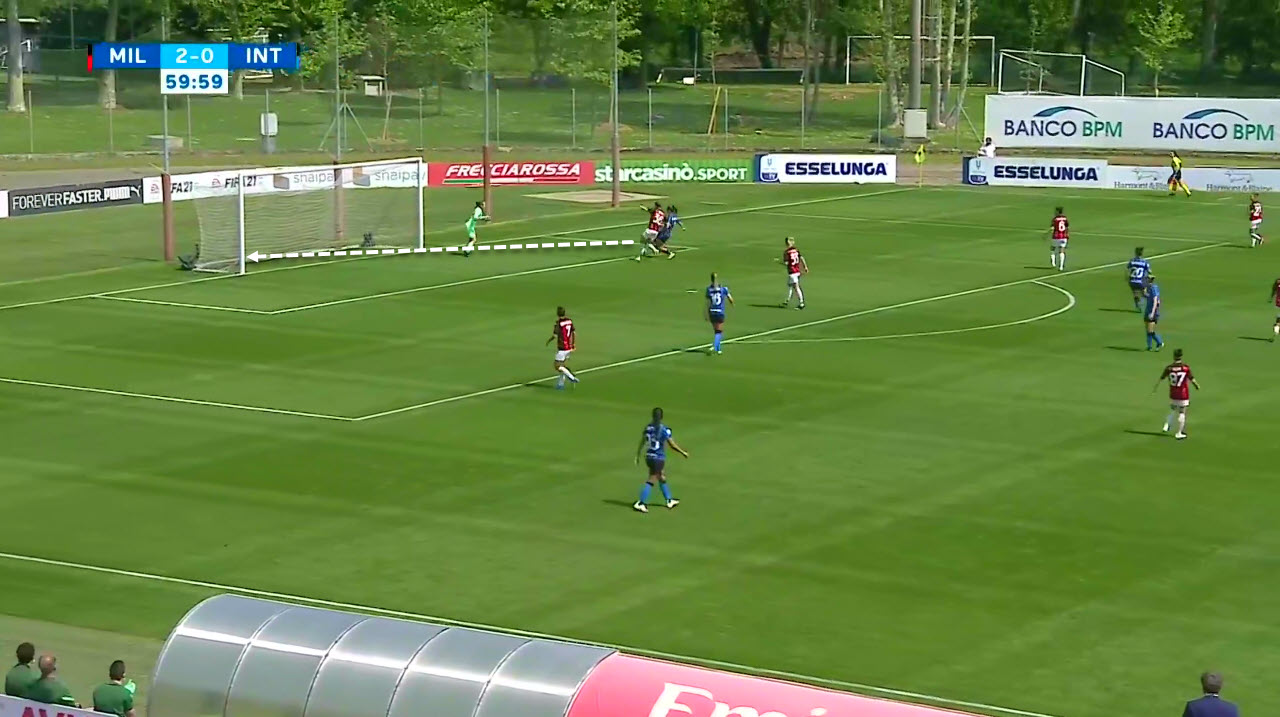 But despite Inter's attempts, Milan scored two additional goals thanks to Dowie's well-positioning when Tuccerri crossed the ball at the 78th minute and at the 86th as well when Bergamaschi crossed the ball from the right-wing to the same player. But during the fourth goal, Dowie had to anticipate the cross with a header before it reaches Inter's defender, and this highlighted Dowie's finishing skills which very impactful in this match.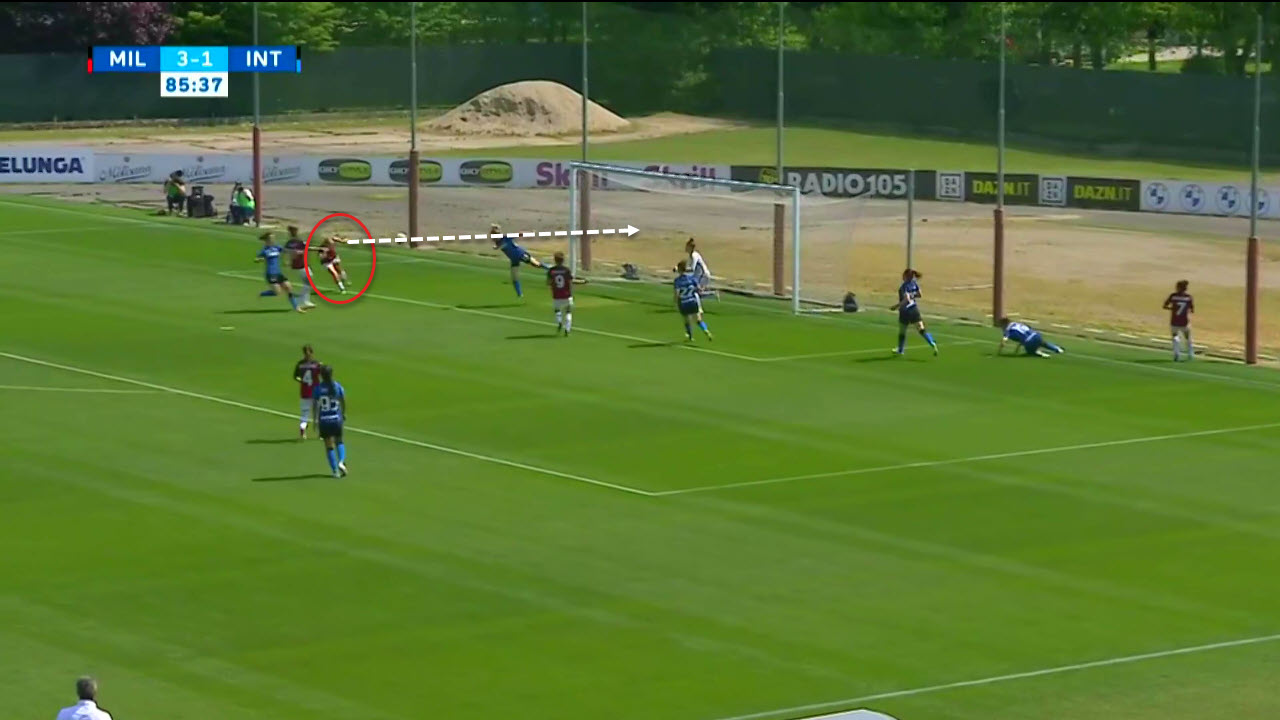 Inter's players however played with the right mentality and did not give up, and this was no secret since they added their second goal at the 90th minute following's Møller's dribble past Hasegawa and powerful shot that went inside the net.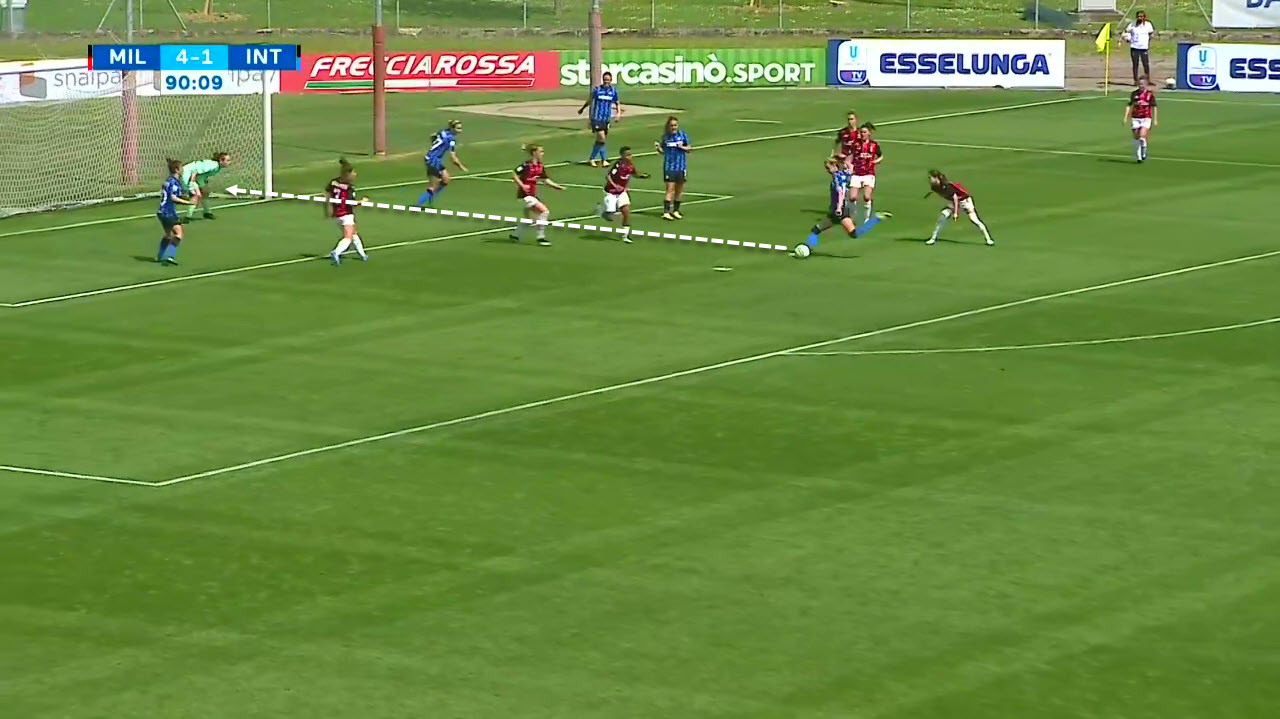 These two goals were not enough for Inter to beat the Rossonere and Milan qualified to the final of Coppa Italia to face Roma who won against Juventus in the semi-final. And therefore, another Milan vs Roma match will be played soon to determine the winner of the Coppa Italia.