Milan Women went to Stadio Tre Fontane to face Roma Women and the game ended with a draw that will help Milan in the course for UEFA Women's Champions League qualification especially if they continue getting positive results from the upcoming games.
These were both teams' line-ups:
Roma (4-2-3-1): Ceasar; Soffia, Swaby, Linari, Bartoli; Bernauer, Giugliano; Serturini, Thomas, Bonfantini; Lazaro. Coach: Bavagnoli.
Milan (3-5-2): Korenčiova; Vitale, Agard, Fusetti; Bergamaschi, Jane, Hasegawa, Vero, Tucceri Cimini; Dowie (69′ Grimshaw), Giacinti. Coach: Ganz.
The game started with both teams trying to impose their style and have more possession in their opponent's half since they were aware that a first goal for one of them would be crucial in such a balanced match. And we had to wait until the 16th minute to see the first dangerous chance of the match and this could have been Roma's first goal if Korenčiová was not attentive enough. In fact, after deviating Giuliano's shot, resulting in a corner for Roma, Bartoli's header was miraculously saved by Korenčiová who denied the Giallorosse a goal that would have made things complicated for Milan.
Hasegawa then had a very dangerous chance at the 18th minute after she received a pass from Tucceri and shot the ball with great power but with less precision.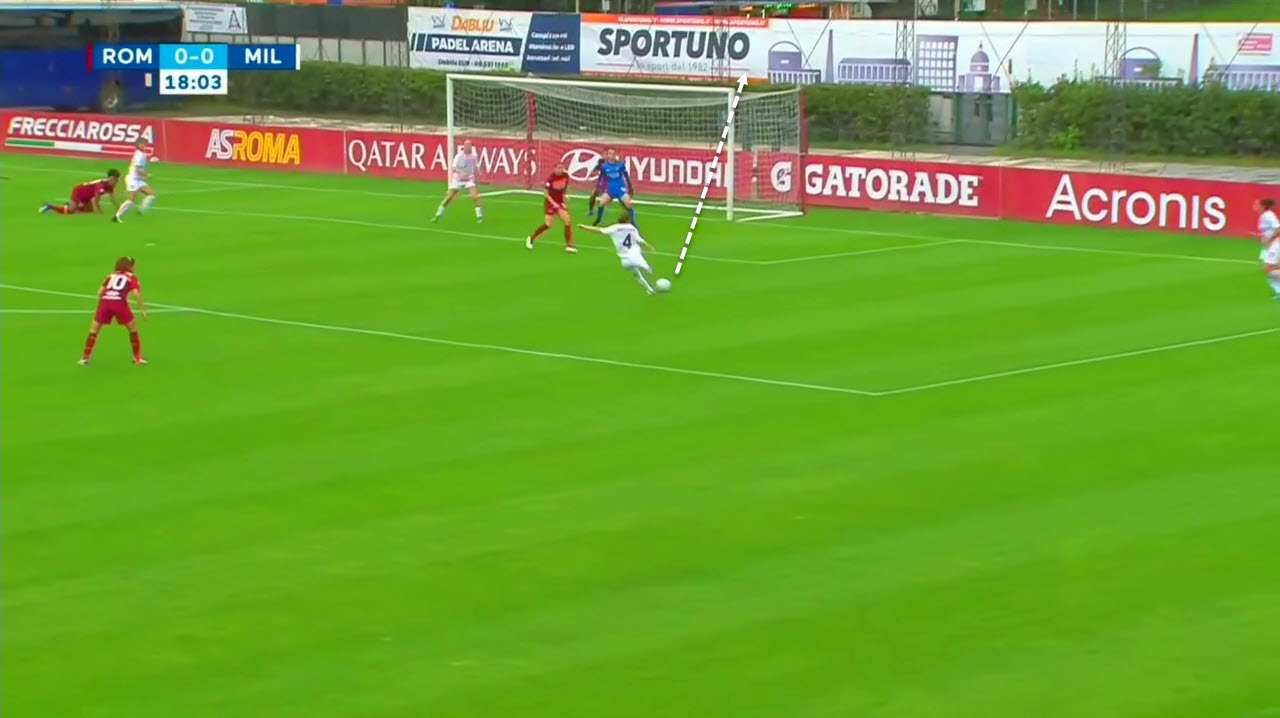 Just a minute after, Serturini made an immediate reaction with a penetration and a shot from outside the box. Roma continued to attack more often and had more chances than Milan in this first part of the match, and at the 20th minute, Bergamaschi was also able to shoot just a bit away from the goal despite Roma's defenders' marking.
Then, the rhythm of the game decreased and both teams played with more attention to not concede counter-attacks, and we saw a lot of possession from both teams especially in midfield but without a lot of danger inside the box. But at the 31th minute, Boquete hit the crossbar after she saw the ball coming towards her since it deflected on Roma's defender. Yet, the Rossonere were not lucky enough in this chance and Ceasar saved her team from a crucial goalscoring chance with the help of the crossbar.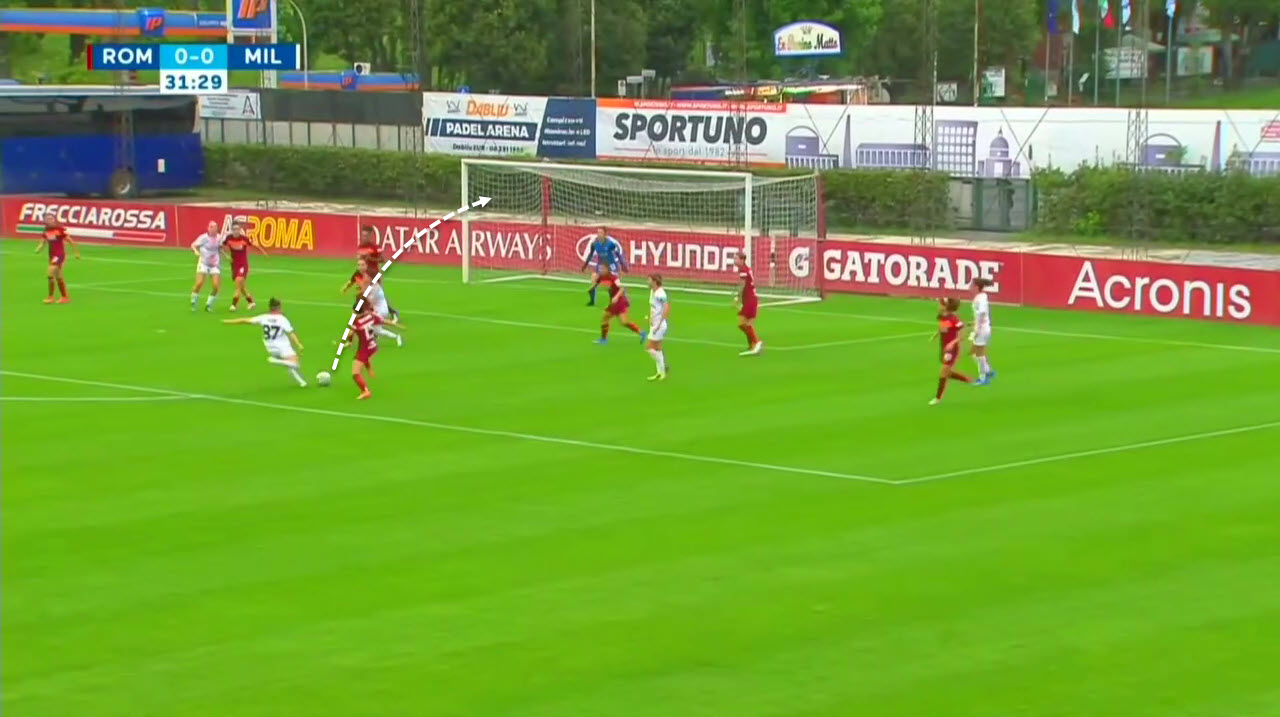 Nothing notable happened until the 42nd minute when Boquete did everything inside the box after dribbling past defenders and crossing the ball to Giacinti yet the latter was disturbed by her marker and her shot was saved by Ceasar, as you can see below.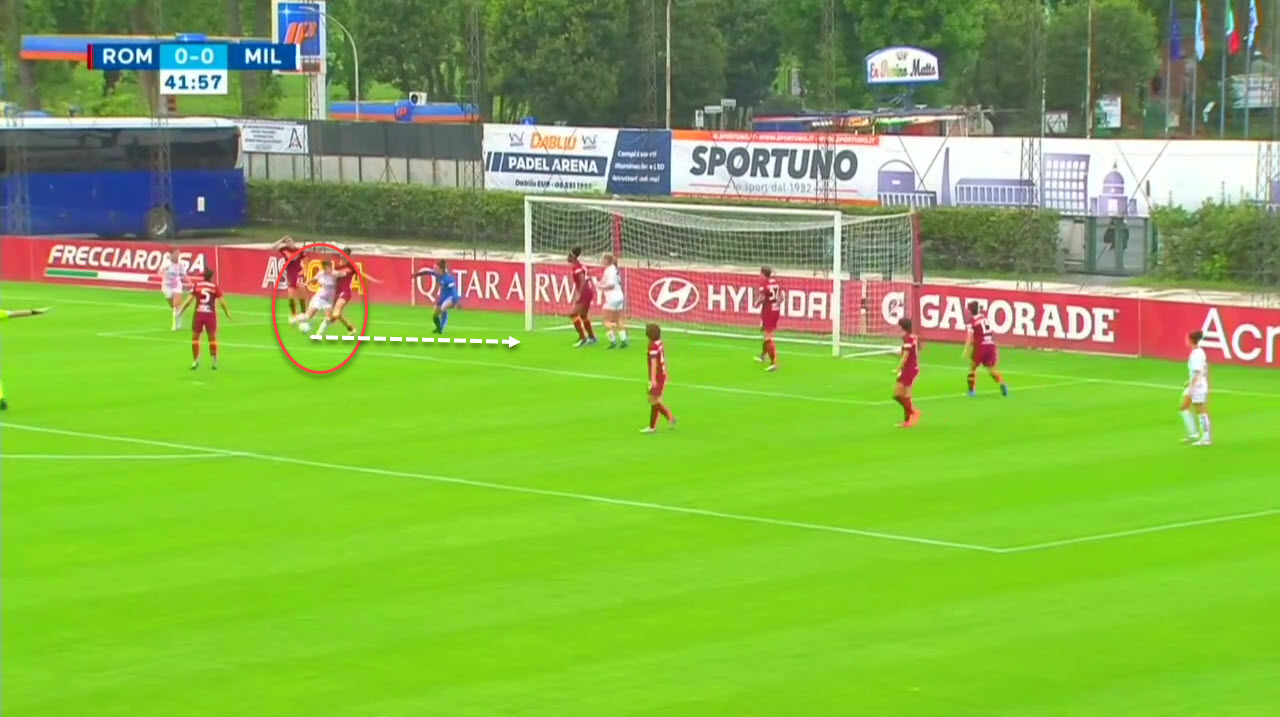 The second-half started with the same intensity from both teams, with Roma being more attacking in the first minutes, yet both teams did not play with a high defensive bloc since they were aware of the huge risks of adopting that plan. And that's why we did not see a lot of spaces behind the defences and both teams were not able to create opportunities easily.
At the 66th minute, Milan started being more dangerous with a shot from Tucceri that was saved by Ceasar and then Grimshaw added another shot at the same minute which went just off target and Tucceri was not able to finish the action with a goal due to Roma's effective marking inside the box.
Furthermore, Vitale missed another big chance at the 70th minute when her header went inches from the goal, even though she was also heavily disturbed by Bernauer.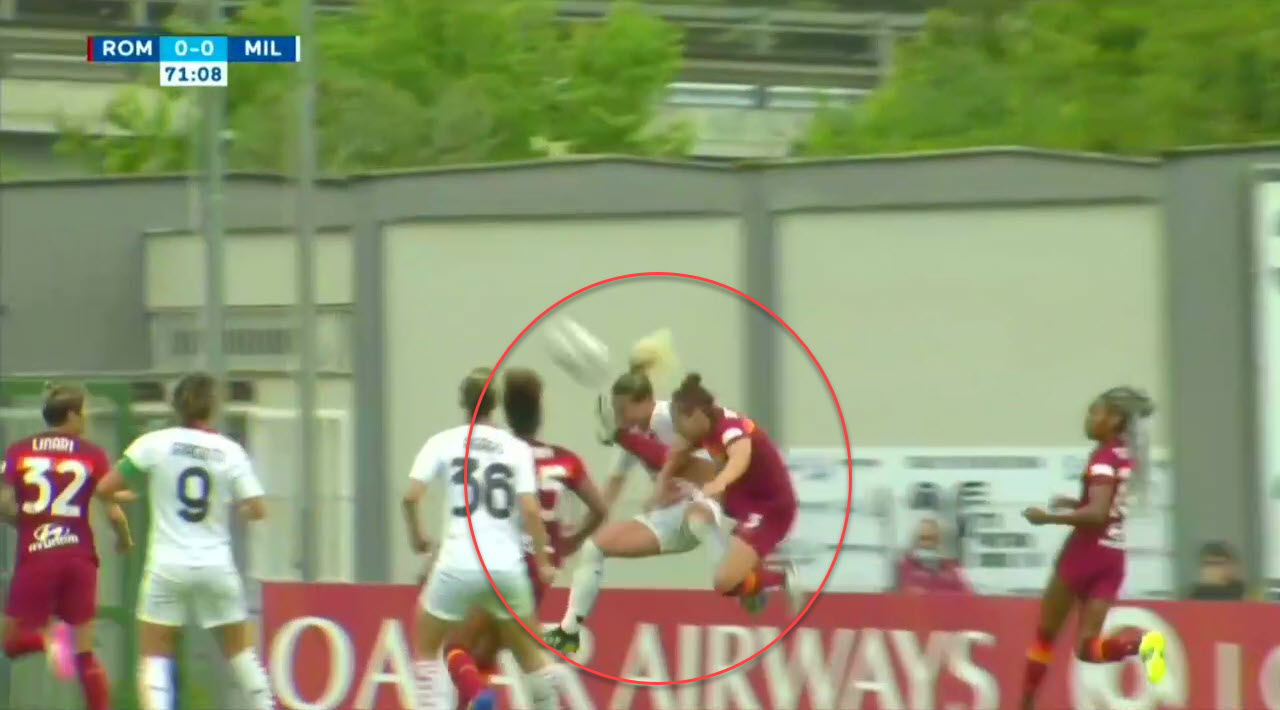 Milan's high pressing continued and they kept generating corners and free-kicks in during these last 20 minutes of the game but without concrete results since Roma's defence was very organised and Milan were not able to find the way of the goal. And in the final minutes of the game, Roma's Serturini was about to score a goal that could have killed the match following Bernauer's cross, but luckily for Milan Korenčiová was once again crucial in saving this chance.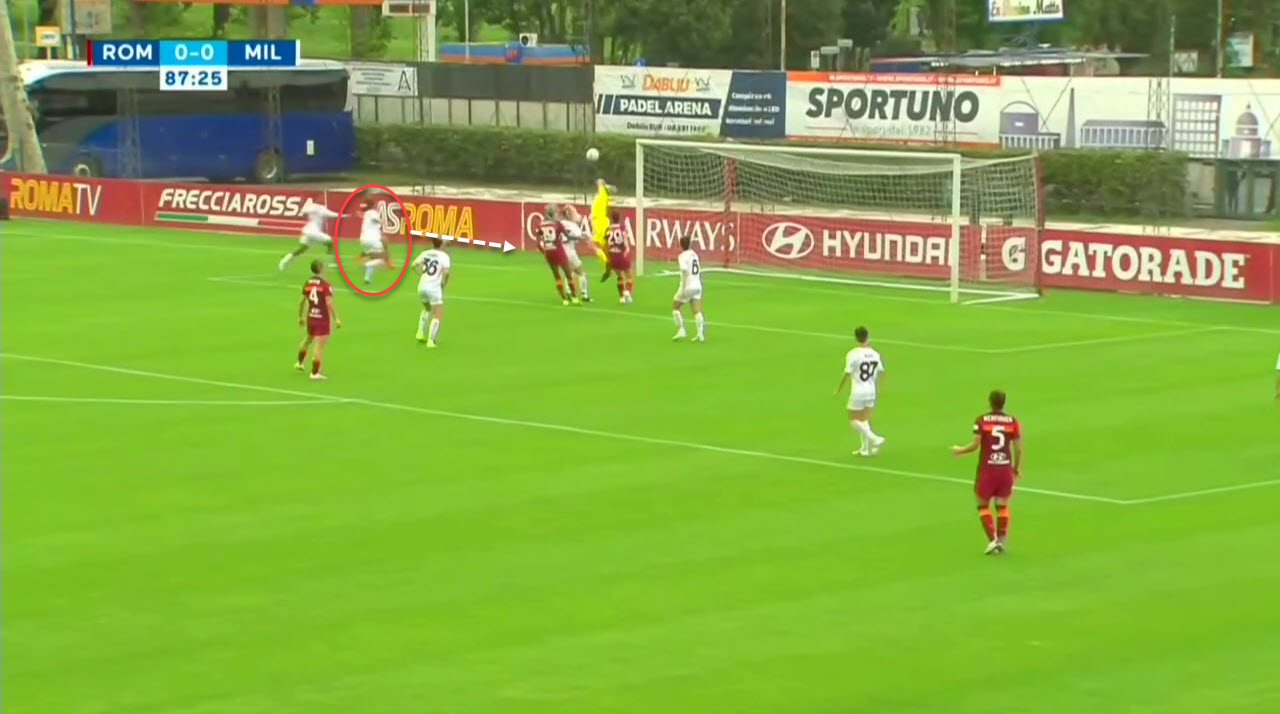 A minute after, Boquete started a counter-attack and gave a through pass to Giacinti but the latter wasn't able to collect her teammate's pass and fell on the ground after Soffia's disturbance and great tackle which prevented Giacinti from a big chance.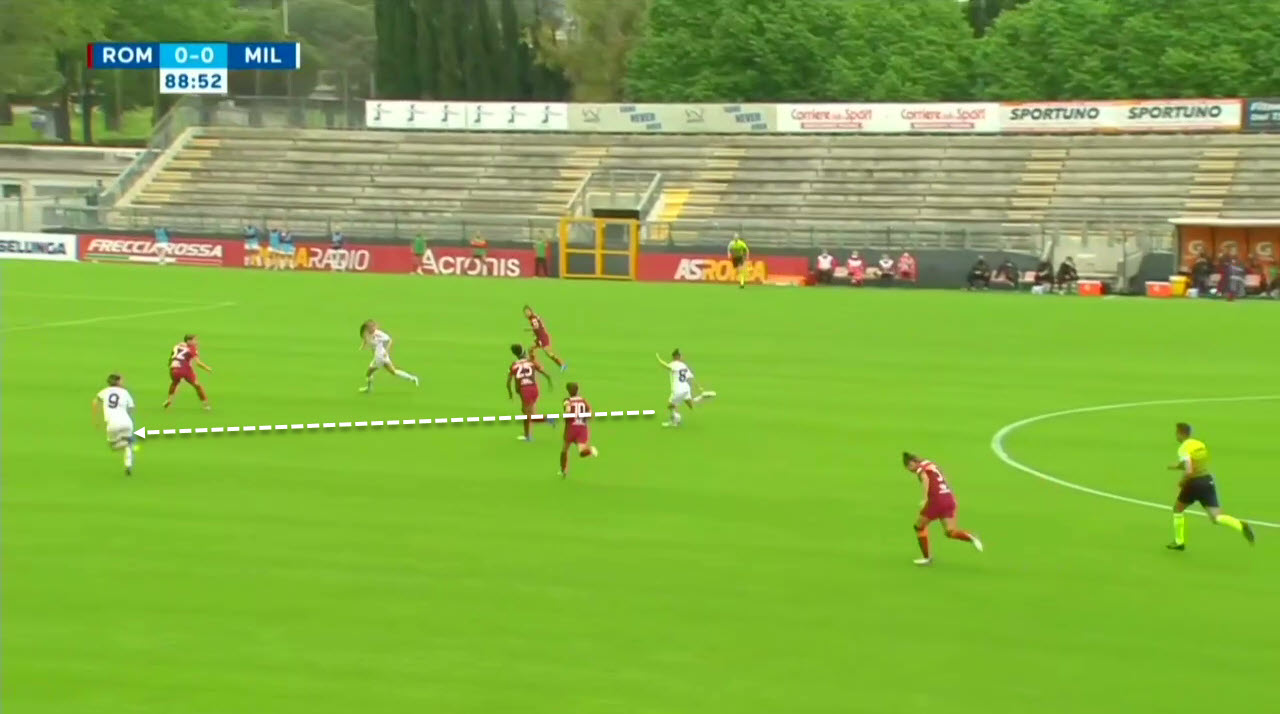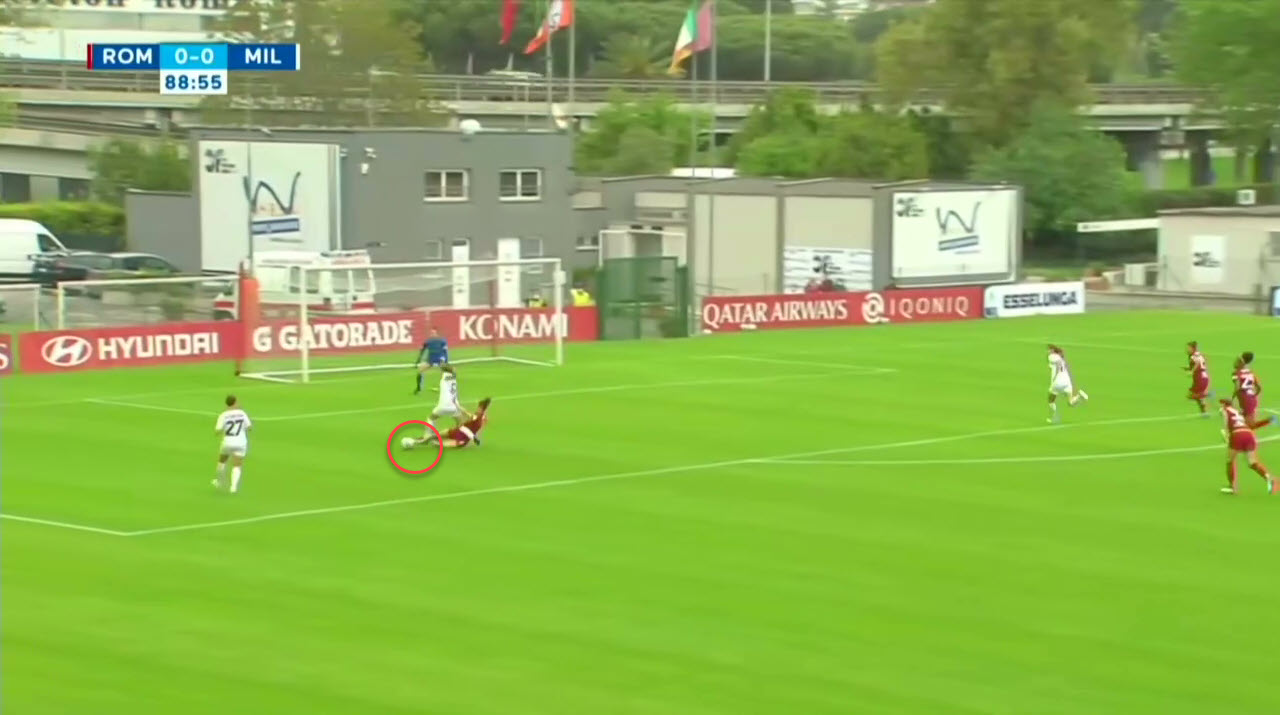 The game ended with a 0-0 draw that did not serve Milan a lot since their direct opponent, Sassuolo, won their match against Hellas Verona and therefore the difference between Milan, the second, and Sassuolo, the third, became 6 points. Milan will need to win in the few upcoming matches to secure their qualification chances to the UEFA Women's Champions League without having to wait until the last fixture and avoid unnecessary issues, while at the same time, avoiding a loss against Roma can be seen as a positive result in such circumstances.
Credits: AC Milan's Dailymotion page