Sandro Tonali was arguably the highest-profile signing the Rossoneri made in the summer of 2020, one of the most sought-after young midfielders in world football opted to join the club he had supported since he was a child, and it was a statement. Not only because of the talent, but that they had beaten rivals Inter to his signature (as well as Manchester United, who Brescia president Massimo Cellino claims received an offer for Tonali worth double of that of Milan's but the player insisted on only joining the Lombardy club) and they had secured a player who could grow into a world class midfielder.
Long before arriving at Milan, Sandro Tonali had drawn comparisons to Andrea Pirlo, Gennaro Gattuso, Daniele De Rossi, Diemetro Albertini and just about every other famous Italian midfielder you've ever heard of in the last 30 years. However, Tonali is an incredibly hard player to compare, because he has so many different attributes that aren't typically all found in players of his position. As well as being a highly technically gifted player, he is also a physical force. His speed and strength is in a way, just as impressive as his ability to pull strings in midfield.
Pirlo himself once said: "They say Tonali may be my heir. In my opinion, as a type of footballer he doesn't look like me, he looks more like me for long hair and for the fact that you play in Brescia."
"For me he is another type of player, much more complete, both in defence and in setting; it's a mix between me and other players."
"He is certainly the most promising of the midfielders in Italy. I don't see him as an heir because the way of playing is different, but he will certainly become a great player. "
With a vote of confidence from one of the greatest midfielders who ever graced the beautiful game, (as well as countless others) – young Sandro Tonali had a lot to live up to when he arrived in Milan. Before he even set foot in Casa Milan, he already had the billing of "the next Pirlo", and it's safe to say expectations were high.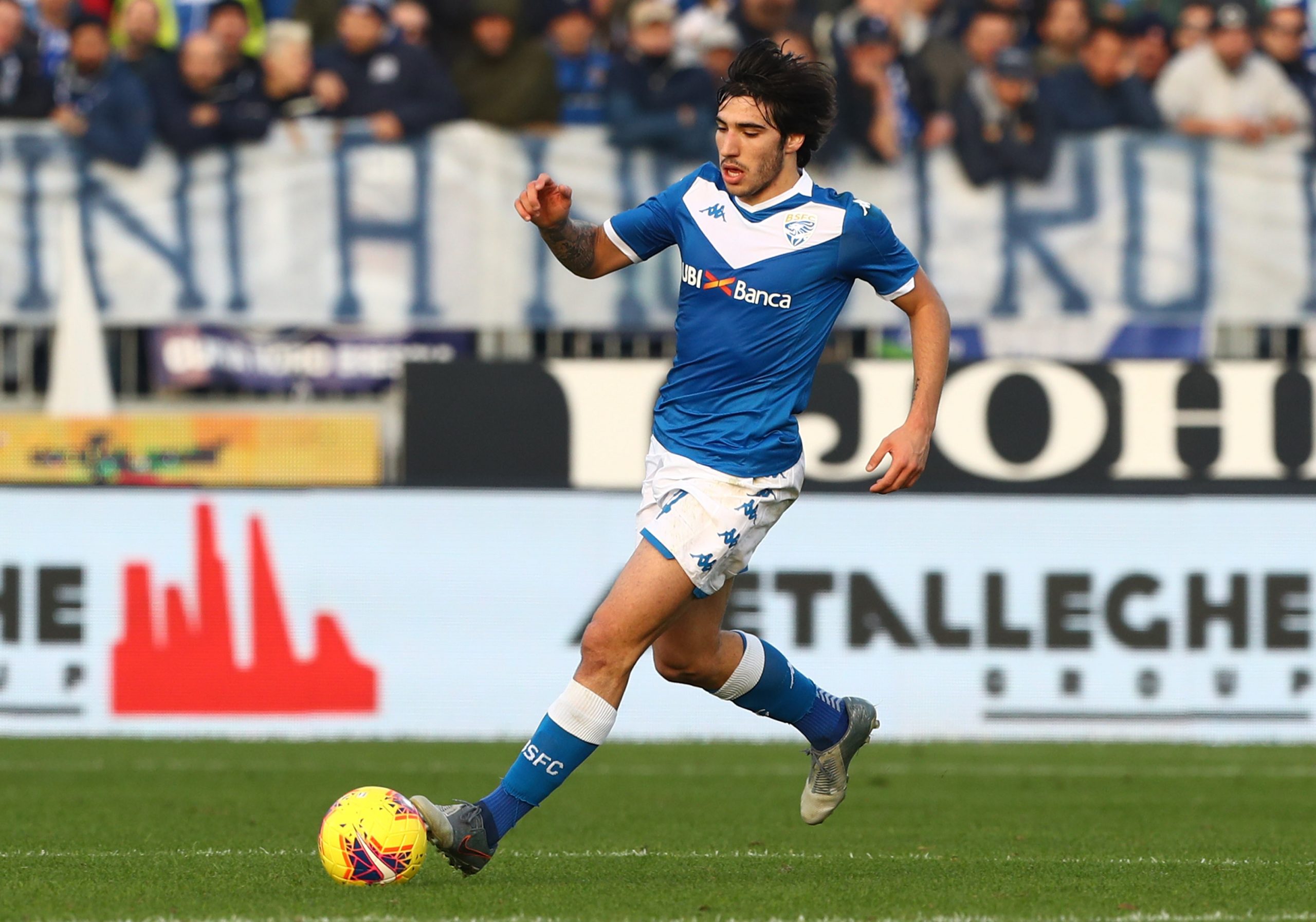 However, Tonali's place in the starting line-up was far from guaranteed, with Algerian international Ismael Benancer and Ivorian Franck Kessié providing stability and quality in that role, the likes of which Milan haven't seen for a long time. Simply, he would have to prove he is more deserving of a spot than the established pair, or coach Stefano Pioli would have to change the formation.
It needn't be said that the latter has not happened, Pioli has stuck with the 4-2-3-1 formation for the entire season. Milan sticking with a formation for an entire year is almost unheard of, and it's hard to suggest that this is in need of changing.
Although the 20-year-old initially struggled to adapt to life at Milan, (no longer the big fish in a small pond) he has been fundamental as the season has wore on. Unfortunately, Bennacer has struggled with injuries throughout the campaign (as have a few players, quite alarmingly so) and Tonali has had his chances. Ever since his sending off against Benevento, he has looked the player we were told to expect, and has filled the void left by the Algerian admirably.
A lot of what Tonali does for Milan often goes unnoticed – whist Bennacer will usually try and dribble past a player and weave his way through the press whenever on the ball, Tonali will often keep it simple, retaining the possession and keeping things ticking. That sad, he won't shy away from playing more ambitiously should the opportunity present itself. He also has an incredible amount of pace for a midfielder of his position, he ranks 4th in Serie A for fastest speeds hit, with an impressive 35.26km/h to his name. He has showcased this on several occasions, but perhaps the finest example would be his goal-saving block against Roma, where he covered half the pitch to get back and dive in front of the shot. Fans will also recall him covering almost the entire length of the pitch with the ball at his feet (and subsequently playing Theo Hernandez through, an incident which lead to a penalty for the Rossoneri) against Red Star Belgrade in the first leg of Milan's successful Europa League last 32 tie.
Tonali's ability from set-pieces has also been highly impressive, and it's perhaps a little strange why he gets to take so few of them (with usual set-piece expert Calhanoglu failing to impress on several occasions). One would struggle to recall an occaision where Tonali took a sub-par set-piece, he has a fantastic ability to hit the ball with pace that very few in the team can match, perhaps only Hakan Calhanoglu.
Recently, Sandro Tonali has been inexplicably frozen out of the team. With the return of Bennacer, he has resumed straight back into the starting line-up. However, the Algerian has been far from his best since his return – this is to be expected, how could he be? He's missed a significant chunk of the season through injury and has only featured sporadically since November. Instead of turning to Tonali as the number one back-up, Pioli has often opted for Soualiho Meité, who has put in a couple of solid shifts but hasn't been nearly as impressive as the Italian. Meité's loan move from Torino is also unlikely to be made permanent, whereas Tonali is almost certain to be redeemed at the end of the year.
Needless to say, this hasn't worked out overly well in Pioli's favour, with Milan losing to Sassuolo and Lazio (Tonali only featured in the last 10 minutes of the latter game). Tonali is not the only player who's lack of minutes has been questionable lately, Pioli has also drawn criticism from fans for leaving Jens Petter Hauge out of the team so much – the Norweigan hasn't featured once since his equalizer against Sampdoria.
Without a doubt, Milan have sorely missed Bennacer throughout the season and he certainly has a role to play in the team going forward. However, Tonali's significance shouldn't be ignored. When Sandro Tonali replaced Bennacer at half time against Benevento, the difference was night and day. Coincidentally, it was the reverse fixture of the match where Tonali was sent off – and a spectator need only look at that game as evidence to see how the Italy U21 international has drastically improved. Right now, Sandro Tonali is in better condition than Bennacer and looks a lot sharper. As aforementioned, this is not simply a case of Bennacer being out of form – the Algerian has suffered a disappointing campaign, he hasn't been able to feature and help the team as much as he'd surely like to, for no fault of his own. However, with 4 games left and arguably the most important game of the season in the horizon, Stefano Pioli needs to turn to the players who are in the best form – and in 2021, Sandro Tonali has certainly been one of them.