Milan Women suffered a surprising loss against Fiorentina at Centro Sportivo Vismara and this loss will make their last two games of the season more complicated since it made the battle for the UEFA Women's Champions League spot fiercer with Sassuolo ahead of the direct encounter between the two next week. Sassuolo won their match against Bari this week while Milan lost against Fiorentina and this reduced the gap between the two teams to just three points. Milan will now need to win or draw in their direct encounter with Sassuolo in order to secure their qualification to next season's UEFA Women's Champions League, and this will not be a simple mission.
Milan and Fiorentina were lined-up according to these formations:
Milan (3-5-2): Korenčiová; Vitale, Agard, Fusetti; Bergamaschi, Vero, Jane (78′ Spinelli), Grimshaw (78′ Hasegawa), Tucceri Cimini (56′ Salvatori Rinaldi); Dowie (15′ Piazza), Giacinti. Coach: Ganz.
Fiorentina (4-3-3): Schroffenegger; Thøgersen, Quinn, Tortelli, Zanoli (70′ Adami); Vigilucci, Breitner, Neto; Monnecchi (75′ Clelland), Sabatino, Baldi (61′ Middag) Coach: Cincotta.
Milan did not start the match in the best possible way even though Boquete was close to scoring at the second minute of the game but her shot went far away from the goal. Fiorentina then immediately made a reaction thanks to Sabatino who scored an excellent goal after receiving a pass from Zanoli and confusing her marker with a back-heel control that allowed her to gain time over Fusetti and shoot towards the right angle with success, as you can see below.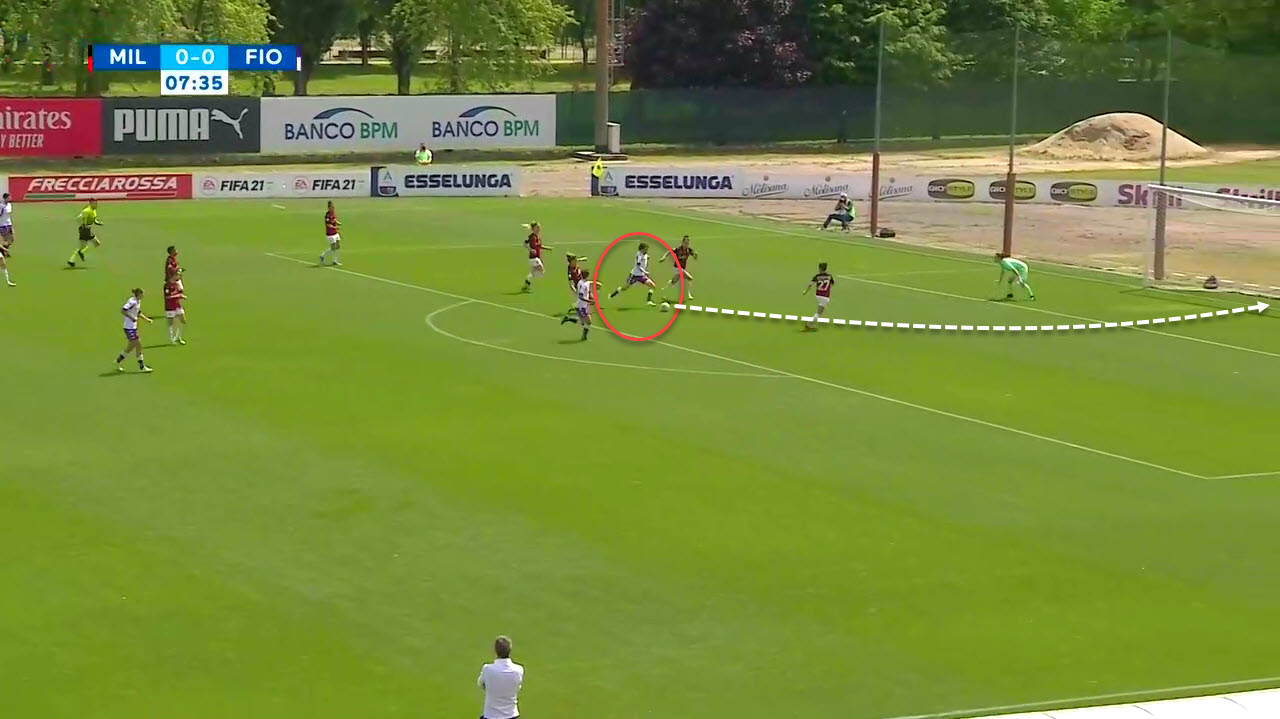 The match got even more complicated for the Rossonere at the 14th minute when Korenčiová was sent off after she stood in the way of Monnecchi who was unmarked, and this obliged Korenčiová to commit this mistake just near the box.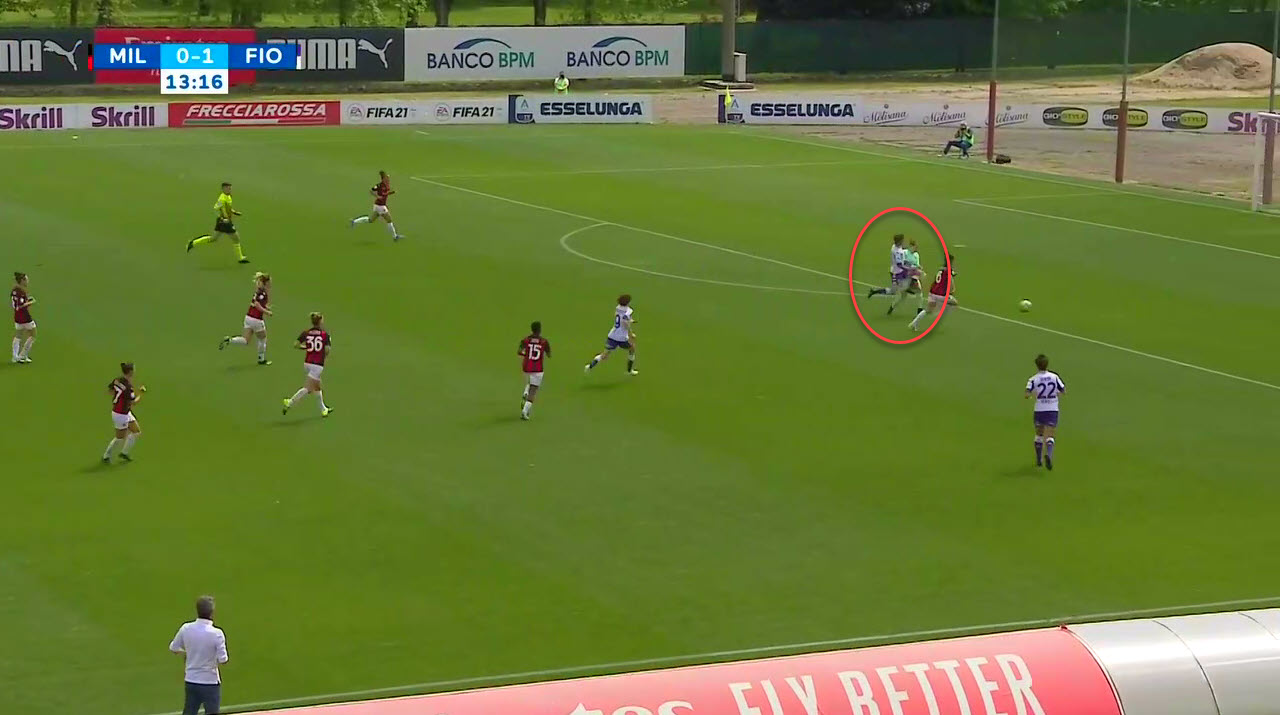 This red card obliged Ganz to sub Alessia Piazza on in the place of Dowie, sacrificing a striker in order to add a goalkeeper and keep both the defence and midfield balanced, with a 3-5-1 formation. Yet, Fiorentina remained more dangerous and had many dangerous attacks in the first-half including this chance that was saved by Piazza at the last second following Quinn's header.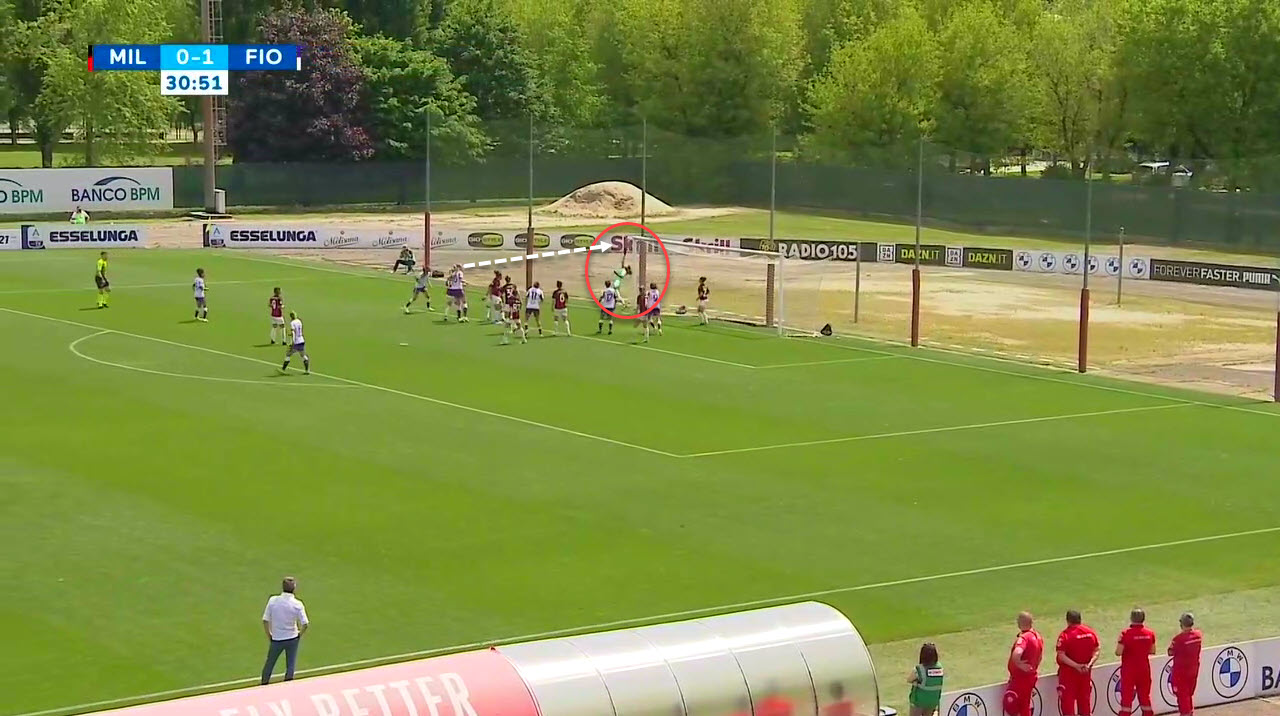 Milan were unable to keep possession in this first-half and most of the Rossonere's passes in the final third were wrong, and this prevented the team from getting dangerous chances, and even when they got some opportunities, their shots were not powerful enough to disturb Schroffenegger. The only big chance that came to Milan in this first-half was the following, when Agard crossed the ball accurately towards Giacinti at the back of defenders but the latter decided to go for the lob since she thought Schroffenegger was going out of her goal, but unfortunately for the Rossonere Schroffenegger was not too far away from the goal and the shot went outside the net since it lacked precision.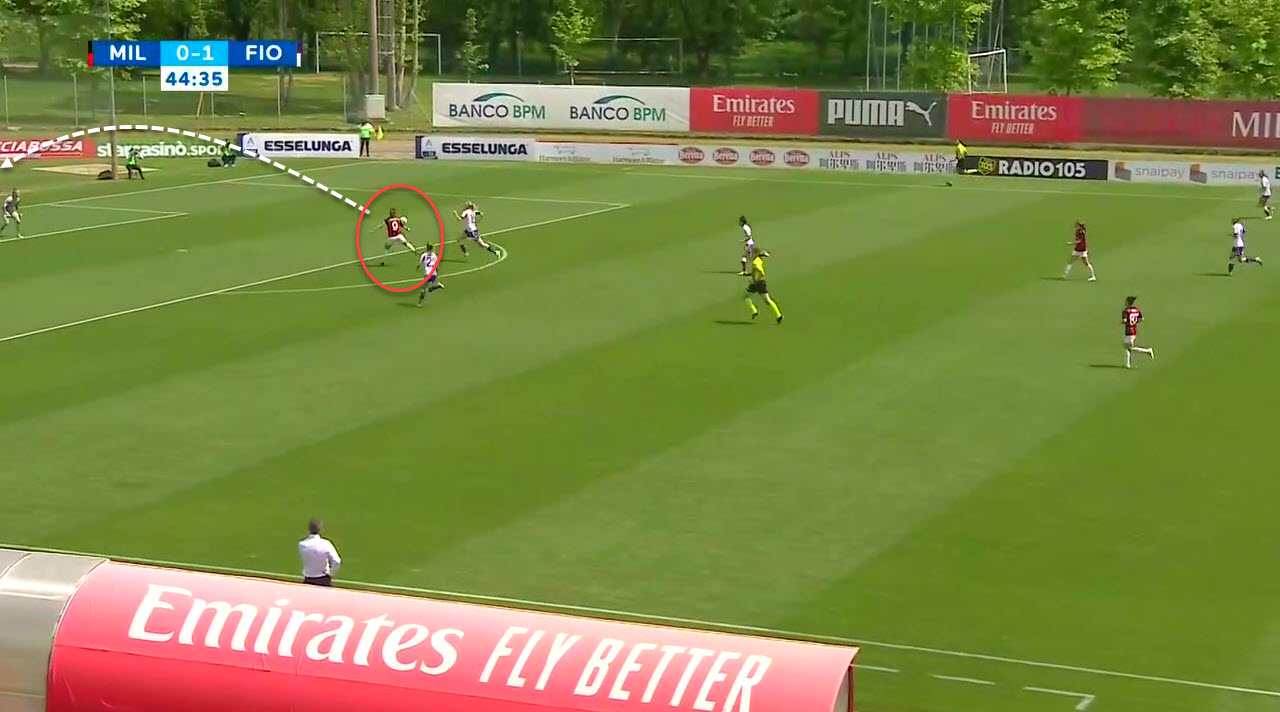 The second-half started in the same way the first one did, with an early goal for Fiorentina that made Milan's mission even more complex, and this time the goal was assisted by Sabatino for Baldi who knew how to escape from Vitale's marking and put herself in a shooting position to then fire a shot past Piazza.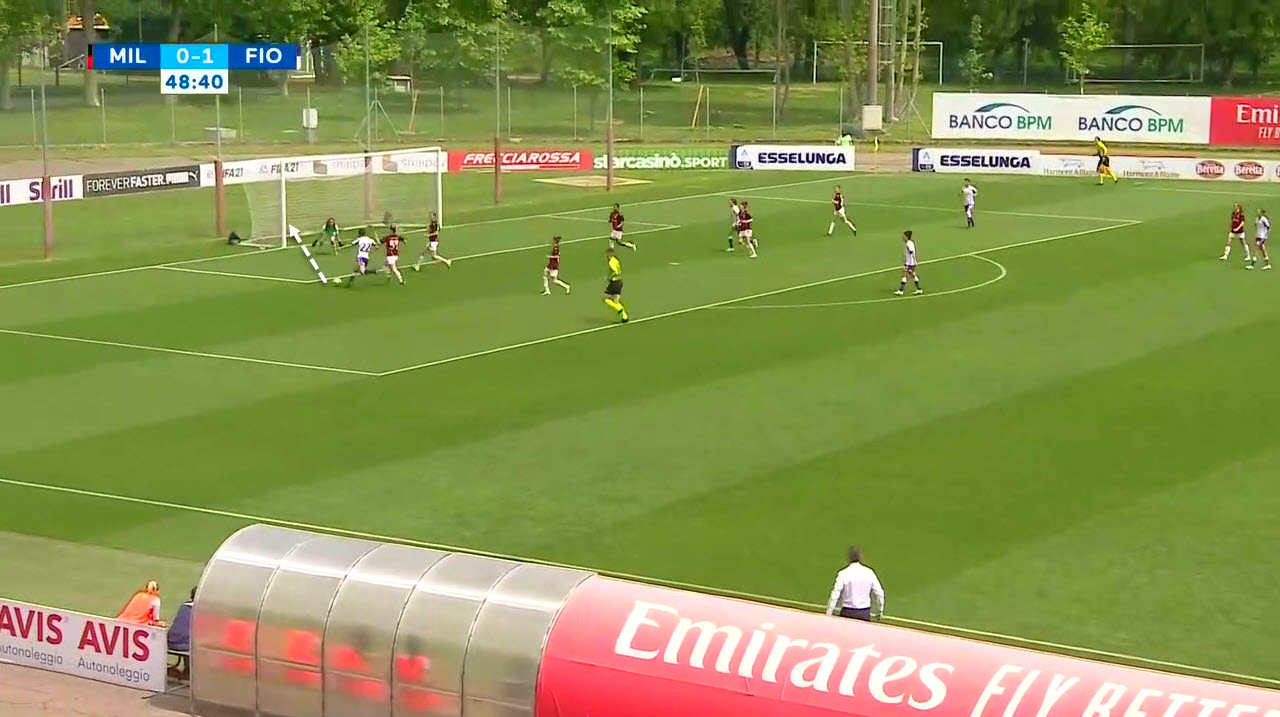 Milan were able to reduce the gap by getting a penalty at the 60th minute thanks to Rinaldi who crossed the ball before it hit Breitner's right arm. Giacinti converted the penalty into a goal and this gave a second chance for Milan to get back in the match and try to win it.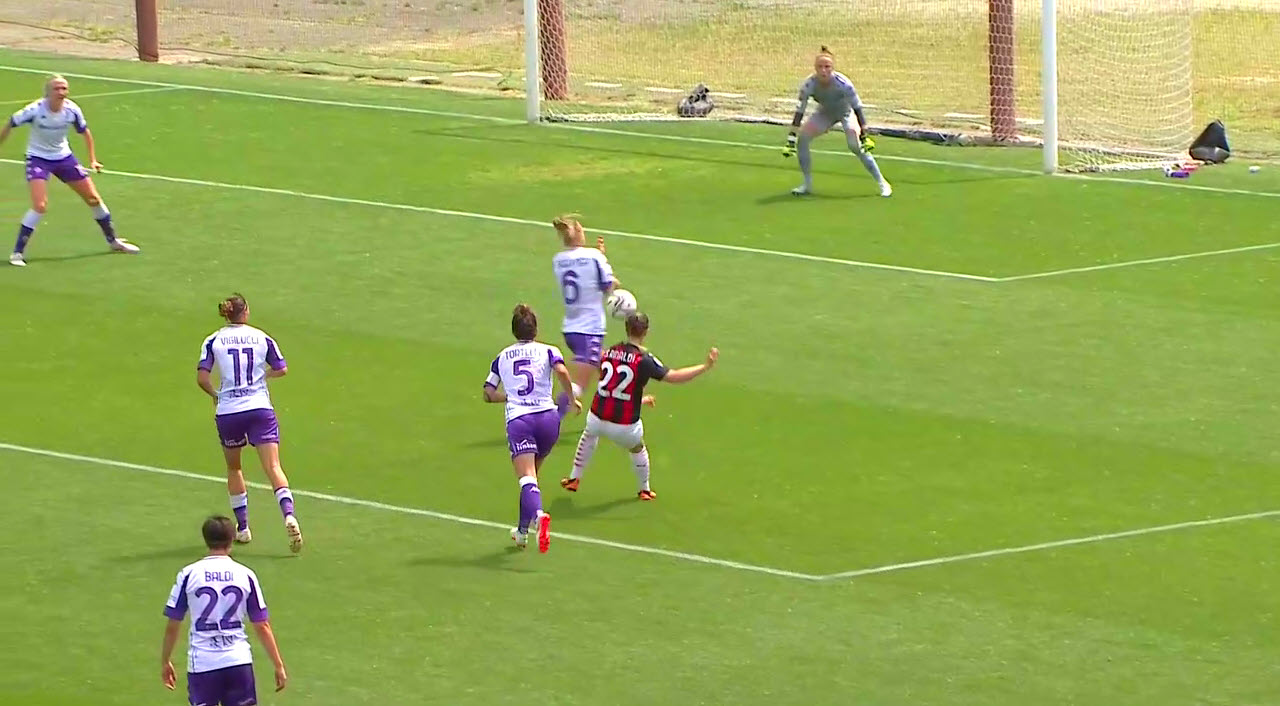 Following this first Milan goal, Milan started attacking with more determination in an attempt to equalise, and they won numerous corners and free-kicks but no real danger was created until the 66th minute when Jane shot the ball from distance and Schroffenegger saved it miraculously by deviating it to a corner.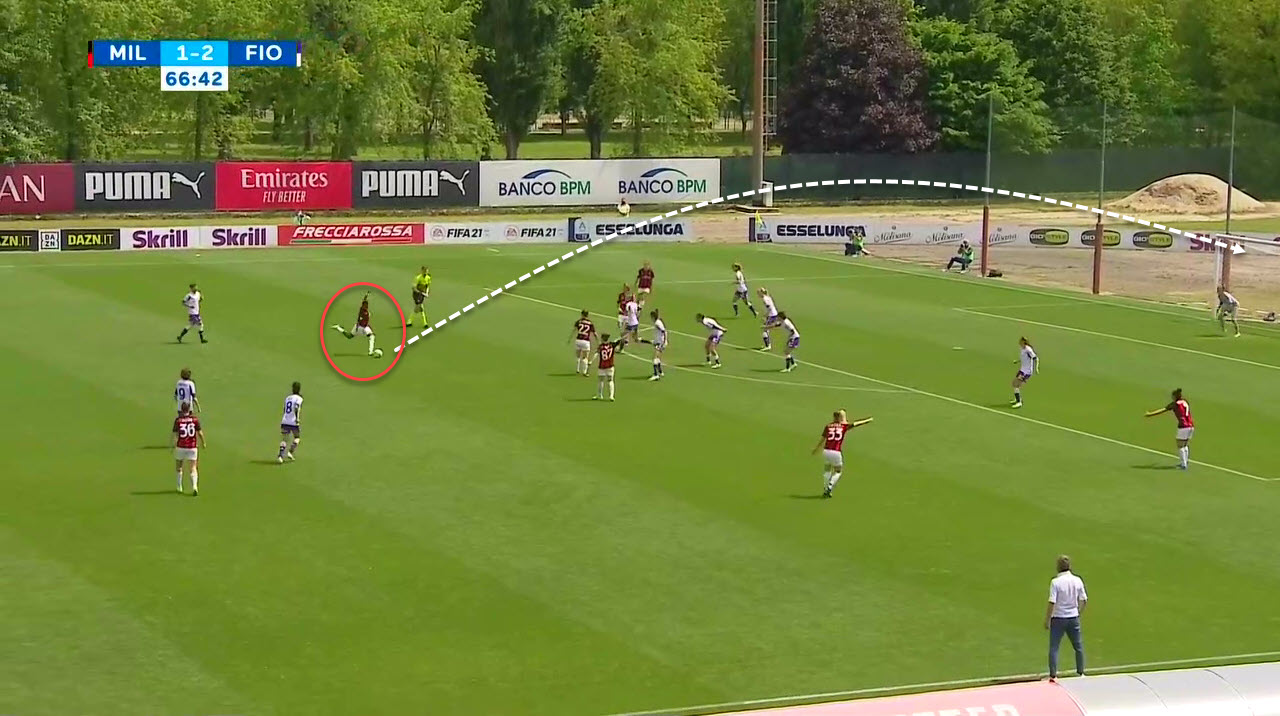 And on the 71th minute, Fusetti launched a missile towards Schroffenegger but the latter was able to touch it and was lucky because the ball hit the crossbar after she touched it and then went out, preventing Milan from a clear goalscoring chance for the second time in five minutes.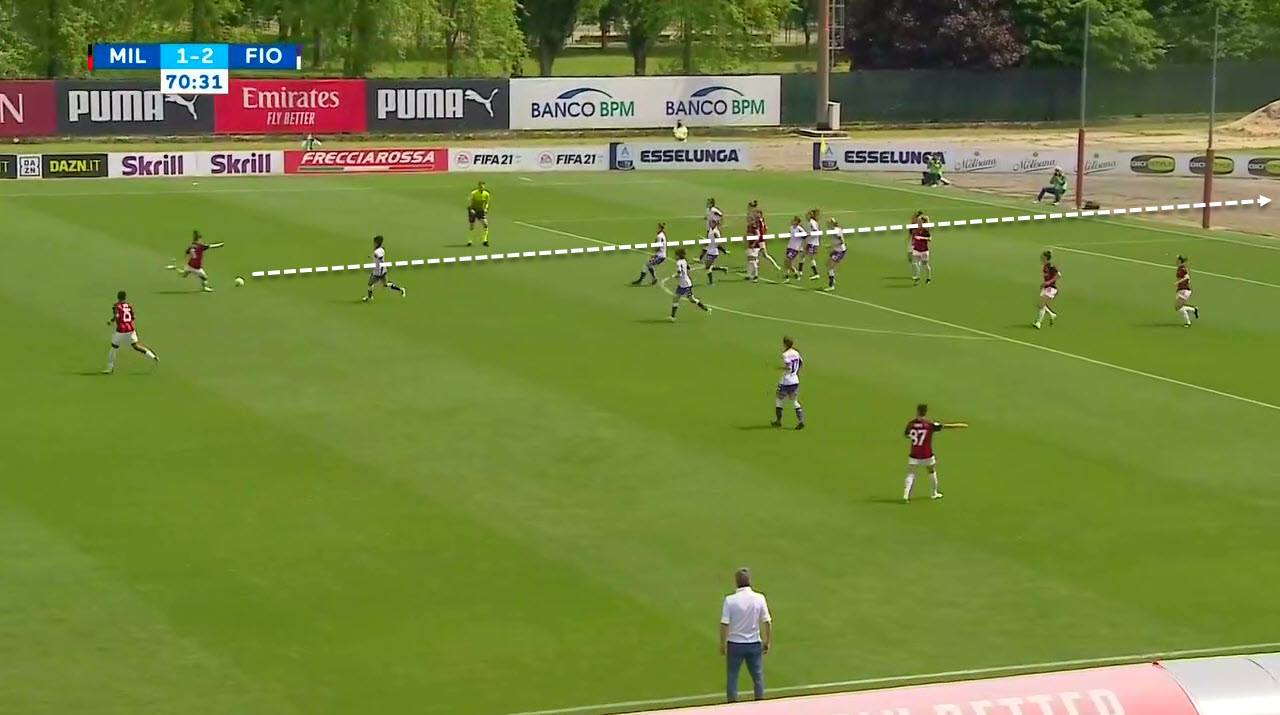 And despite subbing Hasegawa and Spinelli on, as well as Bergamaschi's shot that hit the post once again at the 73th minute, Fiorentina were able to keep their advantage until the end of the match despite Milan's efforts and they were even able to add a third goal by Vigilucci after Sabatino's excellent stop that allowed Vigilucci to kick the ball as soon as it hit the ground and the shot was so powerful and was so difficult for Piazza to save.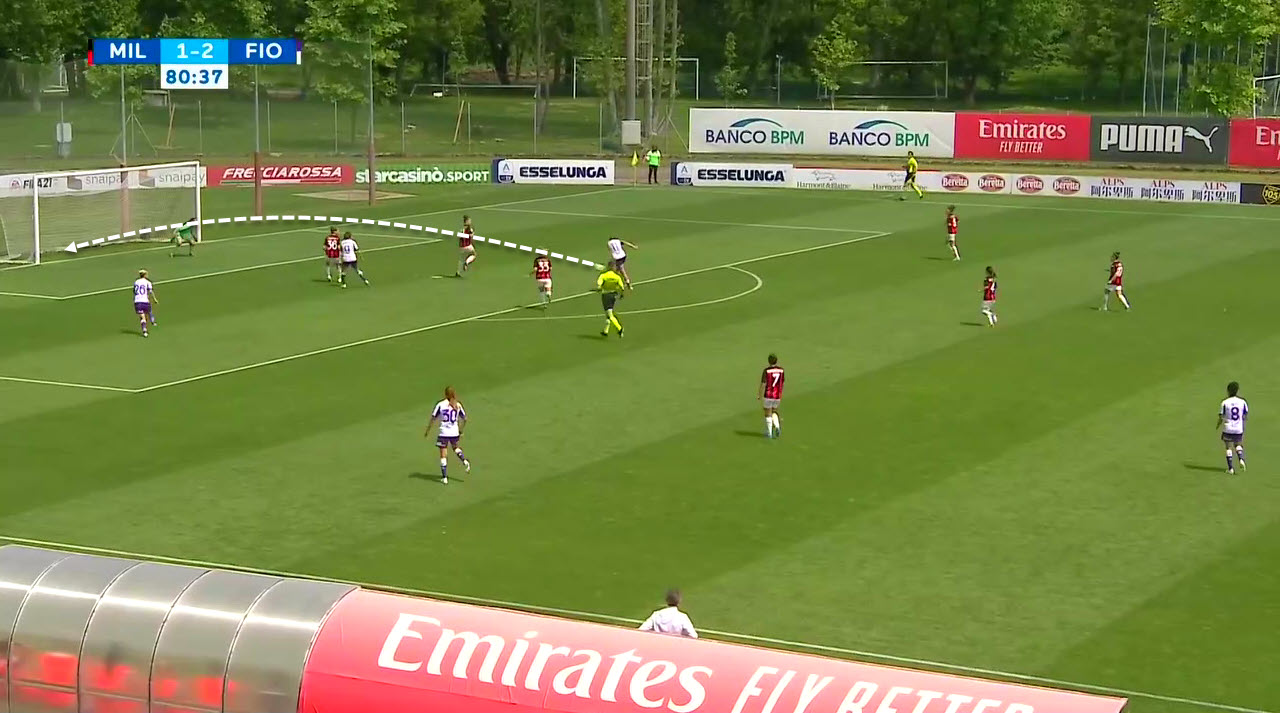 Milan missed the chance of securing their qualification to next season's UEFA Women's Champions League early without having to battle with Sassuolo until the last match of Serie A Women, and instead, they will have to completely avoid getting bad results in the next two encounters if they really want to qualify to the European competition. Otherwise, all the season's efforts and wins will go in vain.