Milan Women went to Stadio Enzo Ricci to face Sassuolo Women in a direct battle for UEFA Women's Champions League qualification and the result was in favor of Milan since the Rossonere were qualified to this competition for the first time ever even though the game ended with a 0-0 draw. UEFA Women's Champions League qualification was the team's objective of the season especially when Juventus guaranteed the top spot. And to succeed in reaching UEFA Women's Champions League before the last fixture of Serie A Women is certainly something that deserves to be credited.
Both teams played according to different formations and used the following players:
Sassuolo (4-3-1-2): Lemey; Lenzini, Filangeri, Orsi (58′ Monterubbiano), Philtjens; Santoro (87′ Battelani), Mihashi, Tomaselli; Cambiaghi (58′ Pondini); Pirone, Bugeja. Coach: Piovani.
Milan (3-5-2): Babb; Vitale, Agard, Fusetti; Bergamaschi, Vero, Jane, Hasegawa, Tucceri Cimini; Giacinti, Grimshaw. Coach: Ganz.
Milan started the game with two new changes, Babb as a goalkeeper instead of the suspended Mária Korenčiová and Christy Grimshaw as a second striker alongside Valentina Giacinti, replacing Natasha Dowie. Sassuolo however were the first to have goalscoring chances and threaten Milan since they were very close to score at the 10th minute following Santoro's powerful shot that was saved by Selena Babb.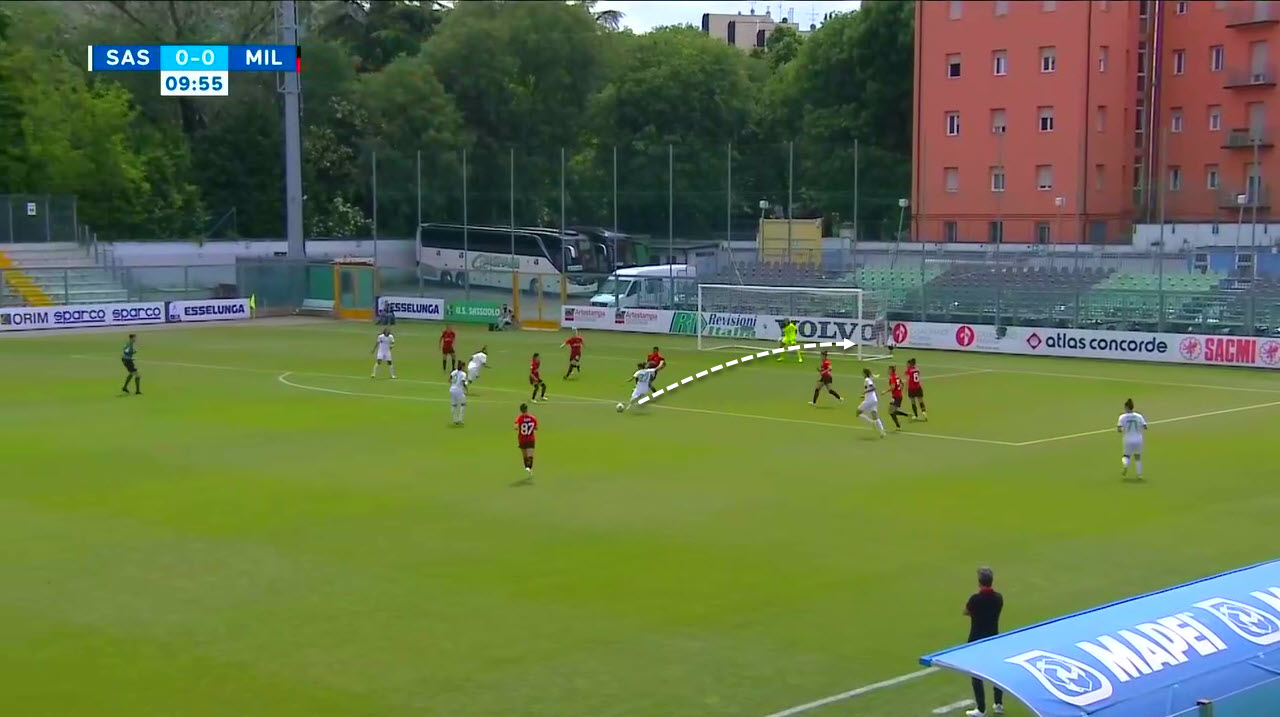 After this chance, Milan started to take control of the game by having more possession and creating some dangerous chances. At the 25th minute, Hasegawa was very close to scoring and this was one of Milan's most dangerous opportunities since she received a key pass from Giacinti like you can see below.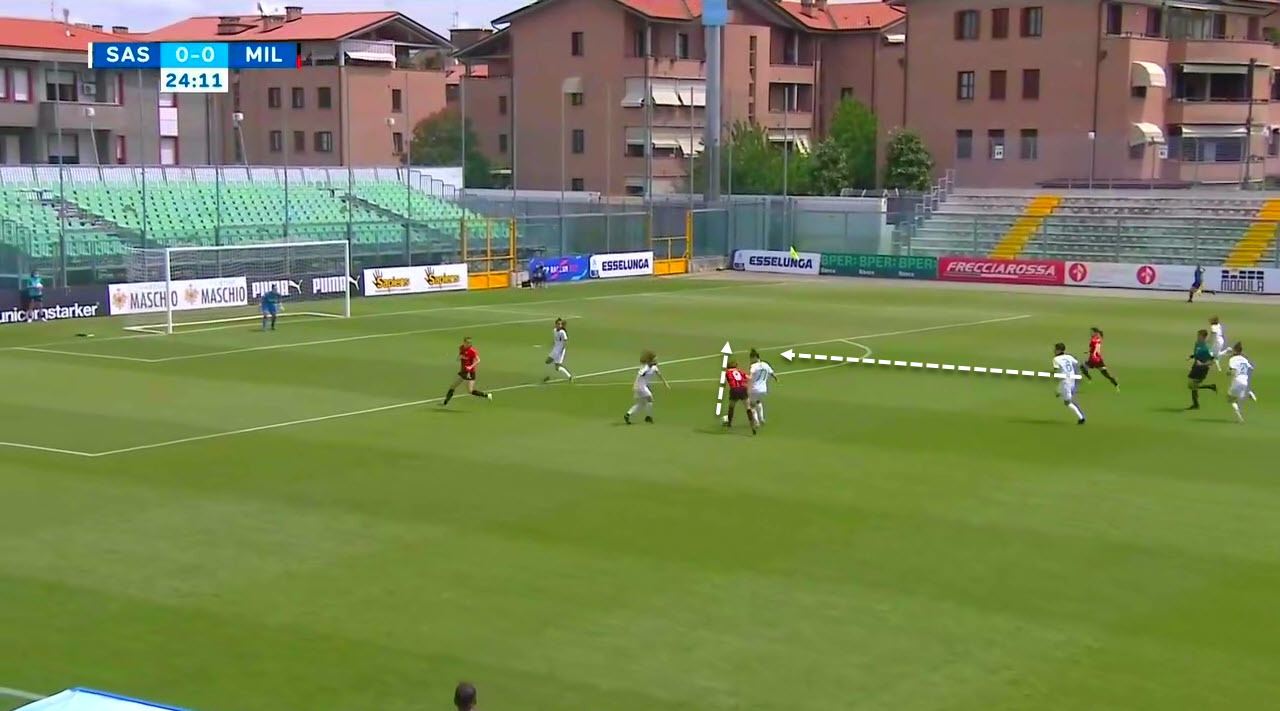 The pass gave Hasegawa enough space to shoot from outside the box and hit the post before the ball gets out for a corner. And this could have been a great goal for the Rossonere.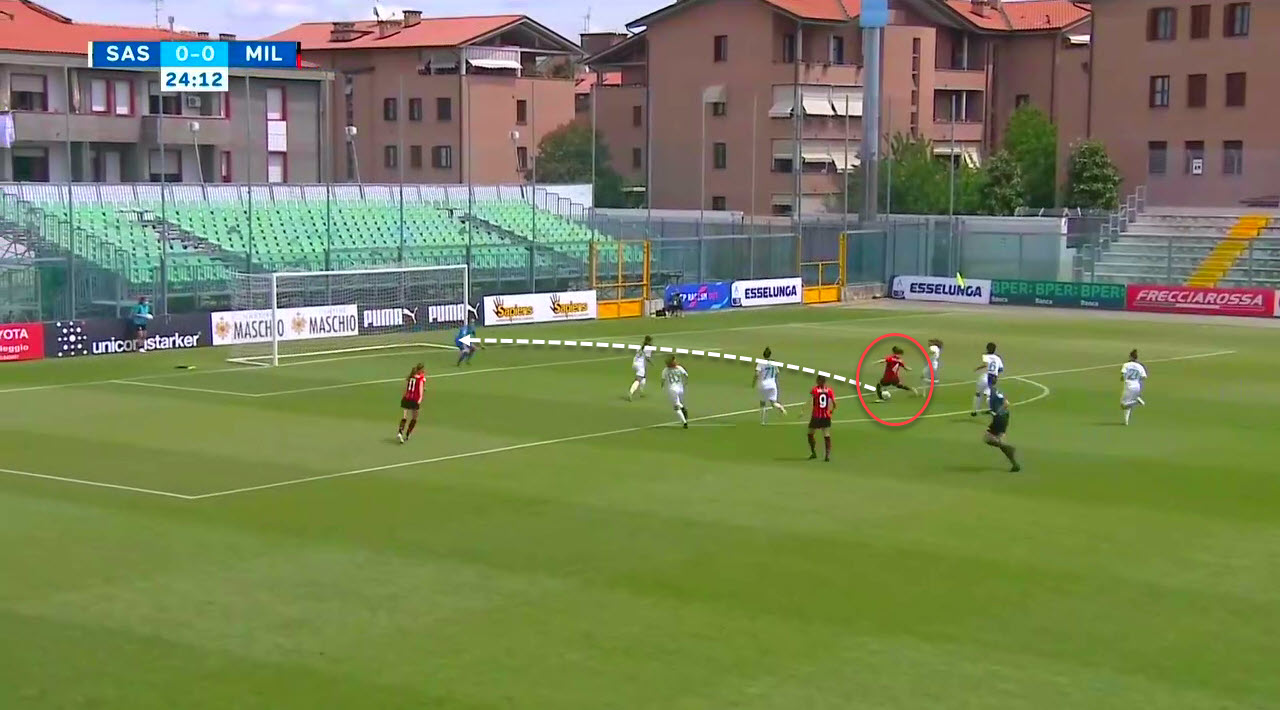 At the 45th minute, Giacinti was once again central to Milan's attacks as she was so close to scoring following Bergamaschi's cross, yet, Giacinti's back-heel shot was saved miraculously by Lemey. And this showed how Milan were able to get an advantage just before half-time since Sassuolo retreated in comparison with the first part of the first-half due to Milan's recurrent attacking attempts. These attempts were mainly made through the wings by relying on Bergamaschi and Tucceri while at the same time Giacinti and Grimshaw moved a lot inside the box to give passing options for Hasegawa, Jane, and Boquete who kept possession of the ball for most of the time and made some successful penetrations, like the one we saw above from Hasegawa.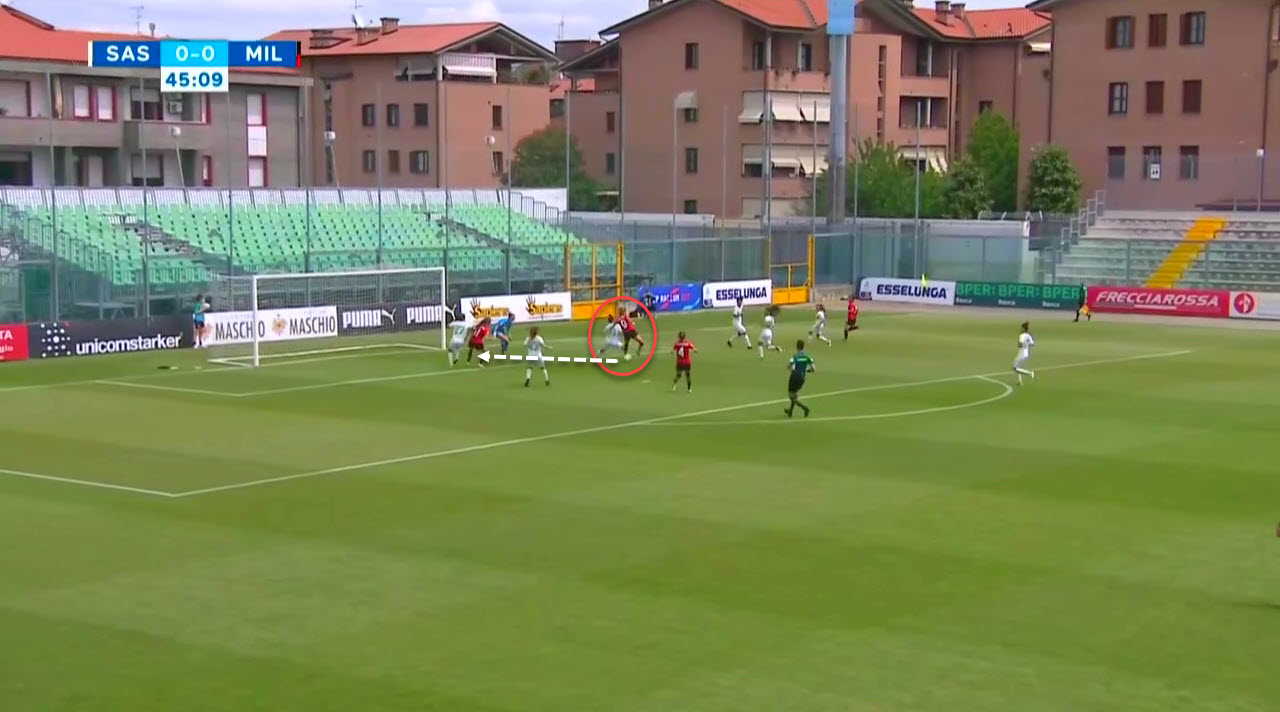 The Rossonere then came back with the same determination to score during the second-half, and Giacinti continued in being very dynamic and in threatening Sassuolo's goal. This time she dribbled past her direct opponent after receiving a pass from Hasegawa, before kicking the ball towards the far post, but unfortunately for her Lemey was once again crucial in saving her team from a Milan goal.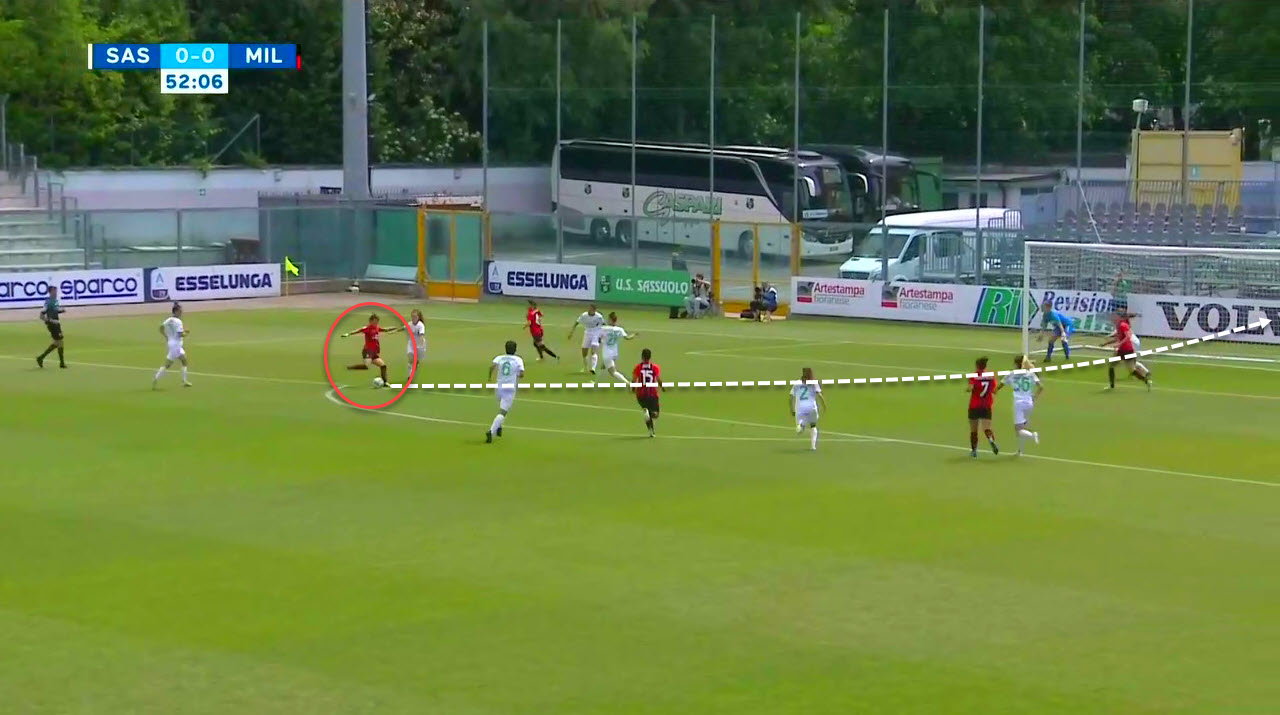 Grimshaw was also very dangerous in this second-half since she shot on target several times and maybe the most dangerous opportunity from her came at the 63th minute when she exploited Giacinti's high pressing on Lemey, stole the ball from her and ran towards the goal but her shot was saved by Filangeri, one of both Sassuolo defenders who were acting like goalkeepers on the goal line, to prevent their team from another big scoring chance for Milan.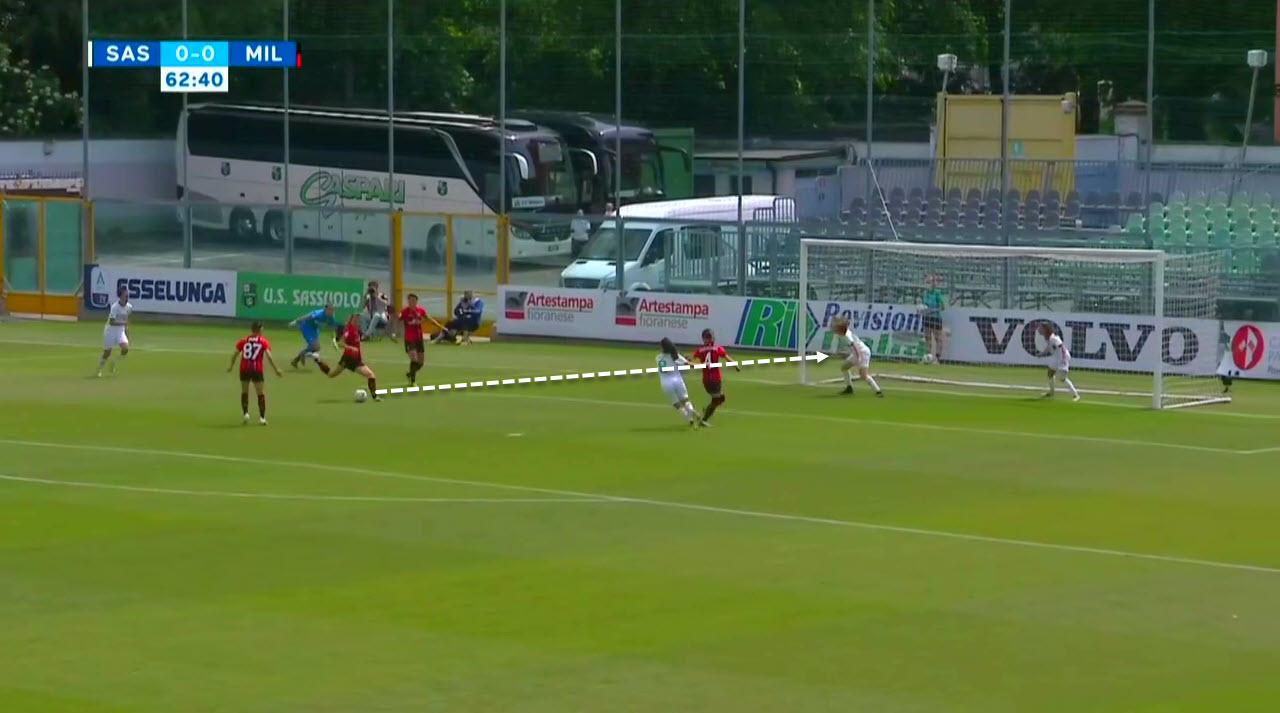 And despite Sassuolo's big opportunity at the 68th minute, following Bugeja's shot that hit the post, Milan were able to keep the score 0-0 despite Sassuolo's attempts. But at the same time, the rossonere could have delt better with the some of the chances they had to secure the win and get rid of the unnecessary tension at the end of the game. Nevetheless, Milan got what they came for which is the qualification to UEFA Women's Champions League and therefore, the rest can be fixed and performances can be improved especially when knowing that the team will have a lot of time to work on many aspects to improve certain things ahead of their UEFA Women's Champions League. And this will be necessary since playing in such a competition is something new for Milan and a thorough tactical preparation is needed to start this tournament in the best of ways, and this will obviously not be easy.