The Rossoneri management is working hard to find the best opportunities in the market in order to secure signing of a playmaker whose playstyle is most suitable for coach Stefano Pioli game ideas, keeping in mind the financial conditions of the club.
Il Diavolo has been linked with multiple players and mayhaps the most heavily linked one is Chelsea's player: Hakim Ziyech.
Basic information:
Hakim Ziyech, born in Dronten in the Netherlands, is a 28 year-old player who represents the Moroccan national team.
The player started his professional career with Heerenveen in the Eredivisie league. He is a youth academy product of that club. But quickly, after making his debut and displaying his skills and qualities, Twente FC took note of his abilities and signed him up for a fee of 3.5 million euros.
After a couple of years there, the talented winger makes the leap to Dutch giants Ajax for a fee around 11 million euros, that's where he started to really develop and show his qualities. The player caught the eyes of many great European clubs, and 4 seasons later in July 2020, he signed for Premier League outfit Chelsea for a hefty transfer cost of 40 million euros. The player won with Chelsea the Champions League in May 29 of this year against Manchester City.
Ziyech is currently valued at 38 million euros, according to Transfermarkt. In the last season, he made 39 appearances in total, amassing 6 goals, 4 assists and collecting 4 yellow cards. He played a total of 1900 minutes.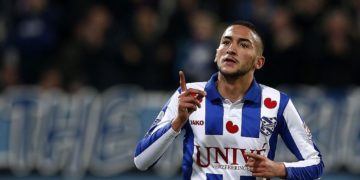 Analysis of his playstyle:
Hakim Ziyech is a versatile player. He can play comfortably on the right-wing just as well as playing in the middle behind the striker.
The Morocco international represents an interesting profile because he is a left-footed right-winger. With Ajax, he showed his strength points such as finishing. He is lethal in front of goal and can bring in a good amount of goals to his team.
The player's dribbling ability is also admirable as he cuts inside onto his left, and has a great vision. In fact, his passing range is very good. He likes to give out long balls to launch attacks with his teammates and create scoring opportunities by crossing to the attacker if there's a good chance.
He does not like making backwards passes and would often prefer to look for an available teammate in front of him to make some forward movements on the pitch towards the goal.
What Ziyech brings to the table is threats to the defenders as he draws them close to him when he moves infield, starting from the right flank. That way, he creates space for his teammates to attack the depth and ask for a pass.
One more important trait in the profile of the attacking midfielder is that he likes to shoot from afar when an opportunity presents itself.
With just being 28 years old, the player still has many years left in him to play football at a high level. However, there are a few cons that one should watch out for.
The cons in Hakim Ziyech's profile:
Hakim Ziyech likes to hold the ball and drive forward, despite having in his arsenal a great passing range and vision, but that does not mean he'll choose to pass the ball over to a teammate every time he has the ball. The left-footed former Ajax gets dispossessed quite a few times. With Ajax, he was dispossessed from the ball around 3x per game on average. (Data provided by Bavarian Football Works).
Another negative note in his profile is that he is not in his prime anymore. By moving from Ajax, where he proved himself on the biggest European stage, the Champions League, he did not manage to keep his former level with the Dutch side. But, that should not be a very difficult issue because, the player is 28 years old and can revive his career if given the right conditions and environment.
Ziyech did not enjoy a lot of playtime since the arrival of German coach Thomas Tuchel who replaced Frank Lampard. So, continuity is needed and patience most of all, to see him regain his form and confidence and hopefully that would translate in good performances on the field.
Ziyech has a contract lasting until 2025 with Chelsea, which means it would be difficult for the Blues board to give up on him so easily, having spent on him 40 million euros in 2020. It remains to be seen if they would even be willing to let him go on loan.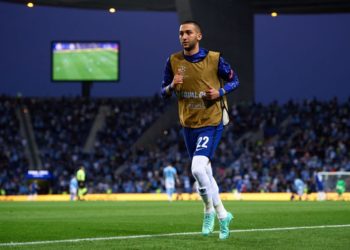 Conclusion:
Ziyech is a player that can play more than one position, and in both these mentioned roles (right-winger and playmaker), a quality upgrade is needed. A fresh body with a considerable experience can bring a valuable addition to Stefano Pioli's plans. He can be a much needed signing to revamp the attacking dynamism for the Rossoneri. The player's footballing IQ is high and therefore, he would be a major asset, given the right environment.