AC Milan goalkeepers coach, Dida, who is also one of the Rossoneri legends, spoke to Carlo Pellegatti through the journalist's YouTube channel:
"The Scudetto? It was truly a fantastic experience, a great emotion. When starting a new job you certainly have goals. Since I arrived at Milan, for three years with the first in the youth sector, I have collaborated with Gigi Ragno and Emiliano Betti after the call of Paolo (Maldini) and Stefano (Pioli) . It was a satisfaction for me to go home and work with goalkeepers since it has been my life."
About his work:
"I think I convey passion. The goalkeeper must be a focused person. Our focus is to grow on weaknesses, to work under the cognitive and strength aspect."
"He has grown a lot especially with his feet. He has a very long pass and the first thing when the ball hit him was to look at an attacker's willingness to catch it. In Milan, we know that Pioli also has the characteristic of playing from behind and so we played a lot on this thing, with plays against the block, and on his choices so as not to always do the same thing."
"He said it was a dive that he did not know how to do. He is one of instinct, he is not one who runs after the ball. We saw and analysed him before his arrival to Milan. We worked on this. What does it mean to run? There are goalkeepers who wait a bit and use their explosiveness to make the save; others, like me, ran a bit before pushing and making the save. He is more of the first type."
On Mike Maignan's growth:
"He can grow so technically, because he is of a different school from the Italian and the Brazilian one. He is learning a lot, he tries in every training to improve his grip and postures. These are specific things that people may not understand."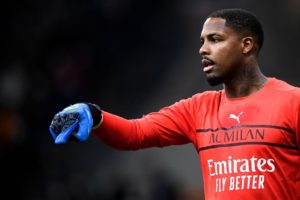 Dida added:
"Maignan has a fantastic personality, he's a leader. He always wants to learn, he always asks me and others when he has doubts. Now he's going to be 27 if I'm not mistaken, he's growing up. It is a perfect age to develop characteristics."
On the similarities between Carlo Ancelotti and Stefano Pioli:
"There are similiarities. They are two coaches who care a lot about what they do, they are responsible, they know how to manage a group, they have perfect communication. They are different people, but they have common characteristics."
On Ciprian Tatarusanu:
"He's a serious guy. I worked with him for two years, he always comes half an hour or an hour early to do his things. Once you have reached a certain age, you need to work on a certain aspect before each workout. We have never had any problems with him, he is always available. It is not easy to be in Milan, not to play and to want to do it: it is a difficulty. He talks to everyone, communicates a lot in the locker room with his teammates and gives directions, even among the goalkeepers. With the experience he has, he's not the type to stop and think about mistakes. He is truly a fantastic person", declared Dida.
On the support from the AC Milan fans:
"The feeling I have is that of never having stopped. They remind me of my path to Milan every time I enter to warm up: it's fantastic."
Finally, Dida also spoke about his future:
"Let's see. I have everything to consider in this period. Milan is my home and I am a really happy person to be at Milanello with the team. I want to live this moment to the fullest."