AC Milan's central defender, Fikayo Tomori spoke to the microphones of La Gazzetta dello Sport. Among the questions the former Chelsea player was asked is his situation with the Rossoneri and if he wants to renew his deal with the red and black side of Milano:
"If I want to renew? Yes, I like everything about Milan, even the city, the Champions League nights … Now, however, I'm focused on the pitch, we'll see when it comes to matters off the pitch."
You were one of the first to talk about the Scudetto, during the last championship…
"Yes, I knew that this team was strong and we could win. I'm glad we did it."
When did you realise you were going to win the Serie A Scudetto?
"Only when Kessie scored the third goal against Sassuolo in the last day. We are happy, but we start from 0 points like the others, not from 86. We will have to fight more. We are the champions, everyone will want to beat us. We feel stronger considering everyone's trust. We have the feeling that we can do something special. We have already done this, but now we have a different pressure. We have to repeat ourselves. These days, we have worked harder than last year, we must be ready. Do the bookmakers say we are behind Inter and Juve? They also said it last year."
On Zlatan Ibrahimovic:
"Ibra has a great personality, his voice was with us even when he wasn't playing. He told us: 'We must be hungry like dogs, we are first but we have not done anything.' When there is such a player in the locker room, everyone's spirit increases."
On new signings Divock Origi and Yacine Adli:
"Divock is strong, he is fast, he knows how to score. A good reinforcement for us. Adli is also strong, he has a good foot, he makes the right movements. He has to learn how we play but you can see that he has quality."
On facing Inter's Lukaku and Juventus' Vlahovic:
"Marking them one on one is difficult, they are strong and fast, they have quality. The most important thing with both of them is to stay focused, to pay attention to every movement, to when they kick, when they attack the depth… In Italy you work differently than in England. Here, we defend as a team we move together. But in England, much less."
Tomori on Romelu Lukaku:
"My first match at Milan was against Romelu and that day I had respect, not fear. It will be the same this time. Lukaku is strong, Inter are strong but we are too. We know that the derby will be a special match."
On Mike Maignan:
"Mike has great personality on the pitch, he always talks to everyone and is a great goalkeeper. We feel good with him, we are happy to have him in goal."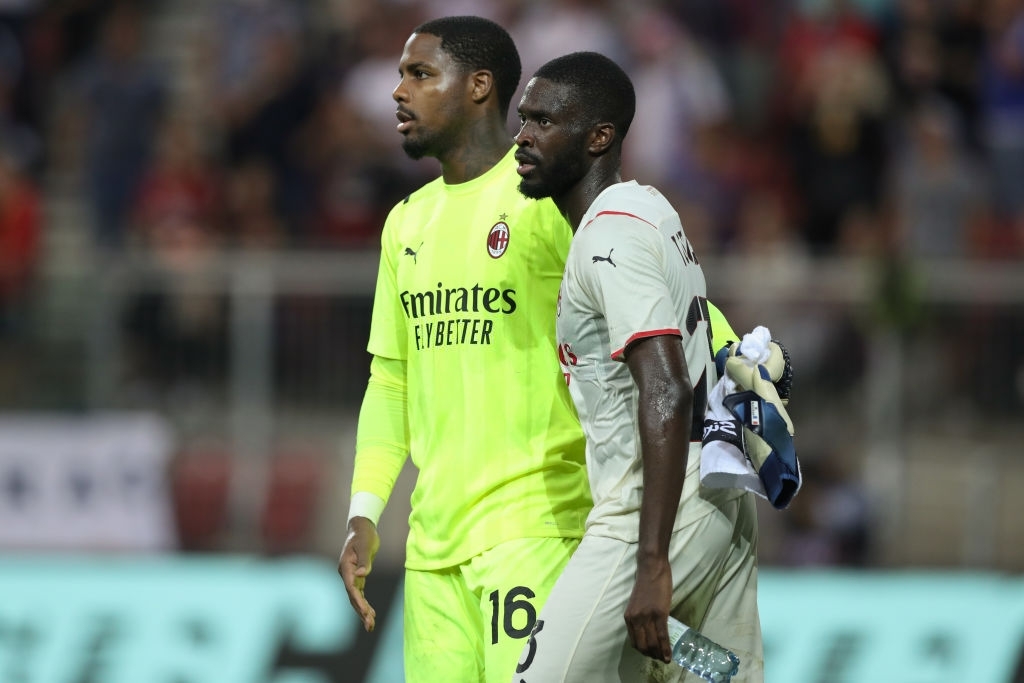 On the AC Milan icons… What would you like to have from Franco Baresi, Paolo Maldini and Alessandro Nesta?
"Baresi was not too tall a defender, a bit like me who is 1.85 centimetres. He was great for the body position, the voice on the pitch, the leadership. Maldini and Nesta had great personalities, they knew how to read the game at all times."
Tomori on the Rossoneri's adventures in the Champions League in the past:
"I am a defender, I have seen Nesta, Maldini, Stam, Cafu … All strong. I remember the final in Athens, I remember Manchester and also Istanbul. I knew this club is special, especially in the Champions League. We are young but now we have more experience, we want to do like them."
Out of all the defenders you mentioned, who do you love the most?
"Paolo (Maldini), because he looks at us closely."
What are the best things in Italy?
"I like the people, the passion, both when we are at San Siro and away from home. I am a quiet type, a slow one and Italy is like that. Milan goes at a slower pace than London, I like it very much."
Would you say the Italian summer was the best in your life?
"Yes, the most beautiful in life. We won the Scudetto."
Tomori on dying his hair blonde:
"One day, three months before the Scudetto, I went to Bakayoko and I said to him: 'But why do you always have blond hair?' And he: 'Boh…". So I promised him: 'If we win the championship, I'll do my hair like yours'."
Will you dye your hair in another colour if you win in 2023?
"Let's see, let's see."