AC Milan's head coach, Stefano Pioli, spoke to the media before facing Udinese tomorow away from the familiar comforts of home. Here are his words in today's press conference:
"We know our opponents, they are technical and physical, they play quickly on the forwards. We will have to be careful and determined."
In the Champions League quarter-final, AC Milan will face Napoli:
"We were training. Any opponent would have been difficult. We're in the quarterfinals, they're all strong. We're Milan, we want to move forward. Napoli is strong, they're dominating, but the Champions League is the Champions League and Milan is Milan."
On Zlatan Ibrahimovic, Pioli said:
"Ibra is fine. When we made the (Champions League squad) list he was not in a position to play, so he is calm. Ibra is Ibra, he wants to play them all and win them all."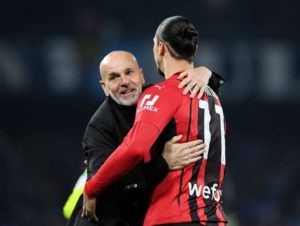 He added:
"If I heard from Spalletti? I don't think he'll write to me (smiles).  I have an excellent relationship with him. We'll meet first in the league. The league is different from the Champions League. Now let's think about the league since we're coming from a defeat and a draw."
Can Zlatan Ibrahimvic start tomorrow?
"He's fine, he doesn't have 90 minutes in his legs yet. We'll see what choices I make, Rebic or Origi can also play."
How is Rafael Leao:
"Leao is training very well, he's calm and determined in trying to improve his performances. I'm sure Leao is and remains an important point of reference for our offensive phase, also because, even though he doesn't score, he keeps the opposing defenses apprehensive."
He continued:
"At first he had some physical problems, then there were some of my choices…"
On the AC Milan Primavera team reaching the semi-final of the UEFA Youth League:
"I congratulated Abate and the team. There are many interesting players we keep an eye on."
Is Mike Maignan the best goalkeeper in AC Milan's history?
"I don't know, but he sure is a great champion in everything he does."
How is the team after the Salernitana match? Pioli said:
"There was disappointment the next morning, but I like this: I'm happy when the team has the same sensations as me. Then I saw determination and concentration for the next race."
On Rafael Leao not scoring many goals:
"We don't care what they say outside Milanello. I advise Leao to stay close to those who love him, as happens here at Milanello. He's not depressed, but he's determined. We expect the goal from him, but even when he doesn't score, he makes important plays for the team."
On Sandro Tonali and Ismael Bennacer, Pioli declared
"Tonali rested against Salernitana and is fine. Bennacer is doing better and putting minutes in his leg."
On the important Champions League ambitions:
"We have to think about passing this round first. The Champions League is a goal, we want to go all the way. We know that high-level performances will be needed against Napoli, but now we are only thinking about the next league matches."
Between Rafael Leao and Napoli's Khvicha Kvaratskhelia, who is better?
"It's hard to say, they have different characteristics. They will be beautiful matches against Napoli, a match between two strong teams."
Pioli, Will the offensive choices also depend on the physicality of the Udinese defenders?
"We are aware of the physical characteristics of the Udinese defenders. We will use our qualities on the field to make things difficult for them."
Should Leao receive more passes?
"In the last few games, he has attacked the spaces well. Therefore, given his qualities, he should be served more in those situations."