Today is a special day for AC Milan. while the transfer market is whispering its final rumours into the ears of the fans, there's a battle of immense significance awaiting the Rossoneri in Rome. It's not just another day in Serie A; it's a night when Stefano Pioli's team square off against José Mourinho's Roma.
Stefano Pioli's focus is on AS Roma - AC Milan.
While it's true that the management have been in a race against time, Stefano Pioli has always insisted that he focuses on matters that he has control over: which is preparation for the coming challenges on the pitch. He leaves the negotiation issues to the management and he has already said so in yesterday's press conference:
"I have executives who are so capable that I haven't heard from them between yesterday and today, because they know I'm preparing for the match."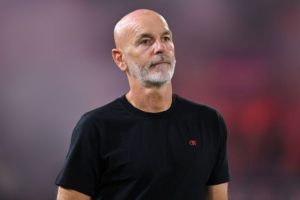 Stefano Pioli has been working tirelessly because he knows that his team will face a very motivated squad led by José Mourinho. They have not started the season very well, that's true, as they only collected one point after two matches. But, they see the match with Milan as a perfect motivation to bounce back and get on the right path to victories, despite the absence of a key attacking midfielder in Paulo Dybala.
How will José Mourinho want to play against AC Milan?
Dybala may be out for the Giallorossi, however, Romelu Lukaku has been recently signed and he should be on the bench. He could be a valuable asset as the Belgian is itching to get a start in Serie A once again and prove himself. AC Milan, will have to be ready for all scenarios. AS Roma may play with a low defensive block, which could present issues for Stefano Pioli's team. But, they will wait for any misplaced passes or mistakes to unleash counter-attacking situations. These are surely situations that José Mourinho has been practising with his team non-stop. Equally, the AC Milan gaffer has worked on defending against such scenarios, counter-attacking and set-pieces are surely among them.
AC Milan play differently than last year and this is surely useful
While it may be true that AS Roma may try to play in a more physical manner to try to unlock some important situations in midfield and reach the final third, AC Milan will have to be careful and continue to work just like how we have seen in the first two victories. Rade Krunic, who is now an important part of Pioli's plans, will drop back between defenders when in posession while Ruben Loftus-Cheek and Tijjani Reijndeers go forward to help in attack. In addition to that, and in order to create numerical superiority in certain situations, Davide Calabria and Theo Hernandez may make inverted and overlapping runs. The Italian and Frenchman will seek to create passing opportunities in midfield or on the wing which can put AS Roma's shaky defence in a lot of trouble.
Tonight's fixture may not be the definitive turning point in AC Milan's season, as the journey has only just commenced. Nevertheless, a victory at the Olimpico against a determined José Mourinho-led AS Roma would provide invaluable momentum.
One thing for sure is, despite the latest last-minute mercato dramas, nothing matters for Stefano Pioli and his boys today except for the clash in Rome. The aim for Rafael Leao and his teammates is the three points and they will be supported by six thousand strong supporters at the Olimpico.
When in Rome, AC Milan faces challenges head-on, and tonight should be no different.
📸 @Gazzetta_it: Probable lineups for AS Roma - AC Milan Serie A clash! ⚔️#ForzaMilan 🔴⚫️ pic.twitter.com/WSq7RSHG1h

— MilanReports (@MilanReportscom) September 1, 2023