Zlatan Ibrahimovic returns to AC Milan.
After the Swede's latest meeting with Gerry Cardinale in a well-known hotel in Milan, the parties have now decided to finalise the deal.
In fact, Zlatan will be an active advisor to the club. He will participate in all the most important decisions, he will be active in the relationship with the players and the staff, he will also have a role in the transfer market negotiations.
The announcement will come when all the details of his contract are finalised.
Ibrahimovic will be a general consultant who will have a complete view on the club on the sporting side.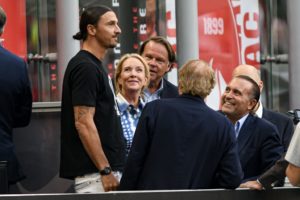 Zlatan should be very present on the pitch: from Milanello where he will be a support for his former teammates to San Siro where he used to watch matches from the bench.
The legendary former striker wants to continue to breathe the air on the pitch, so it is easy to think that he will continue to follow the matches from the pitch, where he will be able to follow the players. In addition to that, the Swede will also follow the youth sector, as a supervisor.
Ibra will also play a role in the market where he will be able to 'advise' on certain choices. But it is easy to think that Ibra will come into the picture when it is necessary to understand if a player has the right character and attitude to come to AC Milan. Obviously Ibrahimovic's call during a football market negotiation can make all the difference.
As for the announcement, it will still take some time. This is because there is the need to finalise certain contractual details due to the extensive nature of Ibrahimovics's role, which encompasses a wide range of tasks in every facet.