Olivier Giroud spoke to those at 'Le JDD' in an exclusive interview. He spoke at length about different topics:
With the passing years that seem to have no effect on your performances, one would almost believe you're eternal...
"No, I'm not eternal. As long as my body allows, I try to push the limits, setting no boundaries for myself. And to take maximum pleasure. I'm truly a lover of the game, and I'm not ready to stop. Besides, I still have some gas left, right? (Smile)."
Will you still be at AC Milan next season?
"For now, I'd like to. I'm at the end of my contract and I haven't discussed anything with the club yet, contrary to what has been reported in the media. I want to continue, and I believe I have what it takes."
Did you fulfill a dream by signing with this club? Giroud replied:
"I was already a fan of the great Milan of the 2000s. For me, joining them was a blessing. We clearly have everything. But what I've achieved throughout my career far surpasses my childhood dream. I have no regrets. I would do exactly the same thing again."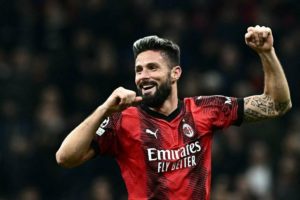 Your popularity in Milan is extraordinary...
"I've never seen anything like it. Italian supporters, the 'tifosi,' as they're called, are incredible. There's real fervor, passion, love for the club, its colors... On my part, I try to remain simple, natural. No one is perfect, far from it. We all make mistakes along the way. The proof is, last weekend [in Lecce, editor's note], I got a second yellow card after a bad reaction. Even if I didn't insult the referee, there are always moments when one needs to restrain oneself. It clearly proves that I'm human. But it's true that we must strive to be exemplary, and it's nice to be recognized by many French people as well."
Is it true that you have two grandmothers of Italian origin?
"Antonia, who is still here, and Yvonne, who passed away. Yvonne was from Bergamo and Antonia from the Veneto region. So, I have Italian origins."
Can you win the Champions League?
"Italians, especially Milanese, have a special history with this competition, which they've won seven times. On European match nights, you can feel something happening at San Siro. Last year, we reached the semi-finals. We hope to go as far as possible, but it's very tough, there's a lot of competition..."
What memories do you keep from that game against Genoa when you replaced Mike Maignan, who was sent off, in Milan's goal, and made spectacular saves?
"Despite everything I've experienced in my career, even at 37 years old, it was something unique. I had never been in that situation before. The feeling was different from scoring a goal. It was just as exhilarating, but there was a lot of pride, adrenaline. My heart was racing. The joy of having 'saved' the team a bit, with that somewhat kamikaze exit [against Genoa's Romanian forward George Puskas, editor's note], which wasn't very conventional but effective. It made me happy for the team. And then, of course, people started singing 'la parada Giroud...' (Giroud's save)."
When Maignan was sent off, was it your coach Stefano Pioli who told you to go in goal?
There were two of us who were up for it, Christian Pulisic, who likes the goal, and me. But well, he's 1.75 meters tall... Christian was saying, 'I want, I want!' I don't mean to say he wouldn't have done well in goal, but I took up more space in the goal. It's true that it's better to put in a tall guy. So, the staff guys said to me, 'Olive, come on, put on the gloves,' and Christian didn't hold it against me. I felt small, very small in the goal at the moment of the free-kick at the edge of the box. You feel vulnerable. And the gloves were too big. Mike has bigger hands than me!"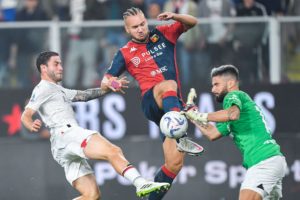 It's an unforgettable moment... Giroud said:
"They made me a frame with the photo, the match plaque, and the date. It's nice, it'll stay."
Had you ever been a goalkeeper before?
"At seven or eight years old, with friends, but it was just for fun. It was something I enjoyed, even though I prefer scoring goals. I had never put on gloves in an official match."
Who were your favourite players when you were a kid?
"When I started supporting the French team in 1998, Zidane made us all dream. He was our hero. Then, as I grew up, it was the 'Frenchies' at Arsenal. I was really drawn to the Premier League and what Arsène Wenger was achieving. Of course, there's 'Titi' Henry as an attacker. But the one who really inspired me the most was Andriy Shevchenko. He was the striker who could do everything and finish with his right foot, left foot, head. He was very complete."
We were talking about players who inspired you. Jean-Pierre Papin, Ballon d'Or winner in 1991 with his famous 'papinades,' his spectacular goals, is he among them?
"Of course. I like everything about volleys, acrobatic overhead kicks... He was one of those who mastered that move the most. And on top of that, he was French, he had played for Marseille and Milan."
Is the next dream Euro 2024 with the French team?
"I don't project beyond that. My goal is to have a great season with Milan and win the second star, which would mean the 20th 'scudetto' for Milan. It won't be easy, but we believe in it. Have a good run in the Champions League, win the Euro with France, and after that, we'll take stock."
In the future, would you like to stay in football and become a coach, sporting director, or manager? Giroud replied:
"The question has been asked of me before, naturally. Football is something where I have a certain legitimacy, and it's my passion, so I think I'll stay in football. As a coach? I don't think so, at least not now, I don't have the desire for it, and I don't know if I'll have the energy and will for it someday, because it's very demanding. Sporting director is a position I'd like because you deal with several aspects within a club: recruitment policy, the first team, the academy... But I say that today, it can change."