Luka Jovic remains steadfast in his decision. He fully embraced the AC Milan project back in August and has no intention of giving up despite a challenging start to the season.
The former Real Madrid player's time has been limited to only 223 minutes across 7 league matches, unfortunately for him. But, the Serbian still believes that choosing to wear the AC Milan shirt was the right move for his career.
Now, actions speak louder than words: in the coming month and a half, the former Fiorentina player must seize every opportunity to convince Stefano Pioli, Geoffrey Moncada, and Giorgio Furlani, not just himself.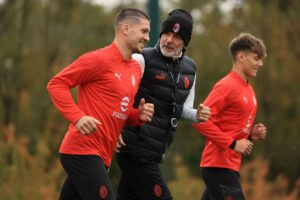 Luka Jovic is set to receive another chance to prove himself
Luka Jovic might earn a new opportunity to prove himself again at the San Siro against his former team Fiorentina.
It's a crucial match for Milan, especially with Giroud suspended, and Pioli is contemplating starting Jovic, who was released by Fiorentina after a year, having scored 13 goals in 50 league and cup games. This game could potentially be a turning point for the Serbian centre-forward.
So far, it's been more disappointment than success, even for Milan, who closely monitor their expenses. Considering his gross wages of 2.6 million euros, the striker has cost the club one million euros for five months of the season. With no goals, assists, and just two attempted shots, that's 500 thousand euros per shot. He wasn't called up by Serbia for the Euro 2024 qualifying matches but has been working at Milanello to regain form and readiness for Saturday's game.
Performing well at Milan could boost his chances of being included in Dragan Stojković's squad for the European Championship in Germany which is an important goal for Jovic in 2024, alongside his ambition to succeed at AC Milan, as relayed by Calciomercato.com.