Milan faced Torino for the second time in a row after winning against them in the last Serie A fixture. But this time, the match was different since it was a cup fixture in which both teams made a mini turn-over to give some rest to their most important players such as Franck Kessié, Simon Kjær and Theo Hernández for Milan and Andrea Belotti and Ricardo Rodríguez for Torino.
Milan were still in a state of urgency especially in midfield since coach Stefano Pioli was obliged to rest Kessié and rely on Davide Calabria as a central midfielder which was not his natural position. Also, the fact that Ismaël Bennacer was still injured and Rade Krunić is out due to covid-19 left Pioli with no other options than relying on Calabia with Sandro Tonali in midfield.
This game also witnessed Matteo Musacchio's first match of the season since he was absent for a long time and played his last match in February 2020 and it was a good opportunity for the coaching staff to see how he would perform with Romagnoli in defence after his long absence to decide whether to rely on him in the coming Serie A fixtures when necessary or not. Moreover, this match helped Zlatan Ibrahimović get more playing time after recovering from his injury and before playing more likely a full match against Cagliari next Monday.
Pioli started the game with the usual 4-2-3-1 formation relying on Ciprian Tătărușanu as a goalkeeper, Pierre Kalulu, Matteo Musacchio, Alessio Romagnoli, Diogo Dalot in defence, Davide Calabria and Sandro Tonali as central midfielders and Samu Castillejo, Brahim Díaz, and Rafael Leão behind Ibrahimović.
On the other side, the ex-Milan manager Marco Giampaolo played with a 3-5-2 formation that was often changed to 5-3-2 during this match especially when out of possession. Torino's lineup consisted of Vanja Milinković-Savić as a goalkeeper, Bremer, Nicolas Nkoulou, Alessandro Buongiorno in defence, Mërgim Vojvoda, Jacopo Segre, Tomás Rincón,Karol Linetty and Cristian Ansaldi in midfield while Simone Zaza and Amer Gojak were the two strikers. And here you can see clearly how Torino played with five defenders at the back.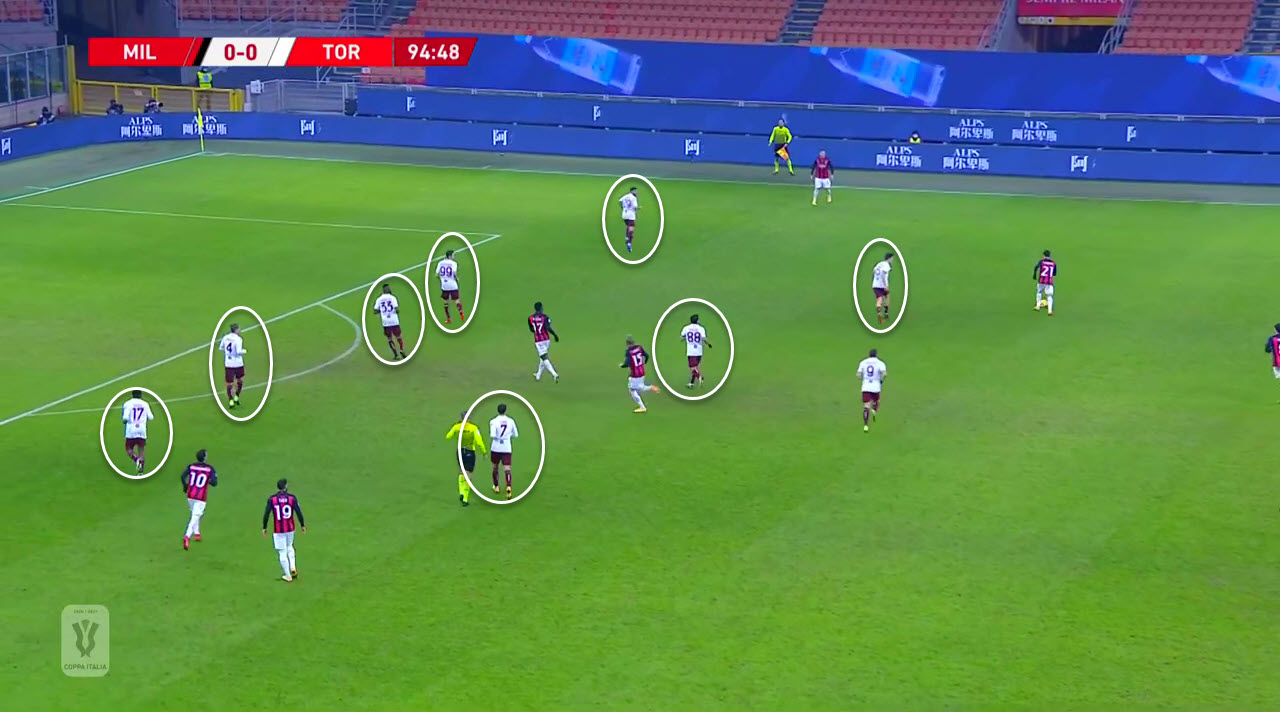 The match started with Milan trying to retain possession and play according to their rhythm like they did in their previous match against the same opponents. However, this time things changed and Torino played with a more defensive approach and looked compact throughout the game even though Milan missed many chances that could have been scored on another day. In the first 15 minutes neither team was able to create tangible chances and both teams were very attentive defensively.
But following those first minutes Milan had more possession however there was a clear difficulty in reaching the box and especially in serving Ibrahimović in the box. As a result, we saw the latter dropping back to midfield in order to receive the ball and pass to his teammates before running towards the box to get it back. However, this was not always fruitful since at many instances he did not get the pass he wanted when he ran towards the box intending to escape from marking and giving no reference point to his opponents.
Also, Díaz's unconvincing performance especially in the first-half and mainly when it comes to passing accuracy and duels, made Milan's attacks less dangerous. He looked hesitant at many instances and was not able to play simple instead of overthinking. And the fact that Torino defended constantly with eight players made things more difficult for Milan whose players relied either on crosses towards the box that were all intercepted or on fast passing combinations, and these attempts also failed due to Torino's correct defensive positioning and to Milan's individual mistakes in dribbling or in passing.
There were however a few positives for Milan during the first-half; the team's ability to escape Torino's high pressing at certain times was excellent and the build-up from the back was usually successful even when most players were marked. And this proves that this team is now having more confidence even though many players were not regular starters, and especially those who were required to build from the back in a correct manner. And here we are talking about Tătărușanu, Musacchio and especially Kalulu. The latter prevented all the threats that came towards the right flank and gave a lot of support to Musacchio who was not 100% fit, and was also excellent in passing to midfielders or to the wingers.
In addition, Calabria once again proved that he is developing a lot as a player and performed in a good way while out of position. It is enough to say that he was the player who created the most dangerous opportunity of the first-half, by crossing the ball vertically and accurately to Ibrahimović who found himself in a shooting position but missed the target with a few inches.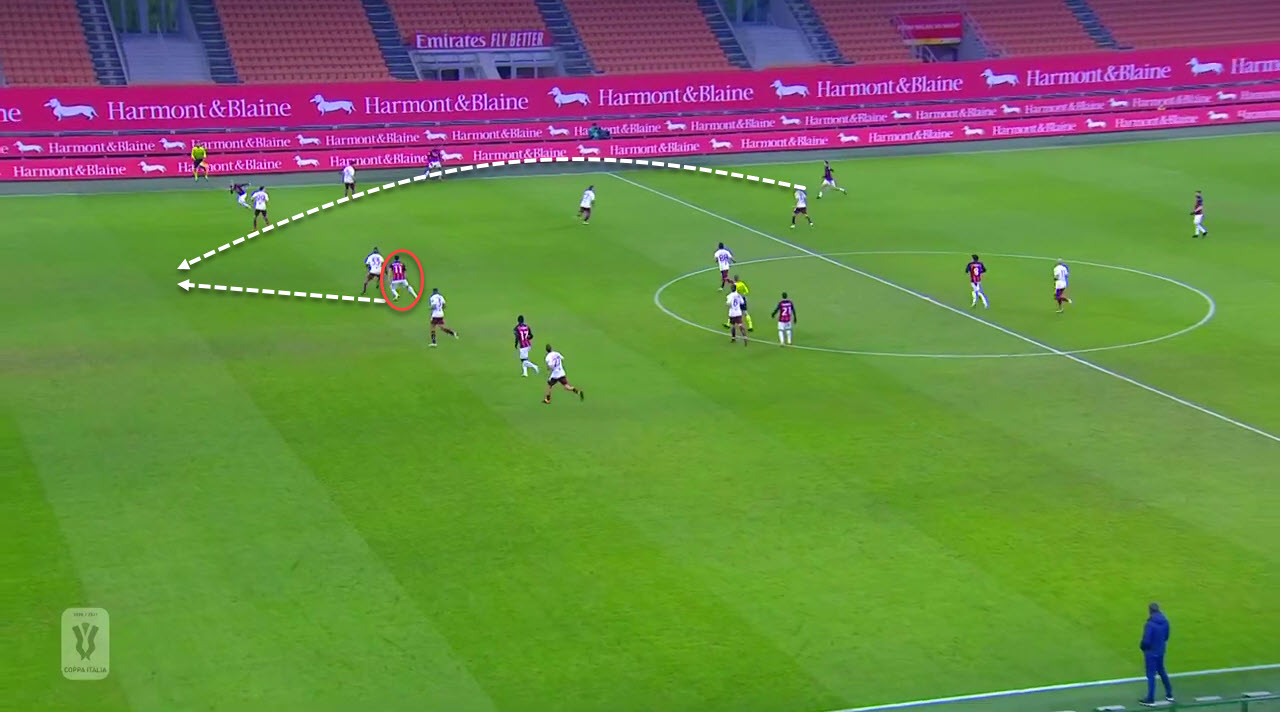 During the second-half, Milan started to move forward with more consistency while Torino's plan was to defend and resist their opponent's attempts and at the same time try to make the best out of counter-attacks whenever the opportunity arises. Yet, it was clear that there was no preparation of how to exploit those counter-attacks and all we saw was some desperate shots from Zaza from outside the box even though at times he had some key passing options but he preferred to shoot.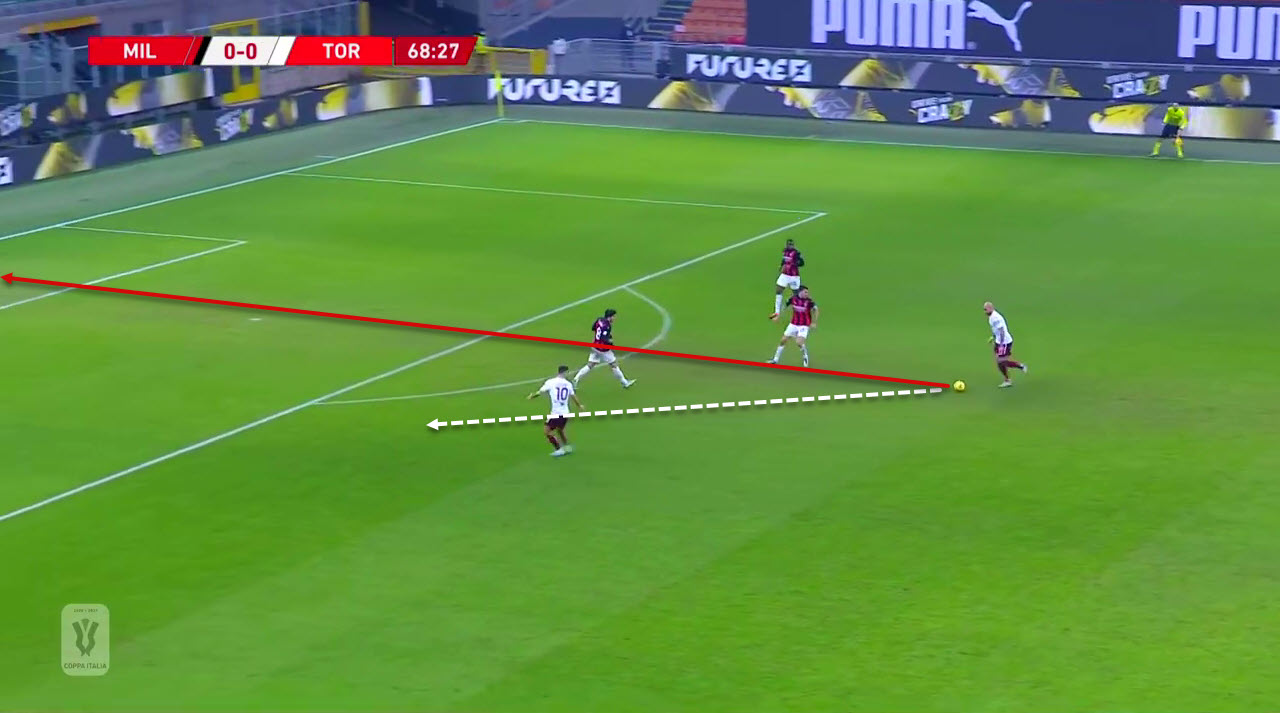 In this second-half, Milan had many opportunities but were not able to convert them into goals as opposed to their previous encounter. For instance, Leão missed a clear scoring chance at the 49th minute (like the picture below shows) and both Dalot and Calabria hit the post and it was clear that the intention was to shoot as many times as possible, and it should be said that apart from their defensive compactness, Torino were lucky not to concede a goal after those numerous Milan chances. As a result, Torino gained some more confidence in their ability to win after succeeding in making sure that the result remains 0-0. And even though they did not create many chances, Torino had more possession of the ball in the second-half and looked in confidence, and this remained until the last minute of extra-time and helped them in obliging Milan to reach penalties.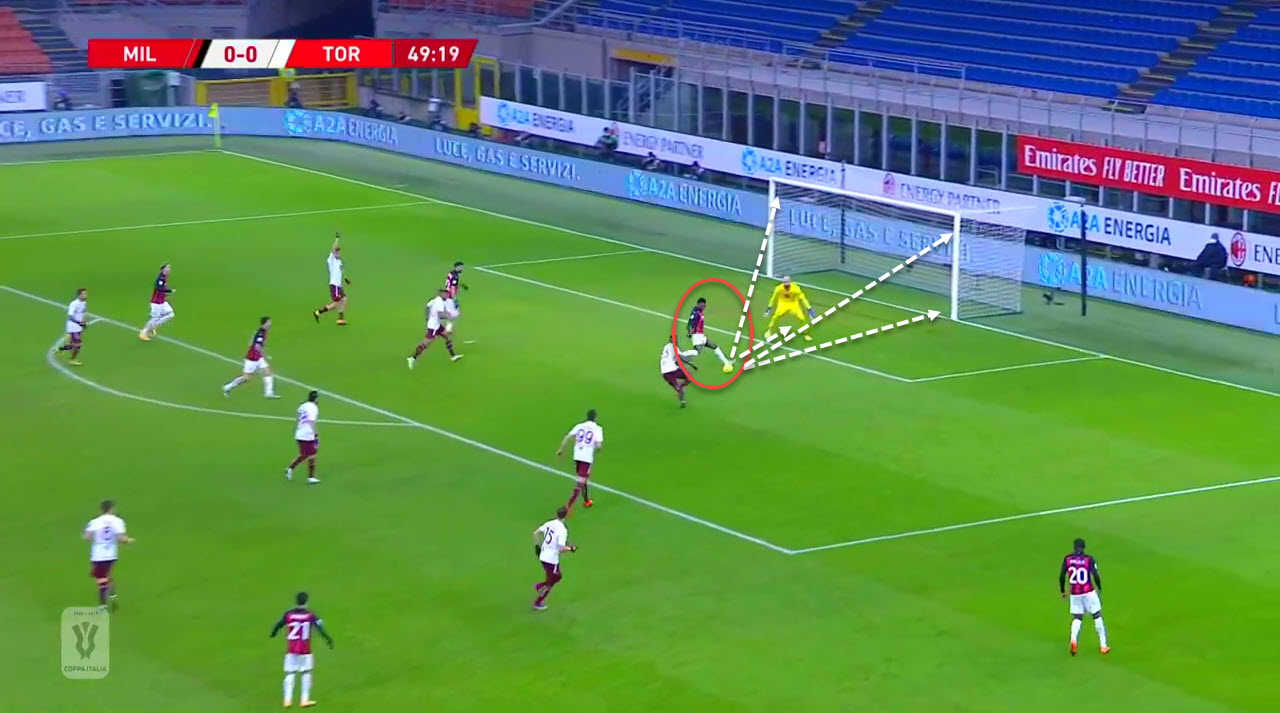 Also, starting from the 75th minute it was clear that Milan players had no clear solutions upfront and relied only on shooting from afar and trying to make the best out of corners and free-kicks but in vain. Both Kessié and Hakan Çalhanoğlu tried shooting but their shots were not dangerous. And at the 85th minute, Díaz had the chance of the match following a through pass from Çalhanoğlu but failed to put his shot into the net.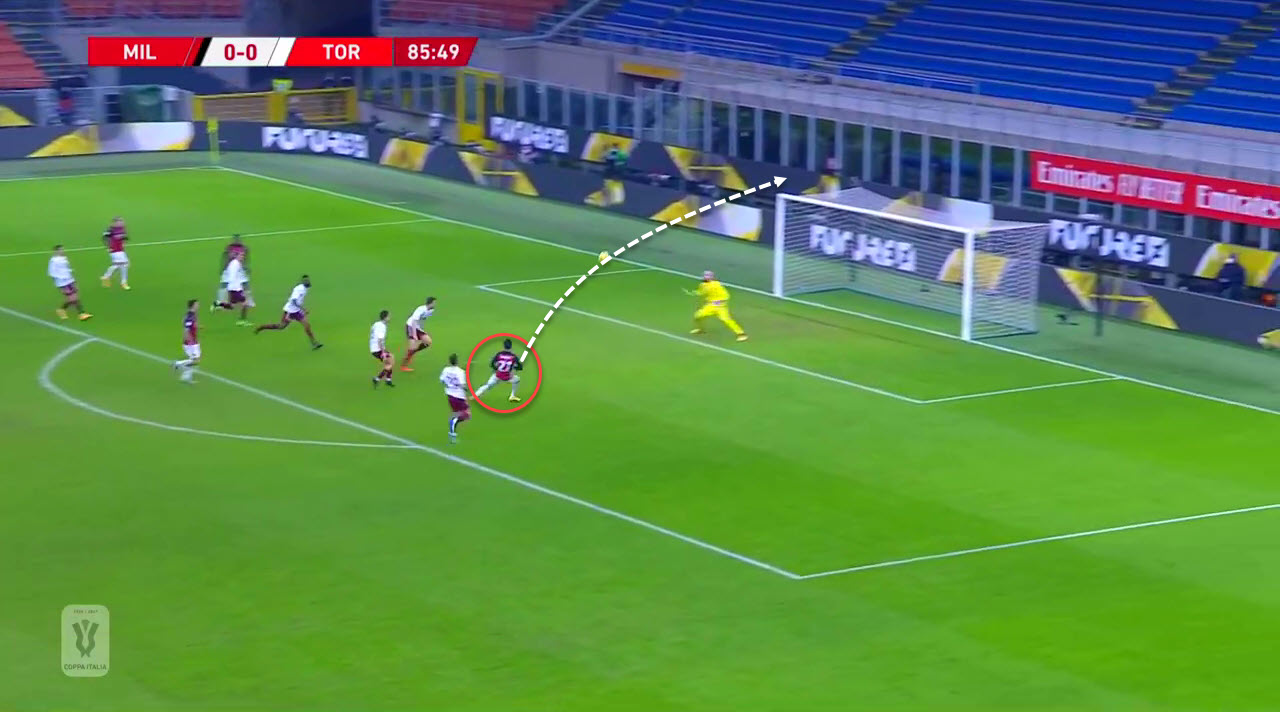 It also should be said that Milan had a slight advantage in terms of possession with 55% while Torino had 45%  but this possession was not really exploited in the best of ways for Milan since they failed to finish the game before resorting to extra-time, and even in extra-time they were not able to avoid penalties. It is true however, that Milan shot 25 times compared to 10 shots for Torino, yet, almost all shots did not threaten Torino's goalkeeper seriously.
Nevertheless, winning 5-4 in penalties was fundamental for the team to advance in this competition and the winner of Inter vs Fiorentina even though this win was difficult and caused fatigue amongst Milan players. But at the same time it can only make the team learn and improve especially in knowing how to "kill" the game at the right time.
A good rest is needed at the moment for Milan players ahead of their upcoming away league match against Cagliari during which Milan will try to keep their Serie A lead before meeting Atalanta in the last clash of the first part of the season.