Milan faced Inter on Tuesday in the quarter-final of Coppa Italia and we saw a match that was full of action and tension from both sides and at the end of the day Inter got the victory after some late drama at the 97th minute during which Christian Eriksson was able to convert a free-kick into a beautiful goal. It was a win that sent the Nerazzurri to the Semi-finals to play against the winner of Juventus vs SPAL.
Milan played this match amid numerous absences of some of their starting players. Names like Ismaël Bennacer, Hakan Çalhanoğlu, Mario Mandžukić, Sandro Tonali, Matteo Gabbia and Pierre Kalulu had to miss this important game due to different injuries in addition to the suspension of Gianluigi Donnarumma and the injury of Simon Kjær just after 17 minutes of the first-half, which obliged Stefano Pioli to replace him with the newly signed Fikayo Tomori.
Pioli also chose to rest Davide Calabria and chose to rely on Diogo Dalot on the right flank. And the team played according to a 4-2-3-1 formation which was composed of Ciprian Tătărușanu as a goalkeeper, Diogo Dalot, Simon Kjær, Alessio Romagnoli, Theo Hernandez in defence, Franck Kessié and Soualiho Meïté in midfield behind Alexis Saelemaekers, Brahim Díaz and Rafael Leão who helped the forward Zlatan Ibrahimović in creating danger upfront.
This situation however changed with the course of the match and specifically after the red card shown at the latter, and from that moment onwards, Milan played with a 4-4-1 formation with Ante Rebić as a false nine and both wingers playing most of the time in midfield and trying to help the full-backs.
For Inter however, Antonio Conte played the match according to a 3-5-2 formation with Samir Handanović as a goalkeeper, Milan Škriniar, Stefan de Vrij and Aleksandar Kolarov in defence, Matteo Darmian, Nicolò Barella, Marcelo Brozović, Arturo Vidal and Ivan Perišić in midfield while the attacking duo was composed of Romelu Lukaku and Alexis Sánchez.
The match was played at a fairly high tempo as expected with both teams trying to exploit the space left behind whenever a team tries to attack, and we saw many attacks that turned into counter-attacks especially during the first-half but Milan were first to score thanks to the realism and effectiveness of Ibrahimović who scored the first real chance he had even though he did not get a lot of touches on the ball beforehand.
And it should be said that the Swedish exploited the little space and time he had in this chance to be able to coordinate his body and shoot at the right time and with the right angle, while also exploiting the fact that Kolarov gave him enough time to do what he needed to do and marked him badly by not getting too close to him to prevent him from shooting or at least committing a foul on him by pushing him or making sliding tackle since they were out of the penalty box.
Kolarov just stood in front of him and moved a leg in the air thinking that the ball would hit his leg, but without making any other necessary extra-effort to prevent a dangerous shot from reaching Handanović, as you can see below.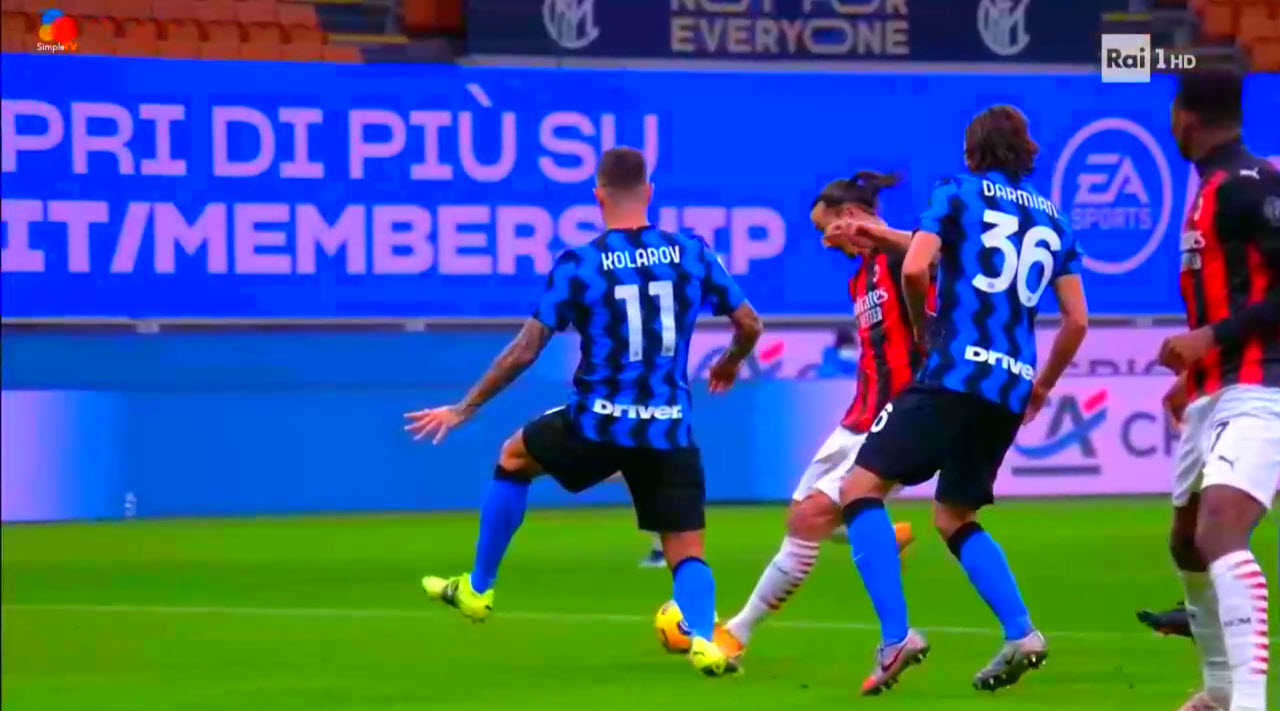 And that was Conte's clear mistake since Kolarov is naturally a left-back and he has not yet mastered how to play like a centre-back, which was noticeable on many occasions especially when marking. Inter however tried to make a reaction after the goal and we saw some fights and tension between Lukaku, Romagnoli and then Ibrahimović joined the "party" since both Manchester United teammates had some unresolved problems.
However, even though Milan were able to keep possession at times and defend with aggressivity at other times, Inter had some dangerous scoring chances but failed to do so due to unprecise shots at times and thanks to Tătărușanu's impressive saves and form during this whole match. The Romanian goalkeeper was able to save numerous Inter shots and some of these saves were just phenomenal coming from a second goalkeeper who is not playing regularly, and if it weren't for Gianluigi Donnarumma's suspension, he wouldn't have played this match either.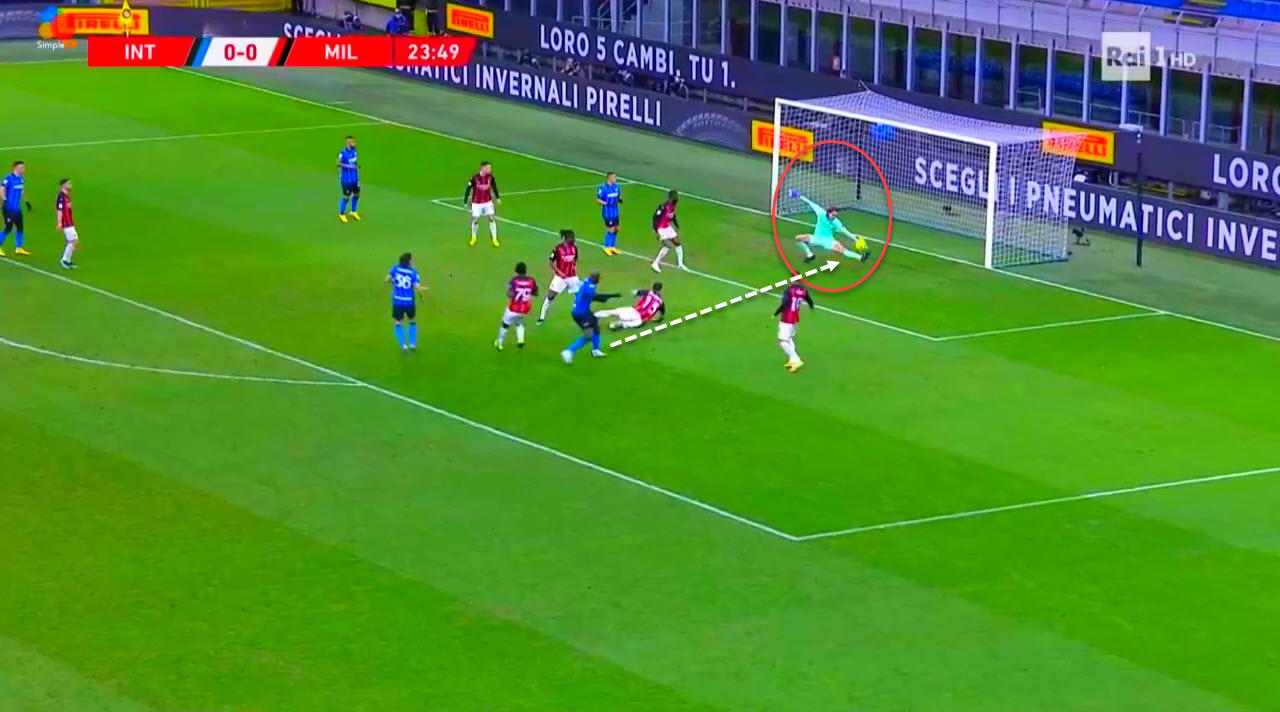 And we must say that it was an excellent first-half from many Milan players and mainly Romagnoli who disturbed Lukaku heavily, Tomori who subbed Kjær suddenly due to the latter's injury but did very well despite the fact that it was his first ever match with an Italian team, Kessié who was able to use his physical strength in the best of ways to win almost all duels in midfield and defence, and Leão who entered this match with a clear determination to do well and he was focused and disturbed Inter defenders with his pace and fast dribbles.
Also, the latter had some good chemistry with Hernandez and we saw many passing combinations between the two on the left-wing which were either finished by a Hernandez cross to the box or with a pass to Ibrahimović who usually exposes himself well to receive the ball. One great example of this happened on the very first minute of the match when Leão and Hernandez exchanged passes and then the latter passed to Ibrahimović who was surrounded by Inter players and chose to make a back-heel pass to Leão who was completely free just behind him. But unfortunately for Milan, Leão's shot went inches away from the goal and Milan missed an early goalscoring chance.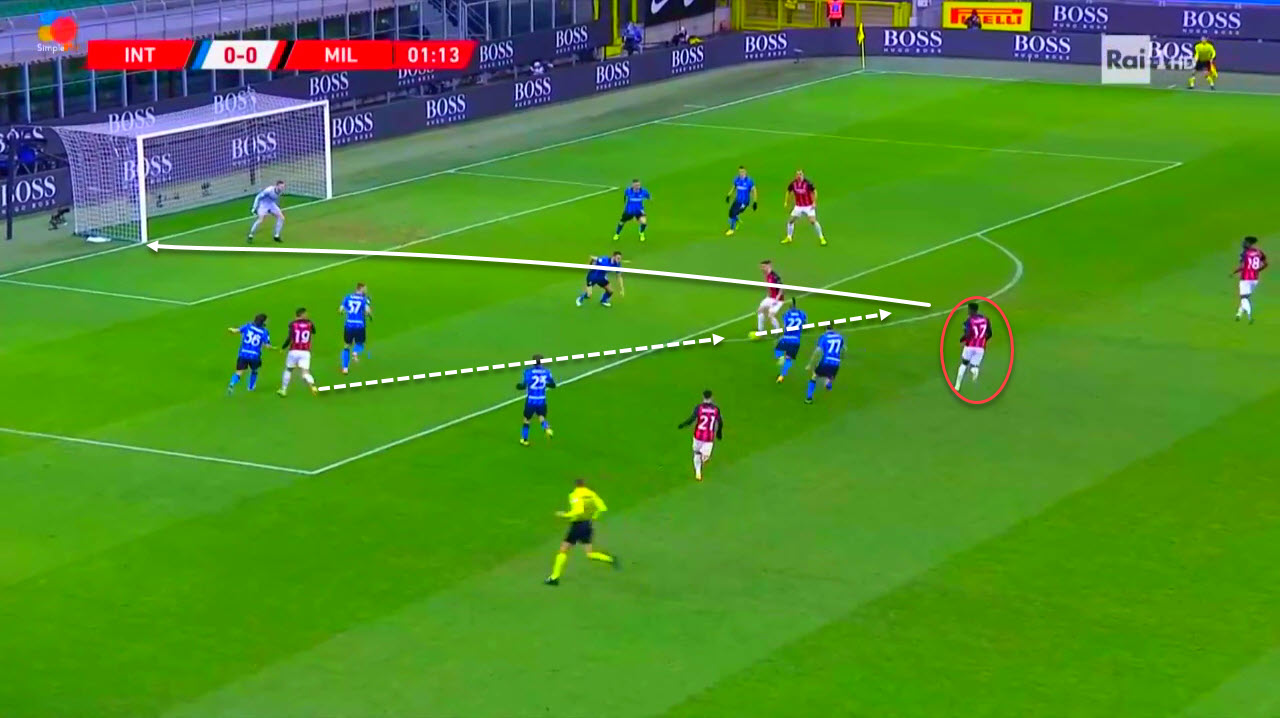 In the second-half however, the match changed completely especially following Ibrahimović's debatable red card which obliged Milan to play defensive football for the rest of the match with a 4-4-1 formation and subbing Rebić in the place of Díaz to play as a false nine. However, not only Milan were unable to advance and create something upfront due to Inter's pressing and numerical superiority, but even when Milan had some few opportunities, Rebić lost the ball easily most of the time.
And it should be said that since his last injury, Rebić is still trying to perform like he did last year but for the moment, we are only seeing the ghost of Rebić on the field. Another negative point in yesterday's match was Soualiho Meïté's performance. The French player was not able to help Kessié in midfield as he was often lost both in defence and in the transition phase. It is true that he is still adapting.
Yet, there is a minimum of things that any player should succeed at doing, such as protecting the ball when being pressed and not giving it away easily. It is understandable however that his movements are neither dynamic nor smart since he is still getting used to Milan's tactics and he needs some more time to get accustomed to these things.
Nevertheless, committing a foul after losing the ball to Lautaro Martínez and failing to cover the ball with his body, costed Milan the elimination from Coppa Italia following a beautiful free-kick scored by Christian Eriksen. Also, we should say that Ibrahimović's red card played a huge part in turning things upside down for Milan. Otherwise, we could have seen an even more competitive match that most probably would have finished after resorting to extra-time or even penalty shootouts.
And for now, the focus will be on the next Saturday's encounter against Bologna in Serie A while knowing that the next Serie A derby which will be in February, will surely be even more important, more competitive and more exciting to play and watch. Who knows, maybe this elimination from Coppa Italia will give the team even more determination to do better in Serie A and in Europa League while conserving energies.