Milan Women went to Sassuolo to play the first-leg of the Coppa Italia quarter-final before hosting San Marino next Sunday in a Serie A Women match.
The game ended with a 1-1 draw and we can say that the result was frustrating but not too bad given that scoring an away goal will be valuable in the second-leg in which Milan will have the advantage and will look to conserve their lead on aggregate score.
Also, when considering that they faced the third team in the standings, it makes sense to draw against these kinds of strong teams even though Milan had the capability of scoring more goals. However, it also should be said that Milan should have done better and could have scored more goals in this match to play the second-leg while having a more comfortable advantage.
Maurizio Ganz chose to play according to his usual 3-5-2 formation with a partial turn-over since he relied on Mária Korenčiová as a goalkeeper, Laura Fusetti, Laura Agard and Francesca Vitale in defence, a midfield composed of 5 players: Valentina Bergamaschi, Dominika Čonč, Julia Simic, Verónica Boquete, Federica Rizza, and in attack, Milan played with the usual attacking duo, Valentina Giacinti and Natasha Dowie.
On the other side, Gianpiero Piovani, Sassuolo's manager, played with a 4-3-1-2 formation that consisted of Diede Lemey as a goalkeeper, Martina Lenzini, Maria Filangeri, Benedetta Orsi, Davina Philtjens in defence, Erika Santoro, Benedetta Brignoli, Mana Mihashi in midfield, and Kamila Dubcová as an advanced playmaker behind the two strikers, Valeria Monterubbiano and Valeria Pirone.
Sassuolo started the match by threatening Korenčiová with a strong header from Pirone after an accurate cross from Brignoli. And as you can see below, Pirone was heading to the penalty box to receive the ball and Bergamaschi did not mark her tightly and was just standing behind her instead of standing in front of her and wait for her inside the box to not let her accelerate and become free of marking in a dangerous area.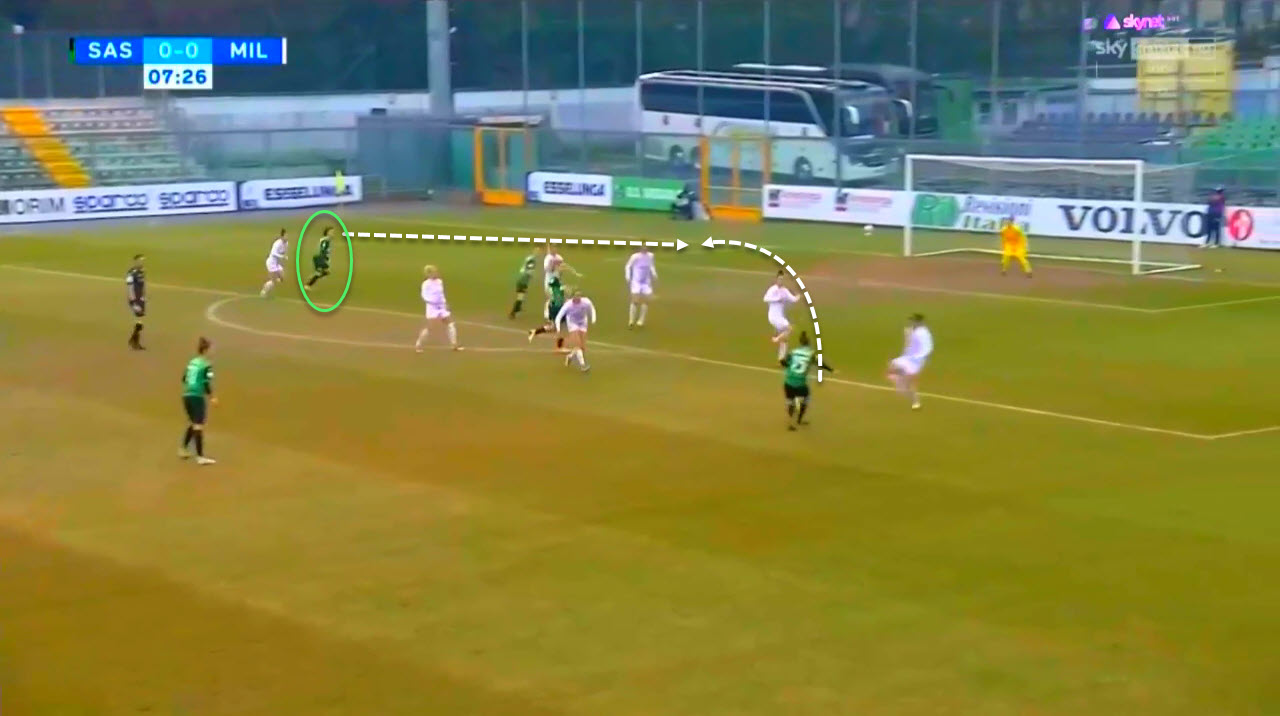 Yet, Milan soon started to have more possession and threaten Sassuolo's goalk continuously through free-kicks, corners and crosses from both wings. However, at severel times, Milan's players shots were either too weak or out of target. Milan also reached the final third constantly but failed to create something tangible since Sassuolo defended with all their players and waited to intercept the ball to launch counter-attacks, and what made their defending tasks easier was Milan's slow build-up from the back which allowed Sassuolo to organise their defending lines and wait for Milan to advance.
Milan's danger came mainly from the right-wing thanks to Bergamaschi's pace and crosses which resulted most of the time in corners, however, Giacinti and Dowie were always tightly marked and all what they were able to do was mainly backward or horizontal passes.
And at the same time, Sassuolo exploited this determination to score from Milan since the Rossonere attacked with almost all their players, and launched dangerous counter-attacks that could have been scored, like this one in which Sassuolo had numerical superiority but luckily for Milan Monterubbiano did not hit the ball to the right direction and Korenčiová was able to save it.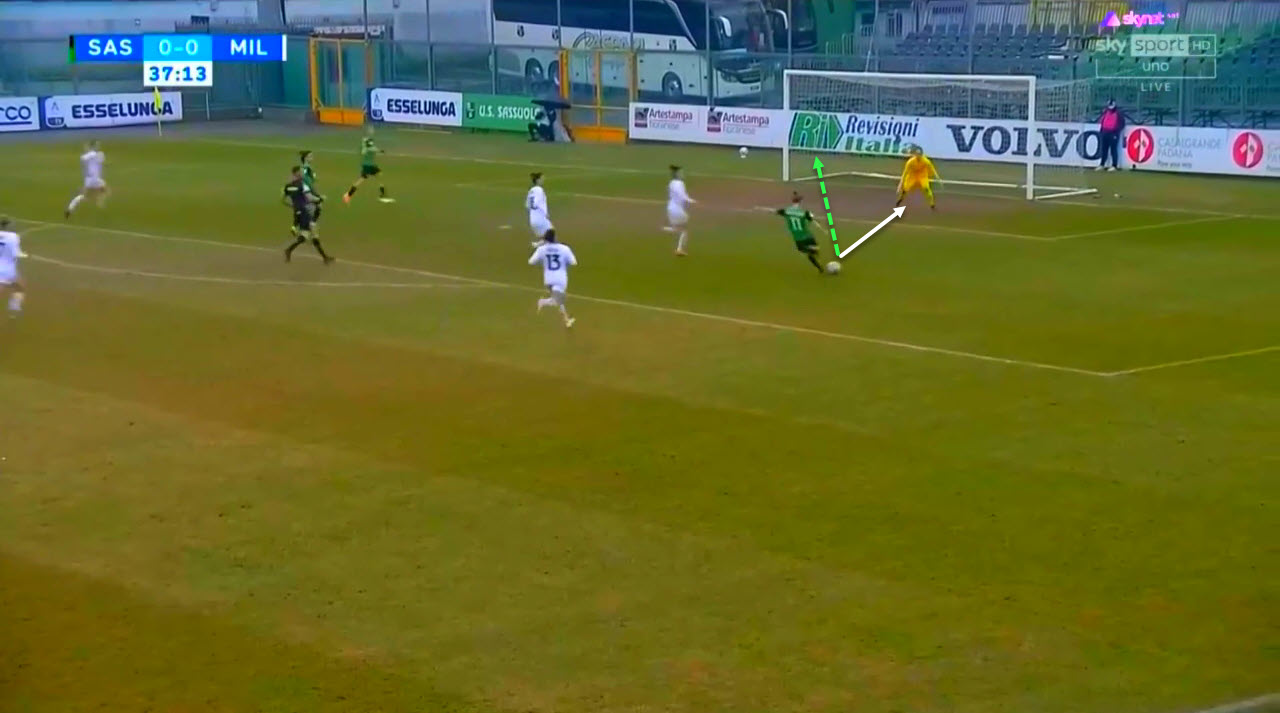 Milan continued their attacking attempts and we saw Dowie and Giacinti moving faster and trying their best to get away from their markers. At numerous times, Boquete saw their movements and crossed the ball in their direction but Sassuolo defenders had the advantage in most of the chances while Giacinti and Dowie were not able to oblige them into committing fouls near the box at least.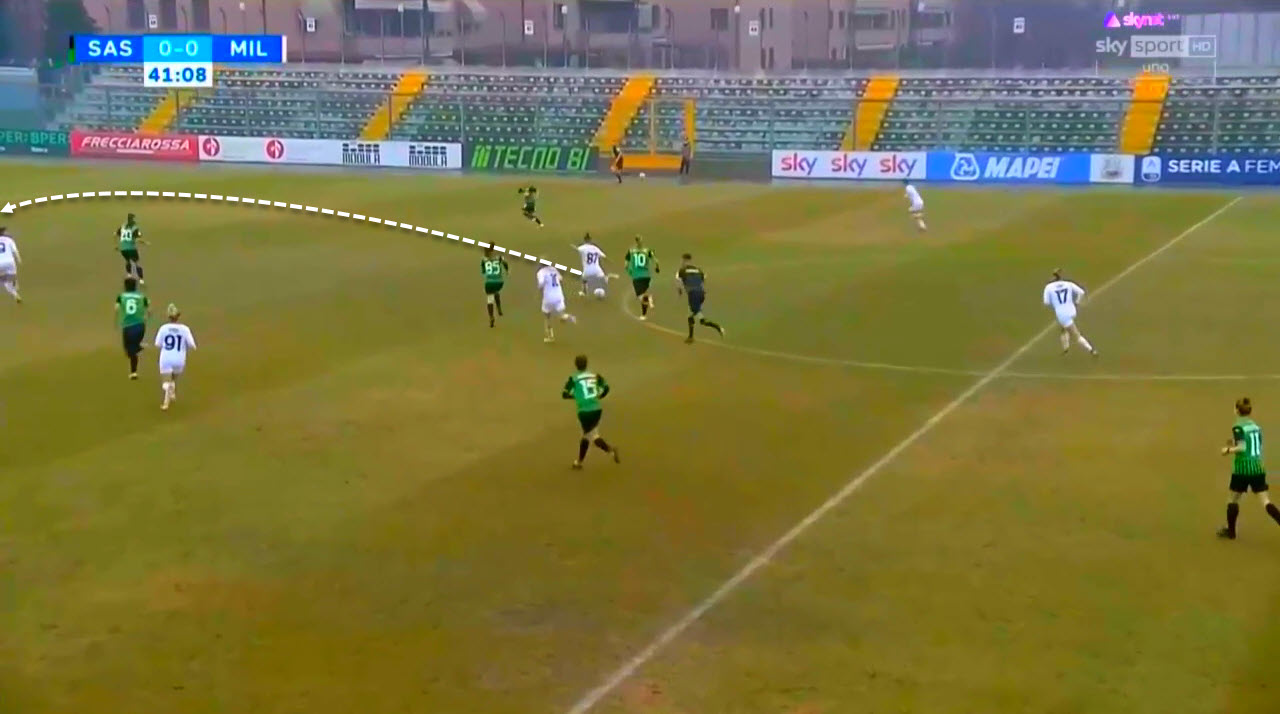 Two minutes later, Boquete made a through pass for Giacinti once again but in this time the latter was more prepared to shoot and surprised her marker by shooting as soon as she received the ball without controlling it, scoring the first goal of the match for Milan just a few minutes before half-time, after an attack made of just two touches.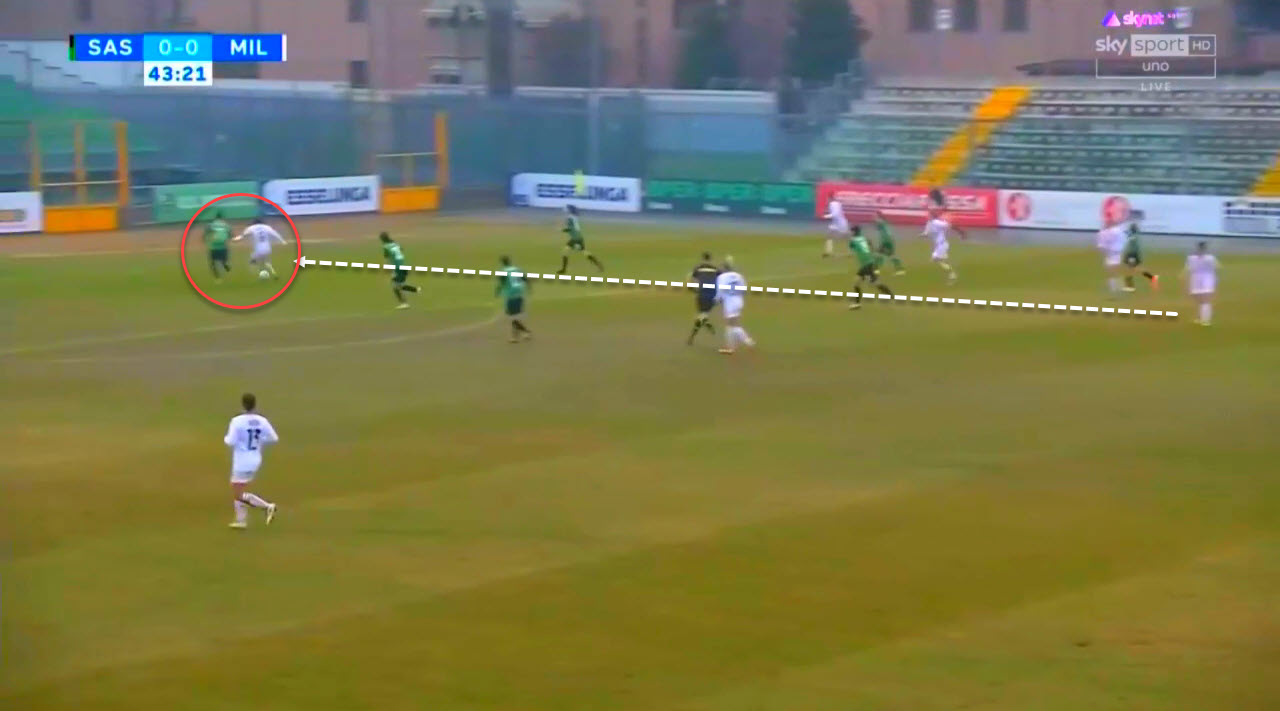 In the second-half, things changed and Sassuolo became the team who looked hungrier to score while Milan dropped their defensive bloc and relied on counter-attack to add a second goal. Also, the same passing combination happened between Boquete and Giacinti in attack and most of Milan's dangerous attacks were born from the feet of the Spanish player.
In this counter-attack, the chemistry between the two was more obvious since Boquete sensed Giacinti's intention and made a through pass in her running direction. Yet, Sassuolo's defender was intelligent as well and was able to run faster than Giacinti and intercept the ball.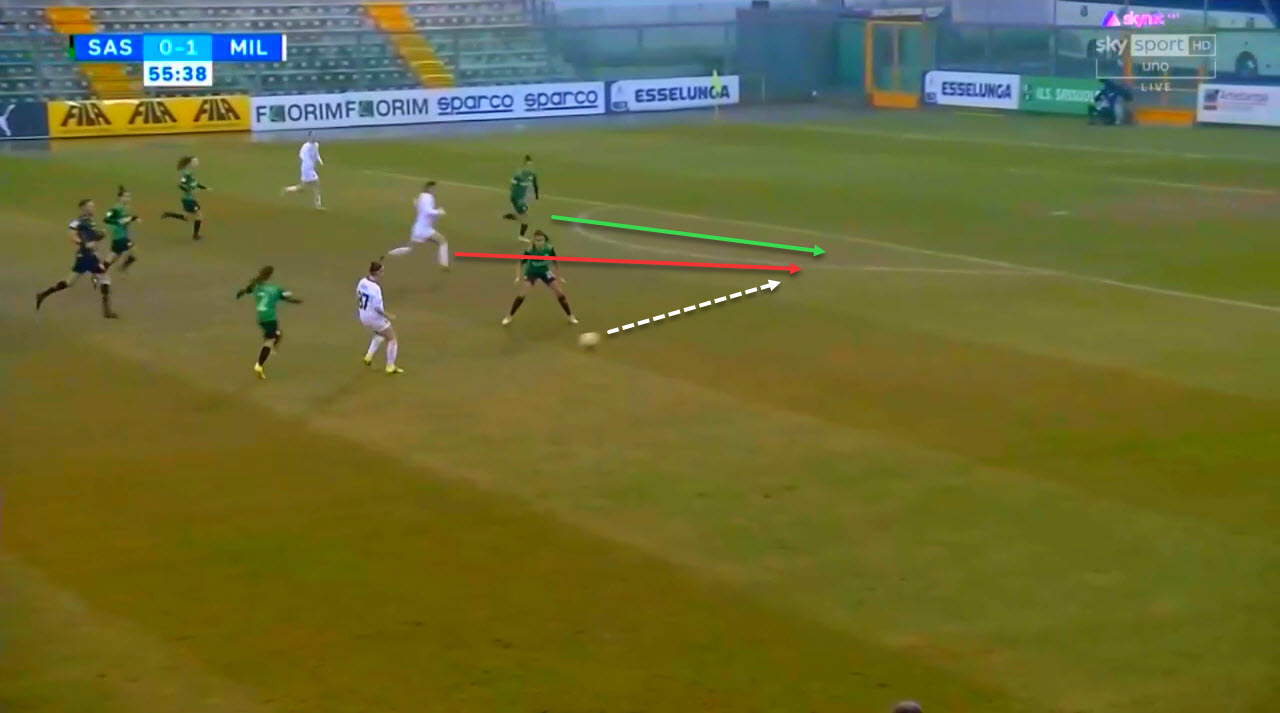 Following this chance, the match was more balanced and no concrete chances were created from both sides even though Sassuolo were trying to equalise. And on the 72th minute, Milan missed the chance of the match when in a counter-attack, Bergamaschi made a through pass into space to Giacinti who asked for the ball, and the latter passed it intelligently to Christy Grimshaw who was coming from behind, instead of shooting. However, the latter missed a very easy goalscoring chance and shot the ball just near the post, giving hope for Sassuolo to get back in the game.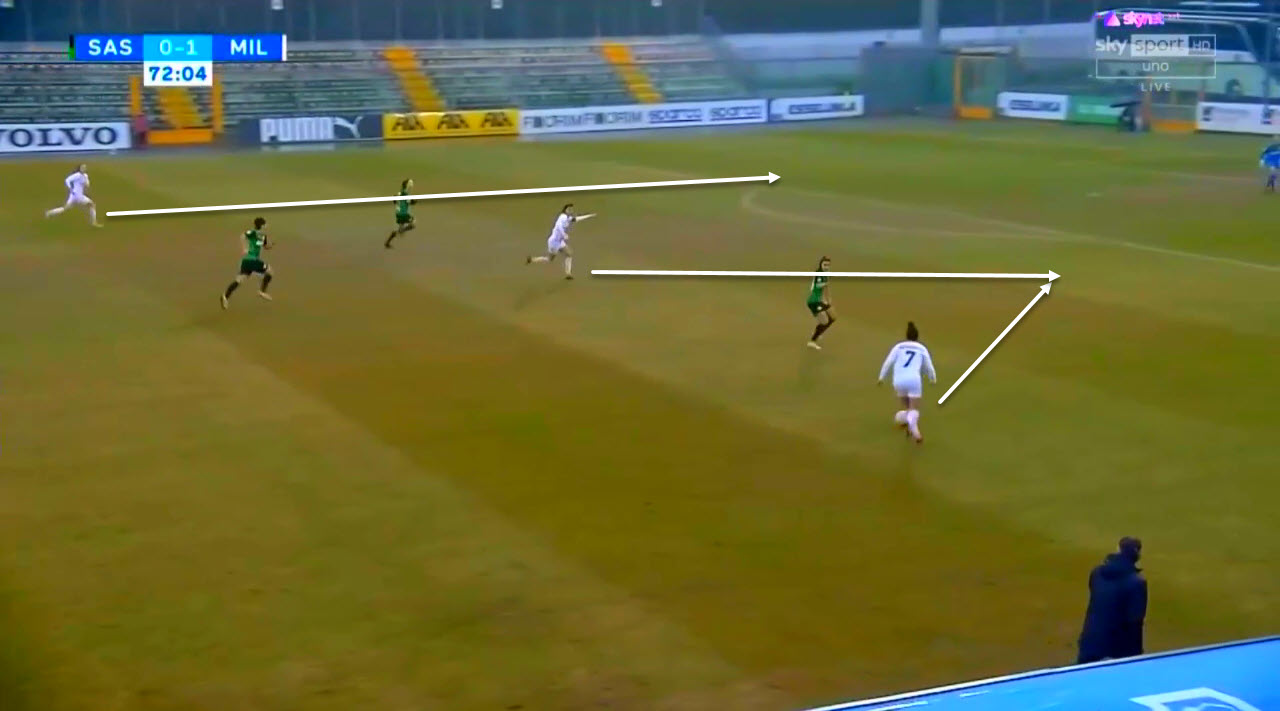 And that's exactly what happened following this chance since Sassuolo started attacking with more numbers and missed a few chances like Pirone's header, Haley Bugeja's shot, Philtjens's shot and Michela Cambiaghi's header, before succeeding in scoring the equaliser due to a marking mistake from Milan's defenders who let Philtjens alone in the box in a one-on-one situation with Korenčiová.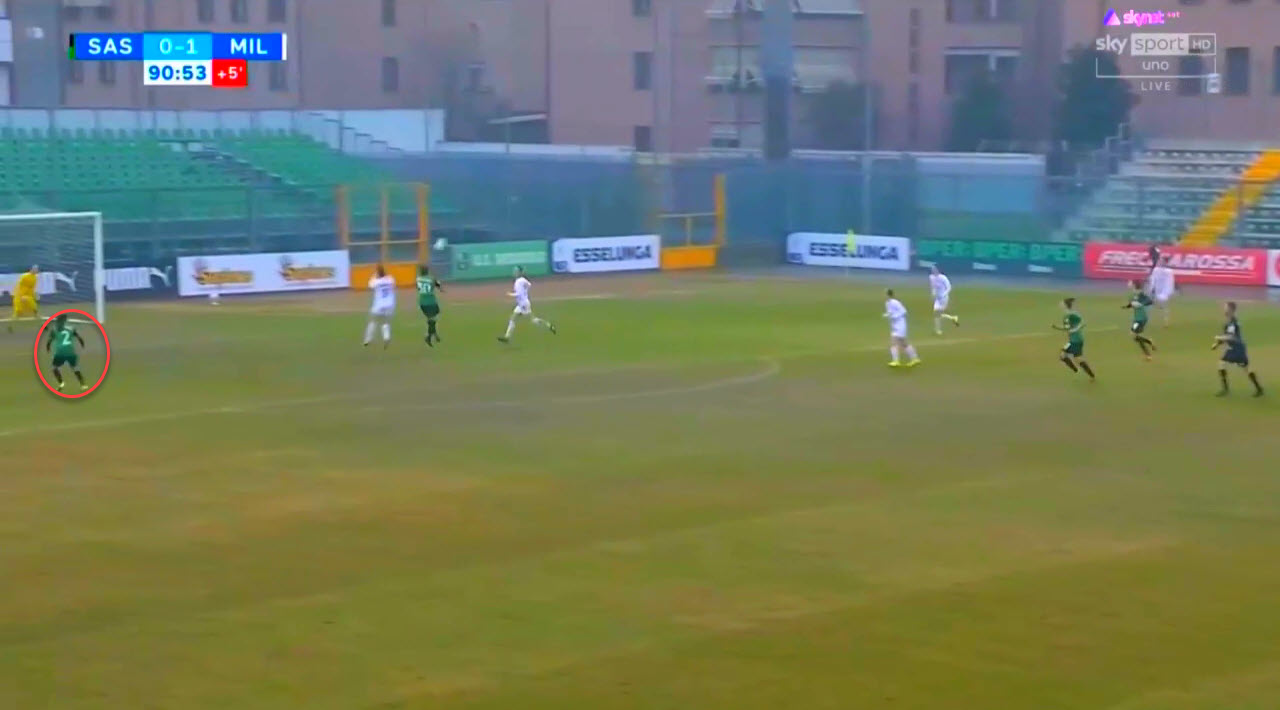 Milan however still have the advantage over Sassuolo thanks to that away goal, but they will need to be more solid at the back and more decisive upfront if they want to reach the final of this competition. In the meanwhile, the team now will focus on their next match against San Marino before thinking about the second-leg of Coppa Italia.