Milan received Crotone at San Siro on Sunday after knowing that Inter won on Friday at Fiorentina and took the lead of Serie A momentarily with one point ahead of Milan, who had an obligation to win in order to remain at the top of the league. A win against Crotone was so important also because after this game Milan will have a long run of difficult matches each three or four days.
This will begin against Spezia in an away game, then there will be two Europa League encounters against Crvena Zvezda and in between, Milan will face Inter in the Derby della Madonnina which will be very important. Following these games, Milan will head to Roma to play against the Giallorossi. Therefore, winning against Crotone and Spezia is fundamental for the team in order to not lose precious points ahead of a period packed with difficult matches.
At the end of the day, Milan won 4-0 against Crotone and took the lead of Serie A once again with 2 points ahead of Inter, 7 points ahead of Juventus (who are yet to play a delayed match against Napoli), and 9 points ahead of Roma and Lazio. This means that Milan are making tangible progress towards reaching their most important goal of the season, which is obviously qualifying for the UEFA Champions League for the first time since the 2013-2014 season.
Stefano Pioli had Hakan Çalhanoğlu and Matteo Gabbia finally back with the squad and at his disposal however Ismaël Bennacer, Sandro Tonali, Simon Kjær and Brahim Díaz were all absent in this game due to injuries and sickness. Crotone as well had some important absences but played this game with full determination to resist Milan's attacks and they were able to make life harder for Milan players especially in the first-half.
Milan played according to the usual 4-2-3-1 formation with Gianluigi Donnarumma as a goalkeeper, Davide Calabria, Fikayo Tomori, Alessio Romagnoli and Theo Hernandez in defence, Soualiho Meïté and Franck Kessié as central midfielders, Alexis Saelemaekers and Ante Rebić as wingers while Rafael Leão played as a trequartista behind Zlatan Ibrahimović, the team's striker.
On the other side, Giovanni Stroppa started the match with a 3-5-2 formation relying on Alex Cordaz as a goalkeeper, Koffi Djidji, Vladimir Golemić and Sebastiano Luperto as centre-backs, Pedro Pereira and Andrea Rispoli as wingers, Niccolò Zanellato, Ahmad Benali and Miloš Vulić in midfield, while Samuel Di Carmine and Adam Ounas formed the attacking duo.
The game started with Milan trying to win duels and advance as soon as possible, however they faced a very organised opponent with no fear of losing the ball in the build-up phase. To put it right, Crotone's build-up phase was excellent thanks to talented midfielders like Benali, Zanellato and with the help of wingers/defenders as well. This, along with their quick and accurate short passes enabled them to reach the final third of Milan so often in the first-half and to get numerous opportunities.
The large part of these opportunities came from Ounas' individual skills since the former Napoli player was very dynamic in this match and threatened Donnarumma various times after winning in his duels with Hernandez and Romagnoli at times. Also, the fact that he was allowed far too much space in the final third made him able to shoot easily without being pressed or disturbed, just like in this action.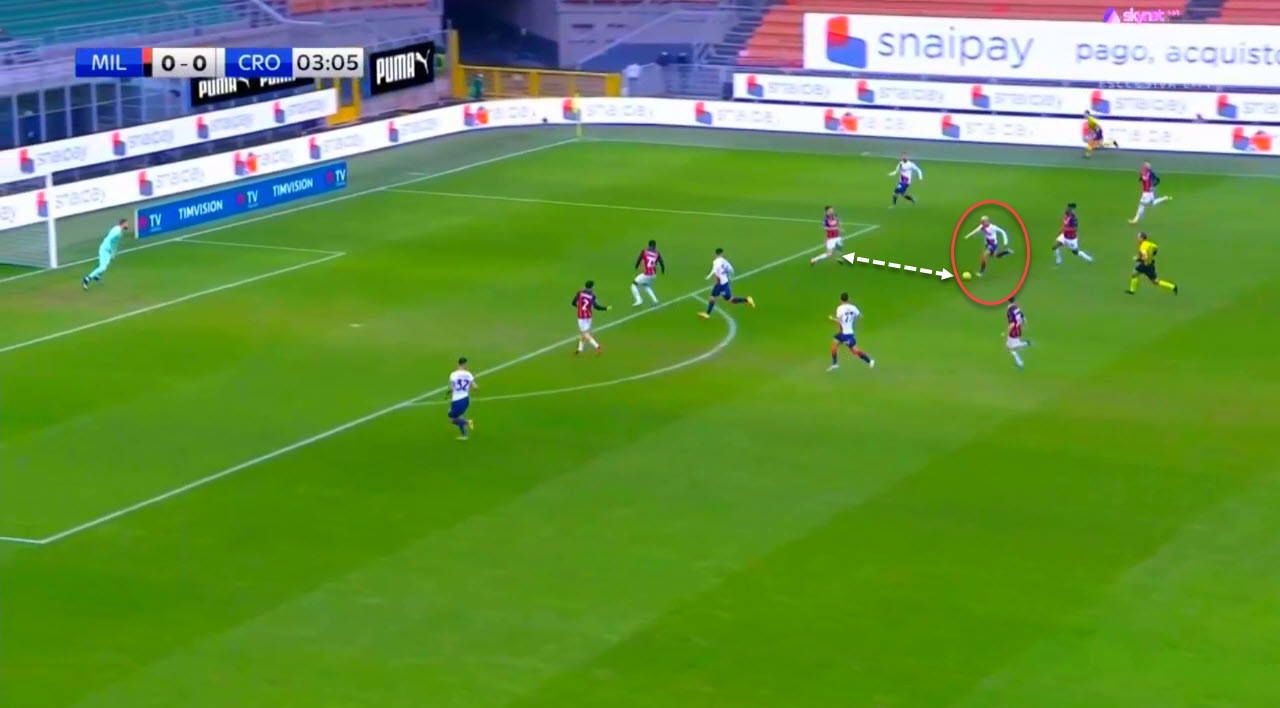 At the 8th minute, the same player was able to dribble past Rebić and launch an accurate shot which Donnarumma saved with difficulty, to prevent Milan from a complex scenario. At the same time however, Milan tried to attack with numbers and had a canceled goal at the 5th minute due to Ibrahimović's offside position in the following action.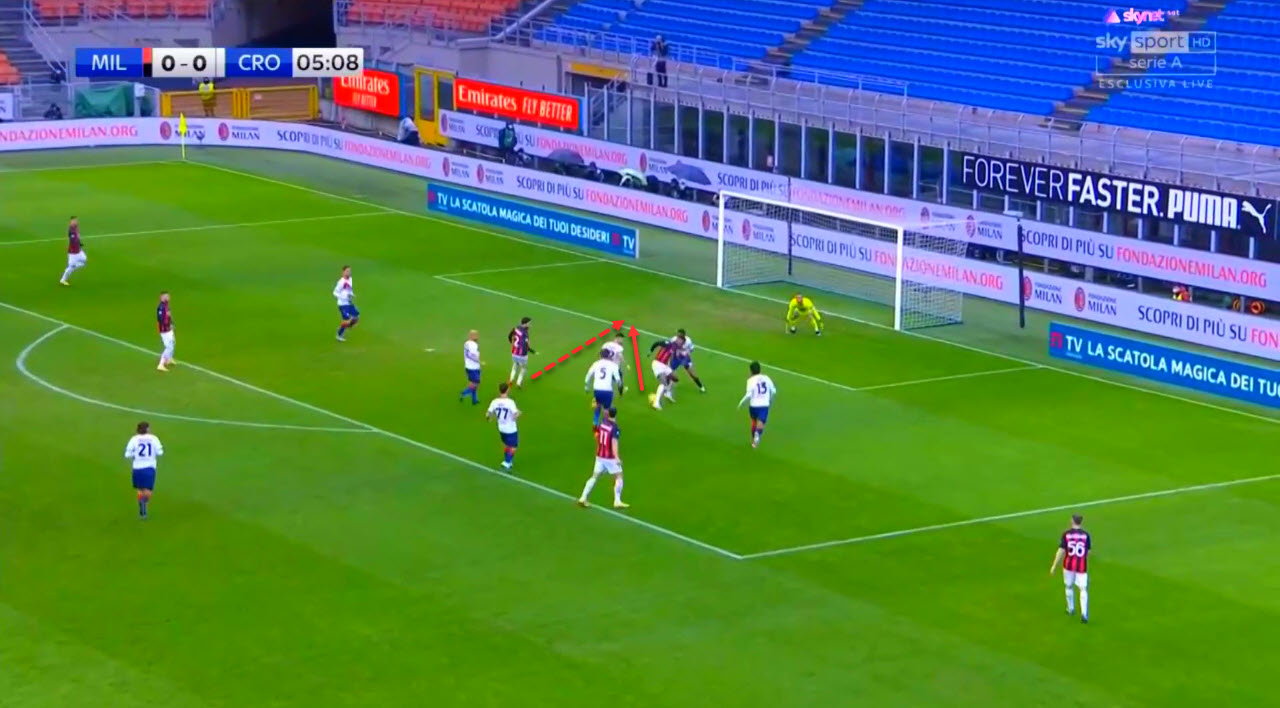 It was an action in which Calabria joined the attack, passed to Ibrahimović, who directly gave the ball to Leão in a dangerous position, and the latter did something that Crotone's defenders did not expect, a back-heel pass in the direction of Calabria who was coming from the back. It was a beautiful action that ended with a goal, but it was cancelled due to the initial offside.
Milan continued their high pressing but they faced a team that knew how to escape it, and once again, Crotone players were able to create dangerous opportunities like this one following a cross from Rispoli and a header from Di Carmine that went just near the post and could have been a goal.
What is worth noting here, is that despite Tomori's excellent defensive performances in the few matches he played with Milan, including this match against Crotone, he needs to be more attentive in this kind of situations and try to not leave an opponent at his back and away from him. That's because in modern football, in the second that you leave a player alone, he can receive a pass at any second, especially when you face talented/experienced forwards who move a lot inside the box, just like what happened in this action.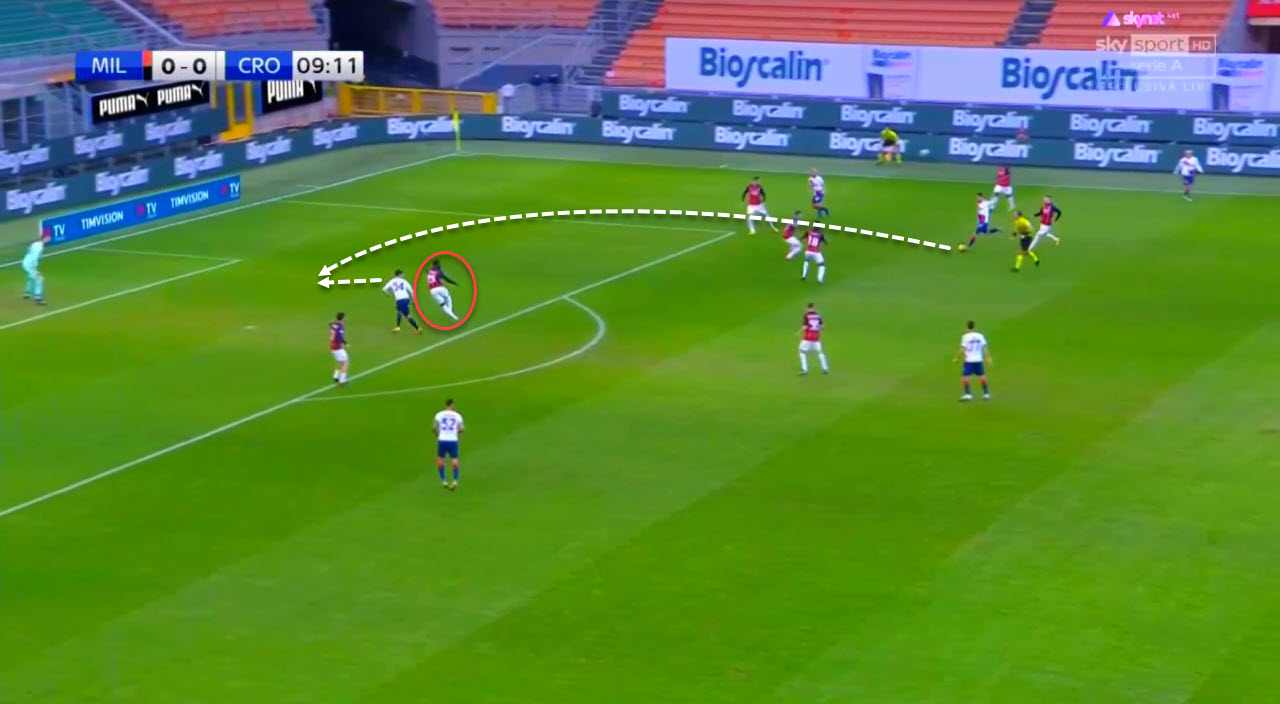 Milan's attacking options in this match were many, and one of these weapons was Hernandez's accelerations and penetrations which disturbed Crotone's defence and enabled the other Milan players to get a lot of free space since the French player often gets with him many opponents. In other words, Hernandez's accelerations enabled the other Milan players to move freely in the final third since almost all players had their attention on Hernandez's run.
In many instances, they tried to surround him in order to prevent him from shooting or passing. However, that facilitated Milan's actions even further since when Hernandez got surrounded with players, he always found a free Milan player to pass to, just like in this action in which Hernandez had 4 Crotone players triying to mark him while leaving Leão unmarked on the left-wing.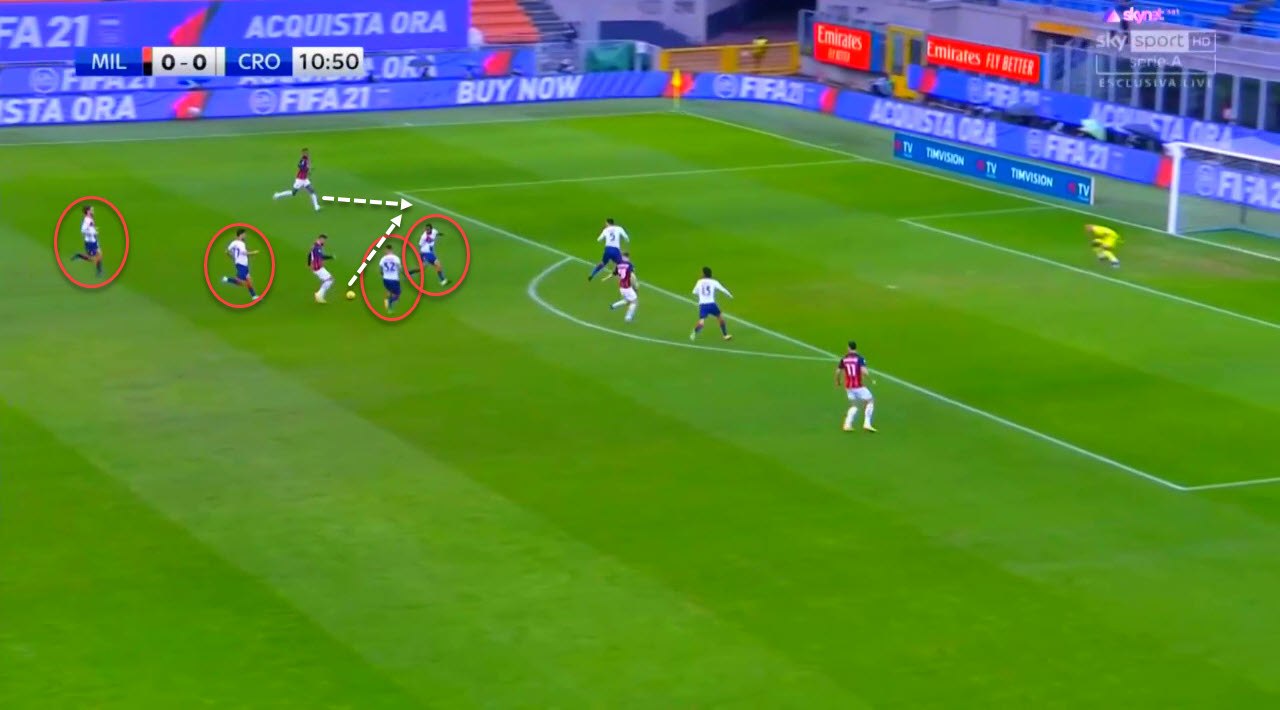 Following some other missed Milan actions, Ibrahimović was able to score his 500th club goal following a beautiful one-two with Leão. It was an action that not only showed that the Swedish still has the quality of finishing needed even at 39 years old, but it also consolidated the fact that Leão adapted very well to his new advanced playmaker role in the absence of Hakan Çalhanoğlu, since he gave an outstanding but very difficult assist between Crotone's players and with the right power in the direction of Ibrahimović's intelligent movement.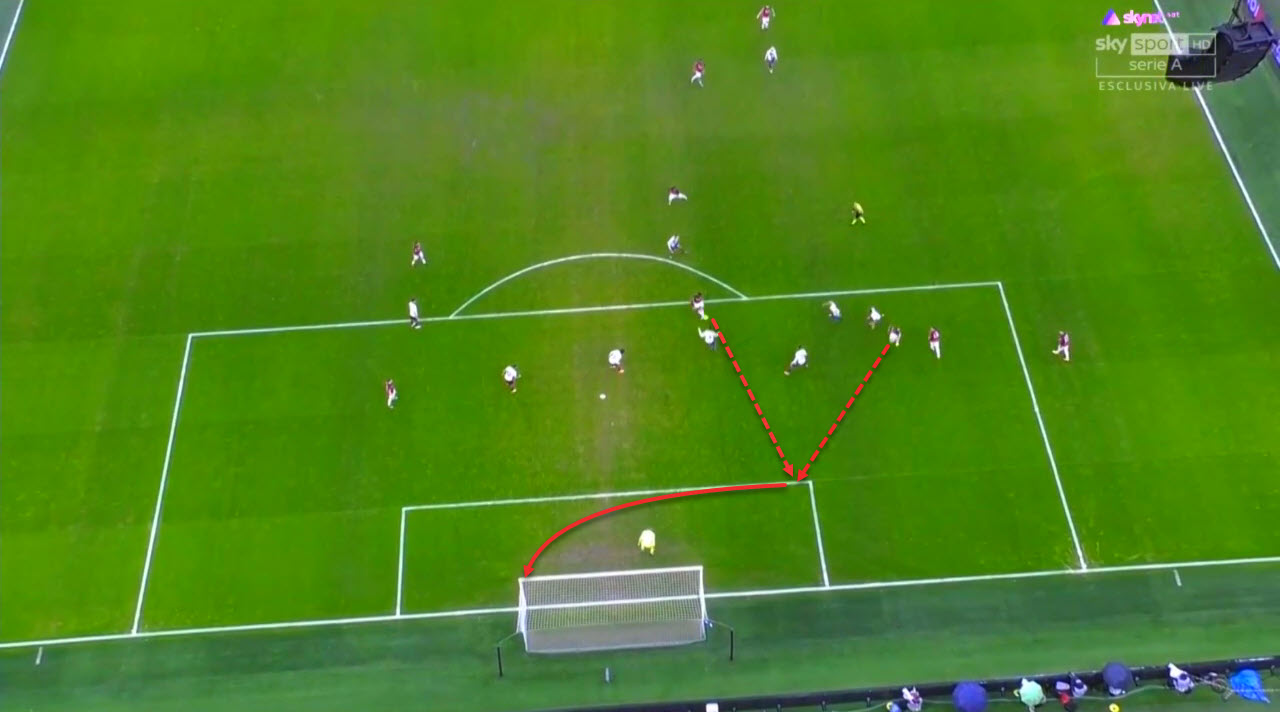 After this goal, and starting from the second-half, the match became easier for Milan since Crotone lost a large part of their confidence and concentration, and started making mistakes while Milan came back with more determination to finish the match with a win. And this was clear especially after the entrance of Çalhanoğlu who gave more dynamism and balance in attack. And in this half, Crotone tried to attack with more numbers in order to equalise, and Milan exploited the space that Crotone left in defence with quick counter-attacks.
The second-goal however came after playing a throw-in in a quick and efficient way by Hernandez and Rebić and then the French passed to Ibrahimović who was totally unmarked, and that was Crotone's fatal defensive mistake. Leaving a striker alone in the box is a really dangerous mistake and Crotone paid its price.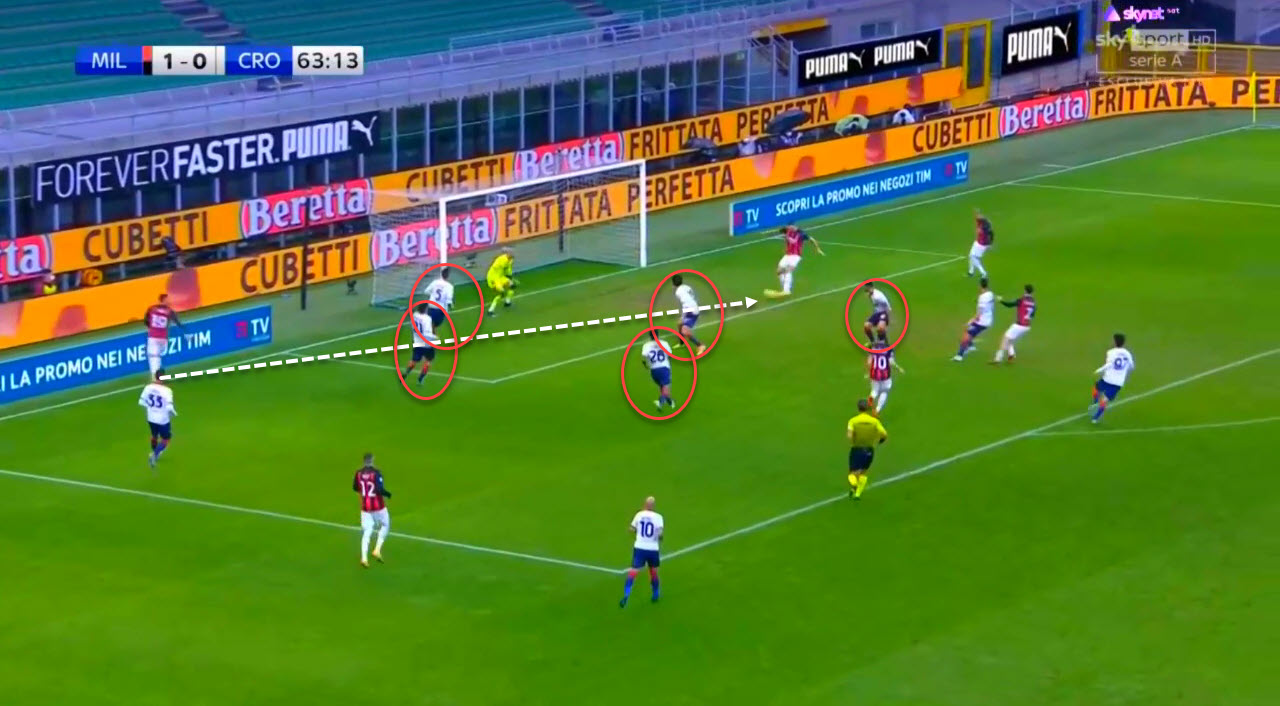 Rebić was also able to score two goals in this match, the first with a header that followed Çalhanoğlu's corner. And then, following another Ibrahimović shot, the ball bounced back near Çalhanoğlu who saw Rebić alone and gave him an assist to score a half-volley goal, as you can see below.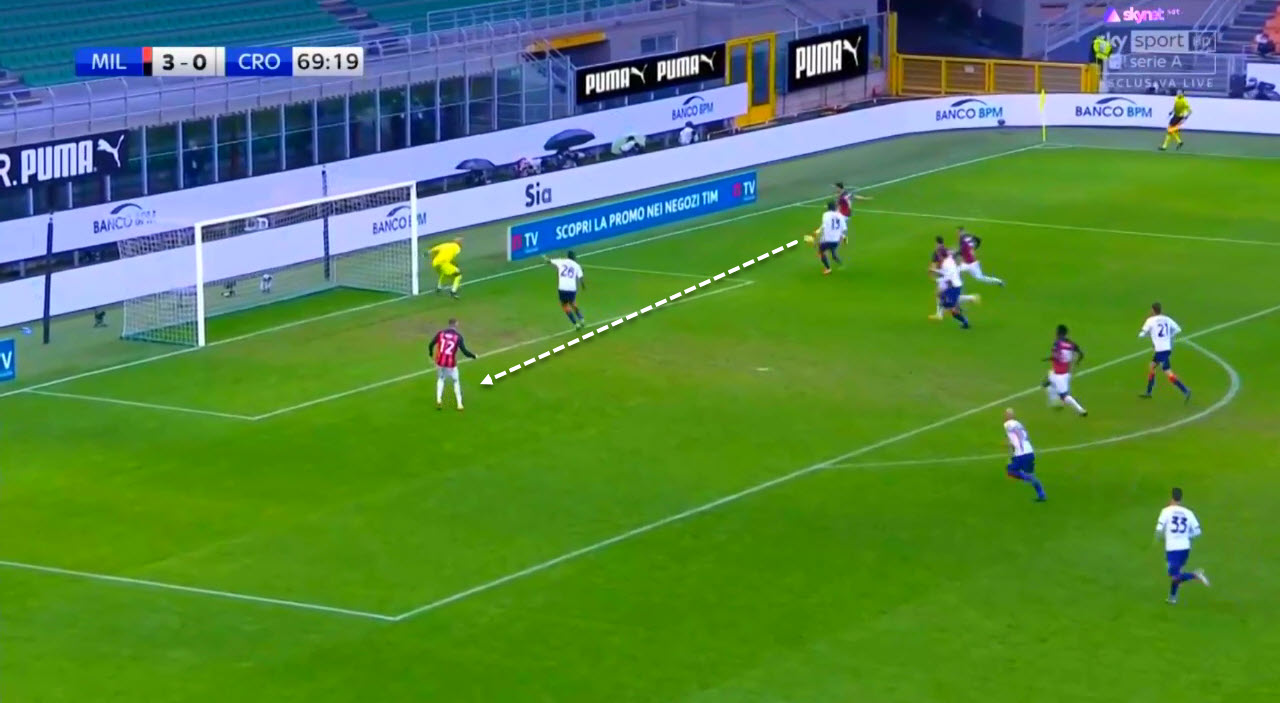 Milan were able to win this match 4-0 with merit, and they are now looking forward to their upcoming match at Spezia which will not be as easy as expected by many followers of the game. Therefore, Milan will need to prepare seriously for this game while hoping to have some of the absent players back as soon as possible, especially before the Derby and the Europa League fixtures.