Milan Women hosted San Marino in a Serie A fixture that witnessed a Juventus Women win over Empoli on Saturday which made it even more necessary for Milan to win in their encounter in order to keep chasing their direct opponents and to further consolidate their second position in the league.
Milan won 4-1 thanks to a solid attacking performance from the team especially after conceding Empoli's sole goal. And this win enabled Milan to have 36 points following this 13th fixture, three points away from the Bianconere, and eight points ahead of Sassuolo, the third place holders.
Maurizio Ganz chose to start this match with a 3-5-2 formation relying on Mária Korenčiová as a goalkeeper, Francesca Vitale, Laura Agard and Georgia Spinelli as centre-backs, Valentina Bergamaschi and Federica Rizza on the wings, Refiloe Jane as a defensive midfielder and Julia Simic and Verónica Boquete as central midfielders who usually support in the attacking phase. While in attack, Valentina Giacinti and Natasha Dowie played as strikers.
For the visitors, Alain Conte played according to a 4-1-4-1 formation with Gloria Ciccioli as a goalkeeper, Nika Babnik, Alessia Venturini, Shino Kunisawa and Martina Piazza in defence, Azzurra Corazzi, Viola Brambilla and Millie Chandarana in midfield, Yesica Menin and Karin Muya as wingers, and Fabiana Vecchione was the team's striker.
The game started with Milan automatically trying to attack with numbers and press on San Marino's defence in order to intercept the ball and oblige them into committing mistakes in a dangerous position. Also, the wet pitch was a factor that needed to be taken into consideration by both teams since it affected pass' speed and power and we saw many players falling into this trap especially in the first-half.
The first dangerous opportunity of the match however came at the 14th minute for Milan following Jane's cross to Dowie whose header went very close to the near post.
Yet, Milan did not slow down their rhythm and they continued their high pressing with Jane, Simic, and Boquete helping most of the time in this pressing, in order to intercept the ball in midfield at maximum and not give space for San Marino to neither build from the back nor find space to run or dribble. And Milan was most of the time successful in this approach since we did not see any clear dangerous opportunities for San Marino and they were not able to reach Milan's final third a lot.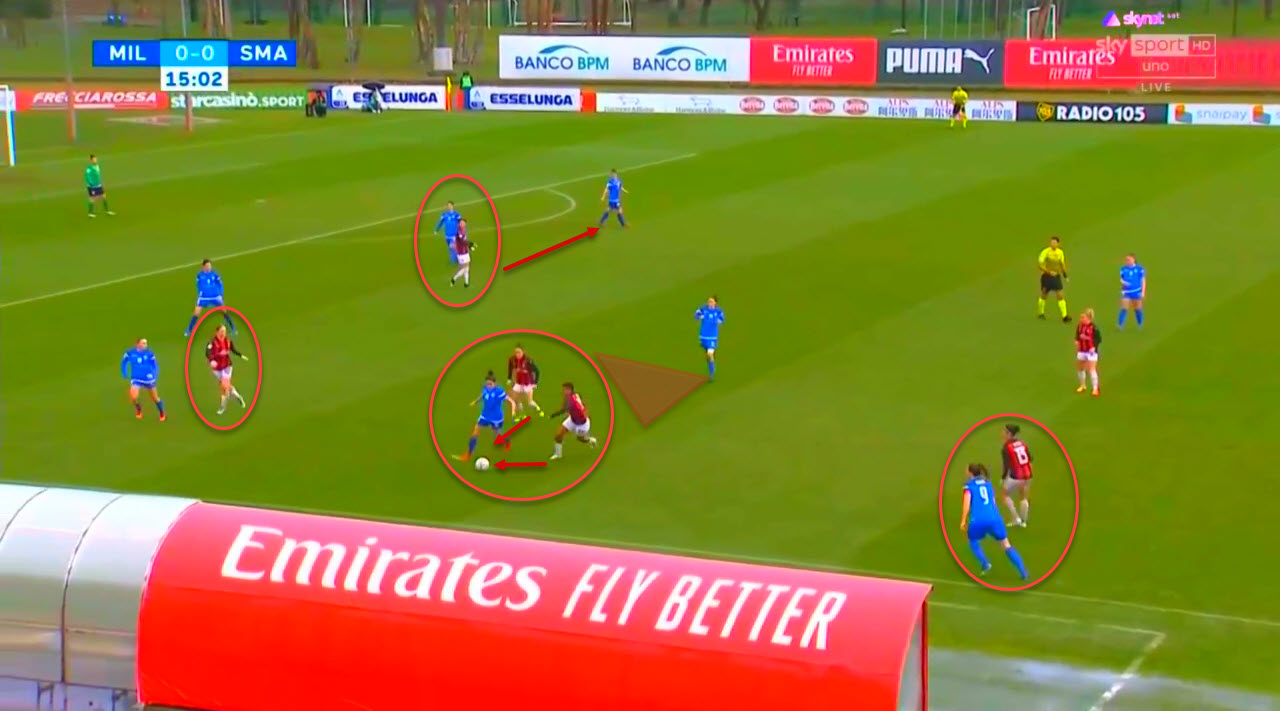 Milan then continued their attack mainly through Bergamaschi's penetrations on the right-wing and Simic and Boquete's movements between midfield and attack, since these two players were the ones who linked midfield to attack and made most of the through passes to Dowie and Giacinti who were always waiting inside the penalty box while fixing their markers. You can see in these examples how Boquete was fundamental in this regard by positioning herself in strategic spots and giving intelligent key passes to Dowie at times and to Giacinti at other times.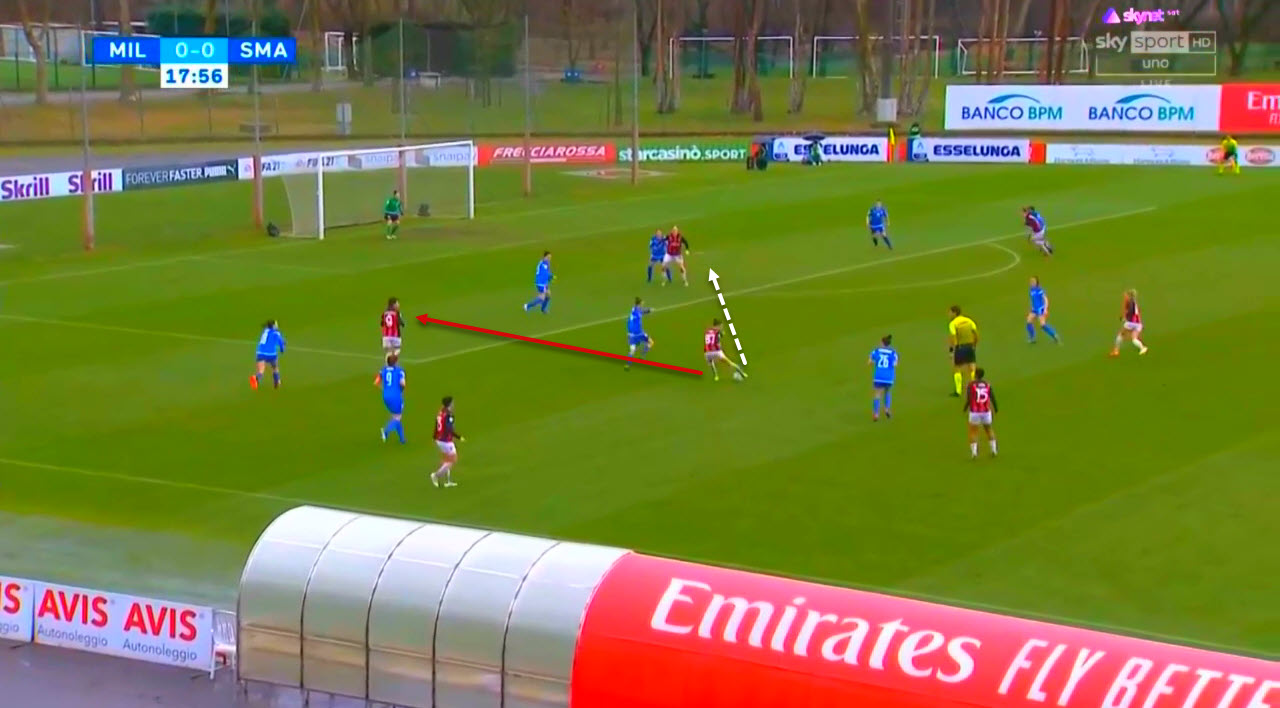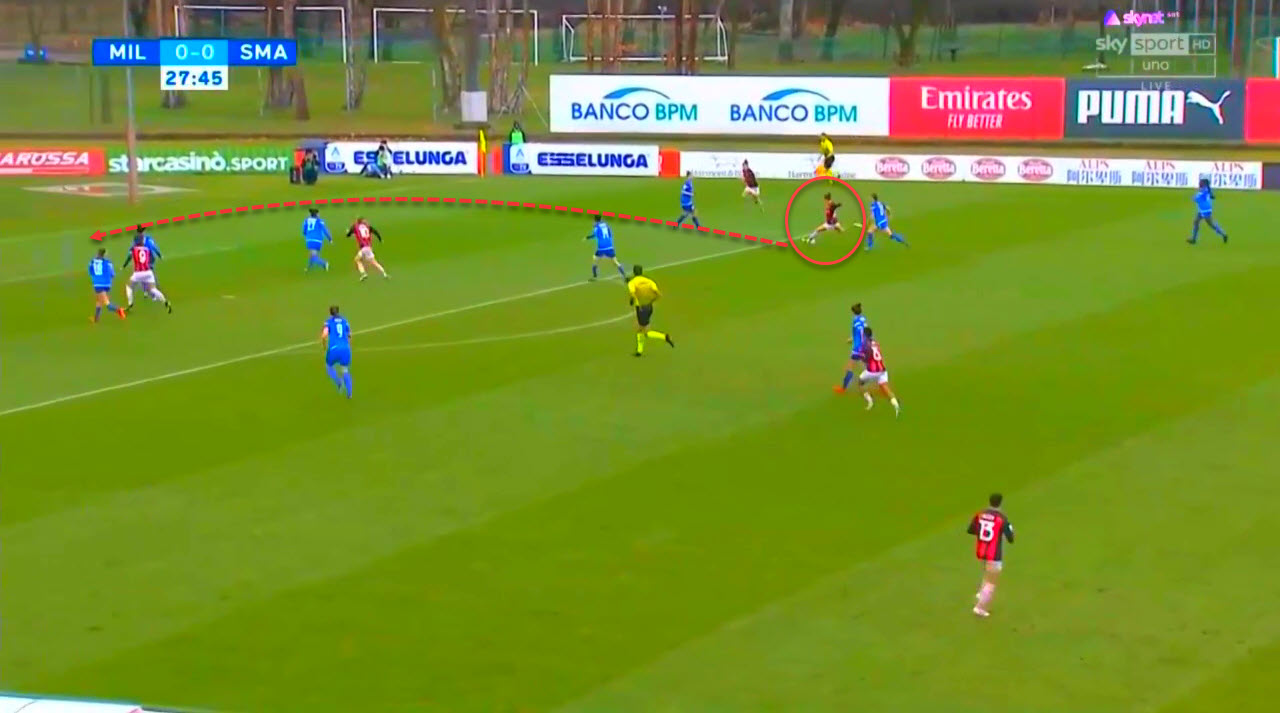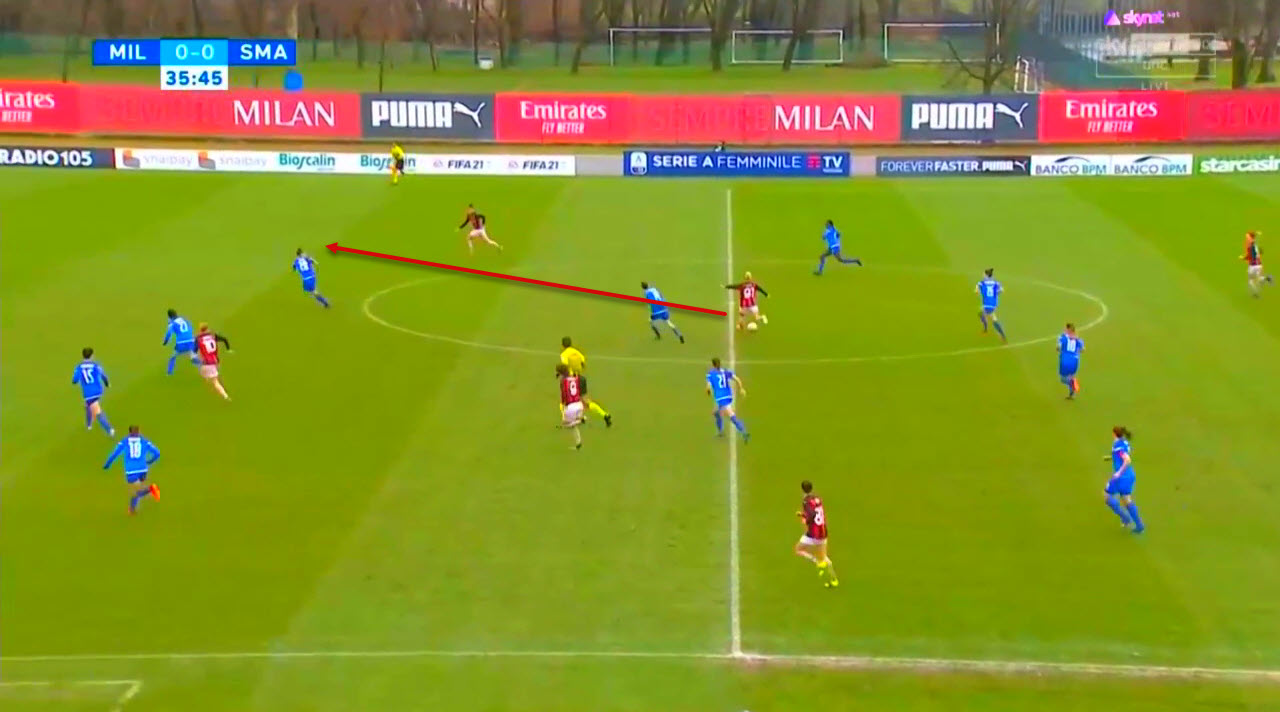 Also, the three centre-backs were fairly good at crossing the ball as soon as they saw movement at the back of San Marino's defenders and they helped a lot in the build-up, just like you can see here in this picture when Agard saw Bergamaschi's movement behind her marker. And therefore she gave her an accurate long-pass which allowed Bergamaschi to be in a one-on-one situation with the goalkeeper but she missed it, unfortunately for Milan.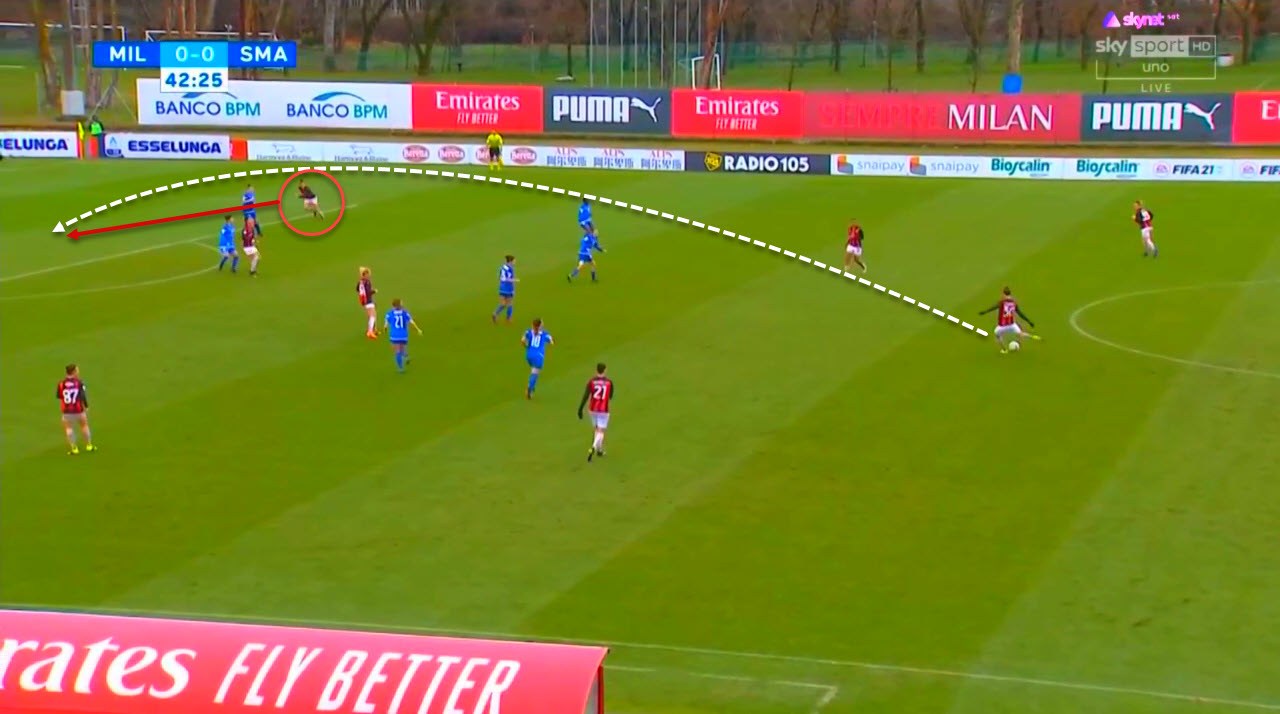 Despite all these chances however, Milan were not able to be crucial in front of the goal and Dowie, Giancinti, Bergamaschi and Simic missed the chances they had in this first-half, which is something they need to address and improve in the future if they want to compete with the big teams of Europe in the next few years especially in a big tournament like the UEFA Women's Champions League.
The beginning of the second-half however was not so fortunate for Milan since San Marino were awarded a penalty at the 48th minute following Vitale's foul on Menin, which Corazzi was able to score, putting Milan in a bad situation.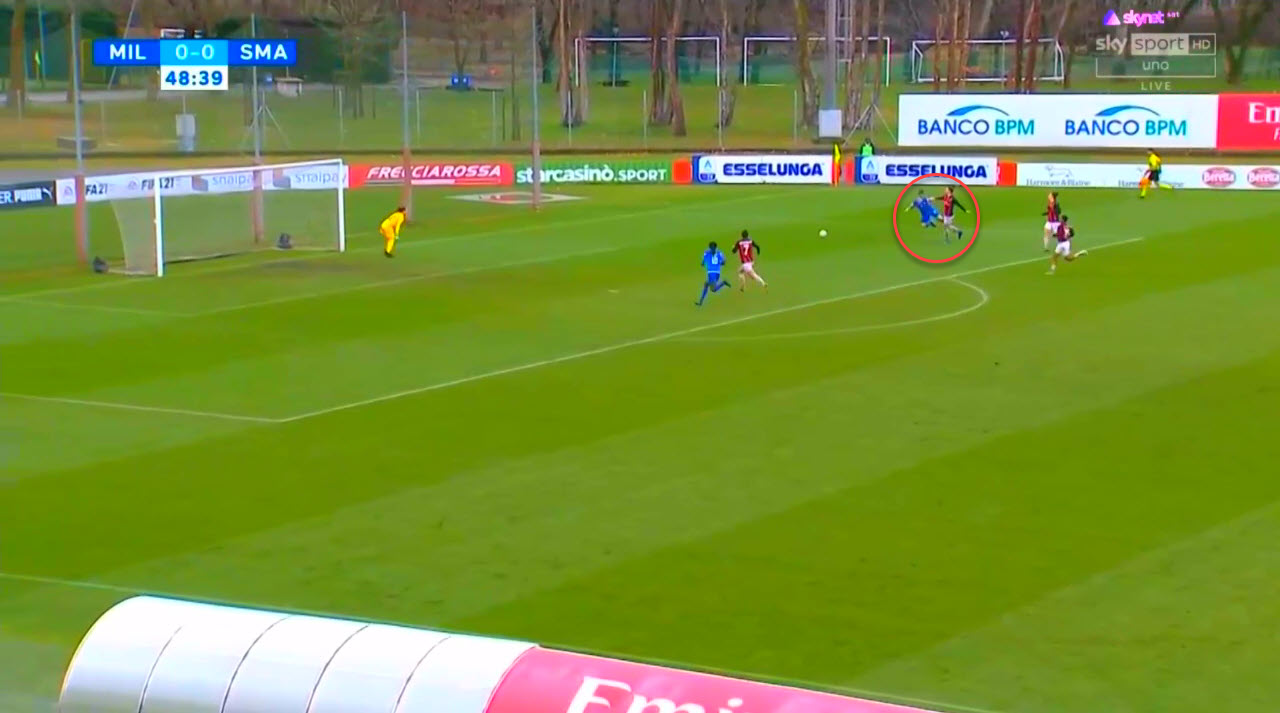 Milan tried to react immediately following this goal and after just two minutes Boquete hit the crossbar following Jane's cross to Dowie who was able to see Boquete moving freely inside the box and gave her a precious pass but the latter missed another big chance for Milan.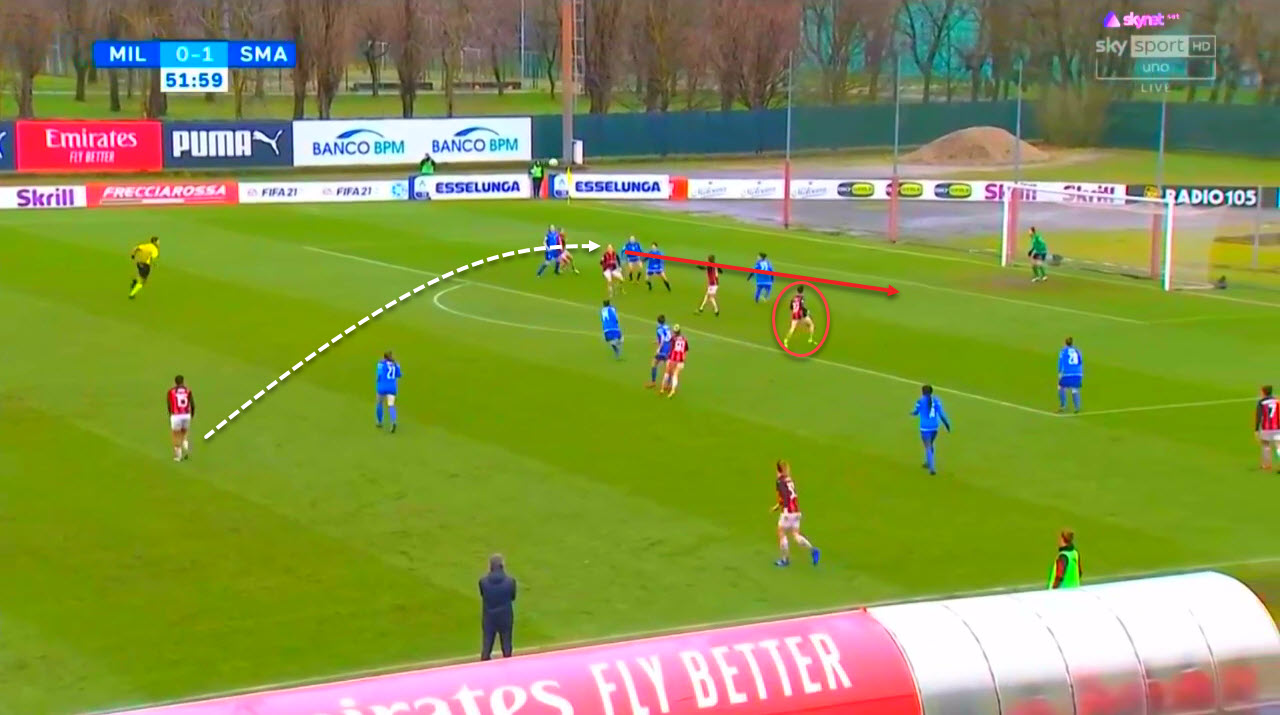 And then the equalising goal came at the 54th minute from the feet of Spinelli with a powerful shot from outside the box that confused San Marino's goalkeeper. And from that moment onwards, Milan got the confidence boost they needed and started attacking with more determination and with more numbers as well in order to get the win.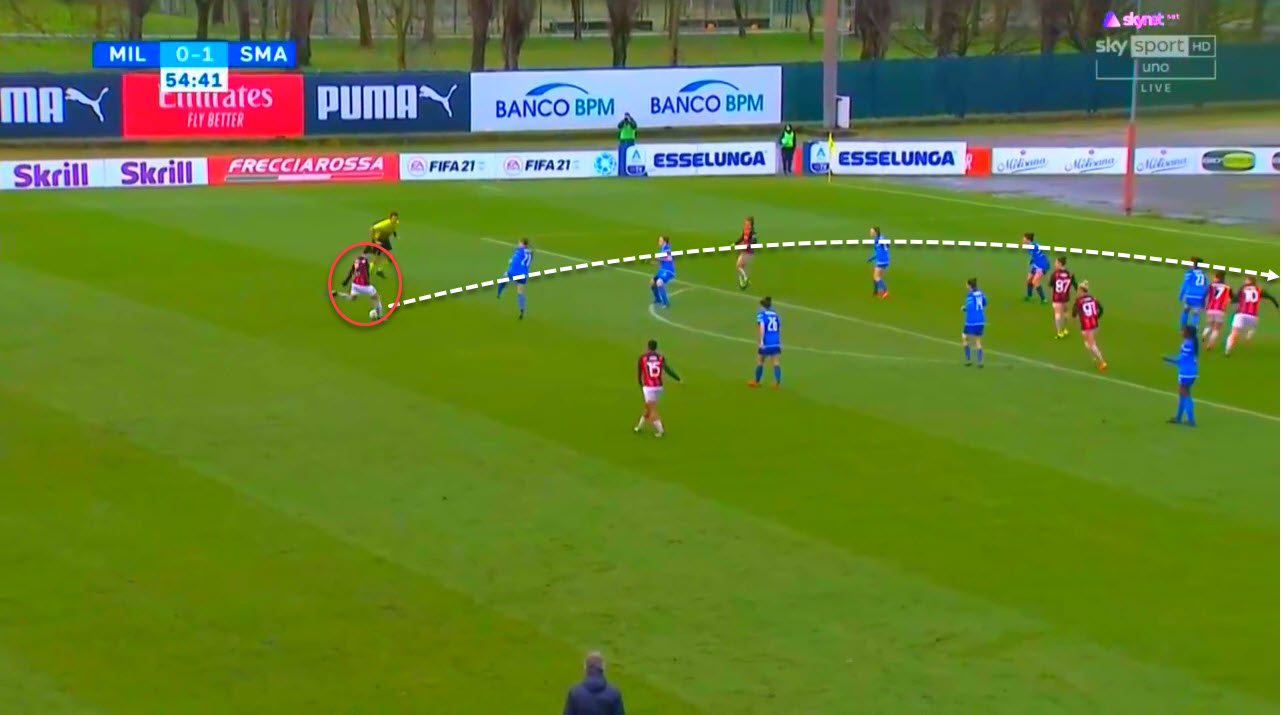 And with the entrance of Linda Tucceri Cimini, Christy Grimshaw and Claudia Mauri and then Caroline Rask and Sara Tamborini, Milan looked more in control of the match and the opportunites doubled.
And it is enough to say that Milan scored the second goal as soon as Tucceri made her first cross to Dowie, who scored a beautiful header, and this highlights the value of having a player who excels at crossing, just like these pictures show.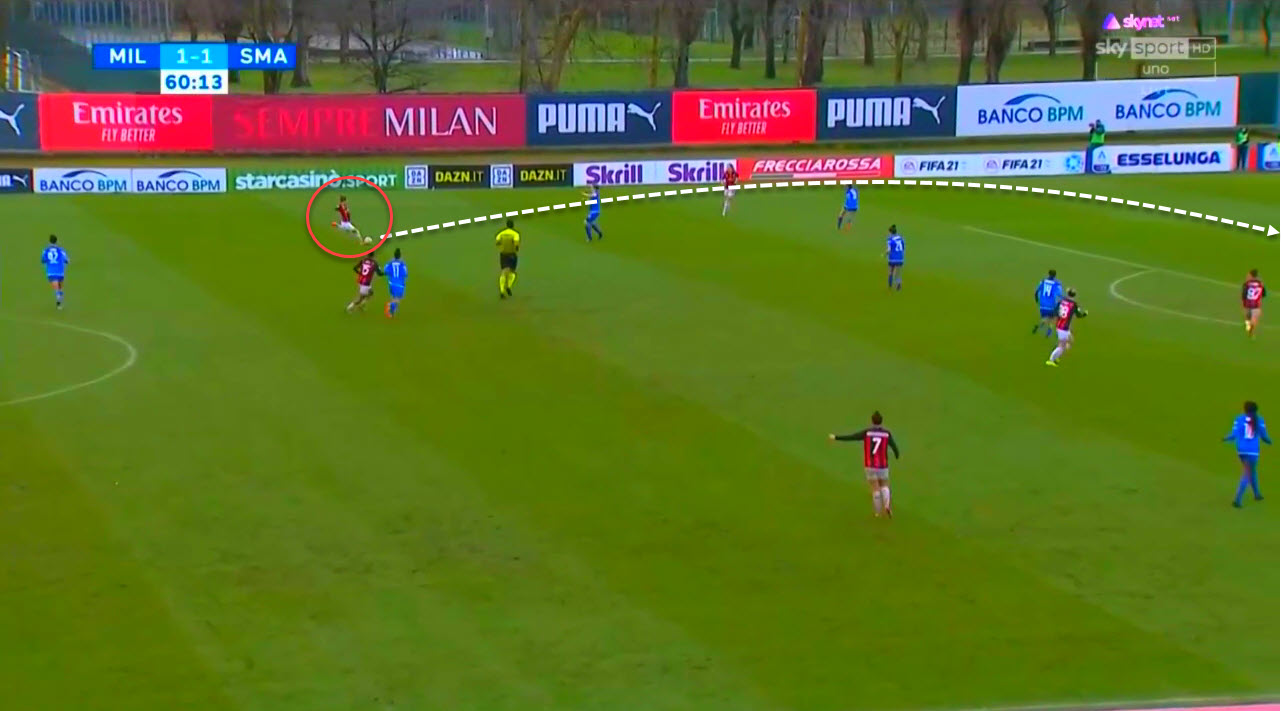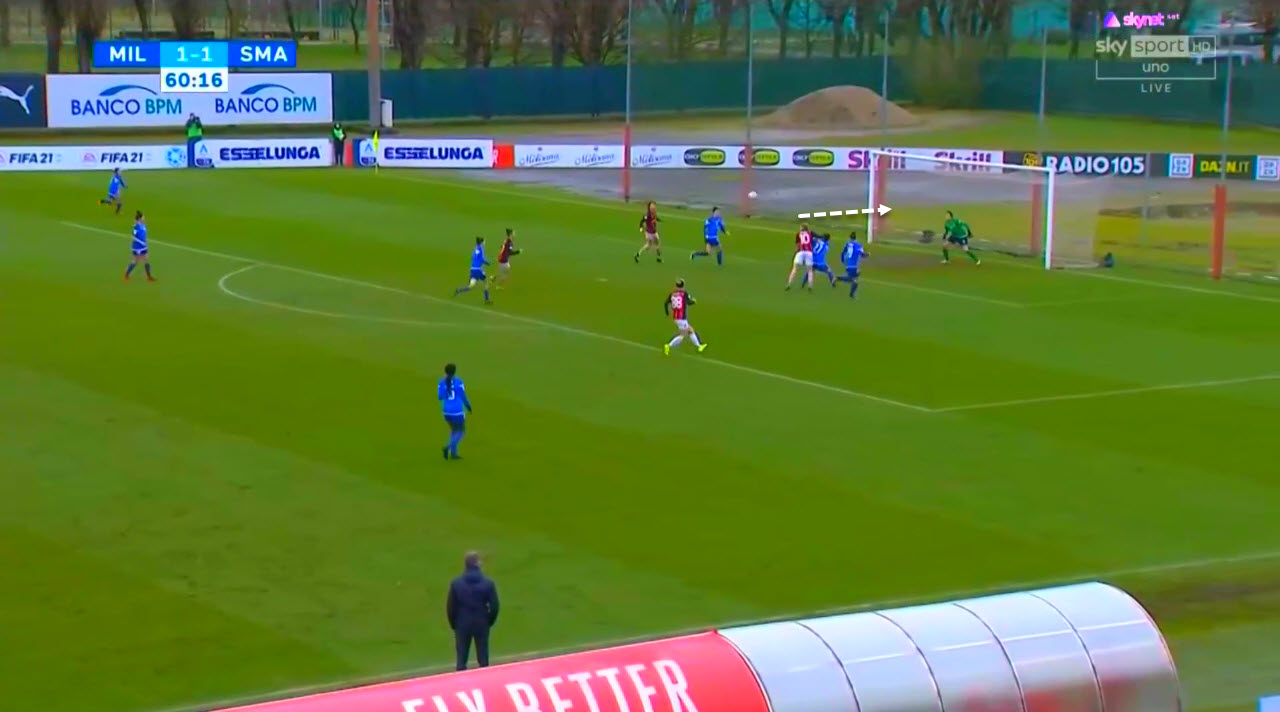 Milan then kept hold of the ball and was the one team that made attacks, with 64% of ball possession, and 30 shots, 6 of them were on target. And they were able to score two other goals from Dowie and Tamborini. Dowie's second goal was born of an outstanding no-look pass from Boquete with the exterior part of her foot in the direction of Dowie's movement, and then the English player was able to finish the action in the best possible way by scoring.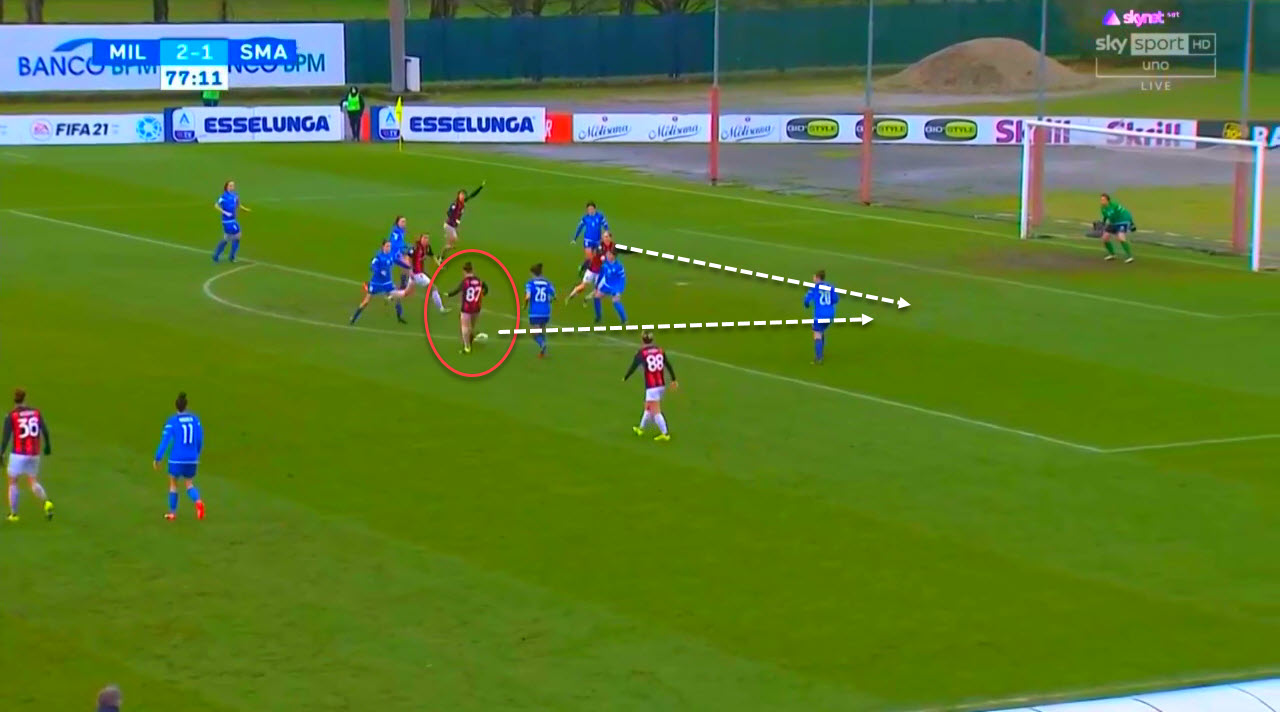 While the forth Milan goal was a result of Tamborini's accurate and powerful shot that went inside the net after bouncing on the pitch just before reaching the goal, as this picture shows.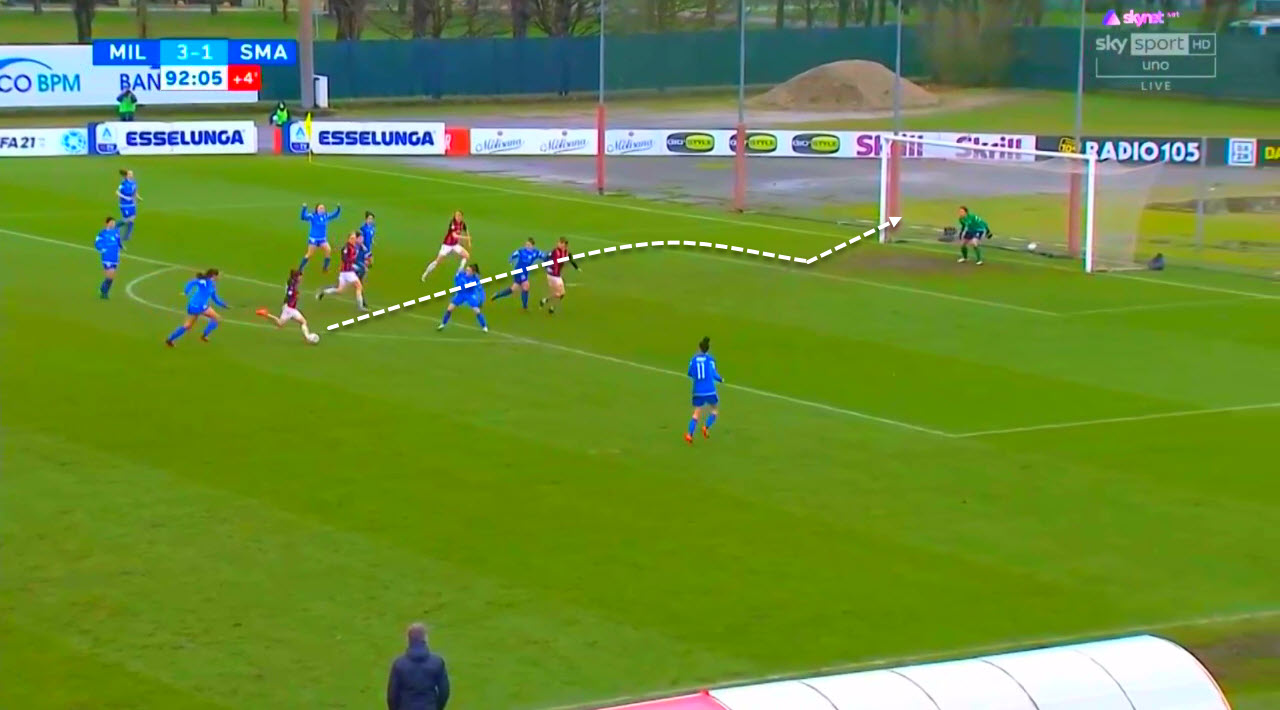 Milan at the end of the day got the victory they needed against San Marino who tried to resist Milan's powerful attack but in vain, even though they scored first and they looked solid at the back at many instances of the match. This win will serve Milan in preparing for the upcoming fixtures knowing that the next game will be against Sassuolo in the Coppa Italia's second-leg of the quarter-final.