After Juventus' fall at Napoli, Milan went to face Spezia in order to get additional points over Juventus and especially over Inter who will play today against Lazio. However, Milan lost the game while Spezia played an unforgettable match in which they scored two goals and dominated the game. And this made things harder for the Rossoneri ahead of a difficult period during which they will face Crvena Zvezda before playing the Derby against Inter in a decisive match for the Scudetto battle.
Inter are now having 47 points prior to playing against Lazio, while Milan have 49 points and are ahead of Inter with only two points. Therefore, an Inter win tonight could see them taking the lead of Serie A from Milan ahead of the Derby.
Stefano Pioli had at his disposal almost all the players, except Brahim Díaz, Daniel Maldini and the suspended Davide Calabria. He chose to start the match with some players who have just recovered from their injuries and are still lacking match sharpness, especially Simon Kjær, Hakan Çalhanoğlu and to a lesser degree, Ismaël Bennacer. The team played according to a 4-2-3-1 formation relying on Gianluigi Donnarumma as a goalkeeper, Diogo Dalot, Simon Kjær, Alessio Romagnoli and Theo Hernandez in defence, Ismaël Bennacer and Franck Kessié as central midfielders, Alexis Saelemaekers and Rafael Leão as wingers while Hakan Çalhanoğlu played as a trequartista behind Zlatan Ibrahimović, the team's striker.
For Spezia however, Vincenzo Italiano started the game with a 4-3-3 formation with Ivan Provedel as a goalkeeper, Luca Vignali, Ardian Ismajli, Martin Erlić and Simone Bastoni in defence, Nahuel Estévez, Matteo Ricci and Giulio Maggiore in midfield while Emmanuel Gyasi and Riccardo Saponara played as wingers behind Kevin Agudelo, the team's forward.
Spezia started the match with high pressing right from the beginning and until the last minutes of the game, and this was their key weapon to beat Milan. By running fast and making all passing options impossible for Milan, they obliged their opponents into resorting to crosses in the direction of Ibrahimović instead of building up from the back.
Also, Milan's slow rhythm especially in the build-up phase, made it easier for Spezia to mark midfielders and attackers, knowing that Italiano instructed his players to mark Çalhanoğlu throughout the match and especially when he receives a pass, as you can see in the picture below, since Spezia's coach was aware of his importance in the transition from defence to attack.
This plan was successful for Spezia given that Milan did not find alternatives of play. The wingers Leão and Saelemaekers did not offer much in the attack, and Ibrahimović was often alone with Spezia defenders, even though at times he won in the aerial duels.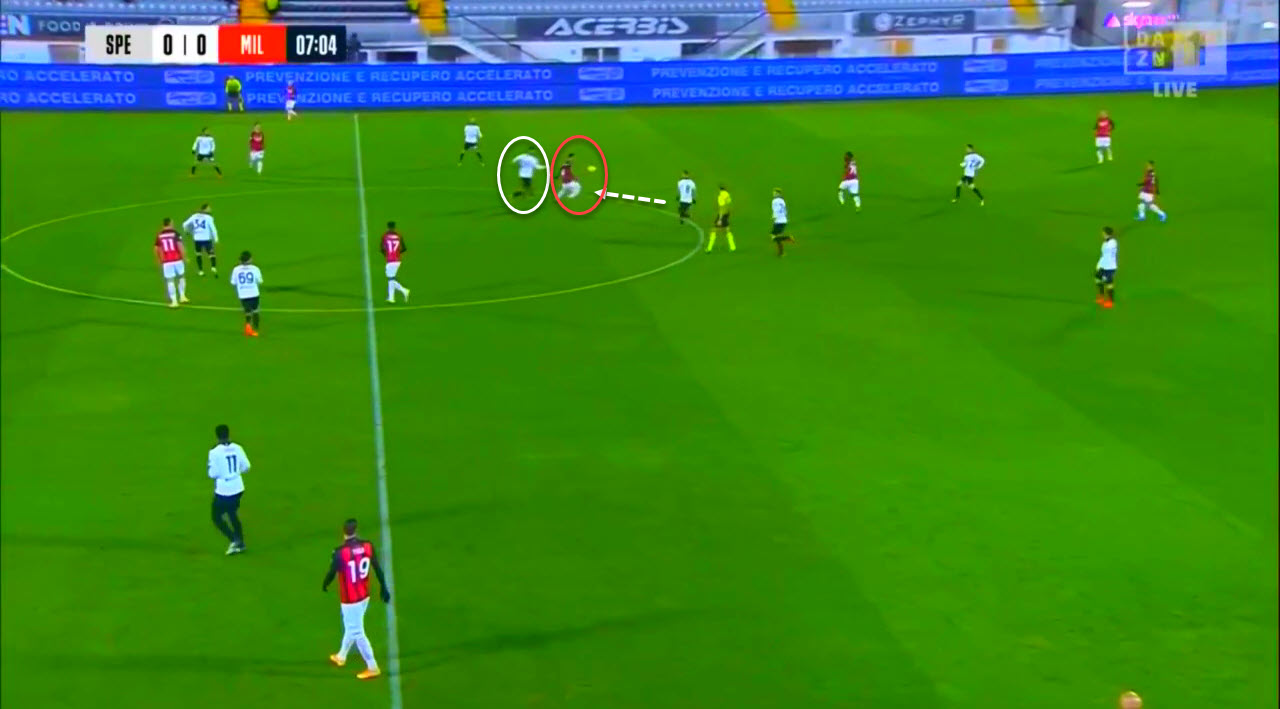 But even though Spezia pressed high and marked Milan's key players, the Rossoneri could have done more if the players were 100% in form and concentrated. A player like Çalhanoğlu could have had ways to escape Spezia's marking either through speed and movements or by making accurate key passes with one or two touches only in the direction of his attacking teammates to create threat before being surrounded. However, playing him when he was lacking match sharpness paid its price for the team in this match as he was not able to execute his transition roles like he did before.
Also, Milan were not able to exploit the set-pieces that they won and this should be addressed in training as soon as possible since failing to cross corners and free-kicks in a good way when the team is already getting only few scoring chances is a waste of opportunities.
Therefore, if Milan want to win trophies and compete with the big teams in Italy and Europe, they need to be more determined to make the best out of all types of set-pieces, because that's what wins you matches when you don't get enough chances from open play.
Nevertheless, Milan had some scoring chances that could have been exploited better especially when the score was still 0-0. For instance, Leão in this action could have done better since he did not make the best decision when he was in a perfect shooting/passing position, like you can see below. He preferred to move towards the middle and lose the ball by making a wrong pass to Ibrahimović when the latter got already marked, instead of crossing the ball to him at first (even though Ibra was in a doubtful offside position) or surprising the goalkeeper with a shot or a chipped shot when he was free from marking.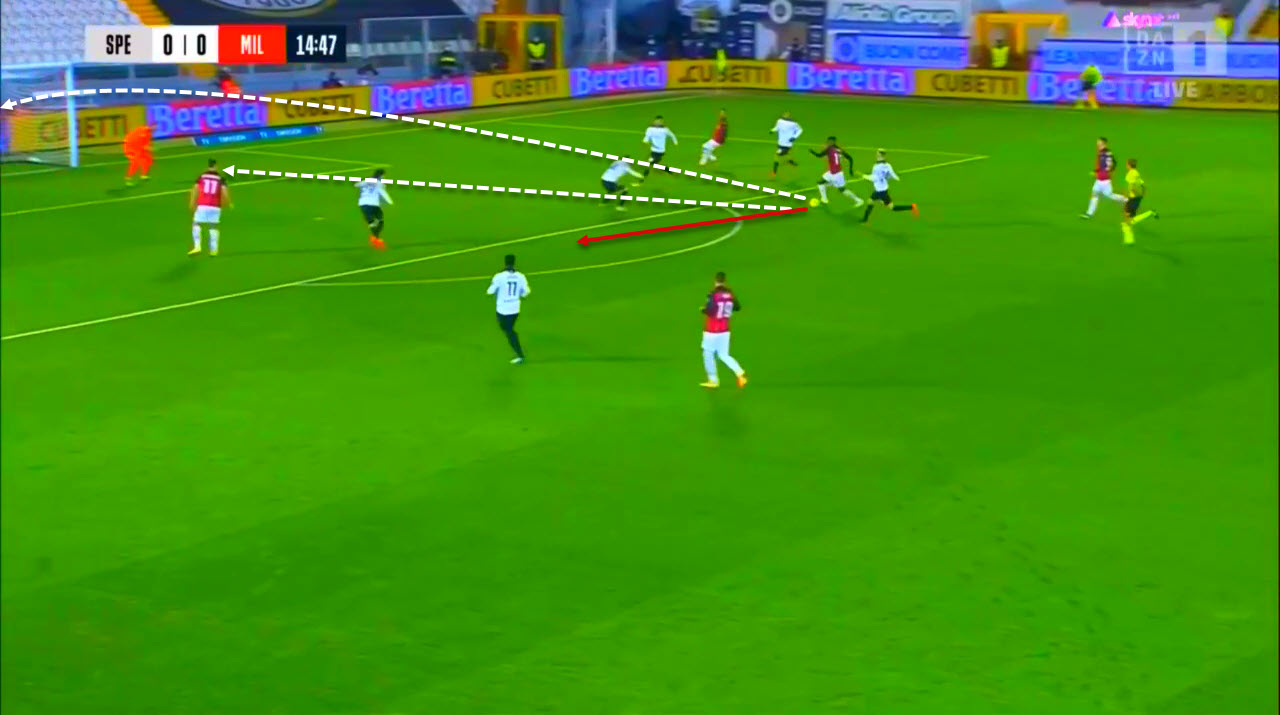 Overall, Milan shot 7 times and all these shots were off target, which explains how poor Milan's attacking performance was in this game. And on the other side, Spezia shot 16 times and four of them were on target (with two goals and a crossbar). In fact, Spezia had many chances in this match and threatened Milan many times and could have scored more goals if not for the great saves of Donnarumma.
Milan had some counter-attacking opportunities but failed to create real danger out of them even though at some instances Milan players were able to make quick passes and reach the final third rapidly, like in this action when Hernandez made one-two with Kessié and then Ibrahimović dropped to receive the ball and was able to switch the play to the right-wing where Saelemaekers was running.
The latter saw Leão's movement towards the box and passed to him and then the Portuguese escaped his marker and tried to pass to Hernandez who was waiting there but Leão's pass was not accurate unfortunately. It was a well-played counter-attack that could have ended in a goal for Milan. However, the team did not make many chances like these and therefore they were not able to threaten Provedel.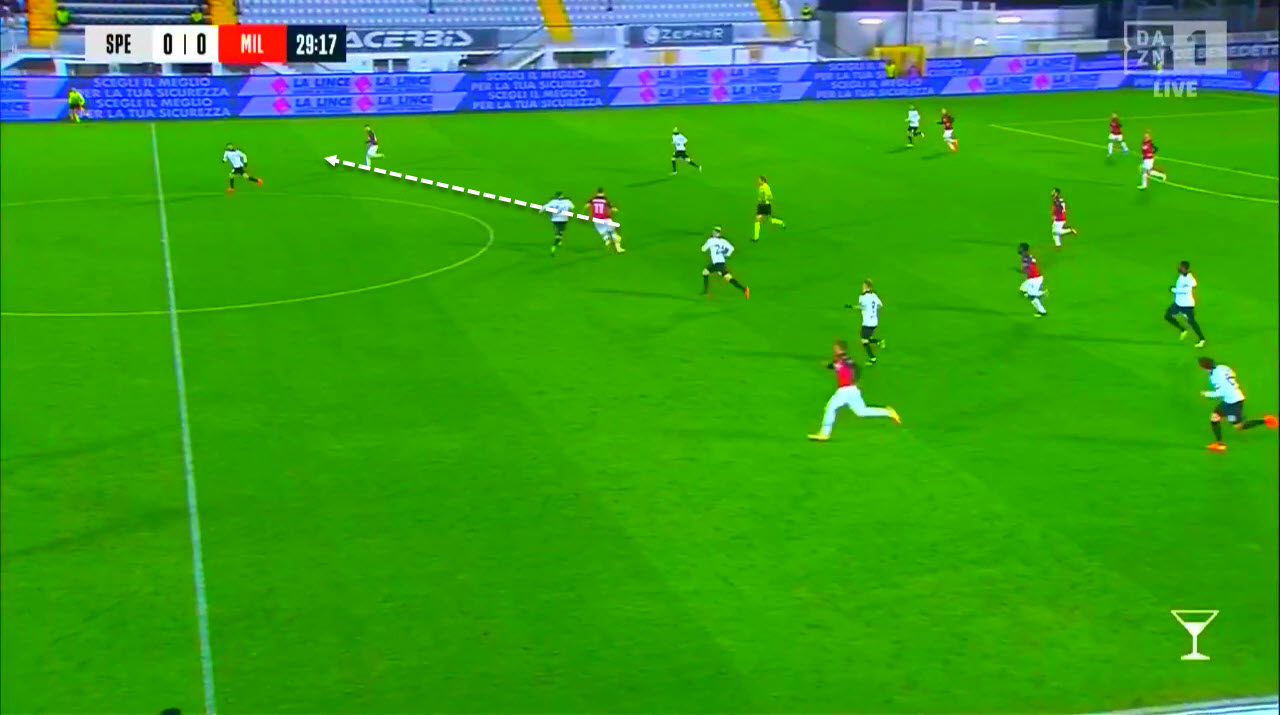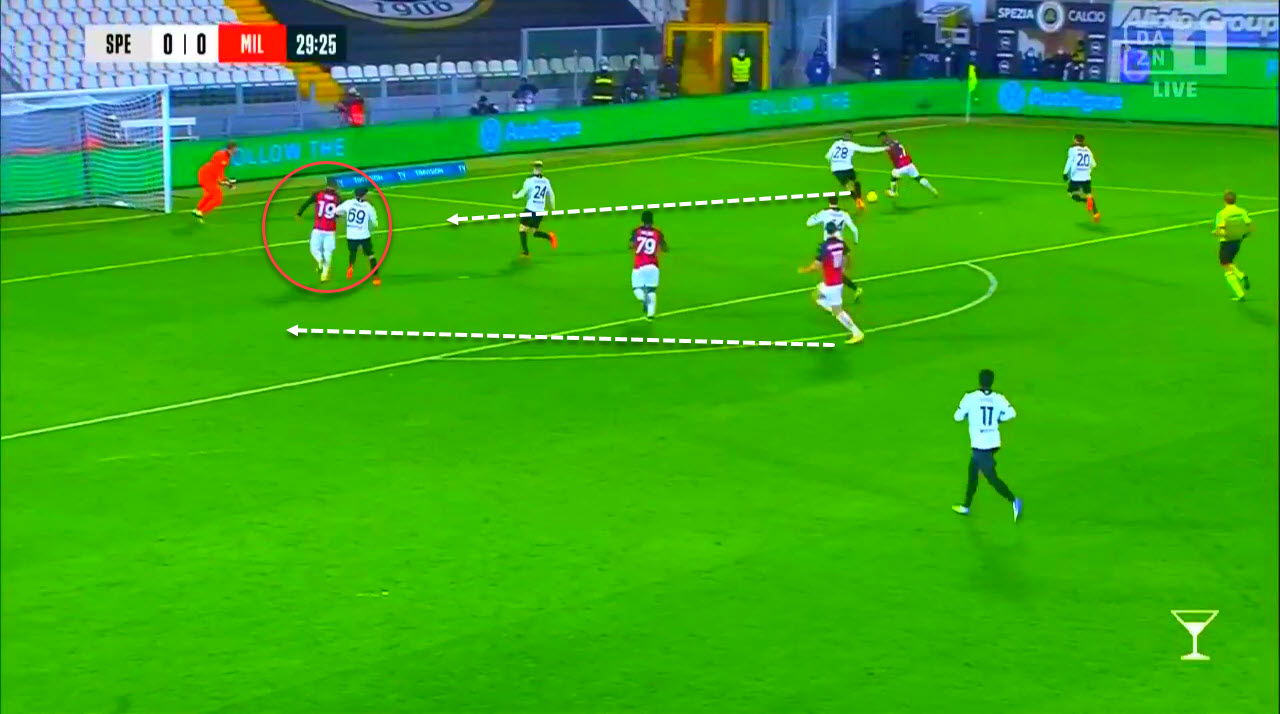 In the second-half, Spezia started with the same determination to score and the same aggressivity in pressing. And at the 56th minute they were able to score their first goal following a huge effort from Agudelo who stole the ball from Hernandez and then he advanced and the team exchanged quick passes near the box and an assist came from Romagnoli by mistake to Maggiore who scored the goal.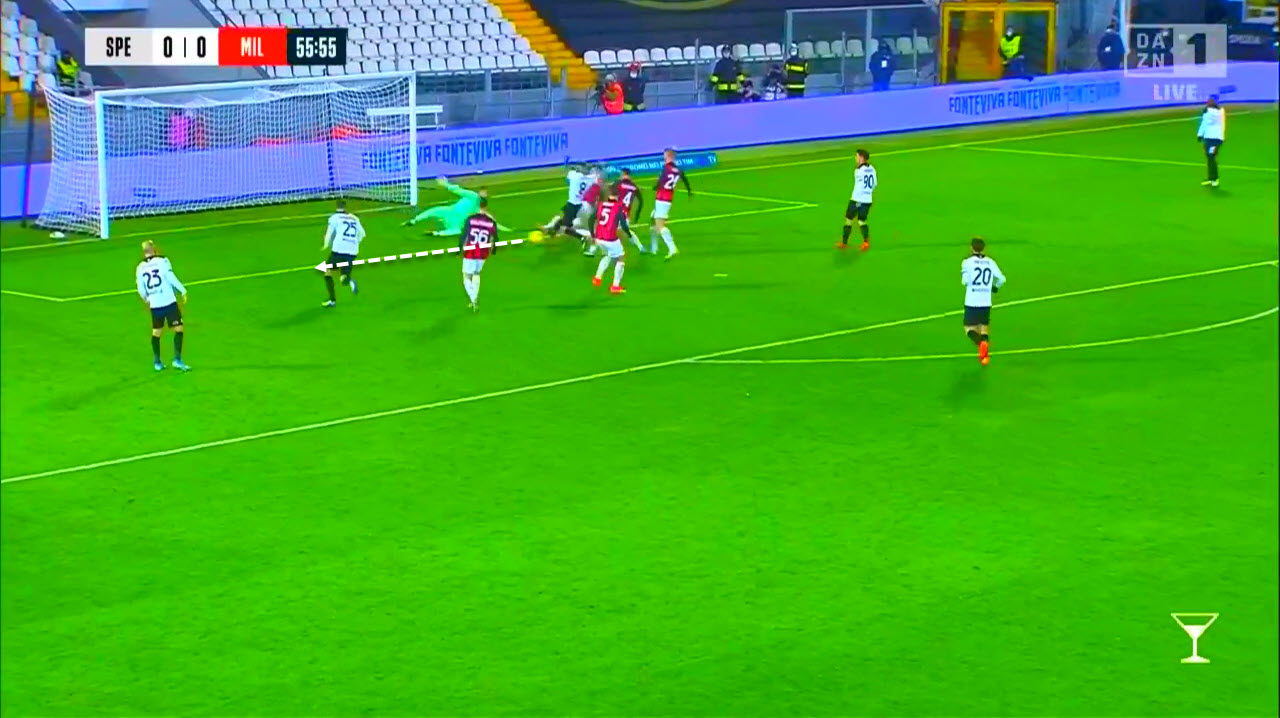 Following a few minutes, the second goal came for Spezia at the 66th minute with an indirect free-kick which Bastoni was able to score with a beautiful shot that Donnarumma was not able to see only when it was closer to the goal, due to the many players standing in front of him. And this goal, made the mission even more difficult for the Rossoneri even though Pioli subbed Mandžukić and Castillejo on to support Ibrahimović in attack. Yet, Milan's efforts went in vain and no real danger was created till the end of the match.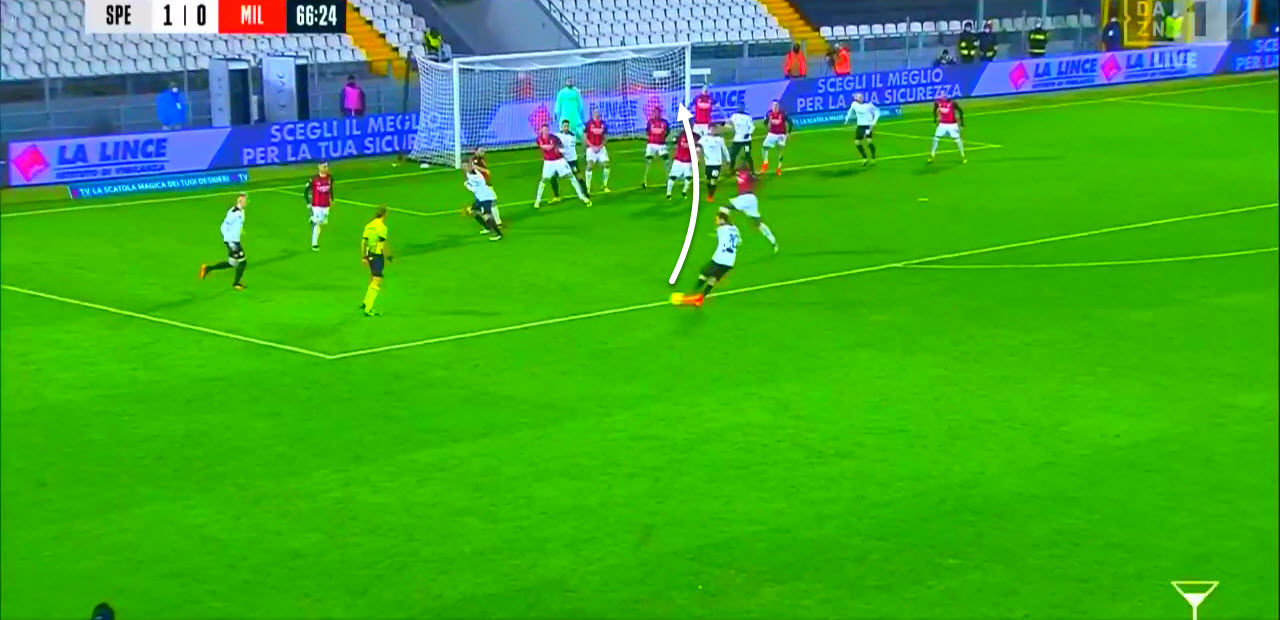 Milan however should not get affected by this result and they must start working immediately to prepare for their next fundamental encounters against Crvena Zvezda and then Inter, to make up for this loss and regain confidence in their abilities in this delicate time of the season.