Roma hosted Milan at Stadio Olimpico in the 24th fixture of Serie A and the game ended with a fundamental Rossoneri win by 1-2. It was a match that included 3 goals, a crossbar, 3 disallowed goals and many opportunities from both sides. And just like in the last encounter between the two teams, this match witnessed some episodes that created controversy among both teams' players, coaches and supporters.
Stefano Pioli chose to make a change in defence in view of Alessio Romagnoli's bad run of form, and he gave the opportunity to Fikayo Tomori instead in the centre-back role. This was an intelligent and brave decision from Pioli not only to give Tomori a big chance but also to show to everyone that he has got a strong personality and that no one is untouchable.
Yet, Romagnoli should not feel targeted and should work even better to prove to everyone that he is still a very good defender who has got his place in the team. And with the large number of matches that Milan will have to play especially in this month, Pioli will need both players equally along with Simon Kjær and maybe Matteo Gabbia as well.
Pioli started the match with the 4-2-3-1 formation with Gianluigi Donnarumma as a goalkeeper, Davide Calabria, Simon Kjær, Fikayo Tomori and Theo Hernandez in defence, Sandro Tonali and Franck Kessié as central midfielders, Alexis Saelemaekers and Ante Rebić as wingers while Hakan Çalhanoğlu played as a trequartista behind Zlatan Ibrahimović, the striker.
Roma however had many absences, namely Edin Džeko, Chris Smalling, Roger Ibañez and Marash Kumbulla who were all regular starters in this team especially in defence.
Paulo Fonseca therefore had to make some changes in this regard and he chose to play with the 3-4-2-1 formation relying on Pau López as a goalkeeper, Gianluca Mancini, Bryan Cristante and Federico Fazio in defence, Rick Karsdorp and Leonardo Spinazzola on the wings, Gonzalo Villar and Jordan Veretout as central midfielders while Lorenzo Pellegrini and Henrikh Mkhitaryan played just behind Borja Mayoral in attack.
Milan started the match with great intensity and were very aggressive on the ball and having a high pressing on Roma's defence. All the players looked very motivated and in form, as opposed to the last few matches, and this helped Milan start the match in the best of ways. The Rossoneri therefore were able to intercept many wrong passes from Roma's defence and midfield, and this created many opportunities for Milan just like what happened in the following action.
As you can see, all Milan players were man-marking their opponents and left no clear passing options for Roma players. So, when the ball reached Karsdorp, Hernandez knew that his opponent doesn't have many options apart from trying to dribble or cut inside, and therefore he pressed on him and was able to win the ball and start a counter-attack that ended with an Ibrahimović's shot that López was able to save.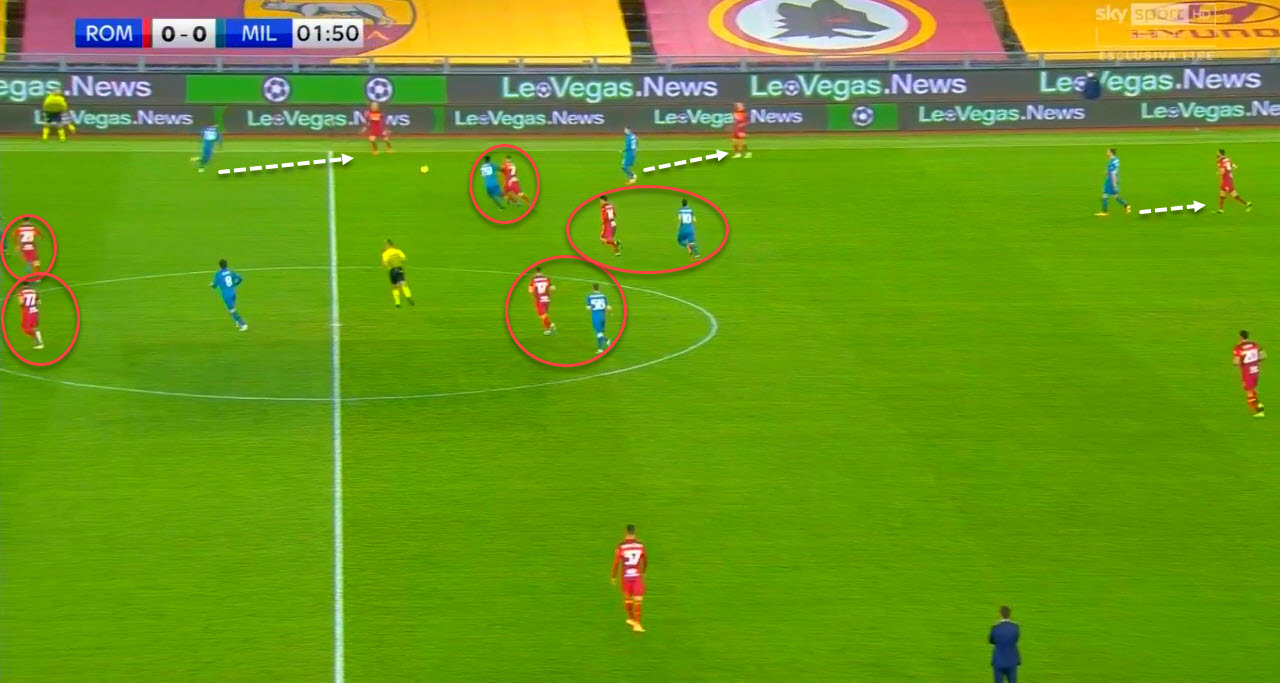 Milan continued with this rhythm for the large part of the first-half, and this enabled them to get more important chances also thanks to Rebić's penetrations on the left-wing, Saelemaekers' continuous pressing and accurate passes in the final third, and of course Hernandez and Calabria's support.
More importantly, Tonali and Kessié were fundamental in keeping the balance and helping the attack when they can, while retreating quickly when there is a counter-attack. And there is no better than this chance that show how Tonali has been improving and gaining more confidence as well as developing his defensive awareness.
Because at the 35th minute, Roma were able to reach the box and the ball reached Pellegrini Tomori made a sliding tackle to prevent his shot but the ball came back to him, and at that point he was in a one on one situation with Donnarumma while Tonali was running towards him, jumped with a sliding tackle at the moment in which Pellegrini kicked the ball and therefore Tonali saved Donnarumma and Milan from a big goal-scoring chance.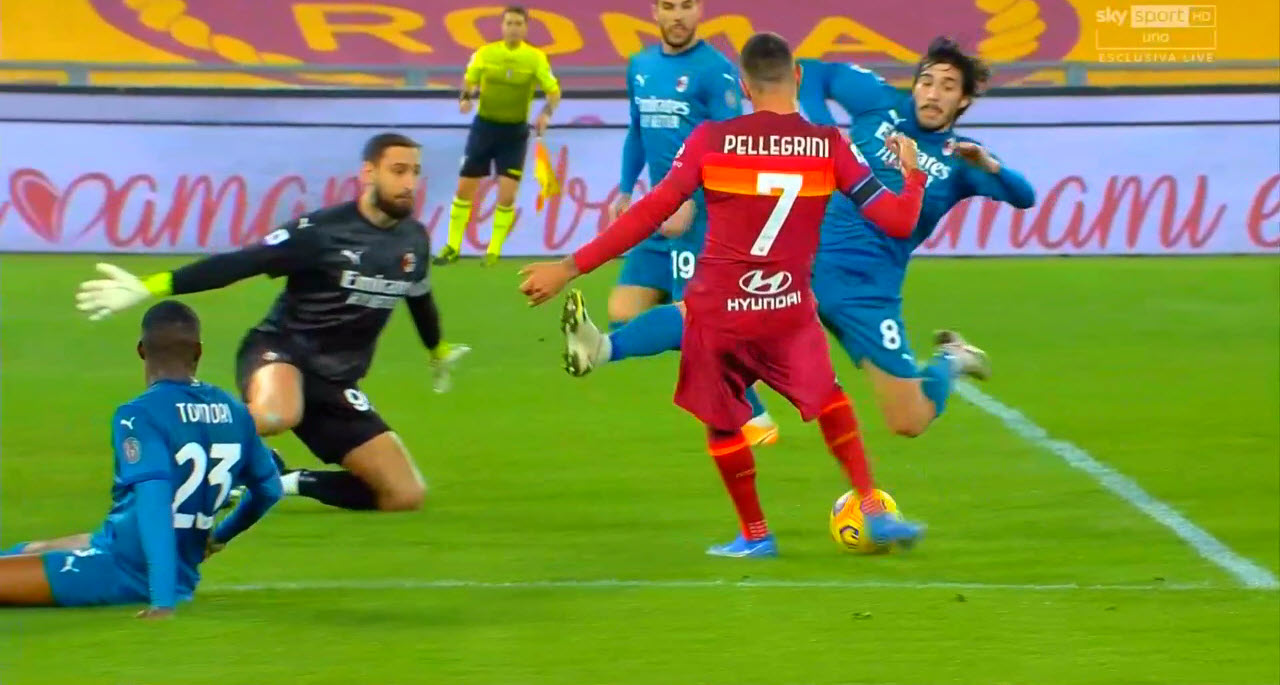 Moreover, we can't write about this match without shedding some light on Tomori's excellent performance in this match. He was very fast, fully focused and prevented Roma's players from many big opportunities especially when those players run past him.
It was important to notice that Tomori did never give up when his opponent was running ahead of him, like in the example shown below, Tomori was able to reach his direct opponent and steal the ball from him without committing a mistake in a dangerous area. And this was fundamental for the team and for the player himself in order to gain more confidence in his abilities, more maturity and fast adaptability to the Italian football.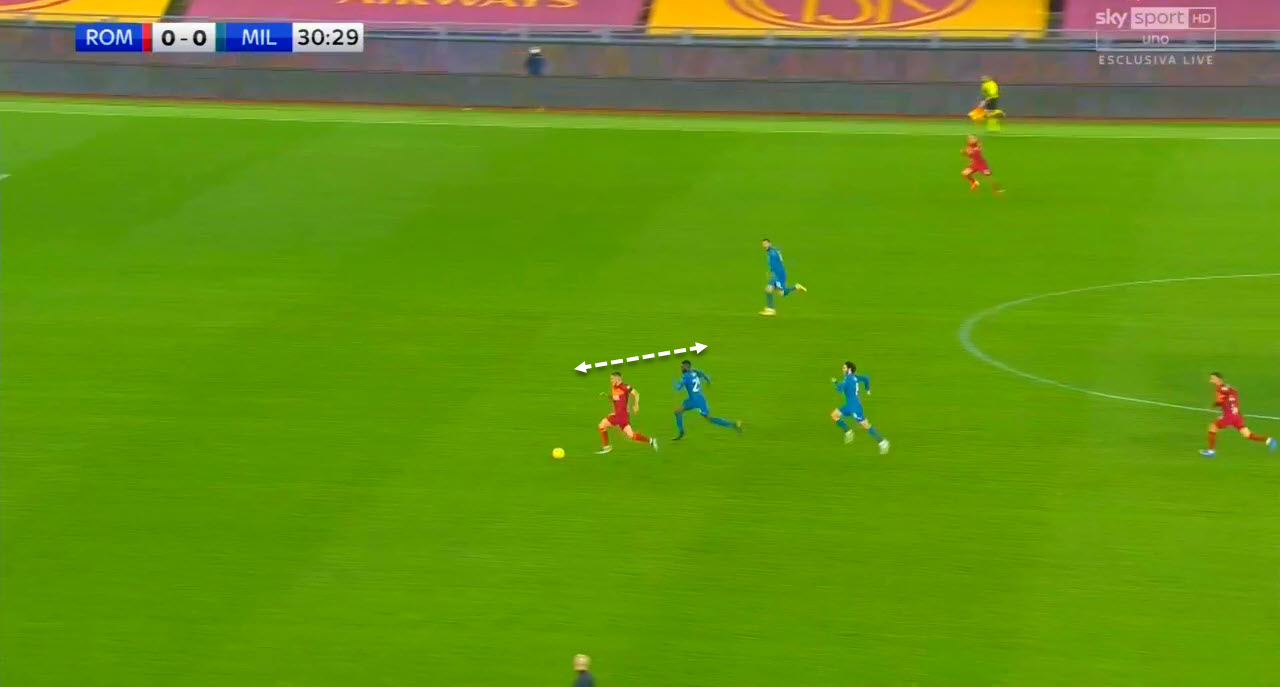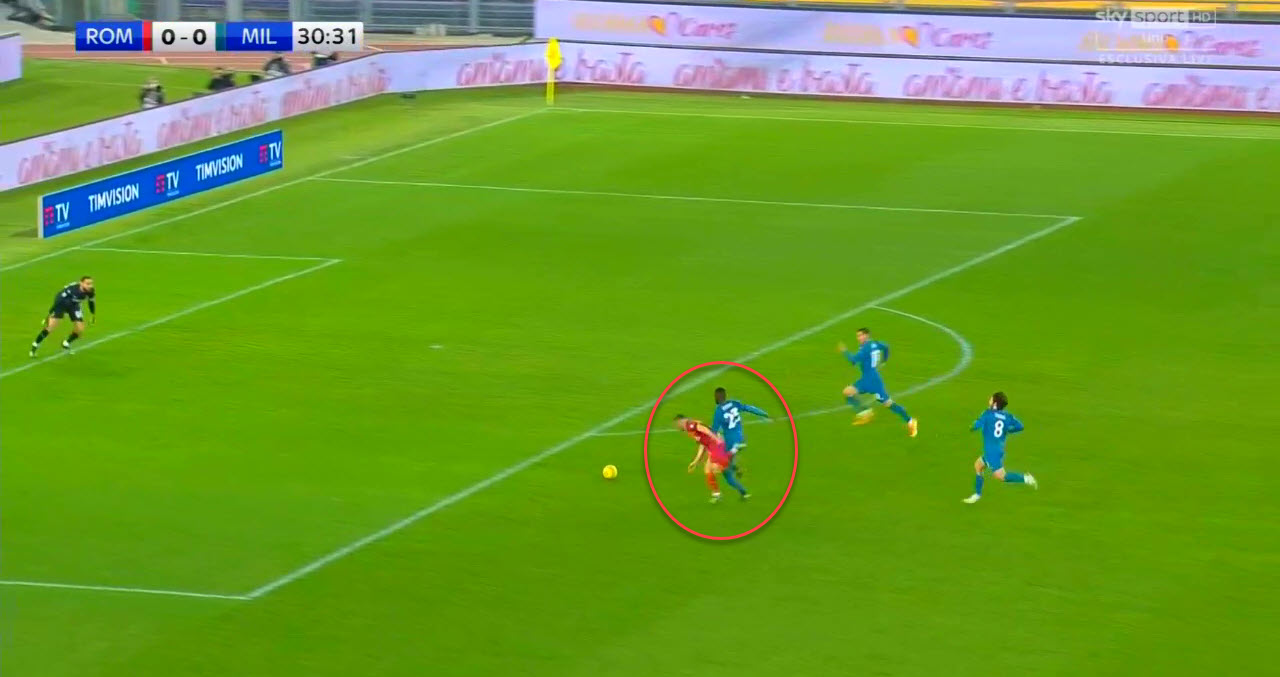 Concerning the attacking performance, Milan were able to make 12 shots in the first-half only, against a big team like Roma, and this in itself tells a lot about the determination and concentration with which Milan were playing. Milan got a penalty at the 41th minute and Kessié was able to score it Yet, the Rossoneri could have done more in terms of finishing because they missed many chances that could have ended the match early.
To list of few chances, Kjær hit the crossbar with a header, Rebić shot more than 3 times on target, Ibrahimović got some chances as well but wasn't lucky enough to score. And even though Rebić was crucial in this match by scoring the second goal and threatening Roma's defence several times, there was a chance in which he could have scored another goal since he was not tightly marked, and was very close to the goal with Ibrahimović on his right. But he preferred to pass to Ibrahimović who was inches offside like you can see below.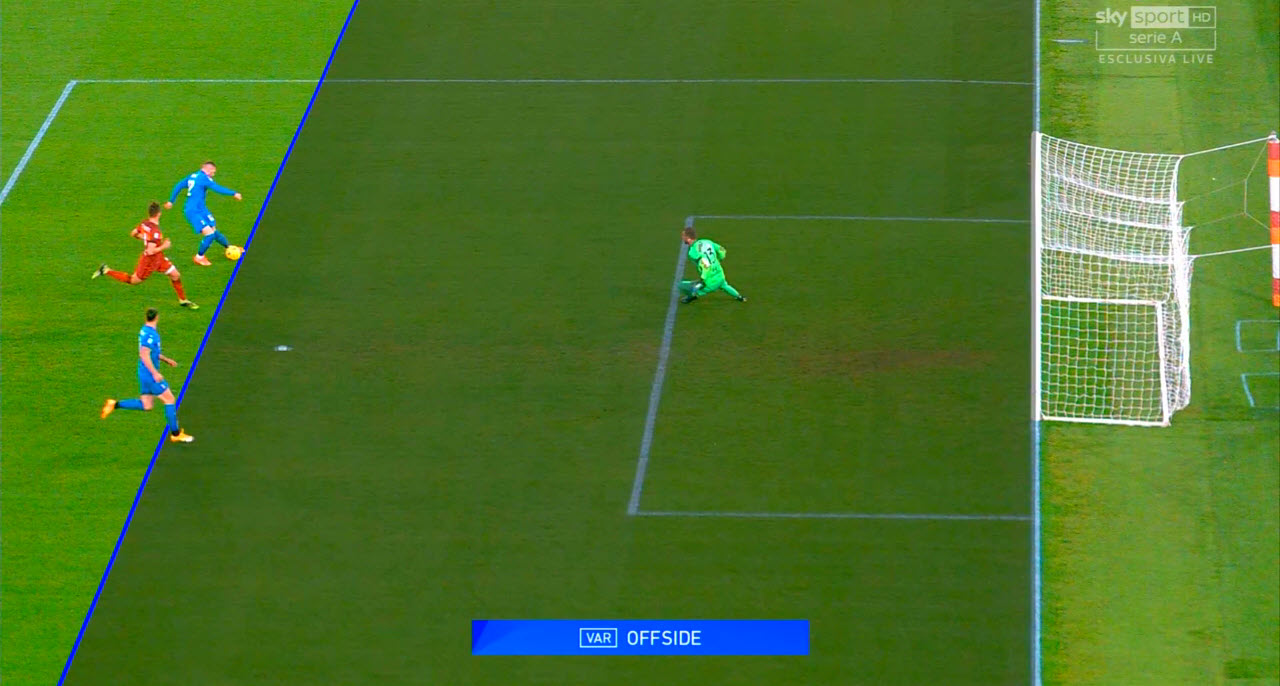 The same player however was the scorer of the second goal that enabled Milan to play with more balance for the rest of the match. Rebić was able to score a magnificent goal thanks to Saelemaekers' pass, and then the Croatian confused his marker by making a body dribble like the arrows show below, and then he shot with his weaker foot but with great power and precision to score the second Milan goal.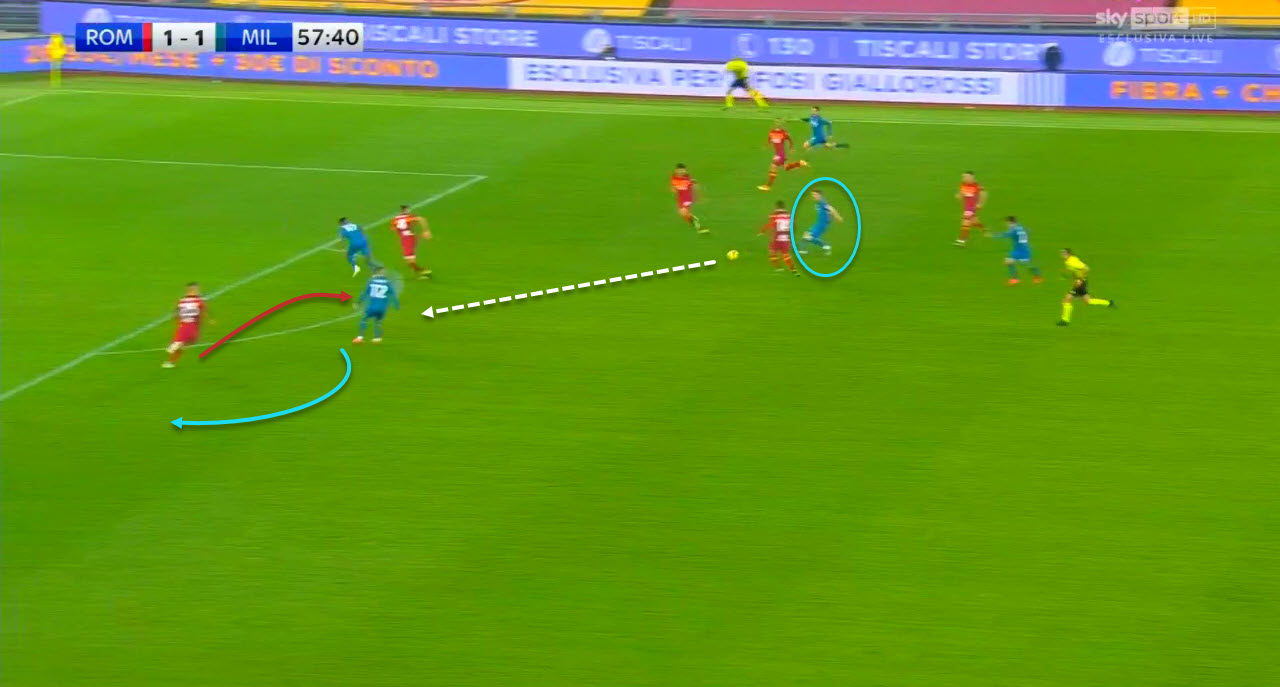 And that happened following Roma's goal from Mkhitaryan after it was deviated by Kjær who was intending to save the shot, but that confused Donnarumma who was not able to reach the ball on time.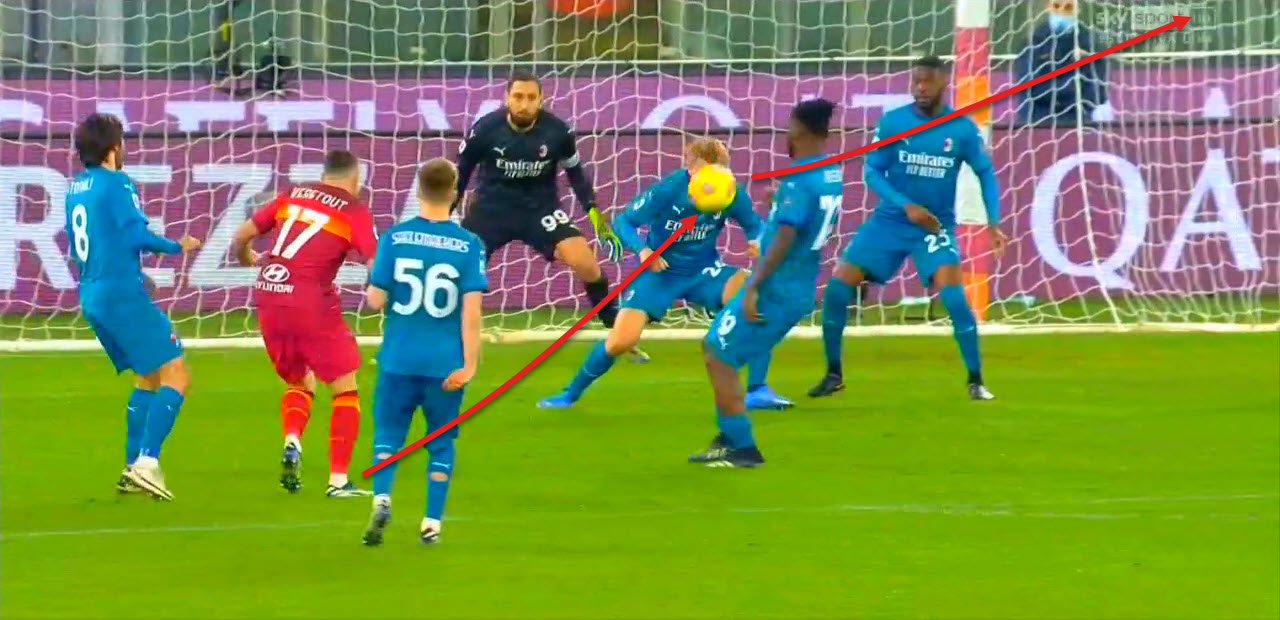 Milan at the end got the victory that was much needed against a direct opponent for the Champions League spot. And with this fundamental win, Milan will look forward for the next busy weeks with matches against Udinese, Verona, Manchester United, Napoli, Manchester United, and then Fiorentina. But the good thing is that the team will now work with more motivation and confidence following this win, even though there were some negatives, mainly the muscle injuries of Rebić, Ibrahimović and Çalhanoğlu.