Milan Women faced Inter at Breda Stadium in the Coppa Italia semi-final's first-leg and the game ended with an important 2-1 win for the Nerazzurre who are now having advantage over Milan thanks to Caroline Møller who scored her team's second goal. Yet, Milan should not feel demotivated because they will have the chance to turn things upside down when both teams meet again at the Centro Sportivo Vismara for the second-leg.
And even though the Rossonere were not able to put on an excellent performance, they were able to score a fundamental away goal thanks to Valentina Giacinti. It is a goal that will make things a bit easier for them in the next encounter since Milan will only need one goal to qualify for the final.
The teams were lined-up like this:
Inter: 12 Gilardi; 13 Merlo, 17 Debever, 19 Alborghetti, 8 Brustia; 18 Pandini, 22 Catelli, 93 Rincón; 7 Marinelli, 16 Møller, 29 Mauro.
Milan: 12 Korenčiová, 7 Bergamaschi, 6 Fusetti, 36 Agard, 27 Tucceri Cimini, 8 Rask, 11 Grimshaw, 17 Čonč, 4 Hasegawa, 9 Giacinti, 10 Dowie.
And the novelty in this game was the change of formation from Maurizio Ganz who preferred to start with 4 players at the back instead of the usual 3-5-2 formation. Therefore, Milan played according to a 4-3-1-2 formation with Yui Hasegawa playing as a trequartista behind Natasha Dowie and Valentina Giacinti.
Milan started the game with hesitance and not with the required concentration. And that's why they were not able to keep possession a lot in the first-half. The players were too slow in the build-up phase and this rhythm suited Inter's players who exploited this weakness and pressed high with continuity. Moreover, the heavy wind affected Milan players in this phase and the Rossonere were not able to cope with these natural circumstances, and therefore we saw many wrong passes and interceptions from Inter players.
And exactly at the third minute, Korenčiová made a wrong pass which was intercepted by Møller who tried to advance and got a penalty after both Fusetti and Korenčiová attempted to tackle her. And even though the latter saved Rincón's shot, Marinelli was quick enough to catch the ball before it reaches Milan players and score it herself.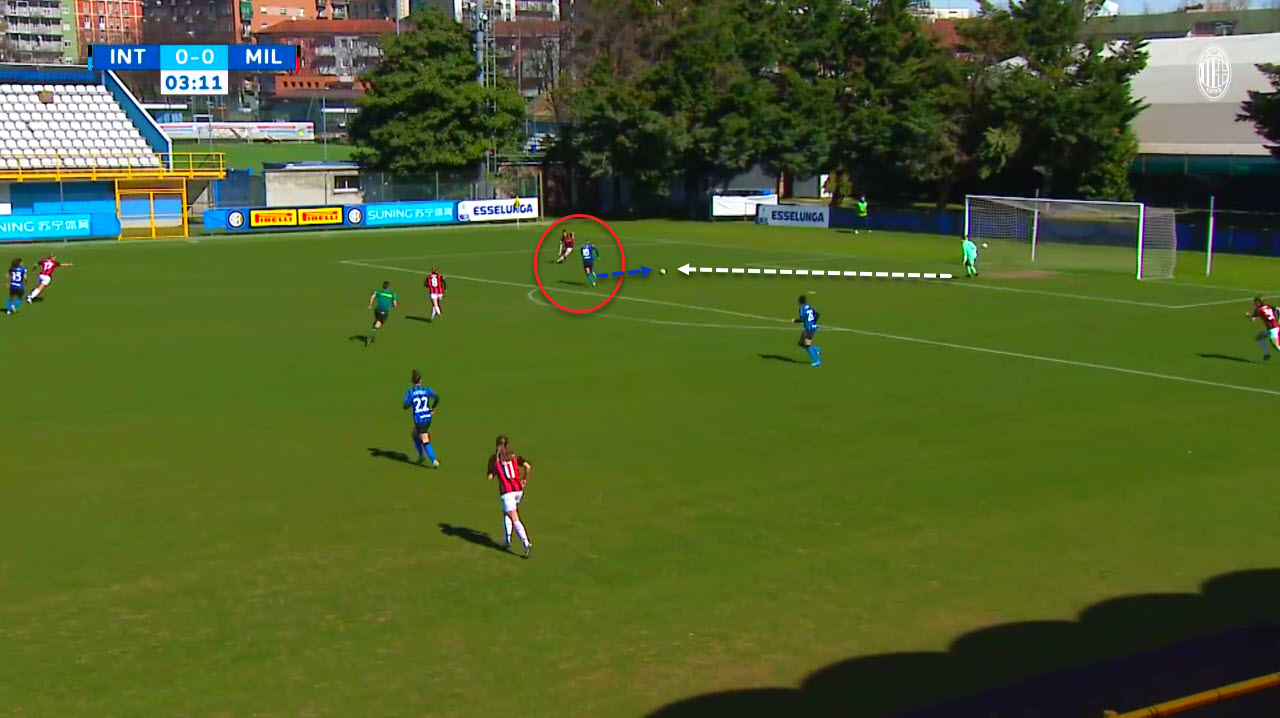 A few minutes later, Inter were able to score a second goal in just fifteen minutes of this first-half thanks to Møller's surprising shot from a very difficult angle after escaping from her marker who already slipped on the ground while trying to catch her, as you can see below.
The Rossonere's reaction however did not last long to come since Giacinti scored just after two minutes of Inter's second goal when Rask gave her an accurate long-pass at the back of Inter's defenders. It was a very intelligent pass since it allowed Giacinti to gain time over Gilardi, coordinate her body and shoot the ball with precision towards the angle that she wanted.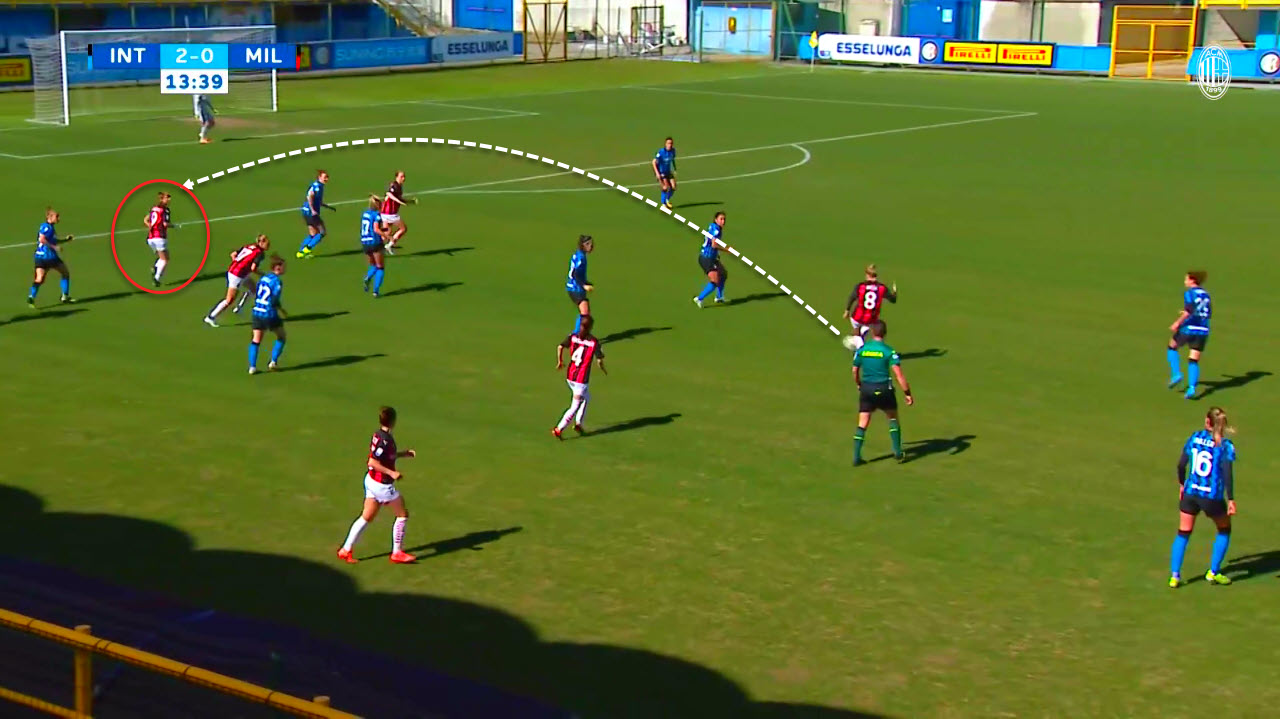 And her decision was to lob the ball when she saw Gilardi getting out of her goal.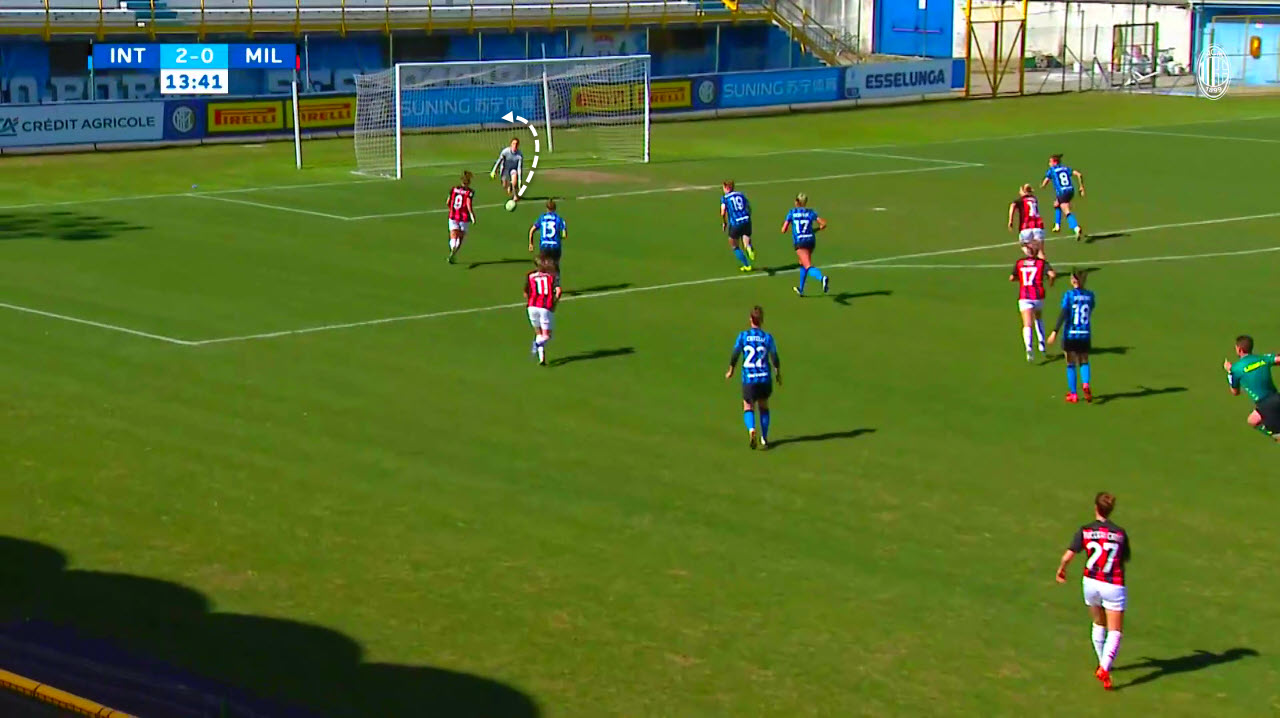 Milan then tried to keep attacking in order to score the equalising goal, however, they were not able to get to Inter's final third easily due to their slow rhythm that enabled Inter's players to make life harder for the Rossonere when trying to advance. But with the start of the second-half, things changed and the wind effect was no longer an excuse, and we saw Milan attacking more often thanks to Hasegawa's movements and accuracte passes, Tuccerri and Bergamaschi's attacking contributions, as well as Čonč, Rask and Grimshaw support.
Milan got some clear goalscoring opportunities in this half including a Grimshaw shot that hit the post at the 70th minute. And following just two minutes, Giacinti and Dowie made a great combination that almost ended in goal. It was one of the rare occasions in which the two strikers made successful combinations in this match, and if this collaboration was intensified, we maybe could have seen Milan scoring more goals especially in this game.
The action started from Kulis who exchanged passes with Hasegawa before passing to Giacinti who ran and made a through pass to Dowie who was waiting inside the box. However, the English player was not able to direct the ball toward a difficult angle, which allowed Giraldi to save her shot.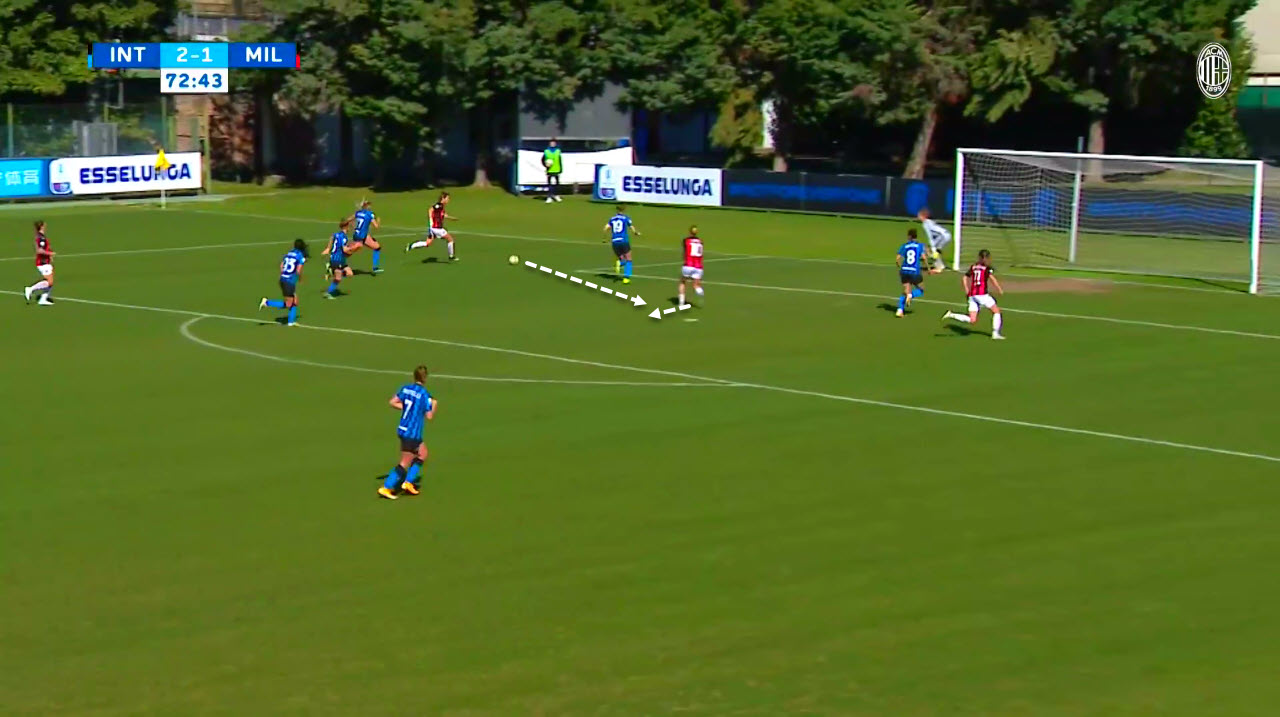 It should be said however that Inter had some clear goalscoring opportunities as well in this second-half and the most notable one was Alborghetti's shot that hit the post following Inter's corner. And this was mainly due to Milan's wrong marking in this set-piece that could have led to a third Inter goal and made things much more complicated.
And despite the fact that Hasegawa played a very good match and was excellent whenever she touched the ball, she missed Milan's ball of the match that could have gave Milan the equalising goal at the last minutes of the game. The action started from Giacinti's intelligent pass towards Hasegawa who was trying to advance with the ball but failed in her first-touch which allowed Brustia to steal the ball from her by putting her body to cover it. This chance could have been more dangerous if Hasegawa advanced or even aimed at shooting from distance since she is excellent at that as well.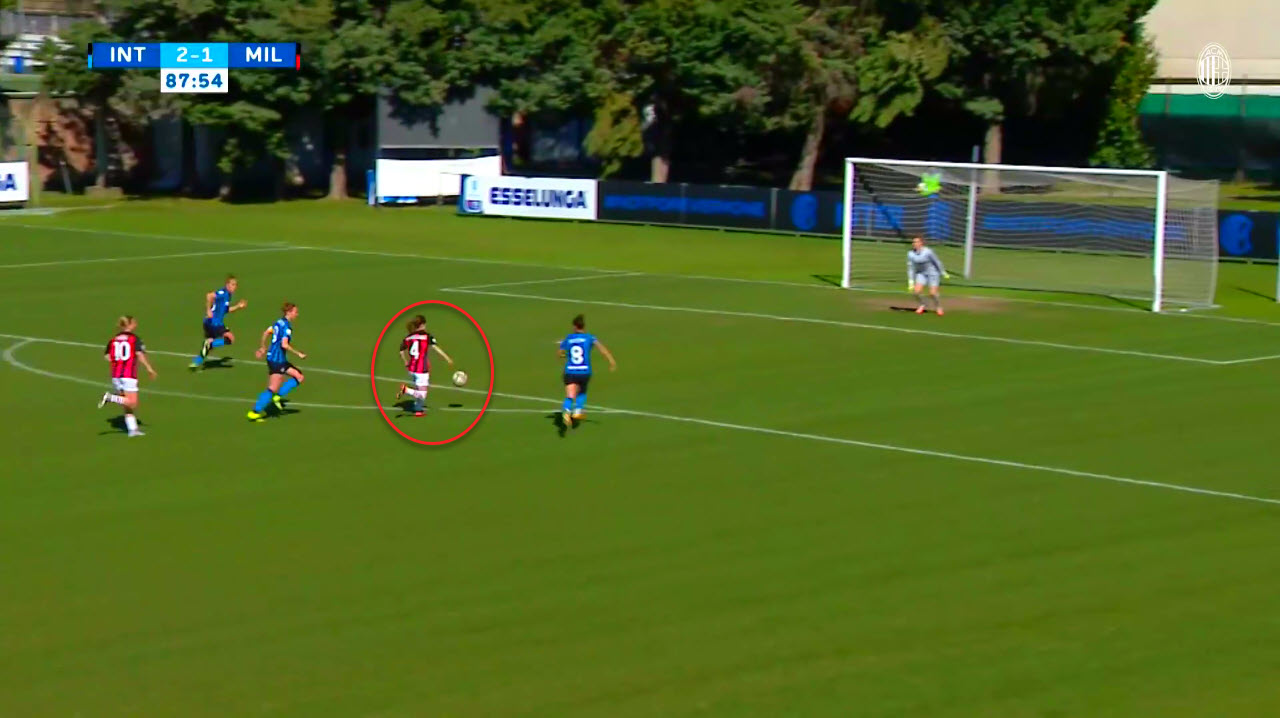 Milan lost "a battle but not the war" since there is still a second-leg to be played in two weeks' time. It is true that the performance and the result could have been better for Milan given the quality of players that they have in the squad, yet, Inter were excellent in exploiting the chances that they got especially at the start of the match when Milan were a bit confused at the back. Inter were also consistent in defending well and not allowing Milan to get much space in the final third. And based on this match, it is guaranteed that the second-leg of this semi-final will be as exciting and entertaining as this one.
Credits picture: (www.acmilan.com)