Milan Women hosted Empoli for the 16th fixture of Serie A Women and the game ended with an important 1-0 Milan win.
Milan got Refiloe Jane and Verónica Boquete back following their recoveries from injuries which prevented them from playing against Juventus last week. And therefore, Maurizio Ganz started this match with the 3-5-2 formation relying on Mária Korenčiová as a goalkeeper, Francesca Vitale, Laura Fusetti and Laura Agard in defence, Refiloe Jane, Verónica Boquete, Yui Hasegawa in midfield, with Valentina Bergamaschi and Federica Rizza as wingers behind the attacking duo; composed of Natasha Dowie and Valentina Giacinti.
On the other side, Empoli, coached by Alessandro Spugna, played according to the 4-3-3 formation with Alessia Capelletti as a goalkeeper, Lucia Di Guglielmo, Anna Knol, Gloria Giatras Zoi and Arianna Acuti in defence, Marta Morreale, Melissa Bellucci and Norma Cinotti in midfield, while in attack the team relied on Cecilia Prugna, Benedetta Glionna and Chanté Dompig.
Both teams started the match with caution since they both feared conceding an early goal. But we saw Milan attacking more mainly through Boquete, Hasegawa and Jane's passes to Giacinti and Dowie and their penetrations from midfield while at the same time Rizza and Bergamaschi tried to create chances from the wings as well.
Milan got their first big chance at the 5th minute following Boquete's accurate shot that hit the two posts and went miraculously out of the goal.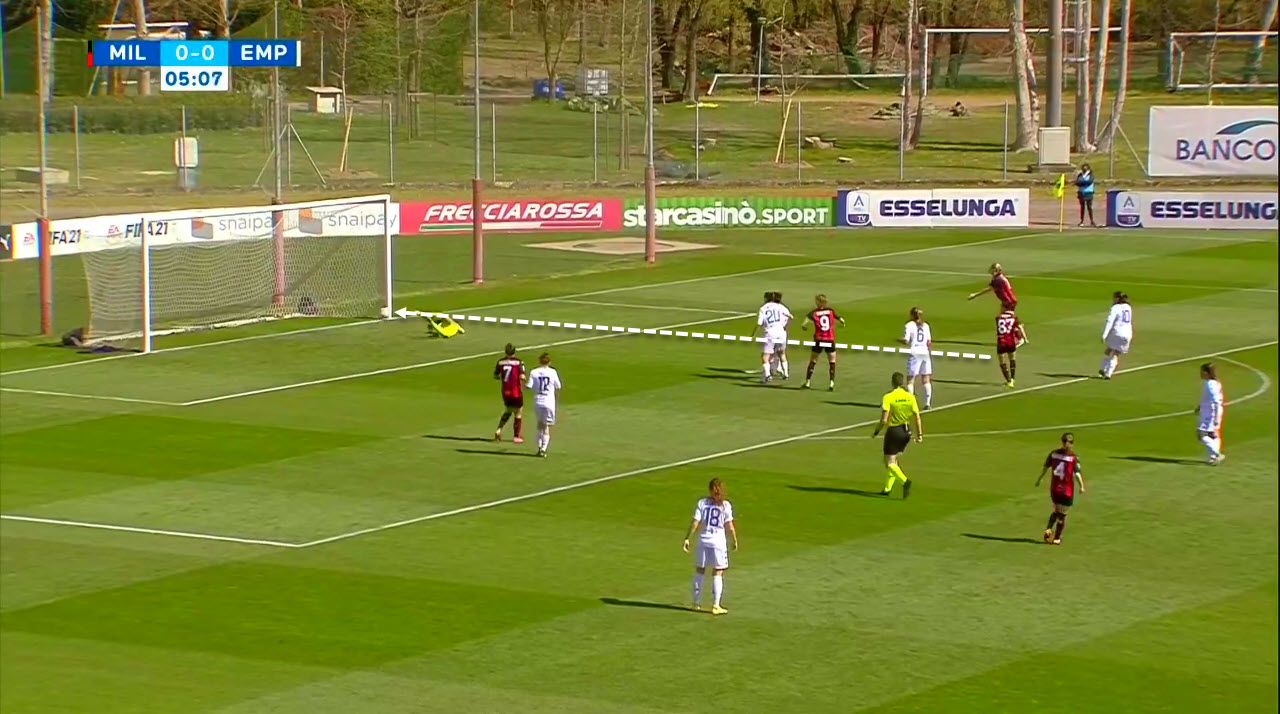 And just ten minutes after, Bergamaschi was able to penetrate from the wing towards the box while Giacinti saw her movement and gave her an accurate through pass but Milan's winger was too slow in controlling and exploiting the chance that she got. She could have shot right after the first touch but she preferred to keep controlling the ball before shooting and that resulted in losing time, which enabled Empoli's defender to intercept the shot.
Two minutes later, Empoli made a dangerous counter-attack during which Milan players were too late in retreating, and this allowed Dompig to get the ball just near the box and shoot without being marked. But luckily for Milan, Korenčiová was attentive enough to save Dompig's shot. And this chance showed that Empoli can be very dangerous in this match especially in counters since they have some quick and talented players in attack and midfield.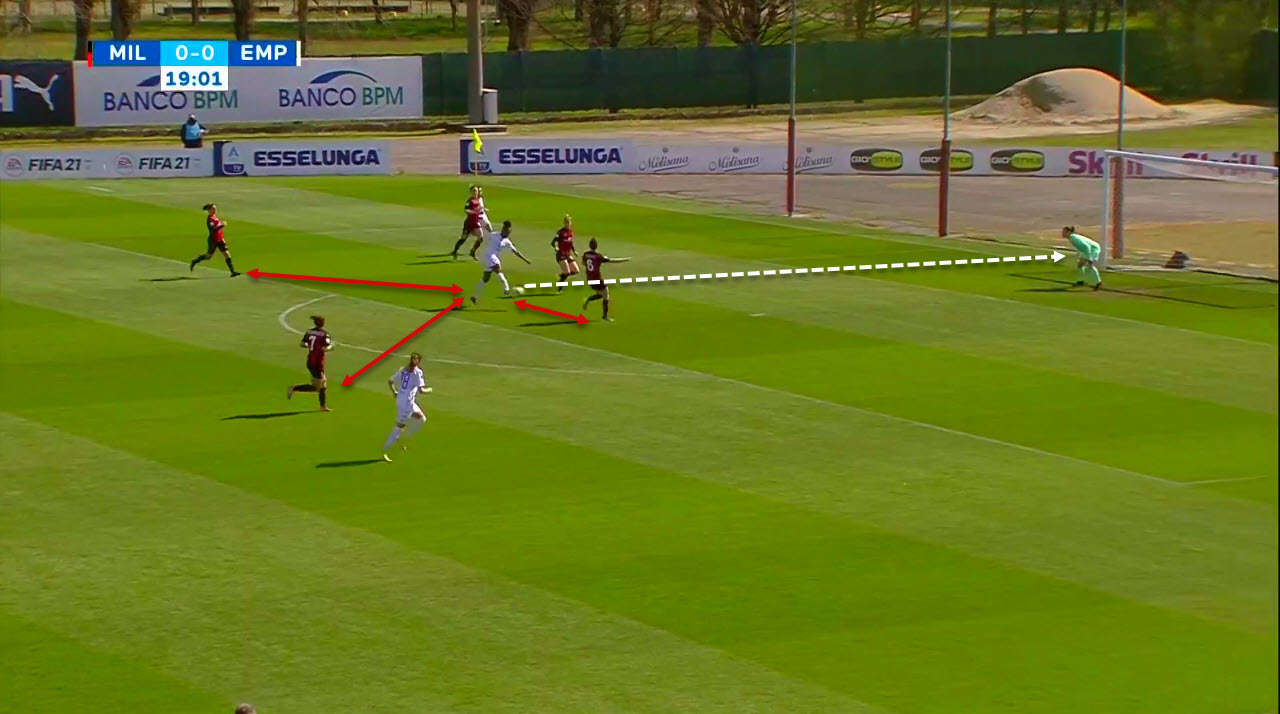 Milan however did not get affected by Empoli's threats and were able to get some very dangerous chances mainly from Dowie and Giacinti, yet both players missed the chances they got in this first-half even though some of these chances could have been exploited in a better manner. For instance, this Dowie chance following a build-up mistake from Empoli's defenders allowed the English striker to be in a great position with the ball, and she was brave enough to try the lob instantly, however her shot went just inches away from Empoli's goal.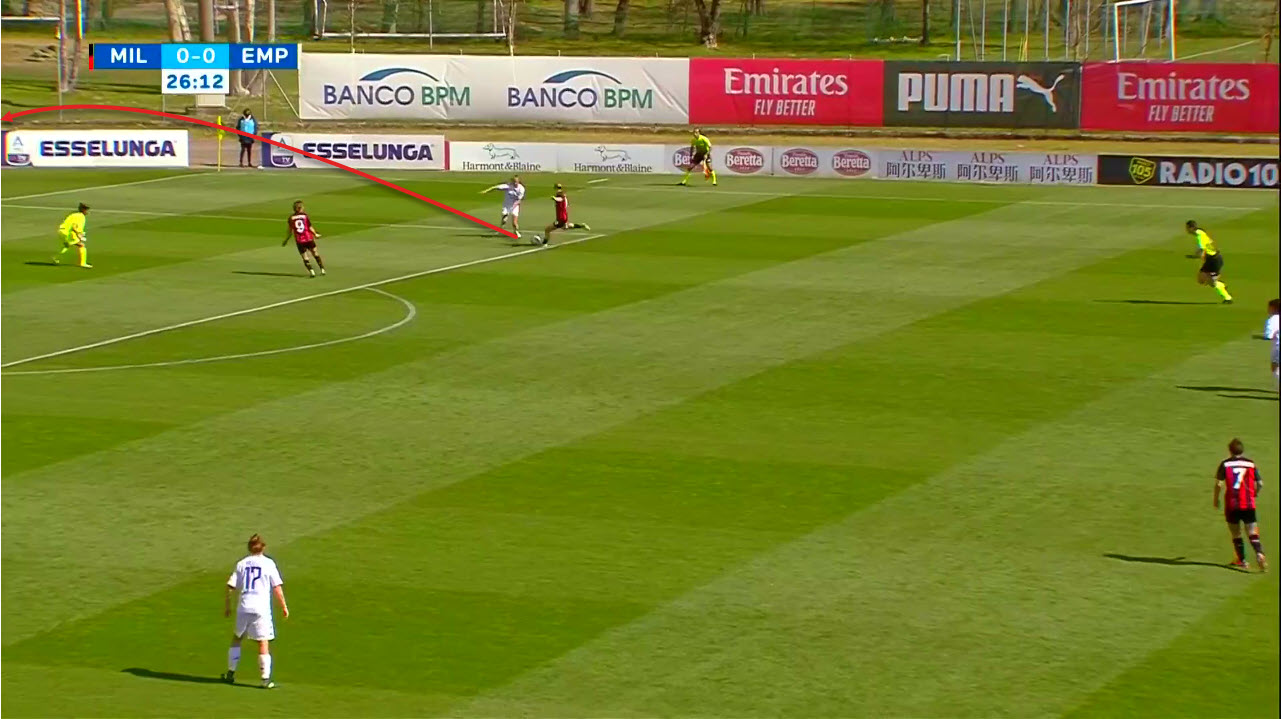 Empoli however responded once again to Milan's attacking attempts thanks to Dompig who once again was very close to scoring but her shot went away from the target, even though she had the possibility of serving her teammate who was waiting inside the box as well.
Milan were very good in terms of chance creation during the first-half, yet, finishing was not on point and even Giacinti missed a clear goalscoring opportunity at the 37th minute following Jane's cross which enabled Giacinti to be in a one-on-one situation with the goalkeeper. Giacinti preferred to aim for a chip ball to surprise the goalkeeper but once again, the lob went out of target.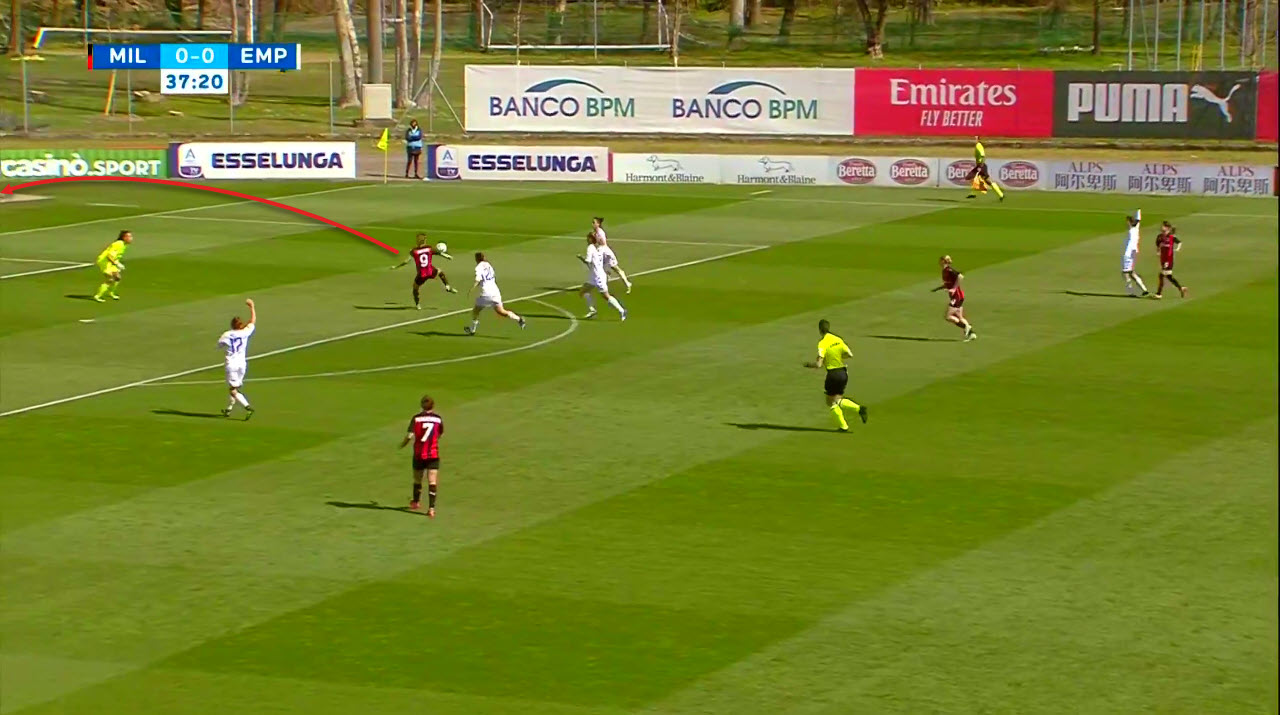 The second-half started with another big Milan chance during which Rizza was not able to exploit Hasegawa's through pass since she barely touched the ball and slipped, which allowed Empoli's defender to save the ball on the goal line. And then, Hasegawa shot the ball and it went into the goal after being deflected by Dowie, however the goal was disallowed due to Dowie's offside position.
Milan at the end got the goal they needed at the 62th minute following Boquete's great assist and Dowie's excellent finish which gave the Rossonere the advantage and allowed them to play with more confidence and less hesitance.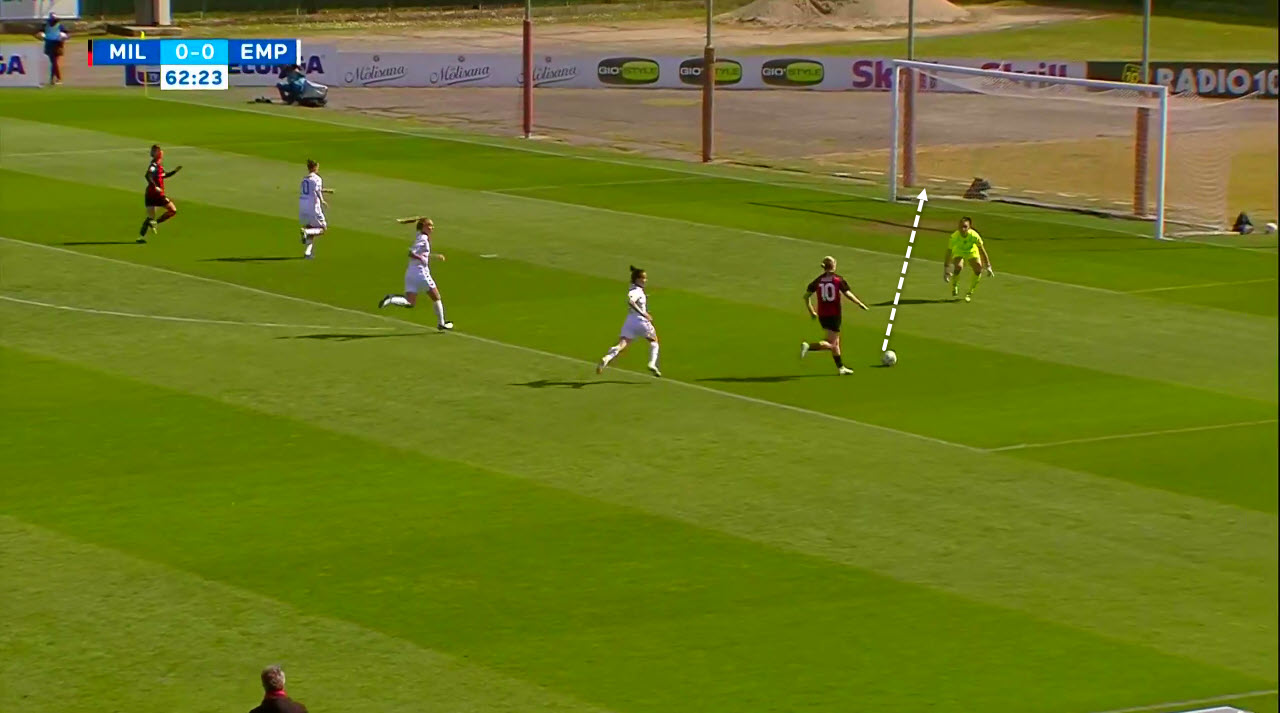 Empoli's reaction however did not take long to come since Prugna hit the crossbar at the 70th minute after shooting from long-range with great power and technique. Empoli continued in threatening Milan's defence while the Rossonere started to rely on counter-attacks instead and this helped Milan to have more space behind Empoli's defenders.
In fact, Giacinti got a very dangerous chance at the 74th minute which started quickly following a counter-attack, yet Giacinti once again failed to finish the action in the necessary way and shot the ball just where the goalkeeper was waiting, just like you can see below.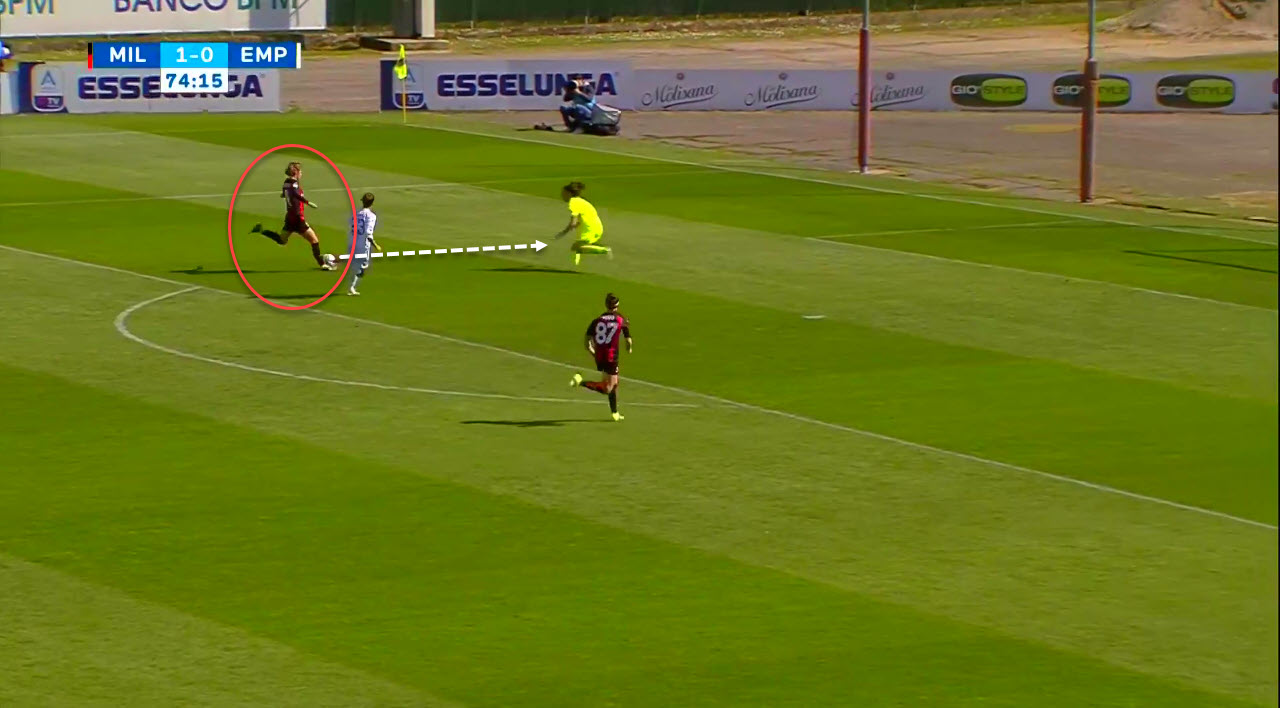 Milan got a fundamental victory thanks to Dowie's goal that will keep them in the second spot with 42 points and this confirms their qualification to next season's UEFA Champions League even further since they are more than 5 points away from Sassuolo and 14 points ahead of Roma at the moment.