As a Bodø/Glimt player, Jens Petter Hauge put in a marvellous display and even scored against Milan in the Europa League Qualifiers. It so happened that Milan were already following the Norwegian youngster, and after the game, the management decided they'd seen enough, opting to accelerate for his signature and the deal was eventually completed on October 1st 2020.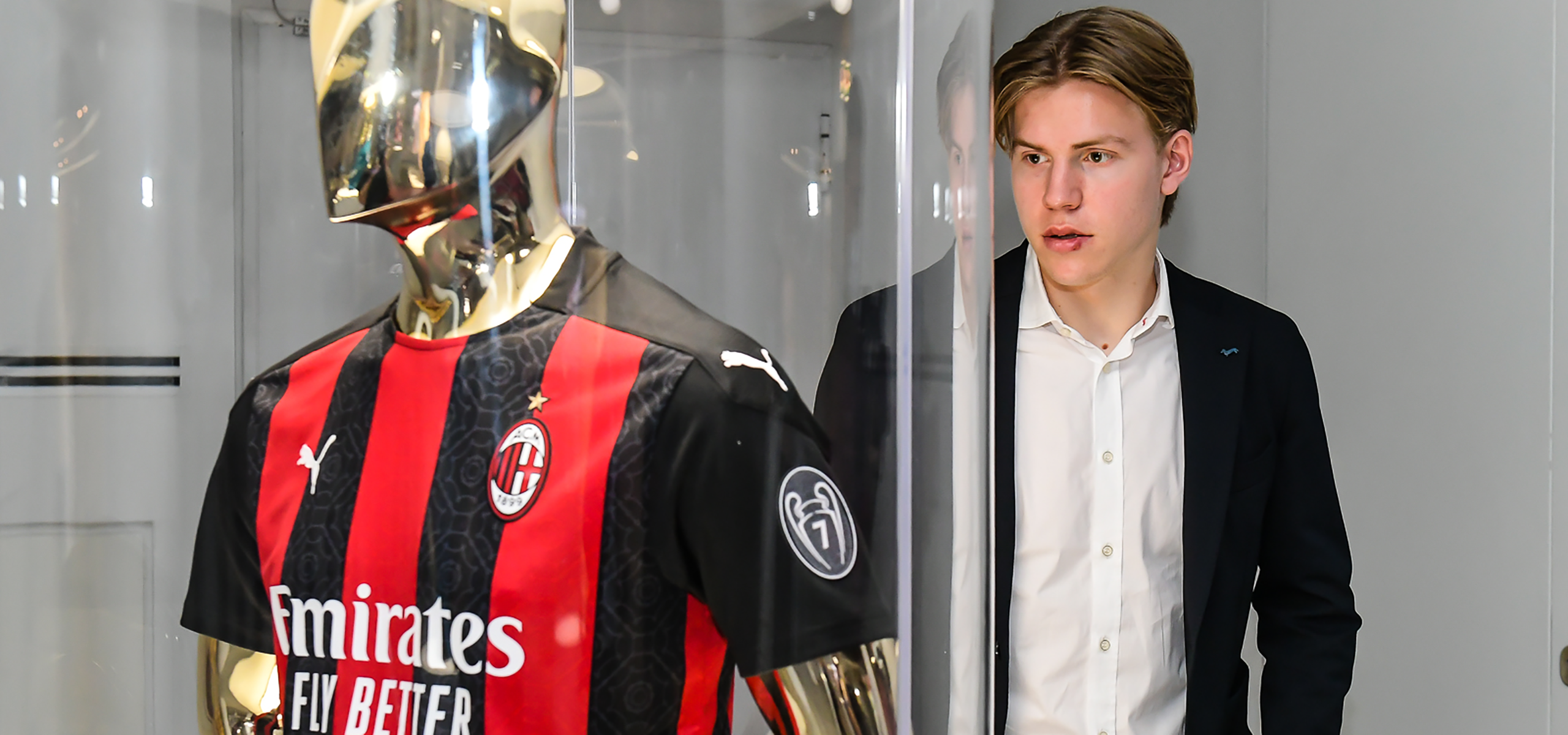 Despite showcasing his talent for all Milan fans to see, not many expected the 21-year-old Norwegian to have much of an impact this season, he was fighting for a spot in a fiercely contested position – last season's top scorer, Ante Rebic was the clear first choice and Rafael Leao starting to knock on the door as well. Not to mention, Hauge came straight from the Eliteseren, where he'd played almost a full season with Bodø/Glimt (which they ended up finishing first, with Hauge a key part of that success) prior to his arrival in Lombardia, meaning he was physically in better condition than the rest of the squad but if used too often, would likely start to tire, having already played so much football. Needless to say, it was almost a given that he would need some time to settle into life in Serie A, considering that even more experienced players who have never played in Serie A sometimes need time to adapt to the unique style of play found in this league – and of course, the standard of football in Italy is much higher than that of Norway's. However, Hauge was very quick to make an impression, coming on as a substitute and scoring the final goal in a 3-1 away victory against Celtic in the Europa League group stages, and a very fine one at that. Played through by Alexis Saelemaekers, he took one touch, leaving the Republic of Ireland Captain Shane Duffy behind and cooly sliding the ball underneath Vasilis Barkas in the Celtic goal. His next goal also game in a substitute appearance – Milan were 2-1 up against Napoli at the San Paolo (now known as the "Diego Armando Maradona Stadium", renamed after the late great Argentinian) and Rino Gattuso's side were coming close to snatching an equaliser, but Pioli introduced Hauge who wrapped up the victory in style – played in by Ismael Bennacer, using a quick step-over to get past Kostas Manolas and chipping the ball over David Ospina into the back of the net.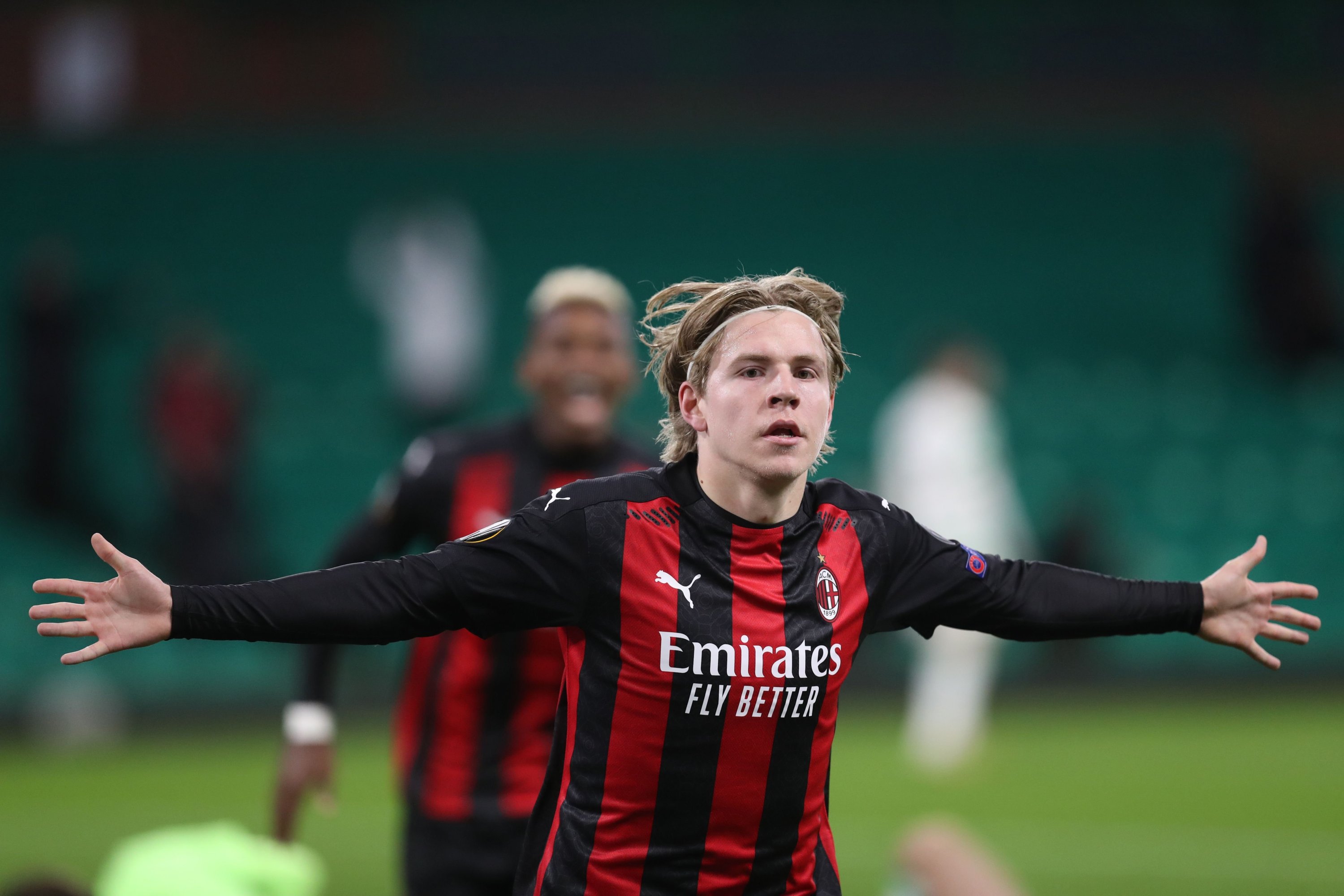 It was from here that Pioli started to use Hauge more often, he came on against Sampdoria at the Marassi to great effect and started against Celtic at the San Siro, where he scored one of Milan's best goals of the season, dribbling past 3 players from the Glasgow side and keeping his composure to calmly place the ball in the far corner. Hauge continued to impress, scoring an equally impressive goal against Sparta Praha which secured top spot in the group for Pioli's men. However, since then Hauge's performances have perhaps been a little underwhelming. Due to an injury crisis, Hauge started against Juventus at the San Siro, but unfortunately, struggled to influence the game, and it would go on to become the first domestic defeat the Rossoneri had suffered since March 2020.
However, it would be harsh to single out Hauge's performances as being legitimately bad, rather he didn't seem to have the tenacity to demand the ball and make things happen. It could be arguably said that he's almost the complete antithesis of Ante Rebic, the Croatian winger makes things happen for Milan but often his end product is found lacking, but never for want of trying. On the other hand, Hauge has shown a tendency to go missing in games but when he gets his chances, he usually tends to take them – for the most part. The Norwegian has always shown a remarkable level of composure that is seldom found in players his age, he is also a very capable dribbler of the ball and has a good eye for a pass. It could be said that perhaps his greatest fault is being too selfless, often opting for the simple pass instead of trying to beat his man, when we've all seen his dribbling capability in action.
After the Christmas break, many Milan fans were baffled by the decision to drop Jens Petter Hauge from the Europa League squad, as the Norwegian had done so well in the group stages of that competition. In fact, recently Hauge has played with the Primavera team in order to get some minutes under his legs, finding it rather difficult to break into the first team side. However, with Leao and Rebic starting to show a little inconsistency in form and availability, his lack of game time was starting to seem a little strange.
Last Saturday, Hauge came on in the 74th minute, replacing Samu Castillejo who was struggling to make an impact on the right-wing (the Spaniard has been the subject of criticism from fans all season long). Although one couldn't say that he completely changed the dynamic of the game, he did make his impact felt a lot more so than the man he replaced. Hauge scored the equalizing goal, a fine finish in the 87th minute, salvaging a point from a game that the Rossoneri would have liked to have won.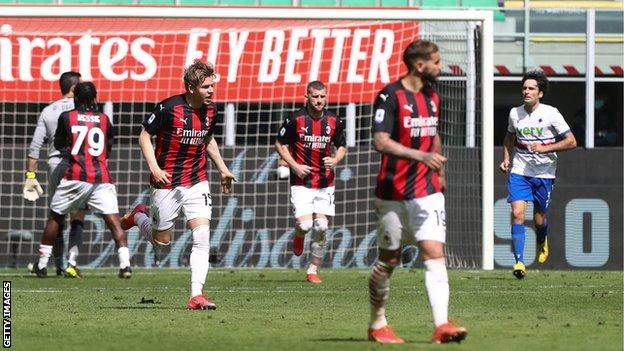 Whilst it would be premature to suggest the Norwegian should be the first choice for the left-wing, it is certainly a little strange that Stefano Pioli has been starting players such as Brahim Diaz and especially Rade Krunic ahead of him. Rade Krunic is not a winger, he lacks the pace and tenacity to influence the game from this position – in the current 4-3-2-1 formation, he has proven himself to be most useful in the no #10 role. Likewise, Brahim Diaz always tends to perform best in the middle of the pitch. Hauge played almost everywhere in attack whilst at Bodø/Glimt, but is a winger by trade. Hauge showed more in the 25-30 minutes he was on the pitch against Sampdoria than Krunic did in the 74 in which he started, and going forward, he should have more opportunities to showcase his talent. Like many players in the squad, the best of Hauge is in the future, he has many assets of his game in which he needs to improve upon, but the glimpse of potential displayed so far should have Milan fans very excited. Hopefully, he has more opportunities to prove himself in the coming weeks.