AC Milan boss, Stefano Pioli, spoke to the official microphones of DAZN after the final whistle of the Hellas Verona – Milan game which ended in a victory for the red and black faithful 1-3
Here are his statements:
"I am in love with Milan and my players for what they are doing."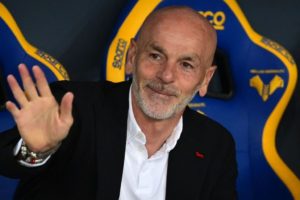 On Sandro Tonali and Rafael Leao, Pioli said:
"They are both young but strong. After two days of preparation in the summer, I told them that I found them completely changed.  I found two different guys than at the end of last season. We have to continue like this, there are still six points available."
On the next game:
"In the first leg against Atalanta, for the first 70-80 minutes, perhaps we played one of our best matches. They are strong, they are a squad that is similar to Hellas Verona in the defensive phase. We will see how to prepare it."
On Sandro Tonali's positioning:
"Seeing the training sessions and the matches, you discover new characteristics also of the players. If we build with two midfielders, we make more use of the full backs. like Sandro did tonight. Tonali has an incredible leg and fit for insertions, he can become a great mezzala. He's showing incredible growth."
Pioli on who does Tonali look like:
"It's difficult to compare two players. When I met him for the first time, I asked him what his favorite position on the pitch was and he replied that everyone compares him to Pirlo, but he does feel more like Gattuso. Perhaps, if I really have to name a name, I would say De Rossi."
Two games remain…
"We are in the final stages that will determine our final position. This Milan was born from that 5-0 against Atalanta, it was a bad day, but from there we understood what we needed. Now we only think about the match against Atalanta. We should keep our mentality", declared coach Stefano Pioli.
Sandro Tonali leads Pioli's AC Milan to Scudetto with a win against Hellas Verona