AC Milan managed to beat Inter in Derby della Madonnina. The game was in all its full glory, the enthusiasm of fans, a 5-goal thriller, tension, physicality, and great individual qualities displayed by quite a few players. The Rossoneri deservedly earn three difficult points against their old rivals. The bragging rights go in favour of Il Diavolo. The reigning champions of Serie A, therefore, can paint the town in red.
Key players for AC Milan
One of the most important players for AC Milan in the game is obviously Rafael Leao. The Portuguese winger, once again, shows why he is a top quality player. Two amazing goals and an assist to help deliver the 3 points on a plate to coach Stefano Pioli and the fans. Olivier Giroud also worked well and scored a very good and important goal. But, Sandro Tonali's contribution (who also gave an assist to Leao) should not go unnoticed. He was the engine of the team and worked very hard to recover the balls.
Mike Maignan was also a class goalkeeper, as usual, and showed exactly why the fans don't talk about Gianluigi Donnarumma anymore. He also displayed immense qualities that make him in contention for a starting spot in the France national team squad in view of the World Cup in November.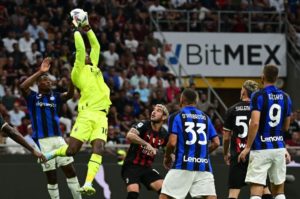 The players celebrate, and rightfully so, after long days of hard preparation and dedication. Now, AC Milan head coach Pioli can breathe a sigh of relief, enjoy his night. However, the team must quickly turn the page, keep their feet firmly on the ground as the next challenge is soon upon us in this hectic schedule: on September 6 versus Red Bull Salzburg.