AC Milan's striker, Olivier Giroud, granted an interview to the microphones of RMC Sport. Here are his words about the start of his season:
"In the Champions League, we still have our fate in our hands. We will have to win our two games. On a personal level, I am happy with what I have achieved, we must continue like this. The matches follow each other, you have to take the points and be in a good position after the World Cup, this is the most important thing."
On his place in the locker room…
"It's true that I played 13 games as a starter, which hasn't happened to me for a long time. We have the possibility of making some rotations. But, we haven't been spared from injuries. I had to go on, but I feel very good physically. Playing as a starter makes me happy. I have responsibilities in this team and I feel very good, so I hope it continues."
Did you play more also because Ibrahimovic is absent?
"The fact that Ibra is not there, even though he is present at home matches and is important in the locker room, my role is to take charge and be there for the younger ones if they need it. It's a role that I like, as an older brother, I do it very willingly. I try to set an example. So far it works well. I am happy, happy in this team and I think you see it every day on the pitch and also in the locker room."
Giroud added:
"Of course, we want to defend our title. We know that this year is even more difficult because teams like Juve, Napoli or Inter have strengthened a lot, not to mention Roma, Atalanta, Lazio. There are many teams that can fight for this Scudetto, but we started well compared to the direct opponents. Napoli seem to me in excellent shape, they are really the team that impressed me the most at the beginning of the season. We will have to keep up and stay at the top of the standings until the World Cup. We will take stock in mid-November and I hope we will be with them to keep them high. I have a series of matches, I feel good physically so … good luck. "
Where do you place this Serie A compared to other leagues?
"With all the signings that the Serie A teams have made, they have strengthened, this implies a tighter, more competitive championship. Also on the European scene, we have seen that Inter and Napoli are well placed in the Champions League. We obviously hope to pass. It's okay for Serie A, it's a championship that has had some difficulties in recent years, but it's still a great championship and we have shown it in the Champions League. In Serie A, it is very difficult to stay competitive every weekend because the teams are difficult to handle and they all want to beat the big names. It is a very competitive championship that for me, when I arrived, impressed me a lot because I thought that compared to the Premier League there was much less intensity. But I was pleasantly surprised to see that the teams play hard, on all terrains, sometimes man to man, in individual scoring. It's really hard work all the time, you don't have to give up because if you are not 100% in a match, the opposing teams will take the opportunity to put you in trouble."
Giroud, were Chelsea really stronger than Milan in the two games?
"We were eager, especially Tim (Bakayoko), Tomori and I, who were playing at Chelsea, to make a big impression in this double confrontation. The fact is that, even if I'm not going to hide behind it, we had four or five starters absent. At this level we have to take this into account, but we had the group to compete with Chelsea. We had a bit of a no match there, we wanted to make up for it in the return match. The card is pulling the carpet out a little from under our feet, even though we started the game very well. Too bad for the red which for me is very difficult to take. It's hard to chase the score behind a team that has experience and then gets the ball rolling. We were very disappointed, which is why we are very motivated to finish the last two games well. It's nice to have our fate in our hands, but it's sure we have a vengeful spirit in connection with that. We must reverse the trend and do everything possible to pass."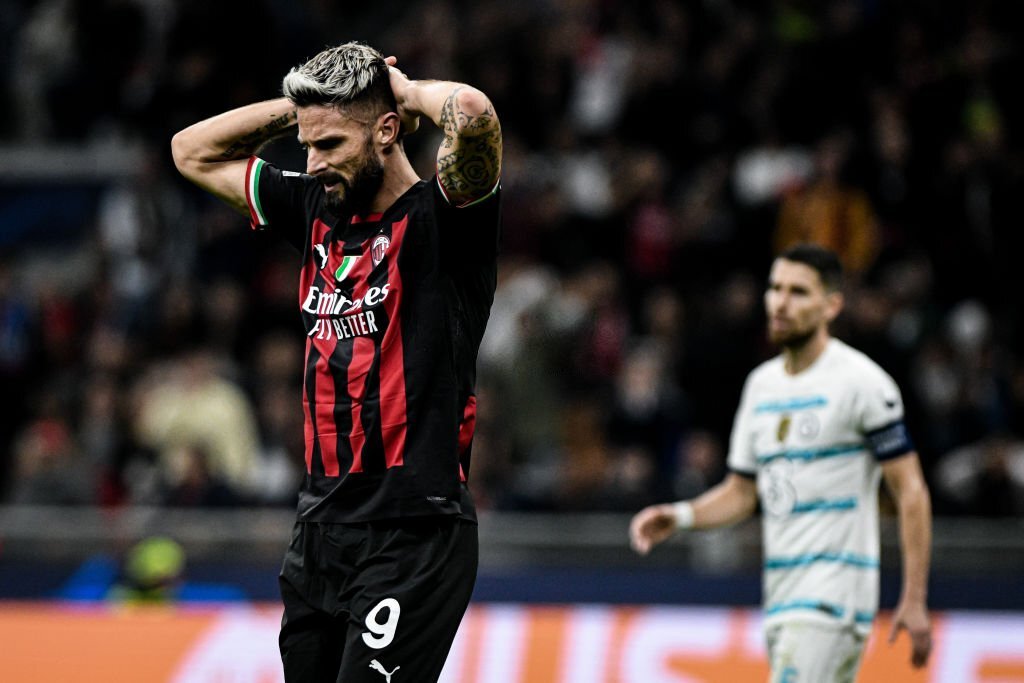 Do you prepare and manage games differently?
"In the selection by club or national team, we see that there are more and more injuries. Nobody is spared. I'm not trying to manage, I have a series of games, I feel good physically so I knock on the wood. I pay attention to my lifestyle and not to think about injury because you don't have to start calculating. I think the best way is to take care of your body, take care of yourself. After that, it's a bit of a luck story. You have to pay attention to yourself, but don't think about it too much. Training, rehearsal: for the moment I'm doing pretty well on my side. I have no worries on that side."
On the Ballon d'Or, Giroud said:
"Benzema deserves the Ballon d'Or. I think so, Benzema deserves the Ballon d'Or for what he got this year with his club. I don't see who could compete with him. I don't see who could compete with him. Many think like me and are unanimous in saying that this year he deserves it."
Your teammates Mike Maignan and Rafael Leao are in the list of candidates for the Ballon d'Or award. Do they talk about it in the locker room?
"No, we don't talk about it anymore. They are aware of what they achieved last year with this Scudetto, they are part of the typical Serie A team, be it Theo (Hernandez), Rafa (Leão) or Mike (Maignan). They are still young, they have this room for improvement, they are at the highest levels. I wish them to continue to be on this Golden Ball list and why not maybe one day they will get close to the top three or five places. Of course it is difficult to win a Ballon d'Or, you have to perform with your club and also with your selection. It is really a very small circle of great players and it is already a source of pride for them and for us, Milan, to have them on this list."
What are your goals for you this season on a personal level? Giroud replied:
"The goal is to keep this Serie A title of course, confirm it. It will be very difficult, but we really want to show that we can do it a second time. It will be very difficult, but we really want to show that we can do it a second time. After that, getting past the group stage in the Champions League is very important. And then on a personal level, always helping the team to win as many games as possible and being as decisive as possible and also playing a third World Cup with France."
He concluded:
"Obviously a World Cup is something extraordinary for a player so it must be a competitor's goal. "