Angelo Carbone, AC Milan's youth director, granted an interview to those at Tuttosport newspaper. Here are his statements:
"2022 for the youth sectors? A definitely positive and important year because we have given continuity to the work done in previous years, those of the pandemic, which have been complicated for everyone."
On promoting young players to the First Team:
"I remain rooted in that thought. Our goal as a youth sector is to train players at 360 degrees. Seeing a boy raised by us play in the Milan shirt is the greatest joy a youth sector can receive from the first team."
On what a young player should be like:
"Above all, they should have talent, then a sense of belonging, intellectual capacity, but not only that: identity is fundamental, which is strong in Milan. A Milan style: having values ​​and being a good person."
On the youth sector sensation 14-year-old Francesco Camarda, Angelo Carbone said:
"It's a wonderful thing to talk about the player, he deserves it as a boy. He has excellent qualities, demonstrated by his performances. But his journey is only at the beginning, But there are too many expectations on him, I don't know if it's the right thing for him and I wonder if it's right to talk so much about him."
"His journey is special. Last year, he did very well, he made the team grow by giving it an identity and proved to be an intelligent and capable coach. He earned the chance to coach the Primavera and the we hope that his journey will be long and lasting. But it often happens that the AC Milan youth sector is also a reservoir for many technical figures and collaborators who then also reach the first team, creating that spirit of belonging that a great team must have."
On being the head of Milan's youth sector:
"There are some complicated things. The most important thing is to give the boys time, you have to give the players chances without being hasty. You need time to fully understand the human qualities of the teams too. Then , you also need to have competent collaborators and from this point of view, I'm lucky".
On the relationship with Paolo Maldini and Frederic Massara, Angelo Carbone said this:
"We have a wonderful friendship with Paolo, even if now we often talk for work reasons. Having two managers like Maldini and Massara helps us a lot, but above all the players. They are very present, they are always up to date, as much as they can, this is very motivating. They are an added value."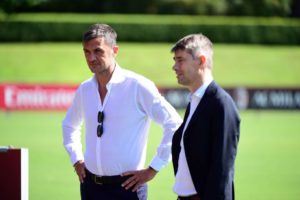 Angelo Carbone on the 2023 year:
Seeing one of our boys make his debut at San Siro. This is the goal for 2023. We all have memories of those boys from when they were children, which we carry with us, it's a privilege to know that we helped them get there."