AC Milan's head coach, Stefano Pioli, spoke to the various media outlets in view of tomorrow's Serie A match against Hellas Verona which will take place at the San Siro, valid for the last game of the season. Here are his words:
"Leao's renewal? I think first of all we need to compliment the managers, Rafa's renewal was a very heartfelt thing within the group. I've always been very confident, I knew the will of the club and the boy. Today, joking with Rafa, I told him that he's been to my office 178 times this year, ours is a good relationship, but with the whole team. Only with a strong team could a season recover after a period of crisis like that of January."
Why should Milan beat Hellas Verona tomorrow?
"We want to beat Verona because we are AC Milan and we're playing at home in front of 70,000 fans. We have a duty to give our best, and we would be the team with the second-highest number of points at home after Napoli. We started with the intention of winning something, but we couldn't achieve it. We had a great Champions League run and a decent league performance. We could have aimed for second place, but we let something slip away. Napoli did something extraordinary, so we can't win it back. We need to be good at learning from this challenging season, and we will learn and grow", declared Pioli
On Zlatan Ibrahimovic:
"First of all, I have to say that Zlatan hasn't been able to be available for tomorrow's match. We tried, and he tried, but he's not in a condition to take the field. I've spoken with Zlatan in these days, and those are things that should remain between us. What the future holds will be decided by him and the club."
What was the key moment in Rafael Leao's growth?
"I believe he should provide the answer to that. It has been a journey, and he has always shown willingness and incredible potential. Like all young players, he needed to make mistakes and gain experience. I don't think his journey is over at all; quite the opposite."
Pioli on Zlatan Ibrahimovic again:
"He will decide his future with complete honesty and great responsibility. We have talked, but it's right that certain things remain between us."
Will there be a massive intervention in the market? What will happen with Diaz?
"As a coach, you should never talk about the market. I will soon meet with the executives. We have had a very demanding period, I am here every day, and we have already discussed things. In the coming days, we will have more in-depth meetings about this situation. We will try to build a stronger Milan. Diaz has grown a lot, he is a strong player who has grown together with us. I don't know Brahim's personal situation. Except for Zlatan, I haven't talked about the future with the others."
What do you not want to see in your Milan next year?
"I think Paolo was generous by saying that with the qualification for the Champions League, we would have deserved an 8. When I was in school and not a genius, I was very happy when I came home with a 7 because I believe you should average the 8 from the Champions League and the 6 from the league. It is definitely a positive thing. If you want to be competitive and win, you need to be more consistent and win the games that you can win on the field. Clearly, we missed some opportunities."
What do you mean by Milan players?
"Strong players, and above all, intelligent players. I don't care if they are right-footed or left-footed, tall or short, I care that they are intelligent. It doesn't matter if they are 18, 25, or 30 years old, but they must be able to play at certain levels. We are no longer the Milan content with finishing sixth; we want to be competitive in Italy and in Europe."
About Sergino Dest:
"He is a player with important characteristics, but he had difficulty fitting into our system of play, so he slipped a bit further back in my choices. He won't be available tomorrow; he is not in condition."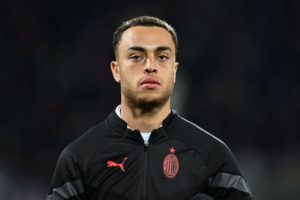 What do you think about the season?
"Excellent in the Champions League. In the league, we could have done something more."
What can you promise the fans for next year? Pioli said:
"At this moment, I can only thank them; they have been exceptional. Especially during difficult times, they have always supported us. Tomorrow we will bid them farewell, preferably with a victory, with great affection and happiness because we have had a complicated yet positive season."
Have you thought about adding a new figure to your staff?
"We are already so many that it becomes difficult. What we have done, and what we are already doing, is that we will thoroughly evaluate what we have proposed to make changes in the next season regarding the situations that have caused us difficulties this year."
Do you like Japan? Will you watch any matches tonight?
"I know that there's City-United at 4, and tonight is the German cup final, but I will watch Parma-Cagliari because I'm a Parma supporter. I know the English and German teams very well. Kamada? He is not a Milan player, so I can't comment. I know he is an intelligent player, I know him well."
Do you need a backup for Ismael Bennacer in midfield?
"It's clear that Isma's injury will be long, and I don't know when we will be able to see him, which complicates the situation. We will evaluate where and how to intervene in that position. I'm not talking about the transfer market; I don't handle transfers. We have capable executives, and I have a lot of trust in them."
Pioli on Charles De Ketelaere and his future:
"Charles came to my office this week to inform me that he will be playing in the U21 European Championship with Belgium. I believe it's the right choice for him. We will make all the evaluations for next year's team in the coming days, and Charles' situation will also be taken into account."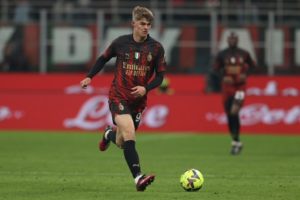 Are you satisfied with the performance on set pieces?
"No, we could have done better. We scored few goals, and we absolutely need to find something more effective."
On the team:
"There's one thing I have never doubted, that my players believed in what we were doing, and that everyone gave their all. Only truly united and strong groups could overcome such a delicate and critical moment. We overcame it thanks to our cohesion, the support of the club, and the fans' support."
On the defenders' performance:
"If you exclude that period of difficulty, the numbers remain positive. That month and a half accentuated our difficulties. It's always a matter of expectations and goals. Now, we have to fight to win, and to fight and win on both fronts, we need to be a strong team. There are teams that have invested much more than us, like Liverpool, PSG, and Bayern... It's difficult, few manage to reach those levels. This year went well in the Champions League, not so well in the league. Those who do this job make mistakes; we need to try to make a little fewer mistakes."
Pioli on tomorrow's match against  Hellas Verona:
"We won't be the ones deciding if Verona gets relegated, they have had a whole season... They can't wait until the last match, they had 37 games to decide their fate. Tomorrow we'll see if we are better than them or not."
What analysis do you make of your season?
"I haven't made a single mistake, I've certainly made more. I'm already very, maybe too, self-critical... We will see what has penalized us. Our strength is to continue believing in our players. It's easy when you always win, less easy when there are tough setbacks: we never stopped believing in ourselves and that paid off at the end of the season with a challenging but positive season."
Is Milan more predictable this year?
"No, concepts and principles are much more important than positions. Sometimes things worked out well, especially against the big teams..."
Was the flaw this year a less aggressive high pressing?
"Yes, things done halfway don't work well: sometimes we were high but not aggressively strong..."
Is there a question you wanted to be asked to you but we haven't?
"It's the 60th conference. I have always found great respect from all of you in my work, and I have tried to do the same. These are normal questions for those who do our job, no problem... It's the end of the season, thank you all, it went well. See you tomorrow."