In a surprising turn of events, Paolo Maldini, the legendary former AC Milan defender, captain, and now ex technical area director of the club, found himself facing the axe on June 5, 2023. The decision sent shockwaves through the fans, prompting widespread speculation and raising numerous questions about the ownership's rationale behind parting ways with a man who played and engineered a pivotal role in securing the club's 2021-2022 scudetto trophy, ending a decade-long drought.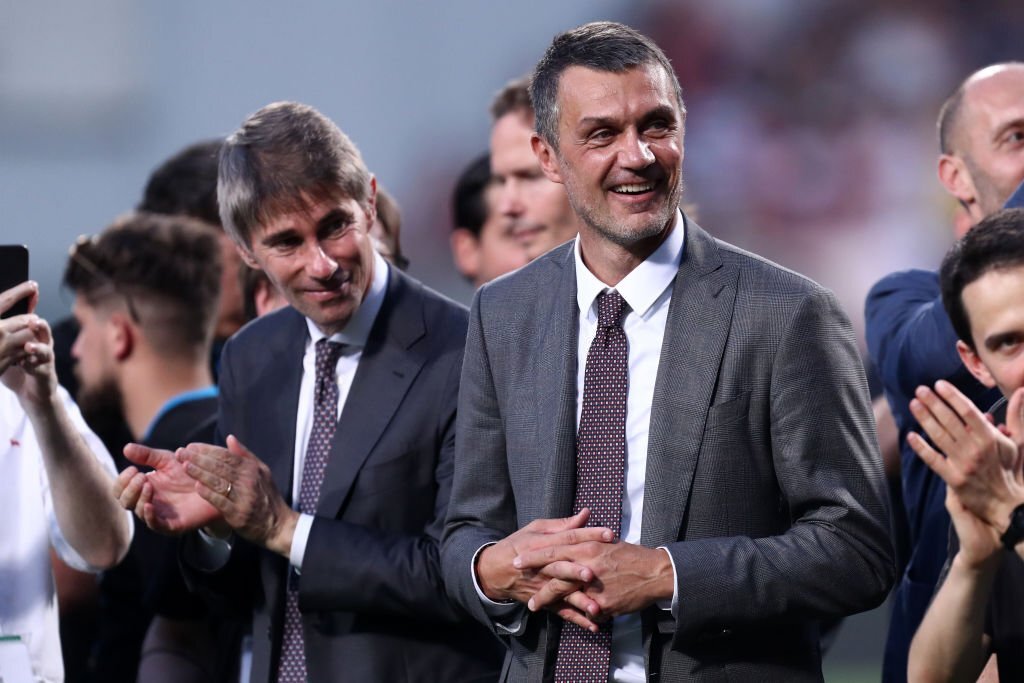 At the helm of AC Milan sits Gerry Cardinale, the owner who assumed control through his investment fund RedBird Capital Partners, following a lucrative acquisition from Elliott Capital Management. The deal, worth a staggering 600 million euros in cash and an additional 600 million euros in vendor loan, has empowered Cardinale to shape the club according to his grand vision. And it appears that the first step in that process has been taken only recently, a year after purchasing the club, and it involves severing ties with Paolo Maldini and his colleague, Frederic Massara, the now-former sporting director of AC Milan.
What's next for AC Milan?
As the dust settles on this managerial shake-up, attention turns to the figures tasked with executing Cardinale's ambitious sporting project. Giorgio Furlani, the Rossoneri's CEO, assumes a central role while Geoffrey Moncada, who is the head of the scouting department, also shoulders a significant burden. Together, they aim to fill the void left by Maldini and Massara, taking charge of player recruitment and shaping the club's transfer market strategy. In doing so, it becomes evident that a new philosophy is set to spread through Casa Milan.
Numerous reports suggest that RedBird Capital Partners is keen on deploying a distinctive approach known as "Moneyball." This methodology, popularized in baseball and now making waves in football, revolves around making data-driven decisions and seeking undervalued assets in the player market. By delving into specific examples, we can gain a deeper understanding of the concept and its implications for AC Milan's future endeavors.
Moneyball makes its way into football, and Gerry Cardinale is no stranger to it...
Let us remind you that the AC Milan owner is no stranger to this concept as he has teamed up with baseball guru, Billy Beane, to form RedBall Acquisition Corporation recently. A recent report from the Italian newspaper La Repubblica reported how the baseball expert could act as a consultant for AC Milan management in the transfer market. Moreover, this data-driven methodology of player acquisition has also found success at another club owned by Gerry Cardinale, namely Toulouse. Their remarkable achievements include securing promotion to Ligue 1, finishing 13th in the league standings, and clinching the Coupe de France title, thereby earning them a spot in the next edition of the Europa League competition. Undoubtedly, Toulouse's accomplishments have been nothing short of impressive.
Moneyball means to look into different leagues, even the lower ones, and finding an undervalued player who is performing well above his market value. Seeing potential in him, a club would bet on said player, seeing him reach better levels that would make the team improve further.
Toulouse, for example, have signed different strong players under the guidance of RedBird, who relied on data in player recruitment. Thanks to scouting that based its movements in the mercato on data provided by Zelus, (a  company which RedBird used to own 10% of, reportedly. Zelus Analytics is a company that provides sports intelligence as a service for professional teams in an exclusive partner network).
Among the player who made a great impact since their arrivals, there are Rhys Healey from third-division club Milton Keynes Dons and Dutch playmaker Branco Van Den Boomen from second-divison club De Graafschap in Netherlands.
Rhys, a 28-year-old English striker was the best goalscorer in Ligue 2 prior to Toulouse's promotion, but unfortunately was injured and did not manage to contribute to his team's efforts this season (he scored 2 goals in 4 league appearances). As for Van Den Boomen, he proved himself this season: the midfielder played 40 matches, proving how important he is for the coach's tactical setup in midfield, and even netted 6 goals while providing 13 assists. Now, the Dutchman is set for his big move: joining Dutch giants and four-time Champions League winners Ajax.
Another example is Zakaria Aboukhlal, the Moroccan right-winger who was signed from Dutch outfit AZ Alkmaar in 2022 for only 2 million euros, became a reliable player; scoring 15 goals and 5 assists in 42 appearances between Ligue 1 and Coupe de France.
Moneyball method was also introduced to different clubs in Premier League such as Brentford, Brighton and even English giants Liverpool. In fact, data is a big part of the recruitment department for Jurgen Klopp's team who used the numbers to bet on the likes of Mohamed Salah and Diogo Jota.
Can this model work with AC Milan?
AC Milan club management have dabbled with this concept when Elliott was in charge, who are also big believers in data, just like RedBird, one might argue. The club did bet on different players such as: Rafael Leao, Fikayo Tomori, Sandro Tonali, Pierre Kalulu (the latter arrived as a free agent, only paying small compensation training fee to his club Olympique de Lyon). All of them have played crucial roles in AC Milan's Serie A triumph last season, and even this season when the red and black faithful achieved a feat by reaching the semi-finals of the European elite competition: the Champions League.
Data was also used to secure the signing of 31-year-old centre-back Simon Kjaer, as chief of scouts Geoffrey Moncada confirmed in an interview a few years ago to 'Podcast Prolongation': "We have known him for years. We analysed his matches with Atalanta. He wasn't bad, his game against Dinamo Zagreb was very good. Then I took the list of Atalanta players and asked myself, 'Who didn't succeed at Atalanta but was strong elsewhere?' and I made a list of a few names. Ibanez, who is one of the best at Roma, didn't play at Atalanta either. With Simon, we were sure to have a player with the right spirit, serious, a fighter, with the physicality we wanted. Some say he's slow, but it's not true: he has perfect positioning, he runs a lot, and he's tactically good. We also did some work to assess his physical problems, but they weren't significant. Another positive factor is the cost of the operation. In the end, it cost 2.5 million, which is little. I can't disclose his salary, but it's not expensive in the sense that many teams can afford a player like Kjaer economically."
In summary, it seems that AC Milan are going to continue working in a direction of data-driven market decisions, but perhaps with less spending power. It is true that the departures of Paolo Maldini and Frederic Massara are difficult and bitter pills to swallow, but the club is moving forward, with the ownership placing their trust in a very interesting method with more authority to the chief scout Geoffrey Moncada this time. Will Gerry Cardinale's vision pay off in the long run? Only time can tell.