AC Milan's head coach, during this difficult period regarding the depth of the attacking department, could rely on a wild idea: including 15-year-old talent Francesco Camarda for the match against Fiorentina this Saturday.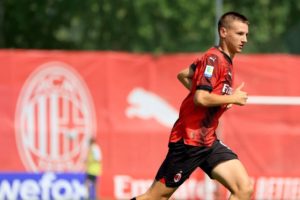 This news was reported by SportMediaset. Olivier Giroud is suspended for two games (but will play in the Champions League against Borussia Dortmund) while Rafael Leao is also sidelined due to an injury and will certainly be absent against Fiorentina.
Camarda is certainly gaining a lot of attention. He's the sixth youngest goal scorer ever (the first Italian) in the Youth League and has been scoring a goals in the league too. If Camarda were to debut in Milan-Fiorentina, he would secure yet another milestone: becoming the youngest debutant in Serie A, surpassing Bologna's Wisdom Amey, who entered the Italian top-flight at 15 years, 9 months, and one day in May 2021.
This would also overshadow the story of Milan, far surpassing Paolo Maldini, who made his Serie A debut for the Rossoneri in January 1985 at over 16 years and 6 months old.